90th Giro d'Italia - GT
Italy, May 12-June 3, 2007
Main Page Results Overall standings Stage Details Live report Previous Stage Next Stage
Stage 20 - Saturday, June 2: Bardolino - Verona (TT), 43 km
Savoldelli blasts into Verona
Di Luca secures Maglia Rosa - Mazzoleni steps onto podium
By Gregor Brown and Tim Maloney
Paolo Savoldelli (Astana)
Photo ©: Roberto Bettini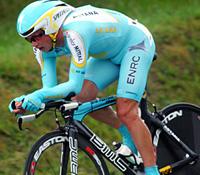 Paolo Savoldelli blasted to time trial victory on the rain-soaked roads leading to Verona's Piazza Bra. The Italian rider of team Astana bettered previous leader David Zabriskie (Team CSC) at all time checks to take his fourth career Giro stage victory. Eddy Mazzoleni joined his teammate in celebrations by finishing second for the day and moving into third overall behind Danilo Di Luca (Liquigas) and Andy Schleck (Team CSC). Di Luca rode with caution and strength over the wet roads to keep the Maglia Rosa in what will all-likelihood remain his at the end of the final stage tomorrow in Milano.
"They told me that I had the best times all along," said the rider known as Il Falco Bergamasco in a calculating manner after his stage win. He experienced a low in his Giro when he crashed in the rain-soaked finale of stage 11 but, today, he bounced back on equally wet roads. "This was a way of coming back. ... I am happy. This result helps so much. I feel better because that crash had taken a lot from me and now I am back."
Teamates Savoldelli and Mazzoleni worked superbly over the final week of the Giro to ensure Astana would be represented on the final podium in Milano, and with Mazzoleni's time over Gilberto Simoni (Saunier Duval-Prodir) and Damiano Cunego (Lampre-Fondital) it has become a reality.
"My roommate, Mazzoleni, did well too. He will be on the final podium in Milano," continued Savoldelli. "After the stages in which I helped Eddy I started to concentrate on this stage. Di Luca, he is the strongest, he did really well. Complements to him and to his Liquigas team. I think his team, our team and Saunier really controlled this Giro."
All thumbs
Photo ©: Roberto Bettini

Mazzoleni's second place for the day pushed Zabriskie into third and gave the Italian two steps up, into third, in the final classification. "I have gone stronger than in the last years. I also have to say thanks to Savoldelli for helping me," said the rider from Bergamo.
Two time Giro champion, Simoni, ended the day slipping into fourth overall but he still had a smile on his face. "It would have been 'bello' to be on the final podium with Danilo but I preferred to win on Monte Zoncolan than riding to conserve a third overall," the 35 year-old from Trento noted. "The team won four stages of the Giro; we went very, very strong."
Saunier took its multiple victories in the Giro but it could not take out Liquigas' Di Luca. The rider from Abruzzo kept his cool today, guarding himself against any possible threats from Andy Schleck (Team CSC). "I managed myself very well over the time trial; I had time checks along the course to let me know where I stood," concluded Di Luca.
"It is an amazing day for me today. There is no other race as beautiful as the Giro. Amazing! The Giro overall is very important to me, like Liège, but a completely different feeling."
Schleck was only able to put 29" into the race leader but end the day satisfied in his three week performance, which earned him the best young rider's jersey. Schleck noted in French, "I am in the Maglia Bianca, I am very happy with what I accomplished."
How it unfolded
Danilo Di Luca (Liquigas)
Photo ©: Roberto Bettini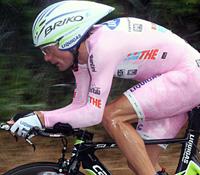 Starting in the Bardolino wine region next to Lake Garda, the penultimate stage of the 90th Giro d'Italia headed along the lakefront of Lago di Garda at Lungolago Lenotti, then looped through town and headed north to Garda, past Paola Pezzo's bike shop, due east up a climb to Costermano and to the first time check in Albarè after 10.3 kilometres. It then continued east to Rivoli Veronese, site of a famous Napoleonic era battle. The course turned south towards Verona through the vineyards of Valpolicella. The second time check, at 20.8 kilometres in Sega, then up and over the Pastrengo climb at mid-race (3.5km at 3.1% average gradient) then southeast towards Verona. Third time check was at Bussolengo at 29.8 kilometres, then it was a straight shot on fast, wide roads into the centre of Verona to finish next to the famous Arena di Verona in Piazza Bra.
With the intermittent rain and wind from the east-northeast, the 43-kilometre course was slower than normal due to the conditions. For the Giro's stage 20, riders started in reverse order of General Classification at one minute intervals, except for the final ten riders who were separated by three minute gaps.
Early on, Discovery Channel's Steve Cummings got close to the 56 minute barrier with 56'21" and the first rider under 56" was Acqua & Sapone's Dario Andriotto. But then it was time for Tinkoff's young Russian phenomenon Mikhail Ignatiev, who set the fastest time at all the checks on the way to posting a rapid 54'21". Next contender for stage 20 glory was Crédit Agricole's Laszlo Bodrogi. Starting under a driving rain, Bodrogi had a slow start, but once he got over the first hill and out on the open roads, the big Hungarian wound it up and had a fast finish to post 53'28", almost a minute faster than Ignatiev.
Eddy Mazzoleni (Astana)
Photo ©: Sirotti

American TT Champ Dave Zabriskie was now on the course and had a fast start, equalling Ignatiev's time after 10.3 kilometres in Albarè and posting the fastest time at 20.8 kilometres in Sega. Zabriskie rode through in 26'32", 49" ahead of Bodrogi, and then went on to be fastest time at 29.8 kilometres in Bussolengo, but had lost 2" to Bodrogi as he was just 47" ahead of the Crédit Agricole rider. The headwind and rain had picked up and this slowed the CSC rider over the final 14 kilometres to Verona. Zabriskie rode into Piazza Bra and posted the fastest time of 52'58", the first rider under 53 minutes. But from the second time check at 20.8 kilometres, Dave Z had ridden 19" slower than Bodrogi. His time was excellent but in a time trial, every second counts.
The weather conditions had improved slightly as the rain had stopped and next up was Liquigas rider Vincenzo Nibali, who was third on this course in the 2004 U23 Worlds. Astana's Paolo Savoldelli, an excellent time tester came through the first check in Albarè under 15'00" and was 10 faster than Ignatiev and Zabriskie. Lampre's Italian TT champ Marzio Bruseghin was second fastest and the improving weather conditions were clearly helping the riders in the top 20. Savoldelli was on fire and passed through the second time check still ahead of Zabriskie at 26'36", while Bruseghin was third fastest. Tinkoff's Petrov had a good start, but the former U23 World TT wasn't brilliant as he was likely tired from being in the break on Friday.
Astana's Mazzoleni had started well in the first part of the course as he sought to ride into third place on GC, while behind him Cunego, Simoni and Schleck had started stage 20; the rain had come back along Lago di Garda and then it was time for Maglia Rosa Di Luca to hit the road. Meanwhile Savoldelli blasted through the third time check in Bussolengo in 37'34," 20" up on Zabriskie's time of 37'54". But just behind Mazzoleni was Cunego, who had started faster than Mazzoleni and was now gunning himself for the podium. After 10.2 kilometres Simoni had already lost 26" to Cunego and the Saunier Duval riders was in danger of losing his third place on GC as he was only 1'01" ahead of the Lampre rider. Schleck was not losing time to Cunego, while Di Luca was off to a faster start than the young Luxemburger as the rain continued to fall.
David Zabriskie (Team CSC)
Photo ©: Sirotti

At 20.8 in Sega, Mazzoleni was third fastest in 26'37", as Cunego rode through in 26'56" and Mazzoleni had just ridden past Cunego into fourth on GC. The other Astana man was flying along the course and was closing in on Simoni, as he had gained 1'01" on Simoni, while Cunego had also gained 46" on the Saunier Duval man. Best Young Rider Schleck was trying hard in the biggest time test of his short career while his higher position was a big contrast to the low crouched position of Maglia Rosa Di Luca.
The race for the third spot on the podium was getting clearer as at the third time check in Bussolengo, Mazzoleni was still flying, rising 37'47", 7" faster than Zabriskie and still 20" behind his teammate Savoldelli. However, Cunego had slowed over the second part of the course and his time of 38'35" was well behind the Astana man. At the finish in Piazza Bra in Verona, Savoldelli had exploded over the last kilometres into town and came home in 52'20" at an average speed of 49.299km/h, 38" seconds faster than former leader Zabriskie.
Among the vineyards of Valpolicella, Schleck was gaining time on Di Luca by the second time check but it was more because the Maglia Rosa was riding carefully rather than Schleck bettering on the Maglia Rosa. Meanwhile, the three riders ahead of them, Mazzoleni was riding like a runaway freight train headed towards Verona as he had ridden past both Cunego and Simoni into third place on GC, while Simoni was still holding off Cunego by a few seconds. A pallid sun was shining in Verona as Eddy Mazzoleni passed Riccò who had started three minutes ahead of him and the Astana rider Mazzoleni finished in 52'56", second fastest just 2" ahead of Zabriskie, thus locking down his third place on GC with a cannonball of a ride, giving Astana first and second on the stage.
Andy Schleck (Team CSC)
Photo ©: Sirotti

Cunego then came in with the time of 54'37", and he was 1'01" behind Simoni on GC for what was now fourth place. Simoni had to ride faster than 55'38" to not slip into fifth on GC and hold off his arch rival Cunego. The tough Trentino rider Simoni used his many years experience to come home in 55'03" and stayed ahead of Cunego to maintain fourth on GC.
21 year-old talent Schleck rode the time trial of his young life to finish fifth on the stage, 53'48", and maintain his second place while Di Luca had an excellent ride to finish 54'16" for eighth place.
Barring any unforeseen circumstances, Saturday's penultimate stage GC will stay the same at the end of Sunday's stage 21. The tough final time test ended up shaking up the general classification at the 90th Giro d'Italia to some extent. Di Luca confirmed his supremacy and became the first rider from Abruzzo, in southern Italy, to win a Giro d'Italia.
Runner-up and best young rider was CSC's emerging talent Andy Schleck, 1'55" behind. The third and final podium spot was captured by Astana's Eddy Mazzoleni at 2'25", who jumped up two spots with a magnificent time trial in Verona, while old Giro hand Gibo Simoni ended fourth, 3'15" behind Di Luca and maintained a 34" lead over arch rival Cunego, who is now fifth at 3'49". Riccardo Riccò maintained his place (sixth) on GC as did Tinkoff rider Petrov, but it was Cunego's teammate Bruseghin, winner of the stage 13 uphill TT who was fifth today despite a broken TT bar in the last kilometre to move up two places on GC into eighth, while Di Luca's Liquigas teammate Pellizotti maintained ninth and Caisse d'Epargne's Arroyo slipped to 10th.
Stage 21 - Sunday, June 3: Vestone - Milano, 185 km
It's a sprinters show as always on the final stage at the 2007 Giro d'Italia that leaves from the small town of Vestone in Val Trompia north of Brescia, then heads west across the Lombardy plain to Milano, where the final 10 finishing circuits will end in a dramatic sprinters finale on Corso Venezia. Look for comeback kid Ale-Jet Petacchi of Team Milram to win his 24th career Giro d'Italia stage win, equalling the great Giuseppe Sarroni.
Photography
For a thumbnail gallery of these images, click here
Images by Roberto Bettini/www.bettiniphoto.net
Images by Fotoreporter Sirotti
Images by Luc Claessen/www.ctm-images.com
Results
1 Paolo Savoldelli (Ita) Astana                                            52.20 (49.299 km/h)
2 Eddy Mazzoleni (Ita) Astana                                               0.36
3 David Zabriskie (USA) Team CSC                                            0.38
4 Laszlo Bodrogi (Hun) Crédit Agricole                                      1.08
5 Marzio Bruseghin (Ita) Lampre - Fondital                                  1.16
6 Andy Schleck (Lux) Team CSC                                               1.28
7 Vincenzo Nibali (Ita) Liquigas                                            1.44
8 Danilo Di Luca (Ita) Liquigas                                             1.57
9 Mikhail Ignatiev (Rus) Tinkoff Credit System                              2.01
10 Franco Pellizotti (Ita) Liquigas                                         2.02
11 Evgeni Petrov (Rus) Tinkoff Credit System                                2.11
12 Damiano Cunego (Ita) Lampre - Fondital                                   2.17
13 Giovanni Visconti (Ita) Quickstep - Innergetic                           2.18
14 Raivis Belohvosciks (Lat) Saunier Duval - Prodir                         2.21
15 Andrei Kunitski (Blr) Acqua & Sapone - Caffe Mokambo                     2.29
16 Jurgen Van Den Broeck (Bel) Predictor - Lotto                                
17 Gilberto Simoni (Ita) Saunier Duval - Prodir                             2.44
18 Markel Irizar Aranburu (Spa) Euskaltel - Euskadi                         2.49
19 Dario Andriotto (Ita) Acqua & Sapone - Caffe Mokambo                     2.54
20 Yuriy Krivtsov (Ukr) AG2r Prévoyance                                     3.00
21 Marco Pinotti (Ita) T-Mobile Team                                        3.12
22 Pavel Padrnos (Cze) Discovery Channel Pro Cycling Team                   3.14
23 Riccardo Ricco (Ita) Saunier Duval - Prodir                              3.38
24 Andrey Mizourov (Kaz) Astana                                             3.40
25 Enrico Gasparotto (Ita) Liquigas                                         3.41
26 Jurgen Van Goolen (Bel) Discovery Channel Pro Cycling Team               3.47
27 Dario David Cioni (Ita) Predictor - Lotto                                3.52
28 Rinaldo Nocentini (Ita) AG2r Prévoyance                                      
29 Frantisek Rabon (Cze) T-Mobile Team                                      3.54
30 David Arroyo Duran (Spa) Caisse d'Epargne                                3.55
31 Daniele Contrini (Ita) Tinkoff Credit System                             3.56
32 Koos Moerenhout (Ned) Rabobank                                           3.58
33 Steven Cummings (GBr) Discovery Channel Pro Cycling Team                 4.01
34 Emanuele Sella (Ita) Ceramica Panaria - Navigare                         4.06
35 Benoît Joachim (Lux) Astana                                              4.14
36 Eric Berthou (Fra) Caisse d'Epargne                                      4.21
37 Leonardo Scarselli (Ita) Quickstep - Innergetic                          4.24
38 Lorenzo Bernucci (Ita) T-Mobile Team                                     4.25
39 Jussi Veikkanen (Fin) Française des Jeux                                 4.26
40 Alexandre Usov (Blr) AG2r Prévoyance                                     4.27
41 Branislau Samoilau (Blr) Acqua & Sapone - Caffe Mokambo                  4.28
42 Volodymyr Bileka (Ukr) Discovery Channel Pro Cycling Team                4.29
43 Aitor Perez Arrieta (Spa) Caisse d'Epargne                                   
44 Christian Knees (Ger) Team Milram                                        4.32
45 Lilian Jégou (Fra) Française des Jeux                                    4.34
46 Kurt-Asle Arvesen (Nor) Team CSC                                         4.35
47 Yoann Le Boulanger (Fra) Bouygues Telecom                                4.37
48 Francisco Javier Vila Errandonea (Spa) Lampre - Fondital                 4.38
49 Christophe Kern (Fra) Crédit Agricole                                    4.43
50 Hubert Schwab (Swi) Quickstep - Innergetic                               4.44
51 Massimo Codol (Ita) Acqua & Sapone - Caffe Mokambo                       4.49
52 Pavel Brutt (Rus) Tinkoff Credit System                                  4.55
53 Ivan Ramiro Parra Pinto (Col) Cofidis - Le Crédit par Téléphone          4.57
54 José Luis Rubiera Vigil (Spa) Discovery Channel Pro Cycling Team         4.59
55 Mario Aerts (Bel) Predictor - Lotto                                          
56 Christophe Riblon (Fra) AG2r Prévoyance                                  5.00
57 David Canada Gracia (Spa) Saunier Duval - Prodir                         5.03
58 Matthew White (Aus) Discovery Channel Pro Cycling Team                   5.04
59 Michael Rasmussen (Den) Rabobank                                             
60 Stefano Garzelli (Ita) Acqua & Sapone - Caffe Mokambo                    5.06
61 Giuseppe Palumbo (Ita) Acqua & Sapone - Caffe Mokambo                    5.12
62 Amaël Moinard (Fra) Cofidis - Le Crédit par Téléphone                        
63 Domenico Pozzovivo (Ita) Ceramica Panaria - Navigare                     5.17
64 Andrea Noe' (Ita) Liquigas                                               5.24
65 Axel Merckx (Bel) T-Mobile Team                                          5.31
66 Nicolas Crosbie (Fra) Bouygues Telecom                                   5.33
67 Andrea Pagoto (Ita) Ceramica Panaria - Navigare                              
68 Addy Engels (Ned) Quickstep - Innergetic                                 5.35
69 Pietro Caucchioli (Ita) Crédit Agricole                                  5.37
70 Alessandro Spezialetti (Ita) Liquigas                                    5.41
71 William Walker (Aus) Rabobank                                            5.42
72 Luis Felipe Laverde Jimenez (Col) Ceramica Panaria - Navigare            5.44
73 Ricardo Serrano Gonzalez (Spa) Tinkoff Credit System                     5.46
74 Matthias Russ (Ger) Gerolsteiner                                         5.47
75 Alessandro Vanotti (Ita) Liquigas                                        5.48
76 Aaron Olson (USA) T-Mobile Team                                              
77 Steve Morabito (Swi) Astana                                              5.50
78 Laurent Mangel (Fra) AG2r Prévoyance                                         
79 Volodymir Gustov (Ukr) Team CSC                                          5.53
80 Hervé Duclos-Lassalle (Fra) Cofidis - Le Crédit par Téléphone                
81 Alberto Losada Alguacil (Spa) Caisse d'Epargne                           5.55
82 Matteo Tosatto (Ita) Quickstep - Innergetic                              5.56
83 Fortunato Baliani (Ita) Ceramica Panaria - Navigare                      5.57
84 Martin Müller (Ger) Team Milram                                          5.58
85 Nicolas Roche (Irl) Crédit Agricole                                      6.01
86 Alessandro Cortinovis (Ita) Team Milram                                  6.02
87 Alessandro Petacchi (Ita) Team Milram                                    6.06
88 Bingen Fernandez Bustinza (Spa) Cofidis - Le Crédit par Téléphone            
89 Nikolai Trusov (Rus) Tinkoff Credit System                               6.07
90 Josep Jufre Pou (Spa) Predictor - Lotto                                      
91 Mauro Facci (Ita) Quickstep - Innergetic                                 6.08
92 Vladimir Miholjevic (Cro) Liquigas                                       6.12
93 Alexandre Pichot (Fra) Bouygues Telecom                                      
94 Sylvester Szmyd (Pol) Lampre - Fondital                                  6.13
95 Angelo Furlan (Ita) Crédit Agricole                                      6.15
96 Dmitriy Muravyev (Kaz) Astana                                            6.16
97 Brett Lancaster (Aus) Team Milram                                        6.18
98 Assan Bazayev (Kaz) Astana                                               6.20
99 Francis Mourey (Fra) Française des Jeux                                      
100 Pablo Lastras Garcia (Spa) Caisse d'Epargne                             6.21
101 Hubert Dupont (Fra) AG2r Prévoyance                                         
102 Tristan Valentin (Fra) Cofidis - Le Crédit par Téléphone                6.25
103 Gorazd Stangelj (Slo) Lampre - Fondital                                     
104 Matthew Lloyd (Aus) Predictor - Lotto                                       
105 Paolo Tiralongo (Ita) Lampre - Fondital                                 6.26
106 Angel Gomez (Spa) Saunier Duval - Prodir                                6.28
107 Sven Krauss (Ger) Gerolsteiner                                              
108 Leonardo Piepoli (Ita) Saunier Duval - Prodir                           6.29
109 Julio Alberto Perez Cuapio (Mex) Ceramica Panaria - Navigare            6.48
110 Salvatore Commesso (Ita) Tinkoff Credit System                          6.50
111 Olivier Bonnaire (Fra) Bouygues Telecom                                 6.54
112 Mathieu Perget (Fra) Caisse d'Epargne                                   6.56
113 Mirco Lorenzetto (Ita) Team Milram                                          
114 Arnaud Gérard (Fra) Française des Jeux                                  6.59
115 Pierre Drancourt (Fra) Bouygues Telecom                                 7.00
116 Pedro Horrillo Munoz (Spa) Rabobank                                     7.04
117 Maxim Gourov (Kaz) Astana                                               7.10
118 Paolo Bettini (Ita) Quickstep - Innergetic                              7.11
119 Iban Mayo Diez (Spa) Saunier Duval - Prodir                             7.22
120 Julian Dean (NZl) Crédit Agricole                                       7.24
121 Mickaël Buffaz (Fra) Cofidis - Le Crédit par Téléphone                  7.25
122 Lloyd Mondory (Fra) AG2r Prévoyance                                     7.27
123 Thomas Fothen (Ger) Gerolsteiner                                        7.34
124 Iban Velasco (Spa) Euskaltel - Euskadi                                  7.38
125 Mauricio Alberto Ardila Cano (Col) Rabobank                             7.39
126 Fabien Patanchon (Fra) Française des Jeux                               7.41
127 Matti Breschel (Den) Team CSC                                           7.50
128 Franck Renier (Fra) Bouygues Telecom                                    7.57
129 Koldo Fernandez (Spa) Euskaltel - Euskadi                               8.00
130 Maximiliano Richeze (Arg) Ceramica Panaria - Navigare                   8.08
131 Frédéric Bessy (Fra) Cofidis - Le Crédit par Téléphone                      
132 Matteo Bono (Ita) Lampre - Fondital                                         
133 Nick Gates (Aus) Predictor - Lotto                                      8.11
134 Carl Naibo (Fra) AG2r Prévoyance                                        8.18
135 Elio Aggiano (Ita) Tinkoff Credit System                                8.19
136 Anton Luengo Celaya (Spa) Euskaltel - Euskadi                           8.38
137 Luca Mazzanti (Ita) Ceramica Panaria - Navigare                         8.39
138 Oscar Gatto (Ita) Gerolsteiner                                          8.48
139 Stefano Zanini (Ita) Predictor - Lotto                                  8.50
140 Marco Marzano (Ita) Lampre - Fondital                                   9.10
141 Dmitry Kozontchouk (Rus) Rabobank                                       9.13
 
Points
 
1 Paolo Savoldelli (Ita) Astana                                               25 pts
2 Eddy Mazzoleni (Ita) Astana                                                 20
3 David Zabriskie (USA) Team CSC                                              16
4 Laszlo Bodrogi (Hun) Crédit Agricole                                        14
5 Marzio Bruseghin (Ita) Lampre - Fondital                                    12
6 Andy Schleck (Lux) Team CSC                                                 10
7 Vincenzo Nibali (Ita) Liquigas                                               9
8 Danilo Di Luca (Ita) Liquigas                                                8
9 Mikhail Ignatiev (Rus) Tinkoff Credit System                                 7
10 Franco Pellizotti (Ita) Liquigas                                            6
11 Evgeni Petrov (Rus) Tinkoff Credit System                                   5
12 Damiano Cunego (Ita) Lampre - Fondital                                      4
13 Giovanni Visconti (Ita) Quickstep - Innergetic                              3
14 Raivis Belohvosciks (Lat) Saunier Duval - Prodir                            2
15 Andrei Kunitski (Blr) Acqua & Sapone - Caffe Mokambo                        1
 
Most combative
 
1 Paolo Savoldelli (Ita) Astana                                                6 pts
2 Eddy Mazzoleni (Ita) Astana                                                  5
3 David Zabriskie (USA) Team CSC                                               4
4 Laszlo Bodrogi (Hun) Crédit Agricole                                         3
5 Marzio Bruseghin (Ita) Lampre - Fondital                                     2
6 Andy Schleck (Lux) Team CSC                                                  1
 
Azzurri d'Italia
 
1 Paolo Savoldelli (Ita) Astana                                                4 pts
2 Eddy Mazzoleni (Ita) Astana                                                  2
3 David Zabriskie (USA) Team CSC                                               1
 
Trofeo fast team
 
1 Astana                                                                 2.41.16
2 Liquigas                                                                  1.27
3 Team CSC                                                                  2.25
4 Tinkoff Credit System                                                     3.52
5 Lampre-Fondital                                                           3.55
6 Saunier Duval-Prodir                                                      4.27
7 Acqua & Sapone-Caffe Mokambo                                              5.35
8 Discovery Channel Pro Cycling Team                                        6.46
9 AG2r Prévoyance                                                           7.03
10 Predictor-Lotto                                                          7.04
11 Quickstep-Innergetic                                                     7.10
12 Crédit Agricole                                                          7.12
13 T-Mobile Team                                                            7.15
14 Caisse d'Epargne                                                         8.29
15 Rabobank                                                                10.28
16 Ceramica Panaria-Navigare                                               10.40
17 Française des Jeux                                                      11.04
18 Cofidis-Le Crédit par Téléphone                                         11.46
19 Bouygues Telecom                                                        12.06
20 Team Milram                                                             12.16
21 Euskaltel-Euskadi                                                       14.11
22 Gerolsteiner                                                            15.33
 
Trofeo super team
 
1 Astana                                                                      39 pts
2 Liquigas                                                                    38
3 Team CSC                                                                    33
4 Lampre-Fondital                                                             25
5 Tinkoff Credit System                                                       22
6 Crédit Agricole                                                             17
7 Saunier Duval-Prodir                                                        11
8 Quickstep-Innergetic                                                         8
9 Acqua & Sapone-Caffe Mokambo                                                 8
10 Predictor-Lotto                                                             5
11 Euskaltel-Euskadi                                                           3
12 AG2r Prévoyance                                                             1
13 T-Mobile Team                                                                
14 Discovery Channel Pro Cycling Team                                           
15 Caisse d'Epargne                                                             
16 Rabobank                                                                     
17 Ceramica Panaria-Navigare                                                    
18 Française des Jeux                                                           
19 Team Milram                                                                  
20 Bouygues Telecom                                                             
21 Cofidis-Le Crédit par Téléphone                                              
22 Gerolsteiner                                                                 
 
General classification after stage 20
 
1 Danilo Di Luca (Ita) Liquigas                                         87.40.45
2 Andy Schleck (Lux) Team CSC                                               1.55
3 Eddy Mazzoleni (Ita) Astana                                               2.25
4 Gilberto Simoni (Ita) Saunier Duval - Prodir                              3.15
5 Damiano Cunego (Ita) Lampre - Fondital                                    3.49
6 Riccardo Ricco (Ita) Saunier Duval - Prodir                               7.00
7 Evgeni Petrov (Rus) Tinkoff Credit System                                 8.34
8 Marzio Bruseghin (Ita) Lampre - Fondital                                 10.14
9 Franco Pellizotti (Ita) Liquigas                                         10.44
10 David Arroyo Duran (Spa) Caisse d'Epargne                               11.58
11 Emanuele Sella (Ita) Ceramica Panaria - Navigare                        13.08
12 Paolo Savoldelli (Ita) Astana                                           13.30
13 Ivan Ramiro Parra Pinto (Col) Cofidis - Le Crédit par Téléphone         14.48
14 Leonardo Piepoli (Ita) Saunier Duval - Prodir                           17.40
15 Francisco Javier Vila Errandonea (Spa) Lampre - Fondital                19.13
16 Stefano Garzelli (Ita) Acqua & Sapone - Caffe Mokambo                   19.39
17 Domenico Pozzovivo (Ita) Ceramica Panaria - Navigare                    23.55
18 Marco Pinotti (Ita) T-Mobile Team                                       29.41
19 Vincenzo Nibali (Ita) Liquigas                                          31.42
20 Mario Aerts (Bel) Predictor - Lotto                                     32.48
21 Andrey Mizourov (Kaz) Astana                                            33.28
22 Branislau Samoilau (Blr) Acqua & Sapone - Caffe Mokambo                 34.19
23 Massimo Codol (Ita) Acqua & Sapone - Caffe Mokambo                      40.16
24 Fortunato Baliani (Ita) Ceramica Panaria - Navigare                     40.45
25 Hubert Dupont (Fra) AG2r Prévoyance                                     44.53
26 Paolo Tiralongo (Ita) Lampre - Fondital                                 51.43
27 Pietro Caucchioli (Ita) Crédit Agricole                                 54.06
28 Sylvester Szmyd (Pol) Lampre - Fondital                               1.02.55
29 Bingen Fernandez Bustinza (Spa) Cofidis - Le Crédit par Téléphone     1.04.49
30 Yoann Le Boulanger (Fra) Bouygues Telecom                             1.06.16
31 Luca Mazzanti (Ita) Ceramica Panaria - Navigare                       1.06.52
32 Aitor Perez Arrieta (Spa) Caisse d'Epargne                                   
33 Dario David Cioni (Ita) Predictor - Lotto                             1.07.43
34 Mauro Facci (Ita) Quickstep - Innergetic                              1.08.55
35 Andrea Noe' (Ita) Liquigas                                            1.09.22
36 Luis Felipe Laverde Jimenez (Col) Ceramica Panaria - Navigare         1.10.02
37 Marco Marzano (Ita) Lampre - Fondital                                 1.11.30
38 Iban Mayo Diez (Spa) Saunier Duval - Prodir                           1.12.01
39 José Luis Rubiera Vigil (Spa) Discovery Channel Pro Cycling Team      1.14.46
40 Julio Alberto Perez Cuapio (Mex) Ceramica Panaria - Navigare          1.16.05
41 Paolo Bettini (Ita) Quickstep - Innergetic                            1.16.42
42 Pablo Lastras Garcia (Spa) Caisse d'Epargne                           1.18.03
43 Francis Mourey (Fra) Française des Jeux                               1.22.40
44 Jussi Veikkanen (Fin) Française des Jeux                              1.23.27
45 Olivier Bonnaire (Fra) Bouygues Telecom                               1.26.41
46 Amaël Moinard (Fra) Cofidis - Le Crédit par Téléphone                 1.26.47
47 Rinaldo Nocentini (Ita) AG2r Prévoyance                               1.30.11
48 Michael Rasmussen (Den) Rabobank                                      1.31.14
49 Volodymyr Bileka (Ukr) Discovery Channel Pro Cycling Team             1.32.40
50 Axel Merckx (Bel) T-Mobile Team                                       1.32.56
51 Dmitriy Muravyev (Kaz) Astana                                         1.33.46
52 Carl Naibo (Fra) AG2r Prévoyance                                      1.34.34
53 Josep Jufre Pou (Spa) Predictor - Lotto                               1.34.59
54 Matthias Russ (Ger) Gerolsteiner                                      1.36.51
55 Salvatore Commesso (Ita) Tinkoff Credit System                        1.39.46
56 Hubert Schwab (Swi) Quickstep - Innergetic                            1.40.49
57 William Walker (Aus) Rabobank                                         1.42.56
58 David Zabriskie (USA) Team CSC                                        1.49.31
59 David Canada Gracia (Spa) Saunier Duval - Prodir                      1.50.08
60 Alberto Losada Alguacil (Spa) Caisse d'Epargne                        1.50.33
61 Kurt-Asle Arvesen (Nor) Team CSC                                      1.51.11
62 Matthew Lloyd (Aus) Predictor - Lotto                                 1.51.34
63 Alessandro Spezialetti (Ita) Liquigas                                 1.52.29
64 Lorenzo Bernucci (Ita) T-Mobile Team                                  1.52.44
65 Vladimir Miholjevic (Cro) Liquigas                                    1.53.16
66 Frédéric Bessy (Fra) Cofidis - Le Crédit par Téléphone                1.54.06
67 Mauricio Alberto Ardila Cano (Col) Rabobank                           1.56.13
68 Markel Irizar Aranburu (Spa) Euskaltel - Euskadi                      1.58.39
69 Volodymir Gustov (Ukr) Team CSC                                       2.02.31
70 Koos Moerenhout (Ned) Rabobank                                        2.05.04
71 Yuriy Krivtsov (Ukr) AG2r Prévoyance                                  2.07.23
72 Christian Knees (Ger) Team Milram                                     2.07.52
73 Jurgen Van Den Broeck (Bel) Predictor - Lotto                         2.08.52
74 Pavel Padrnos (Cze) Discovery Channel Pro Cycling Team                2.09.01
75 Giovanni Visconti (Ita) Quickstep - Innergetic                        2.09.15
76 Lilian Jégou (Fra) Française des Jeux                                 2.09.38
77 Iban Velasco (Spa) Euskaltel - Euskadi                                2.10.24
78 Gorazd Stangelj (Slo) Lampre - Fondital                               2.11.48
79 Frantisek Rabon (Cze) T-Mobile Team                                   2.12.25
80 Angel Gomez (Spa) Saunier Duval - Prodir                              2.15.36
81 Addy Engels (Ned) Quickstep - Innergetic                              2.15.49
82 Christophe Riblon (Fra) AG2r Prévoyance                               2.16.55
83 Steve Morabito (Swi) Astana                                           2.17.08
84 Laszlo Bodrogi (Hun) Crédit Agricole                                  2.18.05
85 Andrei Kunitski (Blr) Acqua & Sapone - Caffe Mokambo                  2.18.56
86 Daniele Contrini (Ita) Tinkoff Credit System                          2.22.50
87 Pavel Brutt (Rus) Tinkoff Credit System                               2.23.41
88 Nicolas Crosbie (Fra) Bouygues Telecom                                2.25.09
89 Eric Berthou (Fra) Caisse d'Epargne                                   2.27.09
90 Giuseppe Palumbo (Ita) Acqua & Sapone - Caffe Mokambo                 2.27.21
91 Mathieu Perget (Fra) Caisse d'Epargne                                 2.27.39
92 Maximiliano Richeze (Arg) Ceramica Panaria - Navigare                 2.28.33
93 Julian Dean (NZl) Crédit Agricole                                     2.29.49
94 Matteo Tosatto (Ita) Quickstep - Innergetic                           2.30.04
95 Andrea Pagoto (Ita) Ceramica Panaria - Navigare                       2.30.15
96 Jurgen Van Goolen (Bel) Discovery Channel Pro Cycling Team            2.31.45
97 Enrico Gasparotto (Ita) Liquigas                                      2.35.31
98 Assan Bazayev (Kaz) Astana                                            2.37.23
99 Benoît Joachim (Lux) Astana                                           2.39.47
100 Dmitry Kozontchouk (Rus) Rabobank                                    2.40.04
101 Leonardo Scarselli (Ita) Quickstep - Innergetic                      2.40.49
102 Ricardo Serrano Gonzalez (Spa) Tinkoff Credit System                 2.41.14
103 Hervé Duclos-Lassalle (Fra) Cofidis - Le Crédit par Téléphone        2.42.31
104 Alessandro Petacchi (Ita) Team Milram                                2.43.44
105 Matthew White (Aus) Discovery Channel Pro Cycling Team               2.43.51
106 Alexandre Usov (Blr) AG2r Prévoyance                                 2.44.31
107 Alessandro Vanotti (Ita) Liquigas                                    2.48.42
108 Lloyd Mondory (Fra) AG2r Prévoyance                                  2.49.53
109 Mirco Lorenzetto (Ita) Team Milram                                   2.51.02
110 Steven Cummings (GBr) Discovery Channel Pro Cycling Team             2.52.46
111 Dario Andriotto (Ita) Acqua & Sapone - Caffe Mokambo                 2.53.43
112 Laurent Mangel (Fra) AG2r Prévoyance                                 2.55.03
113 Alessandro Cortinovis (Ita) Team Milram                              2.56.15
114 Christophe Kern (Fra) Crédit Agricole                                2.56.33
115 Brett Lancaster (Aus) Team Milram                                    2.57.04
116 Angelo Furlan (Ita) Crédit Agricole                                  2.58.55
117 Raivis Belohvosciks (Lat) Saunier Duval - Prodir                     2.59.02
118 Maxim Gourov (Kaz) Astana                                            3.00.58
119 Franck Renier (Fra) Bouygues Telecom                                 3.04.05
120 Matti Breschel (Den) Team CSC                                        3.04.07
121 Pedro Horrillo Munoz (Spa) Rabobank                                  3.07.12
122 Thomas Fothen (Ger) Gerolsteiner                                     3.07.57
123 Nicolas Roche (Irl) Crédit Agricole                                  3.08.17
124 Mickaël Buffaz (Fra) Cofidis - Le Crédit par Téléphone               3.09.17
125 Arnaud Gérard (Fra) Française des Jeux                               3.09.18
126 Alexandre Pichot (Fra) Bouygues Telecom                              3.09.35
127 Mikhail Ignatiev (Rus) Tinkoff Credit System                         3.13.19
128 Nick Gates (Aus) Predictor - Lotto                                   3.14.43
129 Pierre Drancourt (Fra) Bouygues Telecom                              3.16.22
130 Martin Müller (Ger) Team Milram                                      3.17.07
131 Fabien Patanchon (Fra) Française des Jeux                            3.19.57
132 Tristan Valentin (Fra) Cofidis - Le Crédit par Téléphone             3.20.46
133 Nikolai Trusov (Rus) Tinkoff Credit System                           3.20.50
134 Stefano Zanini (Ita) Predictor - Lotto                               3.24.22
135 Sven Krauss (Ger) Gerolsteiner                                       3.29.27
136 Aaron Olson (USA) T-Mobile Team                                      3.32.34
137 Koldo Fernandez (Spa) Euskaltel - Euskadi                            3.32.56
138 Elio Aggiano (Ita) Tinkoff Credit System                             3.33.17
139 Matteo Bono (Ita) Lampre - Fondital                                  3.33.37
140 Anton Luengo Celaya (Spa) Euskaltel - Euskadi                        3.34.17
141 Oscar Gatto (Ita) Gerolsteiner                                       3.41.39
 
Points classification
 
1 Alessandro Petacchi (Ita) Team Milram                                      160 pts
2 Danilo Di Luca (Ita) Liquigas                                              130
3 Paolo Bettini (Ita) Quickstep - Innergetic                                 104
4 Leonardo Piepoli (Ita) Saunier Duval - Prodir                               93
5 Gilberto Simoni (Ita) Saunier Duval - Prodir                                92
6 Stefano Garzelli (Ita) Acqua & Sapone - Caffe Mokambo                       91
7 Maximiliano Richeze (Arg) Ceramica Panaria - Navigare                       87
8 Andy Schleck (Lux) Team CSC                                                 85
9 Riccardo Ricco (Ita) Saunier Duval - Prodir                                 76
10 Damiano Cunego (Ita) Lampre - Fondital                                     76
11 Eddy Mazzoleni (Ita) Astana                                                71
12 Marzio Bruseghin (Ita) Lampre - Fondital                                   70
13 Alexandre Usov (Blr) AG2r Prévoyance                                       56
14 Paolo Savoldelli (Ita) Astana                                              55
15 Franco Pellizotti (Ita) Liquigas                                           52
16 Evgeni Petrov (Rus) Tinkoff Credit System                                  49
17 Assan Bazayev (Kaz) Astana                                                 44
18 Giovanni Visconti (Ita) Quickstep - Innergetic                             43
19 Julio Alberto Perez Cuapio (Mex) Ceramica Panaria - Navigare               41
20 Ivan Ramiro Parra Pinto (Col) Cofidis - Le Crédit par Téléphone            38
21 Fortunato Baliani (Ita) Ceramica Panaria - Navigare                        37
22 David Arroyo Duran (Spa) Caisse d'Epargne                                  36
23 David Zabriskie (USA) Team CSC                                             36
24 Iban Mayo Diez (Spa) Saunier Duval - Prodir                                32
25 Marco Pinotti (Ita) T-Mobile Team                                          32
26 Emanuele Sella (Ita) Ceramica Panaria - Navigare                           30
27 Kurt-Asle Arvesen (Nor) Team CSC                                           29
28 Luis Felipe Laverde Jimenez (Col) Ceramica Panaria - Navigare              28
29 Laurent Mangel (Fra) AG2r Prévoyance                                       28
30 Mikhail Ignatiev (Rus) Tinkoff Credit System                               27
31 Yoann Le Boulanger (Fra) Bouygues Telecom                                  25
32 Christophe Kern (Fra) Crédit Agricole                                      24
33 Lorenzo Bernucci (Ita) T-Mobile Team                                       23
34 Michael Rasmussen (Den) Rabobank                                           21
35 Mickaël Buffaz (Fra) Cofidis - Le Crédit par Téléphone                     20
36 Daniele Contrini (Ita) Tinkoff Credit System                               18
37 Ricardo Serrano Gonzalez (Spa) Tinkoff Credit System                       18
38 Hervé Duclos-Lassalle (Fra) Cofidis - Le Crédit par Téléphone              18
39 Alexandre Pichot (Fra) Bouygues Telecom                                    17
40 Hubert Schwab (Swi) Quickstep - Innergetic                                 16
41 Markel Irizar Aranburu (Spa) Euskaltel - Euskadi                           15
42 Nicolas Crosbie (Fra) Bouygues Telecom                                     15
43 José Luis Rubiera Vigil (Spa) Discovery Channel Pro Cycling Team           15
44 Lloyd Mondory (Fra) AG2r Prévoyance                                        15
45 Alberto Losada Alguacil (Spa) Caisse d'Epargne                             14
46 Mario Aerts (Bel) Predictor - Lotto                                        14
47 Massimo Codol (Ita) Acqua & Sapone - Caffe Mokambo                         14
48 Laszlo Bodrogi (Hun) Crédit Agricole                                       14
49 Nikolai Trusov (Rus) Tinkoff Credit System                                 14
50 Francisco Javier Vila Errandonea (Spa) Lampre - Fondital                   13
51 Marco Marzano (Ita) Lampre - Fondital                                      13
52 Oscar Gatto (Ita) Gerolsteiner                                             13
53 Yuriy Krivtsov (Ukr) AG2r Prévoyance                                       12
54 Julian Dean (NZl) Crédit Agricole                                          12
55 Frédéric Bessy (Fra) Cofidis - Le Crédit par Téléphone                     11
56 Giuseppe Palumbo (Ita) Acqua & Sapone - Caffe Mokambo                      11
57 Matti Breschel (Den) Team CSC                                              11
58 Pablo Lastras Garcia (Spa) Caisse d'Epargne                                10
59 Volodymyr Bileka (Ukr) Discovery Channel Pro Cycling Team                  10
60 Alessandro Spezialetti (Ita) Liquigas                                      10
61 Vincenzo Nibali (Ita) Liquigas                                              9
62 Luca Mazzanti (Ita) Ceramica Panaria - Navigare                             9
63 Salvatore Commesso (Ita) Tinkoff Credit System                              9
64 Pedro Horrillo Munoz (Spa) Rabobank                                         9
65 Thomas Fothen (Ger) Gerolsteiner                                            9
66 Koldo Fernandez (Spa) Euskaltel - Euskadi                                   9
67 Andrea Noe' (Ita) Liquigas                                                  8
68 Rinaldo Nocentini (Ita) AG2r Prévoyance                                     8
69 Stefano Zanini (Ita) Predictor - Lotto                                      8
70 Enrico Gasparotto (Ita) Liquigas                                            7
71 Pietro Caucchioli (Ita) Crédit Agricole                                     7
72 Lilian Jégou (Fra) Française des Jeux                                       7
73 Pavel Brutt (Rus) Tinkoff Credit System                                     7
74 Sylvester Szmyd (Pol) Lampre - Fondital                                     6
75 Dario David Cioni (Ita) Predictor - Lotto                                   6
76 Josep Jufre Pou (Spa) Predictor - Lotto                                     6
77 Christophe Riblon (Fra) AG2r Prévoyance                                     6
78 Maxim Gourov (Kaz) Astana                                                   6
79 Andrei Kunitski (Blr) Acqua & Sapone - Caffe Mokambo                        5
80 Matteo Tosatto (Ita) Quickstep - Innergetic                                 5
81 Martin Müller (Ger) Team Milram                                             5
82 Sven Krauss (Ger) Gerolsteiner                                              5
83 Branislau Samoilau (Blr) Acqua & Sapone - Caffe Mokambo                     4
84 Addy Engels (Ned) Quickstep - Innergetic                                    4
85 Pierre Drancourt (Fra) Bouygues Telecom                                     4
86 Elio Aggiano (Ita) Tinkoff Credit System                                    3
87 William Walker (Aus) Rabobank                                               3
88 Jurgen Van Den Broeck (Bel) Predictor - Lotto                               3
89 Nicolas Roche (Irl) Crédit Agricole                                         3
90 Fabien Patanchon (Fra) Française des Jeux                                   3
91 Matteo Bono (Ita) Lampre - Fondital                                         3
92 Domenico Pozzovivo (Ita) Ceramica Panaria - Navigare                        2
93 Hubert Dupont (Fra) AG2r Prévoyance                                         2
94 Mauro Facci (Ita) Quickstep - Innergetic                                    2
95 Francis Mourey (Fra) Française des Jeux                                     2
96 Raivis Belohvosciks (Lat) Saunier Duval - Prodir                            2
97 Paolo Tiralongo (Ita) Lampre - Fondital                                     1
98 Mauricio Alberto Ardila Cano (Col) Rabobank                                 1
99 Eric Berthou (Fra) Caisse d'Epargne                                         1
100 Brett Lancaster (Aus) Team Milram                                          1
101 Franck Renier (Fra) Bouygues Telecom                                       1
102 Aitor Perez Arrieta (Spa) Caisse d'Epargne                                -3
103 Christian Knees (Ger) Team Milram                                         -9
104 Jurgen Van Goolen (Bel) Discovery Channel Pro Cycling Team               -10
105 Benoît Joachim (Lux) Astana                                              -14
106 Tristan Valentin (Fra) Cofidis - Le Crédit par Téléphone                 -15
 
Mountains classification
 
1 Leonardo Piepoli (Ita) Saunier Duval - Prodir                               79 pts
2 Fortunato Baliani (Ita) Ceramica Panaria - Navigare                         46
3 Danilo Di Luca (Ita) Liquigas                                               45
4 Gilberto Simoni (Ita) Saunier Duval - Prodir                                41
5 Riccardo Ricco (Ita) Saunier Duval - Prodir                                 36
6 Yoann Le Boulanger (Fra) Bouygues Telecom                                   24
7 Luis Felipe Laverde Jimenez (Col) Ceramica Panaria - Navigare               23
8 Andy Schleck (Lux) Team CSC                                                 20
9 Damiano Cunego (Ita) Lampre - Fondital                                      17
10 Marzio Bruseghin (Ita) Lampre - Fondital                                   15
11 Christophe Riblon (Fra) AG2r Prévoyance                                    15
12 Emanuele Sella (Ita) Ceramica Panaria - Navigare                           14
13 Ivan Ramiro Parra Pinto (Col) Cofidis - Le Crédit par Téléphone            13
14 Eddy Mazzoleni (Ita) Astana                                                 9
15 Julio Alberto Perez Cuapio (Mex) Ceramica Panaria - Navigare                9
16 Michael Rasmussen (Den) Rabobank                                            9
17 Pavel Brutt (Rus) Tinkoff Credit System                                     8
18 Marco Pinotti (Ita) T-Mobile Team                                           8
19 Hubert Schwab (Swi) Quickstep - Innergetic                                  8
20 Pietro Caucchioli (Ita) Crédit Agricole                                     7
21 Josep Jufre Pou (Spa) Predictor - Lotto                                     6
22 Paolo Savoldelli (Ita) Astana                                               5
23 Stefano Garzelli (Ita) Acqua & Sapone - Caffe Mokambo                       5
24 Sylvester Szmyd (Pol) Lampre - Fondital                                     4
25 David Zabriskie (USA) Team CSC                                              4
26 Iban Mayo Diez (Spa) Saunier Duval - Prodir                                 3
27 Franco Pellizotti (Ita) Liquigas                                            3
28 Dario David Cioni (Ita) Predictor - Lotto                                   3
29 Mauro Facci (Ita) Quickstep - Innergetic                                    3
30 Daniele Contrini (Ita) Tinkoff Credit System                                3
31 Christophe Kern (Fra) Crédit Agricole                                       3
32 Francisco Javier Vila Errandonea (Spa) Lampre - Fondital                    2
33 Pablo Lastras Garcia (Spa) Caisse d'Epargne                                 2
34 Lorenzo Bernucci (Ita) T-Mobile Team                                        2
35 Markel Irizar Aranburu (Spa) Euskaltel - Euskadi                            2
36 Fabien Patanchon (Fra) Française des Jeux                                   2
37 Massimo Codol (Ita) Acqua & Sapone - Caffe Mokambo                          1
38 José Luis Rubiera Vigil (Spa) Discovery Channel Pro Cycling Team            1
39 Paolo Bettini (Ita) Quickstep - Innergetic                                  1
40 Salvatore Commesso (Ita) Tinkoff Credit System                              1
41 William Walker (Aus) Rabobank                                               1
42 Alberto Losada Alguacil (Spa) Caisse d'Epargne                              1
43 Frédéric Bessy (Fra) Cofidis - Le Crédit par Téléphone                      1
44 Yuriy Krivtsov (Ukr) AG2r Prévoyance                                        1
45 Giovanni Visconti (Ita) Quickstep - Innergetic                              1
46 Eric Berthou (Fra) Caisse d'Epargne                                         1
 
T.V. Garibaldi classification
 
1 Mickaël Buffaz (Fra) Cofidis - Le Crédit par Téléphone                      13 pts
2 Mikhail Ignatiev (Rus) Tinkoff Credit System                                13
3 Yoann Le Boulanger (Fra) Bouygues Telecom                                    9
4 Alberto Losada Alguacil (Spa) Caisse d'Epargne                               9
5 Nicolas Crosbie (Fra) Bouygues Telecom                                       9
6 Marco Pinotti (Ita) T-Mobile Team                                            8
7 Paolo Bettini (Ita) Quickstep - Innergetic                                   8
8 Giovanni Visconti (Ita) Quickstep - Innergetic                               8
9 Fortunato Baliani (Ita) Ceramica Panaria - Navigare                          8
10 Ivan Ramiro Parra Pinto (Col) Cofidis - Le Crédit par Téléphone             7
11 Frédéric Bessy (Fra) Cofidis - Le Crédit par Téléphone                      7
12 Markel Irizar Aranburu (Spa) Euskaltel - Euskadi                            6
13 Pierre Drancourt (Fra) Bouygues Telecom                                     6
14 Julio Alberto Perez Cuapio (Mex) Ceramica Panaria - Navigare                5
15 Laurent Mangel (Fra) AG2r Prévoyance                                        5
16 Christophe Kern (Fra) Crédit Agricole                                       5
17 Elio Aggiano (Ita) Tinkoff Credit System                                    5
18 Pavel Brutt (Rus) Tinkoff Credit System                                     5
19 Marzio Bruseghin (Ita) Lampre - Fondital                                    4
20 Leonardo Piepoli (Ita) Saunier Duval - Prodir                               4
21 Iban Mayo Diez (Spa) Saunier Duval - Prodir                                 4
22 Dario David Cioni (Ita) Predictor - Lotto                                   4
23 Yuriy Krivtsov (Ukr) AG2r Prévoyance                                        4
24 Christophe Riblon (Fra) AG2r Prévoyance                                     4
25 Daniele Contrini (Ita) Tinkoff Credit System                                4
26 Benoît Joachim (Lux) Astana                                                 4
27 Maxim Gourov (Kaz) Astana                                                   4
28 Franck Renier (Fra) Bouygues Telecom                                        4
29 Riccardo Ricco (Ita) Saunier Duval - Prodir                                 3
30 Massimo Codol (Ita) Acqua & Sapone - Caffe Mokambo                          3
31 Marco Marzano (Ita) Lampre - Fondital                                       3
32 Andrei Kunitski (Blr) Acqua & Sapone - Caffe Mokambo                        3
33 Martin Müller (Ger) Team Milram                                             3
34 Luis Felipe Laverde Jimenez (Col) Ceramica Panaria - Navigare               2
35 Evgeni Petrov (Rus) Tinkoff Credit System                                   2
36 Sylvester Szmyd (Pol) Lampre - Fondital                                     2
37 Michael Rasmussen (Den) Rabobank                                            2
38 Jurgen Van Den Broeck (Bel) Predictor - Lotto                               2
39 Addy Engels (Ned) Quickstep - Innergetic                                    2
40 Giuseppe Palumbo (Ita) Acqua & Sapone - Caffe Mokambo                       2
41 Fabien Patanchon (Fra) Française des Jeux                                   2
42 Matteo Bono (Ita) Lampre - Fondital                                         2
43 Alessandro Petacchi (Ita) Team Milram                                       1
44 Paolo Savoldelli (Ita) Astana                                               1
45 Mario Aerts (Bel) Predictor - Lotto                                         1
46 Hubert Dupont (Fra) AG2r Prévoyance                                         1
47 Mauro Facci (Ita) Quickstep - Innergetic                                    1
48 Hubert Schwab (Swi) Quickstep - Innergetic                                  1
49 Pedro Horrillo Munoz (Spa) Rabobank                                         1
 
Most combative classification
 
1 Leonardo Piepoli (Ita) Saunier Duval - Prodir                               39 pts
2 Alessandro Petacchi (Ita) Team Milram                                       37
3 Fortunato Baliani (Ita) Ceramica Panaria - Navigare                         36
4 Paolo Bettini (Ita) Quickstep - Innergetic                                  30
5 Danilo Di Luca (Ita) Liquigas                                               29
6 Gilberto Simoni (Ita) Saunier Duval - Prodir                                27
7 Riccardo Ricco (Ita) Saunier Duval - Prodir                                 21
8 Luis Felipe Laverde Jimenez (Col) Ceramica Panaria - Navigare               20
9 Stefano Garzelli (Ita) Acqua & Sapone - Caffe Mokambo                       18
10 Andy Schleck (Lux) Team CSC                                                18
11 Marco Pinotti (Ita) T-Mobile Team                                          17
12 Yoann Le Boulanger (Fra) Bouygues Telecom                                  16
13 Ivan Ramiro Parra Pinto (Col) Cofidis - Le Crédit par Téléphone            15
14 Eddy Mazzoleni (Ita) Astana                                                15
15 Mickaël Buffaz (Fra) Cofidis - Le Crédit par Téléphone                     13
16 Giovanni Visconti (Ita) Quickstep - Innergetic                             13
17 Mikhail Ignatiev (Rus) Tinkoff Credit System                               13
18 Marzio Bruseghin (Ita) Lampre - Fondital                                   12
19 Paolo Savoldelli (Ita) Astana                                              12
20 Iban Mayo Diez (Spa) Saunier Duval - Prodir                                12
21 Julio Alberto Perez Cuapio (Mex) Ceramica Panaria - Navigare               11
22 Christophe Kern (Fra) Crédit Agricole                                      11
23 Maximiliano Richeze (Arg) Ceramica Panaria - Navigare                      11
24 Laurent Mangel (Fra) AG2r Prévoyance                                       10
25 Damiano Cunego (Ita) Lampre - Fondital                                     10
26 Pavel Brutt (Rus) Tinkoff Credit System                                    10
27 Alberto Losada Alguacil (Spa) Caisse d'Epargne                              9
28 Nicolas Crosbie (Fra) Bouygues Telecom                                      9
29 Emanuele Sella (Ita) Ceramica Panaria - Navigare                            9
30 Michael Rasmussen (Den) Rabobank                                            9
31 Hubert Schwab (Swi) Quickstep - Innergetic                                  8
32 Markel Irizar Aranburu (Spa) Euskaltel - Euskadi                            7
33 Evgeni Petrov (Rus) Tinkoff Credit System                                   7
34 Marco Marzano (Ita) Lampre - Fondital                                       7
35 David Zabriskie (USA) Team CSC                                              7
36 Frédéric Bessy (Fra) Cofidis - Le Crédit par Téléphone                      7
37 Christophe Riblon (Fra) AG2r Prévoyance                                     7
38 Daniele Contrini (Ita) Tinkoff Credit System                                7
39 Assan Bazayev (Kaz) Astana                                                  7
40 Kurt-Asle Arvesen (Nor) Team CSC                                            6
41 Pietro Caucchioli (Ita) Crédit Agricole                                     6
42 Dario David Cioni (Ita) Predictor - Lotto                                   6
43 Pierre Drancourt (Fra) Bouygues Telecom                                     6
44 Elio Aggiano (Ita) Tinkoff Credit System                                    5
45 Massimo Codol (Ita) Acqua & Sapone - Caffe Mokambo                          5
46 Sylvester Szmyd (Pol) Lampre - Fondital                                     4
47 Yuriy Krivtsov (Ukr) AG2r Prévoyance                                        4
48 Benoît Joachim (Lux) Astana                                                 4
49 Ricardo Serrano Gonzalez (Spa) Tinkoff Credit System                        4
50 Alexandre Usov (Blr) AG2r Prévoyance                                        4
51 Maxim Gourov (Kaz) Astana                                                   4
52 Franck Renier (Fra) Bouygues Telecom                                        4
53 Matti Breschel (Den) Team CSC                                               4
54 Franco Pellizotti (Ita) Liquigas                                            3
55 Mauro Facci (Ita) Quickstep - Innergetic                                    3
56 José Luis Rubiera Vigil (Spa) Discovery Channel Pro Cycling Team            3
57 Josep Jufre Pou (Spa) Predictor - Lotto                                     3
58 Laszlo Bodrogi (Hun) Crédit Agricole                                        3
59 Andrei Kunitski (Blr) Acqua & Sapone - Caffe Mokambo                        3
60 Thomas Fothen (Ger) Gerolsteiner                                            3
61 Martin Müller (Ger) Team Milram                                             3
62 Fabien Patanchon (Fra) Française des Jeux                                   3
63 Mario Aerts (Bel) Predictor - Lotto                                         2
64 Pablo Lastras Garcia (Spa) Caisse d'Epargne                                 2
65 Jurgen Van Den Broeck (Bel) Predictor - Lotto                               2
66 Addy Engels (Ned) Quickstep - Innergetic                                    2
67 Giuseppe Palumbo (Ita) Acqua & Sapone - Caffe Mokambo                       2
68 Koldo Fernandez (Spa) Euskaltel - Euskadi                                   2
69 Matteo Bono (Ita) Lampre - Fondital                                         2
70 Oscar Gatto (Ita) Gerolsteiner                                              2
71 Francisco Javier Vila Errandonea (Spa) Lampre - Fondital                    1
72 Hubert Dupont (Fra) AG2r Prévoyance                                         1
73 Lorenzo Bernucci (Ita) T-Mobile Team                                        1
74 Angelo Furlan (Ita) Crédit Agricole                                         1
75 Pedro Horrillo Munoz (Spa) Rabobank                                         1
76 Nikolai Trusov (Rus) Tinkoff Credit System                                  1
 
Azzurri d'Italia classification
 
1 Alessandro Petacchi (Ita) Team Milram                                       19 pts
2 Danilo Di Luca (Ita) Liquigas                                               11
3 Leonardo Piepoli (Ita) Saunier Duval - Prodir                               10
4 Stefano Garzelli (Ita) Acqua & Sapone - Caffe Mokambo                        8
5 Gilberto Simoni (Ita) Saunier Duval - Prodir                                 8
6 Riccardo Ricco (Ita) Saunier Duval - Prodir                                  6
7 Paolo Bettini (Ita) Quickstep - Innergetic                                   6
8 Marzio Bruseghin (Ita) Lampre - Fondital                                     4
9 Paolo Savoldelli (Ita) Astana                                                4
10 Luis Felipe Laverde Jimenez (Col) Ceramica Panaria - Navigare               4
11 Iban Mayo Diez (Spa) Saunier Duval - Prodir                                 4
12 Kurt-Asle Arvesen (Nor) Team CSC                                            4
13 Andy Schleck (Lux) Team CSC                                                 3
14 Maximiliano Richeze (Arg) Ceramica Panaria - Navigare                       3
15 Marco Pinotti (Ita) T-Mobile Team                                           2
16 Giovanni Visconti (Ita) Quickstep - Innergetic                              2
17 Laurent Mangel (Fra) AG2r Prévoyance                                        2
18 Eddy Mazzoleni (Ita) Astana                                                 2
19 Ivan Ramiro Parra Pinto (Col) Cofidis - Le Crédit par Téléphone             1
20 Christophe Kern (Fra) Crédit Agricole                                       1
21 Damiano Cunego (Ita) Lampre - Fondital                                      1
22 Marco Marzano (Ita) Lampre - Fondital                                       1
23 David Zabriskie (USA) Team CSC                                              1
24 Assan Bazayev (Kaz) Astana                                                  1
25 Ricardo Serrano Gonzalez (Spa) Tinkoff Credit System                        1
26 Matti Breschel (Den) Team CSC                                               1
 
Fuga Gilera classification
 
1 Mikhail Ignatiev (Rus) Tinkoff Credit System                               453 pts
2 Mickaël Buffaz (Fra) Cofidis - Le Crédit par Téléphone                     365
3 Elio Aggiano (Ita) Tinkoff Credit System                                   304
4 Pavel Brutt (Rus) Tinkoff Credit System                                    303
5 Ivan Ramiro Parra Pinto (Col) Cofidis - Le Crédit par Téléphone            284
6 Frédéric Bessy (Fra) Cofidis - Le Crédit par Téléphone                     268
7 Fortunato Baliani (Ita) Ceramica Panaria - Navigare                        263
8 Alberto Losada Alguacil (Spa) Caisse d'Epargne                             220
9 Fabien Patanchon (Fra) Française des Jeux                                  206
10 Mauro Facci (Ita) Quickstep - Innergetic                                  190
11 Addy Engels (Ned) Quickstep - Innergetic                                  183
12 Giovanni Visconti (Ita) Quickstep - Innergetic                            177
13 Eric Berthou (Fra) Caisse d'Epargne                                       167
14 Franck Renier (Fra) Bouygues Telecom                                      167
15 Mauricio Alberto Ardila Cano (Col) Rabobank                               164
16 Marco Pinotti (Ita) T-Mobile Team                                         149
17 Hubert Dupont (Fra) AG2r Prévoyance                                       148
18 Yoann Le Boulanger (Fra) Bouygues Telecom                                 140
19 Francisco Javier Vila Errandonea (Spa) Lampre - Fondital                  139
20 Pedro Horrillo Munoz (Spa) Rabobank                                       139
21 Luis Felipe Laverde Jimenez (Col) Ceramica Panaria - Navigare             118
22 Alexandre Pichot (Fra) Bouygues Telecom                                   115
23 Daniele Contrini (Ita) Tinkoff Credit System                              111
24 Yuriy Krivtsov (Ukr) AG2r Prévoyance                                      109
25 Paolo Bettini (Ita) Quickstep - Innergetic                                105
26 Markel Irizar Aranburu (Spa) Euskaltel - Euskadi                          104
27 Andrei Kunitski (Blr) Acqua & Sapone - Caffe Mokambo                       94
28 Nicolas Crosbie (Fra) Bouygues Telecom                                     94
29 Hubert Schwab (Swi) Quickstep - Innergetic                                 92
30 Christophe Kern (Fra) Crédit Agricole                                      92
31 Stefano Garzelli (Ita) Acqua & Sapone - Caffe Mokambo                      83
32 Christophe Riblon (Fra) AG2r Prévoyance                                    79
33 Iban Mayo Diez (Spa) Saunier Duval - Prodir                                75
34 Gilberto Simoni (Ita) Saunier Duval - Prodir                               70
35 Eddy Mazzoleni (Ita) Astana                                                65
36 Julio Alberto Perez Cuapio (Mex) Ceramica Panaria - Navigare               52
37 José Luis Rubiera Vigil (Spa) Discovery Channel Pro Cycling Team           51
38 Riccardo Ricco (Ita) Saunier Duval - Prodir                                45
39 Leonardo Piepoli (Ita) Saunier Duval - Prodir                              45
40 Paolo Savoldelli (Ita) Astana                                              41
41 Michael Rasmussen (Den) Rabobank                                           39
42 Dario David Cioni (Ita) Predictor - Lotto                                  38
43 Sylvester Szmyd (Pol) Lampre - Fondital                                    34
44 Danilo Di Luca (Ita) Liquigas                                              25
45 Andy Schleck (Lux) Team CSC                                                25
46 Laurent Mangel (Fra) AG2r Prévoyance                                       25
47 Damiano Cunego (Ita) Lampre - Fondital                                     24
48 Marco Marzano (Ita) Lampre - Fondital                                      24
49 Massimo Codol (Ita) Acqua & Sapone - Caffe Mokambo                         20
50 Benoît Joachim (Lux) Astana                                                20
51 Josep Jufre Pou (Spa) Predictor - Lotto                                    19
52 David Canada Gracia (Spa) Saunier Duval - Prodir                           19
53 Pietro Caucchioli (Ita) Crédit Agricole                                    17
54 Ricardo Serrano Gonzalez (Spa) Tinkoff Credit System                       17
55 Mario Aerts (Bel) Predictor - Lotto                                        16
56 Jussi Veikkanen (Fin) Française des Jeux                                   16
58 Sven Krauss (Ger) Gerolsteiner                                             11
59 Kurt-Asle Arvesen (Nor) Team CSC                                            8
60 Lorenzo Bernucci (Ita) T-Mobile Team                                        7
61 Assan Bazayev (Kaz) Astana                                                  7
62 Evgeni Petrov (Rus) Tinkoff Credit System                                   5
63 Pablo Lastras Garcia (Spa) Caisse d'Epargne                                 5
64 Julian Dean (NZl) Crédit Agricole                                           5
 
Young rider classification
 
1 Andy Schleck (Lux) Team CSC                                           87.42.40
2 Riccardo Ricco (Ita) Saunier Duval - Prodir                               5.05
3 Domenico Pozzovivo (Ita) Ceramica Panaria - Navigare                     22.00
4 Vincenzo Nibali (Ita) Liquigas                                           29.47
5 Branislau Samoilau (Blr) Acqua & Sapone - Caffe Mokambo                  32.24
6 Mauro Facci (Ita) Quickstep - Innergetic                               1.07.00
7 Olivier Bonnaire (Fra) Bouygues Telecom                                1.24.46
8 Amaël Moinard (Fra) Cofidis - Le Crédit par Téléphone                  1.24.52
9 Carl Naibo (Fra) AG2r Prévoyance                                       1.32.39
10 Matthias Russ (Ger) Gerolsteiner                                      1.34.56
11 Hubert Schwab (Swi) Quickstep - Innergetic                            1.38.54
12 William Walker (Aus) Rabobank                                         1.41.01
13 Alberto Losada Alguacil (Spa) Caisse d'Epargne                        1.48.38
14 Matthew Lloyd (Aus) Predictor - Lotto                                 1.49.39
15 Jurgen Van Den Broeck (Bel) Predictor - Lotto                         2.06.57
16 Giovanni Visconti (Ita) Quickstep - Innergetic                        2.07.20
17 Frantisek Rabon (Cze) T-Mobile Team                                   2.10.30
18 Steve Morabito (Swi) Astana                                           2.15.13
19 Andrei Kunitski (Blr) Acqua & Sapone - Caffe Mokambo                  2.17.01
20 Pavel Brutt (Rus) Tinkoff Credit System                               2.21.46
21 Mathieu Perget (Fra) Caisse d'Epargne                                 2.25.44
22 Maximiliano Richeze (Arg) Ceramica Panaria - Navigare                 2.26.38
23 Andrea Pagoto (Ita) Ceramica Panaria - Navigare                       2.28.20
24 Enrico Gasparotto (Ita) Liquigas                                      2.33.36
25 Dmitry Kozontchouk (Rus) Rabobank                                     2.38.09
26 Lloyd Mondory (Fra) AG2r Prévoyance                                   2.47.58
27 Matti Breschel (Den) Team CSC                                         3.02.12
28 Thomas Fothen (Ger) Gerolsteiner                                      3.06.02
29 Nicolas Roche (Irl) Crédit Agricole                                   3.06.22
30 Arnaud Gérard (Fra) Française des Jeux                                3.07.23
31 Alexandre Pichot (Fra) Bouygues Telecom                               3.07.40
32 Mikhail Ignatiev (Rus) Tinkoff Credit System                          3.11.24
33 Pierre Drancourt (Fra) Bouygues Telecom                               3.14.27
34 Fabien Patanchon (Fra) Française des Jeux                             3.18.02
35 Tristan Valentin (Fra) Cofidis - Le Crédit par Téléphone              3.18.51
36 Nikolai Trusov (Rus) Tinkoff Credit System                            3.18.55
37 Sven Krauss (Ger) Gerolsteiner                                        3.27.32
38 Matteo Bono (Ita) Lampre - Fondital                                   3.31.42
39 Oscar Gatto (Ita) Gerolsteiner                                        3.39.44
 
Fast team classification
 
1 Saunier Duval-Prodir                                                 262.14.49
2 Liquigas                                                                  3.53
3 Lampre-Fondital                                                           6.06
4 Astana                                                                    6.56
5 Ceramica Panaria-Navigare                                                10.15
6 Acqua & Sapone-Caffe Mokambo                                           1.02.26
7 Caisse d'Epargne                                                       1.51.04
8 Cofidis-Le Crédit par Téléphone                                        1.52.13
9 Predictor-Lotto                                                        1.53.14
10 Quickstep-Innergetic                                                  2.21.31
11 Team CSC                                                              2.36.41
12 AG2r Prévoyance                                                       2.38.28
13 T-Mobile Team                                                         2.53.19
14 Tinkoff Credit System                                                 3.01.46
15 Rabobank                                                              3.36.13
16 Discovery Channel Pro Cycling Team                                    3.42.03
17 Crédit Agricole                                                       3.56.18
18 Bouygues Telecom                                                      4.25.33
19 Française des Jeux                                                    4.28.17
20 Euskaltel-Euskadi                                                     4.49.35
21 Gerolsteiner                                                          5.51.51
22 Team Milram                                                           6.52.58
 
Super team classification
 
1 Lampre-Fondital                                                            408 pts
2 Liquigas                                                                   364
3 Ceramica Panaria-Navigare                                                  340
4 Saunier Duval-Prodir                                                       336
5 Astana                                                                     277
6 Team CSC                                                                   250
7 Acqua & Sapone-Caffe Mokambo                                               220
8 Tinkoff Credit System                                                      209
9 Caisse d'Epargne                                                           205
10 Quickstep-Innergetic                                                      197
11 Crédit Agricole                                                           187
12 AG2r Prévoyance                                                           175
13 Predictor-Lotto                                                           172
14 Team Milram                                                               168
15 Gerolsteiner                                                              140
16 Euskaltel-Euskadi                                                         103
17 Discovery Channel Pro Cycling Team                                         92
18 Cofidis-Le Crédit par Téléphone                                            90
19 Bouygues Telecom                                                           86
20 Rabobank                                                                   83
21 T-Mobile Team                                                              67
22 Française des Jeux                                                         31
 
Fair play classification

1 Française des Jeux                        
2 Quickstep-Innergetic                   5.5 pts
3 Ceramica Panaria-Navigare               10
4 Predictor-Lotto                         23
5 Acqua & Sapone-Caffe Mokambo            25
6 Saunier Duval-Prodir                    45
7 T-Mobile Team                           51
8 Caisse d'Epargne                        55
9 Gerolsteiner                            55
10 Tinkoff Credit System                  60
11 Team Milram                            60
12 Rabobank                               63
13 AG2r Prévoyance                        65
14 Crédit Agricole                        88
15 Astana                                 95
16 Discovery Channel Pro Cycling Team    100
17 Bouygues Telecom                      106
18 Liquigas                              145
19 Euskaltel-Euskadi                     155
20 Team CSC                              165
21 Lampre-Fondital                       230
22 Cofidis-Le Crédit par Téléphone       239