Recently on Cyclingnews.com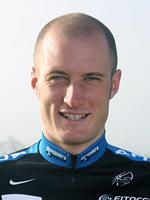 Photo: © Discovery Channel
Eyes on the road: The Steve Cummings Giro diary 2007
Well known for his role in Great Britain's fearsome team pursuit squad, 26 year-old Steve Cummings now has his sights firmly set on the road with Discovery Channel. And it doesn't get much bigger than the Giro d'Italia where Steve is making his Grand Tour debut.
Follow his progress on Cyclingnews as he helps Discovery's bid for Giro glory whilst also keeping one eye on the finish in Milan.
Tuesday, May 29, 2007
Rest day blues
I woke up on the rest day (Monday) feeling shitty, but we had to get a ride in, of course. The weather wasn't great, but we have to ride to turn the body around and I am glad I did - I felt a lot, lot better for it. I had felt pretty tired after Sunday's big stage and the finishing mountain was very, very steep and & %%£$*& hard, but I felt OK considering!
In the afternoon caught up with my agent/manager, who at last managed to hook me up with Dave (David Harmon from Eurosport). I know Dave pretty well, and after missing each other so many times, it was good to catch up with him. His co-commentator Sean Kelly had passed on some very good advice to me via Rich the previous evening.
On the face of it, the advice to stay with the grupetto and not move up to the next group even if you felt you could might be obvious, but it was the same advice that our Sean (Yates) gave me, and to have it validated by Mr. Kelly just gave me the extra confidence that I was doing to right thing in my first Grand Tour.
Of course both Seans said if you find yourself feeling good have a pop, so tomorrow we will see? Hope to write a little more tonight, but I'm feeling a little bit stuffed. But I will tell you next time that my pick for the hardest stage has changed. I've also been asked about my favourite stage so far, so I will try and catch up very soon.
Keep on watching (The Giro) and routing for me , I appreciate all the wonderful support Cyclingnews readers are giving me,
Thanks & best
Steve.
P.S. Keep the questions rolling I will answer in time.