Giro d'Italia Cycling News for May 13, 2007
Edited by Laura Weislo with assistance from Jean-François Quénet in La Maddalena
Pink jersey apologises for "mistake"
Enrico Gasparotto (Liquigas)
Photo ©: Roberto Bettini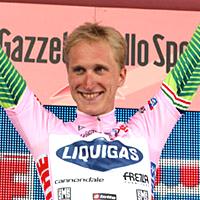 Enrico Gasparotto came to realise just a few hours after taking his first pink jersey that he had done something the Italian media would love by creating some useless polemics. Gasparotto did the unthinkable and crossed the line ahead of his team captain, Danilo Di Luca, who was visibly angry at the finish.

Despite Di Luca later conceding that it was "a great team win" and saying "I was not upset, it is important that we as a team win," the media continued to try to make a drama out of the issue, much to the chagrin of the 25 year-old former Italian champion. "So, you have put me on a cross, right?" Gasparotto asked.

Gasparotto confessed that he made a mistake, but insisted that it wasn't an intentional grab for the leader's position. "I didn't hear Danilo asking me to slow down," Gasparotto said. "I made a mistake to be there. The great champion is him, not me. It's been him to want to take the last turn in the hill, then it was up to me to be in the front of the team in the downhill.

"I heard the speaker saying that it was very tight, that's why I kept pedalling until the end. When you see the finishing line, you don't brake. I never had in mind that the first rider to cross the line would wear the pink jersey. My other mistake was to forget that the team's time was taken on the fifth rider, not the first one anyway."

Di Luca shouts
Photo ©: Roberto Bettini

Gasparotto said that he is fully committed to the team. "I got excited by the idea of winning," he continued. "The most important is the team win. We've been doing great since the beginning of the year. It was our goal to do well in the team time trial. Our second goal is to bring our leaders, Danilo Di Luca and Franco Pellizotti, to the top of the classification."
Gasparotto is also Liquigas' sprinter. "I'm not a pure sprinter but I also heard that stage 2 isn't for pure sprinters", he said, aware that he could even be a winner in Bosa with the pink jersey on his shoulders. "I came to the Giro with a good condition, I was confident anyway and I'll do my best to stay close to my team captains in the hills. I have to repay what has happened today."
After saying that, he asked the crowd, "Can I come down from my cross?"
Popo loses time
By Shane Stokes in La Maddalena
Discovery Channel's Giro leader Yaroslav Popovych finds himself 49 seconds off the lead at the end of the first day, losing time as a result of a crash inside the final kilometre.
"After the corner I went to pedal but it was a bit too soon and I crashed," he told Cyclingnews at the finish. "I am okay, though, not badly hurt. But I lost a bit of time because of that."
Team-mates Steve Cummings and Matthew White were, like many riders, critical of the parcours for the team time trial. "It was pretty dangerous," said British rider Cummings, who said his goal in the race is to work well for the team and to get to Milan. "It was too twisty to go fast. We were trying not to take risks but that last descent was crazy. Popo fell off. It felt like we blew up a bit, too, I don't know."
White was definitely not impressed. "Things were working out alright [up to Popovych's crash] but that was a ridiculous f***ing team time trial, that's what it was. Have you seen the course? There is no f***ing need to have a course like that," he blasted.
The team finished 5th out of 22 squads, but would have taken fourth from Lampre-Fondital without the mishap. They had to wait for Popovych as he was the fifth rider.
Voeckler going for stages
By Shane Stokes in La Maddalena
Thomas Voeckler
Photo ©: Sirotti

Former French champion Thomas Voeckler got his 2007 Giro d'Italia underway today with the team time trial held on the island of Sardinia. His Bouygues Telecom team finished 19th, 2'07 back. He said that the conditions made it harder for the riders.
"The time trial was difficult. I had good legs, but the problem was that with the wind and the tough course, it was not easy to keep everyone together," he told Cyclingnews. "There are some riders in better shape than the others, especially in the first few days of the race, yet we needed to keep five together in the time trial."
"It wasn't fantastic but we will hope to do better in other stages."
Many of the riders criticised the parcours for its severity. Voeckler played that down, to an extent. "The course wasn't really dangerous because we know how to ride our bikes, but the wind made it more so. It was difficult to organise everyone to work because of that. If it was an individual time trial there would not be a problem, but with a team it is hard to organise so well with these conditions."
There is a plus to the location, though: "I think that when people watch the Giro on television it will be very spectacular, what with the countryside and the small islands surrounded by turquoise water, plus strong teams. Cycling needs spectacular images now."
He concluded his brief chat by talking about his aims in the race. "I think like every rider, I would like to win a stage. I don't have the power to go for the general classification, but I would really like to get a stage. That said, there are many other riders who would also like the same thing."
Predictor-Lotto close, but not close enough
Predictor-Lotto
Photo ©: Sirotti

Australian climber Matthew Lloyd is one of the rookies at the Giro d'Italia. Riding for Predictor-Lotto, Lloyd and his team-mates were mostly interested in limiting the damages in order to keep Robbie McEwen close enough to the lead to potentially take the pink jersey. They rode a little better than their rivals from Milram who are built around Alessandro Petacchi for the sprints, but the Belgian outfit finished 1'28 down on Liquigas.
Matthew Lloyd was one of the riders to stay together with the team all the way to the finish, and said that it was a great experience. "Dario Cioni was a great help for us to deliver a good ride," Lloyd commented. "We ran it smoothly. We took shorter turns because of the wind."
Despite the solid ride, the gap might be too much for McEwen, especially if pink jersey holder Enrico Gasparotto remembers that he was an excellent sprinter two years ago and takes any intermediate sprints before the first uphill finish in stage 4.
Da Cruz out with broken toe
Française des Jeux
Photo ©: Sirotti

Française des Jeux was the only team to reach the finishing town of La Maddalena with all their starters together. Tim Gudsell stopped pedalling only at the very end, but they finished… last. "We missed a leader like Bradley McGee," former junior world champion Arnaud Gérard admitted.
Last year with the Australian and Philippe Gilbert, FDJ was fifth in the team time trial of the Giro d'Italia. However, today they came home to La Maddalena with all their riders, but there were only eight. Carlos Da Cruz was a non starter since he had an accident on the aircraft carrier 'Garibaldi' where he broke one of his toes. The break was discovered following an X-ray on Saturday morning. "If he doesn't need an operation, the recovery will take four to six weeks," team doctor Stéphane Bermond explained.
Da Cruz will likely miss the Tour de France, where today's stage winner at the Four Days of Dunkirk, Matthieu Ladagnous, should make his debut.
Euskaltel has a bad day
The Euskaltel team didn't start off their Giro with an ideal performance in the team time trial. The team was already down to five riders when Anton Luengo crashed in the second to last corner. Because each team's time is taken on the fifth rider, his team-mates were forced to wait for him to rejoin.
"Fortunately Luengo isn't injured," directeur sportif Jon Odriozola commented. "It was difficult enough for us before that. We had almost another crash before when riders touched each other's wheels. We knew we wouldn't be among the best today because we brought a very young team to the Giro, but we are confident that we can create a surprise with a stage win. It might be with Koldo Fernandez winning a bunch sprint just the same way he did it at Tirreno-Adriatico."
Hushovd dropped as Crédit Agricole takes eighth
Crédit Agricole was quite happy to make the top ten, but they did it without having sprinter Thor Hushovd with them. Hushovd came off on the first climb, and rode in four minutes down. "My legs weren't good enough for that speed," the Norwegian explained. "I'm just missing the rhythm of the competition after one month without racing. I finished the time trial with Christophe Kern but I'm not worried. It's only a restart. I'll see how far I can go in the Giro and my hopes of winning a stage are intact."
Despite Hushovd's chances of gaining the pink jersey being dashed, the team was happy with the overall result. "The guys rode well, especially the climbers," team manager Roger Legeay said. "Patrice Halgand stayed in the front almost all the time in the climbs."
Gilberto Simoni: a new rivalry with Riccardo Riccò?
Gilberto Simoni
Photo ©: Sirotti

Two-time Giro d'Italia champion Gilberto Simoni had a strange dialogue with La Gazzetta dello Sport's Claudio Gregori the day before the start. Goals? "None." The favourite? "Not me." Who? "You know." The stages for attacking? "You know them." Later he gave a few more words, and there was a bit of irony when he mentioned who he considered the favourites "the young ones: Riccò, Cunego, Nibali."
More seriously, he stated that, although he hasn't won the Giro for the past three years, "in May I always have my best form." Simoni has a history of intra-team rivalries, having battled with Damiano Cunego in 2004 for the team leadership, and now it appears that Riccardo Riccò might be a threat for his leadership at Saunier Duval.
The 35 year-old Simoni confirmed that he wasn't at his best during the 25.6 km time trial, and his young team-mate was very strong. "I have suffered a lot," Simoni said. "I even missed some of my turns at the end. I was exhausted. On the other hand, Riccò was brilliant from start to finish, we even asked him to slow down." Shall it happen again in the mountains? "If Riccò goes better than me, I will not ask him to wait for me", Simoni said.
"Pietro Algeri was right this morning when he emphasised that the race would be quite tough, that instead of analysing it, we should attack from the very beginning." Simoni continued. "Of course, I'm not very happy today because I arrived at the finish line exhausted. In the final stretch, I even missed a gear, and this meant an even greater effort. In spite of this, I must say that overall, we can feel satisfied. Tenth is no big deal but it's not that bad either if we take into account that we are ahead of teams everybody expected to be among the top-10."
Riccò, for his part, said that he still considers Simoni the leader. "I'm not worried about Cunego's advantage, because in time trials you're talking about seconds, but in climbs you get minute gaps. I felt good today, in the shape of my best days. If I could make the headlines in the Giro? I'll give it a try, but our big name is Simoni."
Riders may face overnight blood tests
The UCI's Chief Medical Officer Dr. Mario Zorzoli indicated that the riders in the 90th Giro d'Italia may be subjected to doping controls at any time - even at night. Riders have historically been visited early in the morning for blood samples which are tested to ensure their hematocrit is within acceptable values, and they are subjected to urine controls after the race, however surprise mid-night visits are new. "Tests are usually done early in the morning, but riders can now expect surprise tests in the evening and even during the night," Zorzoli said according to Reuters.
The move comes after several riders were removed from their teams rosters prior to the start of the Giro, the most famous being Ivan Basso, who confessed to his involvement in the Operación Puerto doping affair.
(All rights reserved/Copyright Knapp Communications Pty Limited 2007)