An interview with Robbie McEwen, May 13, 2007
Robbie gets his twelfth
Another Giro, another stage win. Robbie McEwen was back on top today, bringing his Tour of Italy stage win tally up to a dozen. Shane Stokes was at the post-race press conference.
Robbie McEwen (Predictor-Lotto)
Photo ©: Sirotti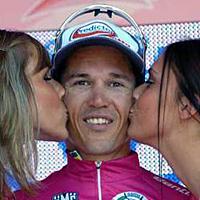 Coming into the Giro d'Italia, Robbie McEwen said to himself that if he won a stage somewhere along the way, he'd be happy with his race. The Australian didn't have long to wait; at the end of day two, the first possible day for a bunch sprint, he thundered home half a length clear of world champion Paolo Bettini and comfortably ahead of Alessandro Petacchi, scooping what is his twelfth career victory in the event.
The win came after what was a tough finale, with the peloton tackling several climbs towards the end. The final one of these saw a number of attacks being fired off and while nothing stuck, it did end the chances of many of the sprinters. However McEwen and Petacchi got over the top okay and, together with world champ Bettini, fought it out for victory in Bosa.
"I was pretty far back on the climb, there were maybe another 20 riders behind me going over the top," a very satisfied McEwen told the media. "But I was maybe 15, 20 positions behind Petacchi, so for me it was just important to come back to the Milram riders by the bottom of the descent. After that, the tactic was simple - I followed Petacchi and his team. They did a really good job to pull the sprint. Today I was stronger and I managed to pass Alessandro. I knew that Bettini was there on my wheel, looking for an opportunity, but there were no problems making it to the line."
"Normally it is not a problem to beat Bettini in a sprint but you never know with that guy."
-McEwen explains how today's undulating parcours suited the world champion's characteristics.
When asked how tough the final climb was for the sprinters, McEwen said that it was just the last in a series of stingers. "I think the whole stage affected the sprinters' legs, because it was a really tough stage. If you looked at the profile it looked like there was quite a lot of flat, but I knew from being here since Wednesday that there is no flat on this island. It was like riding Liège-Bastogne-Liège, and I think the hard course plus the pace set by Liquigas wore down most of the sprinters. When we got to the final climb, a lot of the sprinters just got dropped immediately. I think the only two sprinters left were myself and Petacchi.
"I expected it to be very hard and was telling myself all day, 'don't think it is going to be easy to get to the finish.' I had to work really hard. Although with [Dario] Cioni doing a lot of work in the final for me, he rode on the front all the way until the final climb, it meant that I could start the climb in the very first positions and have the chance to drop back through the peloton going up the climb and still be there at the top."
Giro win number 12.
Photo ©: Roberto Bettini

Petacchi cracked his kneecap one year ago and while he has taken several victories since, he appears to lack the final few percent that he once had. That may yet come back, of course, but today McEwen had little problem in coming around him inside the final 100 metres or so. Petacchi faded before the line, with Bettini getting closest to spoiling the Aussie victory fest. But it was not to be.
How does McEwen see Petacchi's form now, compared to before? "It is hard to say," he answered. "He is maybe not quite as strong in the sprint as he was before his accident last year. You say he is obviously not back at his best but he is still very, very strong. He was good in the Internationale Niedersachsen-Rundfahrt tour before this race. But McEwen wasn't there. I don't like to talk about myself in the third person but I wasn't there.
"He probably still has a few percent to catch up when it comes to his power in the sprint, I think."
McEwen appeared to be full of self-confidence at the press conference, and it's hard to imagine him failing to take more stages before he takes his exit from the race to prepare for the Tour de France. A couple of years ago the sprinting hierarchy was such that Petacchi was dominating, with McEwen pipping him here and there. Now, things have turned around and the Australian is the king of world sprinting.
In response to yet another question about his Italian rival, he showed that he has little fear when it comes to the crunch. "We are in Italy and everybody is focussed on Petacchi. But when you look back over the last couple of years, there is nobody who has won more stages than me in Grand Tours. I focus on me [rather than worrying about someone else]."
Podium time
Photo ©: Sirotti

As mentioned, today Bettini was his closest rival. McEwen was expecting him to try to take the sprint, and had a specific tactic worked out in order to make sure of his own victory.
"Bettini is there on all terrain. Whether it is uphill or in a sprint, he is always trying. I think because a lot of the sprinters were dropped today, Bettini saw a good chance for himself. Normally it is not a problem to beat Bettini in a sprint but you never know with that guy.
"I knew that somebody would be on the wheel and when I saw it was Bettini, I just didn't want to go too early. I felt comfortable on the wheel of Petacchi so I just waited. I knew that Paolo would wait until I started my own sprint, so I just left it a little bit later because I wasn't afraid that he was going to jump behind me."
The victory marked his twelfth stage win in the Giro d'Italia, equalling his tally from the Tour de France. What difference does he see between the two races?
"One is in Italy and the other is in France," he answered with a smile. "They are both Grand Tours, they are both objective for me during the season. I guess on a worldwide scale the Giro attracts less publicity. But it is very important to win here in the Giro.
"In terms of which is harder, there is no real difference. There are the same guys at both races."
McEwen has achieved his pre-race goal and now the pressure is off. He said that he could go home tomorrow and be satisfied with his Giro. However, while he is highly unlikely to finish the race, he will stay in it for the immediate future, aiming for a top spot on the podium once again.
"I have won a stage, so I am happy," he said. "I won't go home yet but in any case, my Giro has been a success. I came here hoping to win one stage and now I have achieved that. I am here for a while yet, I will try to win another one. That is the way I always do it. In every race I go to, the first victory is always the most difficult.
"Tomorrow is another chance, so I will go for that too."