Past rider diaries
Welcome to Cyclingnews' archive of much-loved, previous diaries. Despite the personal circumstances changing for some of the individuals below, their thoughts and experiences captured over several years are still pertinent to many cycling fans.
Judith Arndt diary Index - Latest
With her T-Mobile teammate Kimberly Baldwin retiring at the end of 2006, Judith Arndt continues to write a diary for Cyclingnews in 2008. Deemed as one of the best female cyclists in the history of women's cycling, Arndt already has World Championship titles on both the track and the road under her belt - winning the 3000m individual pursuit in 1997 and the road race in 2004. Stay tuned to Cyclingnews for Judith Arndt's account of her 2007 season with T-Mobile.
Kimberly Baldwin (Bruckner) diary Index - Latest - Profile

Under somewhat controversial circumstances, 2001 US Road Champion Kim Brucker left the number one ranked women's team in the US after two years with Saturn and joined the growing force that is T-Mobile. A close call with cancer at the end of 2003 and a less than satisfying 2004 has Kimberly concentrating on a big 2005.
BC Bike diary by Trek / VW & GFK Teams (2008): Index

The BC Bike Race returns to British Columbia, Canada, for its second annual running from June 28 to July 4, 2008. The popular multi-day mountain bike stage race uses the two-person team format and boasts a large amount of singletrack through the rugged, Canadian backcountry. Follow the adventures day by day from the vantage point of four racers on two teams including last year's winners Chris Eatough and Jeff Schalk (Trek / VW) and first-time competitors Jason Berry and Jon Posner (GFK Racing). Schalk has been dominating the American 100 miler scene while Eatough is a proven champion at both 100 milers and 24 hours races. Film-maker Jason Berry and Jon Posner are long-time endurance enthusiasts and also two of the men behind the movie 24 Solo, which documented Eatough's bid for a seventh 24 hour World Championship Solo title.

Paolo Bettini diary - California Dreamin' Index - Latest
Paolo Bettini is a compact, power packed explosive puncher of a rider who conquered the World Cup last year for Mapei - Quick-Step with his exciting, dynamic style. Bettini learned his trade as the right-hand man for Michele Bartoli, but emerged from his fellow Tuscan's shadow in 2001 with a great win in Liege-Bastogne-Liege. Bettini repeated at L-B-L last year and has now moved on to the new classics super-squad, Quick-Step - Davitamon.

Brad McGee diary Index - Latest - Profile
Bradley McGee can ride a four kilometre individual pursuit faster than some elite squads can ride as a quartet, averaging close to 60 clicks an hour for four minutes, all on his own. Scary, isn't it? But Brad doesn't just want to be master of the chrono; he wants that and more.
Also see: 2002 Tour de France diary, 2001 Tour de France diary
Cameron Jennings diary Index - Latest
Jennings checks in from all parts of the world where he is racing and writes about his expriences on and off the road.
Cape Epic diary by Trek / VW Team (2008): Index
For the first time, American-based team Trek / VW is sending racers to the internationally reknown Cape Epic mountain bike race in South Africa from March 28 to April 5, 2008. Two men and two women, all four accomplished in various off-road racing disciplines, come together to take on some of the toughest stage racers world-wide. Chris Eatough, who dominates the American 100 mile and 24-hour endurance scene, has partnered with World Cup racer and US Olympic Team contender Jeremiah Bishop while Xterra Off-Road regular Jenny Smith teams up with Sue Haywood, the winner of El Reto Guatemala, TransRockies, and La Ruta de los Conquistadores.

Chris Davidson diary Index - Latest
Chris Davidson is a mechanic for Shimano Multi-Service, which provides neutral tech support for US domestic races. Chris has wrenched at races such as the Tour of the Gila, the HP Women's Challenge and the 24 Hours of Moab... and survived.
Chris' diary entries will show you what life is like inside the pits and an insight into the mind of a mechanic.
The Lindsay Crawford diary Index - Latest
65 year-old former airline pilot Lindsay Crawford is one of the few Americans to ever win their category in L'Etape du Tour, a mass participation event that follows a stage route of the Tour de France.
With the 2007 Tour route announced, this Northern California rider, who has been having fun riding his bike for over 50 years, is ready to take another shot at the title. Cyclingnews will be with Lindsay as he prepares, participates and gives post-mortems on one of the world's biggest cycling events.

Cape Epic diary by Myriam Saugy (2007) Index
Swiss endurance racer Myriam Saugy documents her training for the Cape Epic mountain bike race to be held in South Africa from March 24 - 31, 2007. She set a goal of participating in the Cape Epic off road stage race two years ago. She rides for Team Texner BMC and is a member of the Swiss endurance national team. Saugy races as an amateur; she is also pursuing a teaching degree in history and geography.
Allan Davis diary Index - Latest - Profile

Welcome to the Allan Davis Journal for 2003. The ex-Mapei espoir has finally hit the big time with a two year contract on Spain's number one team, ONCE-Eroski.
Six years with the Australian Institute of Sport has groomed young Allan from a national track champion to a cunning road rider and a potential Classics superstar. Follow Allan as he embarks on the ride of his life.

Danilo Di Luca diary - Vai Dani! Index - Latest
Danilo's Vuelta Espana diary started it all, with his great insight into the ups and downs of this intense grand tour. Despite having his GC hopes dashed early on, Danilo took a stage and his never-say-die attitude shines though.
Now he continues the story into 2003.
FELT - Shimano Dream Team diary Index - Latest

What do an Australian MTB Champion, an environmental engineer and an Austrian World Champion endurance cyclist have in common? They all ride for the FELT - Shimano Dream Team. Oh, and they are crazy for tackling the world's toughest MTB endurance race - Australia's Crocodile Trophy.
As Darren O'Grady, David Wood & Valentine Zeller battle through the bush from the Northern Territory into Far-North-Queensland, team manager Christi Valentine-Anderson will keep us up-to-date on the boys' progress.

Geoff Kabush diary - Mr. Congeniality Index - Latest - Profile
Popular Canadian mountain bike racer had his best ever season in 2004, winning the NORBA final and overall series, continuing that success through 2005. After capping off his 2006 season by getting married, Geoff will once again be bringing us his unique slant for 2007 on the racing scene in his diary as he campaigns the NORBA circuit for Team Maxxis. He'll also be riding on the road this year with the Canadian professional team, Symmetrics.

Jame Carney diary Index - Latest
One of the US' longest-serving domestic pro riders, Carney is a track endurance specialist and coach of several other American track specialists. He has ridden for the Shaklee and Prime Alliance teams but this year is captain of the Northwestern Mortgage Cycling Team. And the only member. Follow Jame's lively accounts of his adventures as he tries to make it to the Olympics.

Levi Leipheimer diary - Clear blue water Index - Latest
Levi Leipheimer shot to prominence when he made the podium at the 2001 Vuelta while riding for US Postal. He spent three years at Rabobank before joining the German Gerolsteiner team for 2005, where he is one of the team's main men for stage race general classifications.
Leipheimer has twice finished in the top ten at the Tour de France, and this year will aim higher if his form allows. "We'll have to wait and see," he says. Follow Levi's progress to the Tour and beyond on Cyclingnews.
Marion Clignet diary Index - Latest - Profile
French track legend Marion Clignet retired from racing in 2000, intending to become active as an advocate for women's sport. But after two years off the bike, and perhaps inspired by the other female champions she's encountered while working as a presenter for French TV, Clignet is returning to the velodrome in a determined comeback. Follow her progress on Cyclingnews as she works to make her way back to the top.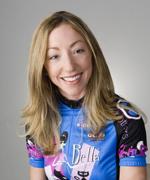 Married to the sport: The Kristin Danielson diary 2006 Index - Latest
The long-time partner and now wife of Discovery Channel rider Tom Danielson, Kristin Danielson (nee Johnson) is a talent in her own right. Like her hubby, Kristin came from a background racing on fat tyres before recently making the transition to the road, and after a season with Ford-Basis, she'll be riding in Velo Bella-Kona colours in 2006.

The Nick Martin diary (2007): Index
27-year-old mountain bike racer Nick Martin (Trek VW) gave up everything three years ago to turn pro and since then, he's been climbing his way up the ladder. He specializes in cross country and endurance off-road events. The Boulder, Colorado, resident aims for a breakthrough year in 2007. In his sights are top 10 finishes at individual races and the overall in the US National Mountain Bike Series (NMBS).
Tom Danielson diary Index - Latest - Profile

After a less than stellar year with Fassa Bortolo, talented American climbing specialist is hoping for a new start with Lance Armstrong's Discovery Channel team in 2005.
Follow his diary on Cyclingnews as he rides alongside the Boss as part of Discovery's ProTour arsenal.
Team DFL-Cyclingnews-Litespeed Index
Follow all the adventures of Team DFL-Cyclingnews-Litespeed's Cameron Jennings and the gang as they battle against snow, cobbles and the lure of Belgian beer in their quest to reach the top tier of Continental road racing.
John Eustice at the 2002 Tour de France Index - Latest

New York broadcaster and race promoter John Eustice hosted the Tour de France's 2002 International Show.
John's wide and deep knowledge of cyclng, insightful commentary and obvious affection for both the sport and the riders made his diary one of the highlights of Cyclingnews' 2002 Tour coverage.
Cadel Evans diary Index - Latest

Australian dirt superstar turned roadie reports from the Mapei mothership.
The young MTB star is trying his hand on the road full time this year, and he has already posted some impressive results. Take it away Cadel...
Dr Michele Ferrari diary - Doctor's orders Index - Latest - Profile
Dr Michele Ferrari, coach to cycling greats including Moser, Bugno, Argentin and Rominger, in addition to four-time Tour de France winner and defending champion Lance Armstrong, has never been afraid to push the boundaries of sports science.
In the centenary edition of Le Tour, cycling's most controversial sports doctor will be providing Cyclingnews readers with his unique insight into the mindset of what makes or breaks a champion.

Nicole Freedman diary Index - Latest
Sprinter, 2000 Olympian and a founder of the Basis women's team, Nicole Freedman - known as Snerf to her friends - is one of the US circuit's great characters.
Her goal for 2005 is to "Ride 30 hours a week, travel the world and lie exhausted on a couch!"
Stefano Garzelli diary - Hitting the big time Index - Latest
Stefano Garzelli's comeback may have surprised some last year, but the talented all-around rider from Varese showed his strong second place comeback ride in the Giro d'Italia was no fluke.
In his Cyclingnews diary the easygoing 30 year old Vini Caldirola-Nobili Rubineterie rider will document his attempt to move up a step on the Giro d'Italia podium for 2004.
Laura Van Gilder diary Index - Latest - Profile
Saturn's new pocket-rocket for 2003
In 2002, Laura had her best year ever on the bike, winning the overall in the Pro Cycling Tour, including the San Rafael Criterium. For a taste of life in the fast lane, tune into what this go-getter from Cresco, PA, has to say.

Tim Johnson diary Index - Latest
Tim Johnson earned the Stars and Stripes jersey of a national champion in 2000 when he won the elite national cyclocross championship, adding to his four national cyclocross championship titles, one as a junior, two as an under 23 and one as a senior elite.
This year he starts with Saunier Duval-Prodir, a European Division One team, and will post regular diaries of his travels.
Mikkeli Godfree diary Index - Latest
Cyclingnews contributor and rider in the MGZT team, Mikkeli Godfree, spends much of his year racing abroad. Like many Australian riders, he is back home at this time of year and racing in the Bay series in Victoria. He's also writing a diary while on the road, staying connected with assistance from local ISP Big Blue Internet.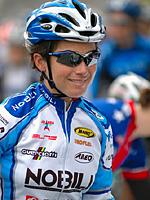 Back in Italy - The Olivia Gollan diary Index - Latest
After spending 2005 at Nürnberger, Olivia Gollan returns to Italy in 2006 with the Nobili Rubinetterie-Menikini-Cogeas team, where she can get back in touch with her 'inner Italian'. Follow Oliva's escapades through her exclusive diary on Cyclingnews.
Niki Gudex diary Index - latest

Downhill and cross-country racer, graphic designer and model, Australian mountain biker Niki Gudex is nothing if not versatile. Riding in 2004 for Intense Cycles' new cross-country team, Niki will be concentrating on the NORBA cross-country series, North American World Cup races and of course the Australian series and championships, though she will still ride a few downhills too.
Follow her adventures as she crosses over from gravity to heart, legs and lungs in her exclusive diary on Cyclingnews.

Margaret Hemsley diary Index - Latest
Australian Margaret Hemsley spent her second year as a professional in 2002, riding for the German Equipe Nürnberger Versicherung. She was the 2002 Australian Road Champion and Oceania Road Champion.
Margaret studied as a physiotherapist before turning to cycling full time, spending several years with the Australian national team before securing a professional contract with Farm Frites-Hartol, followed by Equipe Nürnberger

Stepping up - The Chris Horner diary Index
From being the USA's top domestic rider for several years to riding for a ProTour team in the Tour de France, Chris Horner is always on the up.
A talented all-rounder, Chris had a successful year Saunier Duval-Prodir in 2005, and is now riding for Davitamon-Lotto. As one of the team's key men in the Vuelta, Horner will be detailing his progress in this special diary for Cyclingnews during the race.

Ken Ilegems diary Index - Latest
Welcome to the Ken Ilegems Diary. After wrenching for one of the world's most powerful teams at Telekom, looking after the likes of Zabel, Vinokourov and Evans, destiny has landed Ken back on a bicycle seat.
Follow him as he attempts to rejoin the world as a racer in the Classics heartland of Belgium.

Emma James diary Index - Latest - Profile
Welcome to one of Cyclingnews' up-and-coming female talents, Australian Emma James. After two years with the Australian Institute of Sport (AIS) team based in Italy, and riding in 2004 as a professional with Team S.A.T.S. then Bik Gios, Emma is back in Australia, concentrating for the moment on the domestic scene before seeing where the wheeltracks take her later in the year.

Floyd Landis diary - Hangin' in There Index - Latest
Tour newbie Floyd Landis was one of the revelations of the 2002 Tour de France, performing sterling work in assisting The Boss to Tour win number 4. In his diary Floyd made it clear that US Postal's dominance was not all plain sailing, and just to finish is an achievement in itself.
Floyd is back with Cyclingnews for 2004, and will be filing regular updates.

John Lieswyn diary Index - Latest
Regular and insightful updates from the US pro peloton.
John is one of the most popular diarists on Cyclingnews, and he continues to send in regular updates of his experiences in the US pro peloton. His writing style does capture the mood and excitement of professional bike racing, and we hope you will enjoy these entries.

Susanne Ljungskog diary Index - Latest
2002 was very much Susanne Ljunskog's year as the powerful Swedish rider landed the world championship just a few weeks after her second place overall and final stage win in the Grand Boucle.
In 2003, she is riding for Team Aliverti-Catalunya-Kookai, and hopes to improve on that Grand Boucle runner-up placing.

Team Marco Polo diary - Tales from the travellers Index - Latest
Reports from races in non-traditional cycling countries that are on the Marco Polo racing program and news about the club.
The Marco Polo Cycling Club is a cycling club, organised through the Internet. The club was founded in December 2000 and currently has 350 members from over 35 countries.

Anna Millward diary Index - Latest
One of the world's top female cyclists who tells it like it is.
Anna is one of the best women cyclists in the world and was ranked number 1 for the first part of 2000. She has won races everywhere, from time trials in France, World Cup races in Switzerland to stage races in the USA, and was the first cyclist ever to break the Hour Record under the "new" UCI rules.

Johan Museeuw at the 2001 Tour de France Index - Latest
The Lion of Flanders reports from what may be his last Tour.
"I've forgotten how big the Tour was … the team presentation, all the cameras, all the people ... it will be my 11th start in the Tour de France," he writes.
The Odessa files Index - Latest
An alternative and definitely light-hearted look at the peloton.
Odessa is a former pro bike racer of two years and present full time traveler. Due to a back injury she is taking a year (or two) off to heal and travel with husband, Levi Leipheimer.
Joe Papp is a UCI Elite rider with the UPMC cycling team. He was a double stage winner at the 2003 Vuelta a Cuba (UCI 2.5) and in 2002 won the GS Mengonin Grand Prix, the BMC NYC Cycling Classic for elite amateur men and a stage at Superweek, among other events. Joe's writing is so good that boring races will sound intriguing and intruiging races captivating.

Davis Phinney diary Index - Latest
With over 300 national and international victories in a career that spanned two decades, Davis Phinney is still the winningest cyclist in U.S. history. In 1986, he was the first American ever to win a road stage in the Tour de France; five years later, he won the coveted USPRO road title in Philadelphia. In 2000, when Davis was just 40 years old, he was diagnosed with early-onset Parkinson's disease. But that hasn't kept him down. Since retiring from professional cycling, Davis has been a cycling sports commentator, public speaker and journalist. He brings his passion for those two-wheeled machines to Cyclingnews.

Ellen Plas diary Index - Latest
Team Nurnberger's soigneur's tales of life on the road with the top German women's team
Ellen Plas' job is 20 percent masseur, 20 percent gofer, 20 percent morale-booster, 20 percent den momma, 20 percent chef and 20 percent organisational wiz... and 120 percent busy.

Podium Girl Gone Bad at the 2002 Tour de France Index - Latest
Who is the PGGB? Her identity is a closely guarded secret, to protect her from reprisals from those still eking out a living snogging sweaty bike racers.
The PGGB's sideways angle on Le Tour made her one of our most popular and controversial diarists.
Filippo Pozzato diary - On the way up Index - Latest

Twenty-three-year-old Filippo Pozzato is one of the Italian peloton's rising stars, with 19 victories already in his short career. Now in his fourth year as a pro and his first at Quick Step, the popular Pozzato is aiming to rack up more wins.
Tim Reinhart diary 2002 Index
Tim Reinhart is a young American rider currently racing with the US national team in Europe.
He is the younger brother of the late Nicole Reinhart.
The Rory Sutherland Tour of California diary Index

San Francisco may be a long way away from the streets of Canberra, Australia, where Rory Sutherland spent his childhood, but the 24 year-old feels right at home there with his HealthNet presented by Maxxis squad. The 2004 Australian Under 23 National Champion will keep Cyclingnews readers up to date every day on his and the team's progress in the Tour of California.
Paul Rowney diary Index - Latest

At 32 years of age, triple Australian XC champion Paul Rowney is at the peak of his abilities. Despite a bad training crash in early August that left him with a broken hand, Rowney soldiered on at the final NORBA round in Durango, finishing third overall in the short track cross-country series.
A typically ocker Aussie, Rowney's diaries are sure to be a laugh, so stay tuned as the Sydneysider embarks on his quest for further national championship and Olympic glory.

Marco Saligari diary – The Commisar's Report Index - Latest
Marco Saligari was a pro for 12 years, where he earned the nickname "Il Commisario" for his ability to astutely read a race and provide leadership on the road for his team-mates.
Since the beginning of 2002 Marco has been the director of sport for Colnago-Landbouwkrediet, a squad of 23 riders, most of whom are "neoprofessionisti" or young riders.
Cody Stevenson diary - Cody the Roady Index - Latest

After two years in Belgium with Team Cyclingnews, Cody Stevenson has returned to his homeland to ride for the brand new Australian outfit, FRF Couriers-Caravello.
Follow Cody's adventures with his new squad as he makes the best use of his European garnered skills to make an impact on the domestic circuit.
The Stuart O'Grady diary Index

During the Tour de France CSC speedster Stuart O'Grady will be giving us a regular inside look at the daily goings-on in the peloton and the team hotel. An Olympic gold medalist on the track, O'Grady is a rider to watch in the sprints and long breakaways, and one of CSC's best hopes for a stage win or even the green points jersey.
O'Grady has had a rollercoaster ride at the last few Tours, wearing the yellow jersey in 2001 and green in 2002, but never quite managing to hang on to green all the way to Paris. In the last couple of years he's shifted his emphasis away from sprint speed and remodelled himself as a Classics and long breakaway expert.
Scott Sunderland diary Index - Latest

Cyclingnews' first diarist, the "true blue" Aussie shares his stories from the peloton.
If any of the current crop of Australian pros making a living in Europe deserve to be hailed the way he is, Cyclingnews diarist Scott Sunderland surely does.
Hitting the mark: The Targetraining team diary, 2006 Index - Latest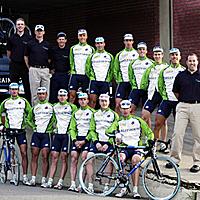 Rick Crawford is one of America's best known cycling coaches, having worked with the likes of Tom Danielson and Levi Leipheimer. His coaching business, TARGETRAINING, sponsors a team of the same name and they're lifting their racing to the next level in 2006. Follow the crew in their racing and training throughout the year on Cyclingnews.
Tassie devil: The Sid Taberlay diary 2004 Index - Latest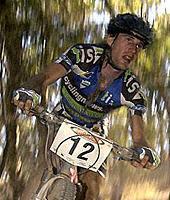 24 year-old Tasmanian Sid Taberlay is a man on a mission. The current Australian and Oceania mountain bike champion, Sid is, like so many athletes this year, striving for a berth at the Athens Olympics Games. But his never-say-die attitude, down-to-earth deameanour and a desert-dry sense of humour - not forgetting a bloody big motor! - puts Sid in the best position possible to realise a life-long dream.
Team TORQ diary (2008) Index

The UCI-registered Australian TORQ/VIS mountain bike team team, features some of Australia's top racers and future stars, including VIS scholarship recipients Tory Thomas, Robbie Hucker, and Cal Britton, Olympian Dan McConnell, and James Maebus, Katherine O'Shea, Joanna Wall, Luke Fetch, Steele von Hoff and Paul Weymouth.
For 2008-2009, TORQ racers are targeting the Australian MTB National Series, National Championships and Oceania Continental Championships. The team's top priority is racing Olympic distance cross country events, but it is also mixing things up with some short track, marathon and endurance events - and maybe even some road races. Some members will head abroad for the World Cups – an important part of Australian national team selection process for the 2009 World Championships to be held in Canberra, Australia. They take turns sharing their experience in this diary.
Tory Thomas diary 2007 Index - Latest

Less than two years after a horrific accident Thomas now holds the Australian XC and Marathon Mountain Bike Champion titles.
The 28 year-old will be keeping Cyclingnews readers informed of her exploits throughout 2007 as she targets this year's world championships.
Time Factory Team diary Index - Latest

The diary of the US developmental team led by former pro Erik Saunders aims to turn out great riders.
Mike Tomalaris at the 2002 Tour de France Index - Latest

Australian broadcaster Mike Tomalaris was covering his eighth Tour de France for Australia's SBS and despite being one-third of the smallest broadcast team on the race, his enthusiasm is undiminished.
In a year when Australian riders came to the fore, Mike's perspective and access to his countrymen was invaluable.
Guido Trenti diary Index - Latest

Likeable 30-year-old Guido Trenti was born in Italy to an Italian father and an American mother, so the Fassa Bortolo rider holds dual citizenship and a USA Cycling racing license.
Trenti is known as a consummate team rider and his role on his new Fassa Bortolo squad in 2003 will be to act as key lead-out man for sprinter Alessandro Petacchi.
Go Russ Go! The Russell Van Hout diary Index - Latest

Newly-crowned Australian road champ Russell Van Hout isn't here for a holiday. In the form of his life, he's come to the Jacob's Creek Tour Down Under on a mission: to confirm his ability in a major stage race and convince selectors of his worth for the 2006 Commonwealth Games in Melbourne. Join Cyclingnews as we embark on our week-long road trip with Russ.