An interview with Tom Danielson
Hill climb star, new Saturn signing and 'Next Big Thing'
Tom Danielson
Mt Washington
Photo: © Jonathan S. McElvery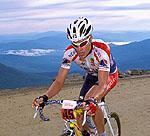 Date of Birth: March 13, 1978
Place of Birth: East Lyme, Connecticut, USA
Lives: Durango, Colorado
Website: www.tomdanielson.com
Major Results
2002
1st, Two stages & overall, Tour of Qinghai Lake
1st, Mt Washington Hill Climb (new record)
1st, US Collegiate MTB championships
1st overall, Stages 1 & 3, Tour de los Alamos
2nd, Iron Horse Bicycle Classic
3rd Stage 2, Tour of the Gila - 8th overall
2001
1st, US Collegiate MTB championships
Personal stuff
Movies: "I don't watch a whole lot of movies or TV. My girlfriend Kristen [Johnson - the 2002 US collegiate MTB champion] is also a cyclist so we tend to do active things together instead. We go hiking, and snowshoing and cross-country skiing in the winter."
Music: "I'm into techno and hip-hop - definitely the young guy stereotype in the team there."
Food: "That's an easy one, I love Mexican food. There's a place in Durango called 'Tequila's'. I could eat there every day, but it's rich food, so we save it for a reward after a good race or a good week of training."
Other recreation: "With school I don't have time for much else. I joke that classes are my recovery sessions."
Tom Danielson has had an impressive year, and has capped it by signing to the revitalised Saturn team. John Stevenson spoke to this rising star about his origins, ambitions and baptism of fire at Qinghai Lake.
It's not easy being tipped as the Next Big Thing, but Tom Danielson, the 23 year old who emerged into the limelight this year by breaking Tyler Hamilton's record for the Mt Washington hillclimb isn't letting it turn his head.
For a start, the 2001 and 2002 Collegiate MTB national champion has plenty of other things on his mind right now, like finishing his double major in research psychology and marketing at Fort Lewis College, Colorado and his recently-announced signing for the Saturn road team.
That degree, I remark, sounds like a scary combination for us plebby consumers. Danielson laughs, and assures me it's not his main focus right now. "My ultimate goal is cycling, where I am now, but afterwards I figure I might work in the industry in marketing for someone like Oakley, so finishing my degree is a fallback. It's hard to graduate 'cos there is so much happening right now, but I'm so close I figure I might as well finish it."
Once the degree is out of the way, Danielson will be full speed ahead with the Saturn team as part of the squad's ambition to regain the US top spot it owned in 2001 but lost (to Mercury) in 2002. Danielson spent the second half of 2002 as a member of the Mercury squad and after his wins at Mt Washington and the Tour of Qinghai Lake, he was one of the most sought-after young US pros in the off-season transfer frenzy, with approaches from US Postal, Prime Alliance, 7-UP and John Wordin (for the Mercury honch's as-yet-unannounced 2003 team). Why, then, Saturn?
"I had some good results this season. My big goal is to race in Europe and ride the Tour de France; that's what I want to do with my cycling career. I was looking for a team that would put me on the right track for that and Saturn's program fitted the mould. Other teams might have put me in Europe too soon; Saturn allows me to compete domestically and ride with people who have done the European thing and learn from them."
No time to admire the scenery
Photo: © Jonathan S. McElvery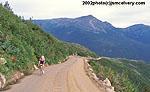 The ride that made everyone go "Tom who?" was Danielson's lopping almost a minute off Tyler Hamilton's record for the Mt Washington hillclimb. But that wasn't the year's most important victory for Danielson himself. "The Mt Washington hill climb was what got everyone's attention, but in personal terms the Tour of Qinghai Lake is where I started to believe in myself and gained a lot of knowledge and confidence. If you look at Mt Washington, though, that's my thing - long steep climbs, that's where I want to make my mark."
It's a long way from a single 50 minute climb to knocking over several of them in a 200km stage of the Tour de France, though. "Definitely. The way my coach Rick Crawford and I are building for that is, first, lots of training, lots of groundwork. Next season I'll do longer stage races, with bigger days and gain experience in bigger races, that will help to bring me up to that level."
Qinghai Lake
Photo: © Paolo Pellizzari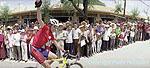 Danielson has already demonstrated that he is capable of moving up a level, and doing so very rapidly, by winning the Tour of Qinghai Lake, his first UCI stage race. And if you think that a 2.5 in China can't be too serious, think again. Danielson takes up the story:
"I'd done the mountain bike world's but the Tour of Qinghai Lake was my first international road race. That was a huge experience. I'll never forget how much I learned and how much I had to overcome. The style of racing was so different from what I'd done before - it was ten times harder than NCC races. The pace was so fast, so aggressive. I'd never really experienced being 'in the gutter' before.
"I was getting knocked around, and I was so intimidated I was in the back of the peloton all the time and if the race split into echelons I'd be there, 3/4 of the way down the pack in the third echelon and I'd have to chase to bridge from one to the other to get back up to the lead group.
"Each day was just 'finish this stage'. I had my coach in my ear saying 'you could win this thing' but I was such an idiot... I had no idea what I was doing. I loved the style of racing though, the aggression and the 'never say die' attitude the European guys had. I went from hating it in the first half of the race to loving it in the second.
The change came in stage four, when the race hit the mountains.
"I just watched what everyone did and tried to learn, but my confidence wasn't there. It really clicked halfway though the race when there were two small mountains, and my coach said I should go for the king of the mountains competition. I rode away from everyone and got the KOM and when I did that some of the stronger guys chased and I ended up in a lead group of 15. That gave me confidence.
Time trialing
Photo: © Jonathan S. McElvery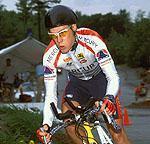 "The next day was an individual time trial. It was a flat windy course, and I'm a real skinny guy. I'd been practicing my time trialing because I knew it was an area I had to improve, and it paid off. I won the time trial and that was when I decided I was going to try to win the overall, and started to assert myself.
"The time trial showed me that I could do it and the stages after that were hilly. Because I had that confidence I was able to ride near the front - still scared out of my mind though!"
That experience burned into Danielson a lesson that is almost a mantra for the best road racers: ride near the front. "When a stage ends on a climb you need to be near the front . If you don't enter a climb with the leaders there's no way you'll win the stage."
MTB last hurrah?
Photo: © Skyhawks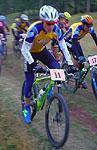 If Danielson's emergence as a hot property in road racing seems a little sudden, well, there is some forewarning in his cycling history, it's just in a different discipline. Like Cadel Evans and Floyd Landis, Danielson is another one of those pesky mountain bikers who has crossed over successfully to the tarmac.
"I started racing at the end of high school, racing mountain bikes as a junior. I did well as a junior, went to the world's, then my parents were pushing me to go to college, so I did that. I did collegiate racing but didn't really make a full commitment to it. I raced mountain bikes because everyone in my home town was into it.
"Collegiate racing developed me and helped me find my focus. It was a morale and confidence booster.I was getting close to graduating and having fun in cycling when I met Rick Crawford. He saw talent in me and also saw everything I was doing wrong!"
MTB Nats
Photo: © Skyhawks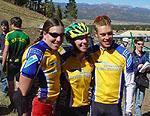 Crawford introduced Danielson to the notion of actually aiming to win a race and working to that goal. "He said 'you should aim to win the collegiate nationals, but I think you have the potential to go to the top.' I didn't believe him! But we won the collegiate nationals and that was the first time I had set a goal and achieved it, and that made me think."
"We continued to work together and invested in a power meter that gave readings so good I was sure it must be broken! Then Rick convinced me to try a few road races."
Switching to skinny tyres from fat was another turning point for Danielson. "I started as a Cat 3 and upgraded to Cat 1 for the Tour of the Gila. I had some good stages there, a third and a fifth place and eighth overall and I totally fell in love with road racing there. I loved how I could just open the throttle and not have to worry about roots and rocks. I love being able to use my engine like that!"
Danielson's engine looks certain to get a serious workout in 2003, starting early in the season with the Tour of Langkawi (January 31-February 9). "The goals there are to get some warm-weather training and international experience, not to go for the win, it's too early in the season. The last stage is a climb though, so if I'm having a good day..."
"My first 'goal time' is April-May when there are several important races: Redlands, Sea Otter and the Tour of Georgia, and the intention is to do well in all three. The year is planned in two blocks. There's that April to mid-May period up to the Peace Race, and there's the USPRO. That's not a great one for me but I'd like to show I can do other stuff and work on other skills. Then I'll back off a bit till later in the year and races like Cascade, the Saturn Classic, San Francisco GP and Tour de l'Avenir. That's a race I'd really like to do, either with Saturn or as part of the USA team."
Despite the bright future that's shaping for Danielson, he remains level-headed about the hoop-la. In our relatively brief conversation I'm almost sprained my wrist trying to take notes that keep up with his infectious, bubbling enthusiasm for bike racing, but he's calm about his status as the Next Big Thing, despite the endorsement of his coach Rick Crawford and agent Olympian Bob Mionske. "I appreciate everyone's confidence but I'm trying not to listen and pay attention," he says.
"My goal is to achieve the most I can out of myself and whatever I achieve will be for my personal satisfaction. I'm doing what I love. I love training and racing - my girlfriend says I'm obsessed and I think you have to be, but to put too much pressure on myself would not be really healthy.
"I'll work hard to achieve my own personal goals, and those goals will go up every year but they'll always be set in a realistic perspective of what I can achieve."
If his energy and record to date are any indication, what Tom Danielson can achieve might just turn out to be pretty remarkable.