2001 Tour de France rider journals
Pre-Tour - July 6: Thoughts
Prologue - July 7: A full day
Stage 1 - July 8: Traditional finish
Stage 2 - July 9: A big day for Belgium
Stage 6 - July 13: Bunch etiquette? This is the Tour!
Stage 9 - July 16: Wadecki subs, and gives his thoughts
Stage 10-11 - July 17-19: Back on in Perpignan
Johan Museeuw - De Schreeuw van de Leeuw (The Lion Roars)
Nationality: Belgian
Team: Domo Farm Frites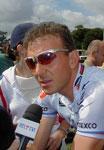 The Lion of Flanders
During the 2001 Tour De France, Cyclingnews will feature an exclusive diary from Johan Museeuw of Domo – Farm Frites. Besides his awesome palmares as the greatest classics rider of his generation, Museeuw is considered Belgium's top sportsman and we'll offer Cyclingnews readers a unique inside line to the thoughts of Johan Museeuw during this year's Tour De France.
Pre-Tour thoughts, July 7, 2001
"This is the first time I've done the Tour in four years; with the problems and accidents but that was before… The first person I asked if I should do the Tour was Dirk (Nachtergael, Museeuw's long-time masseur and trusted confidant-Ed). He said that I had to be motivated and have good morale to do well and I AM motivated.
I've forgotten how big the Tour was… the team presentation, all the cameras, all the people. The last four years, twice I was at home and twice training in St. Moritz and I would see the Tour on TV and ask myself why I wasn't there. Now I'm back; it will be my 11th start in the Tour de France.
In the early days, I was with ADR and Jose De Cauwer (supporting Greg LeMond's 1989 TdF win – Ed) and every year the Tour has gotten bigger and bigger. It's so amazing; really larger than life. As for personal ambitions, mine is to win a stage. But it won't be easy, I know…even though I've had the Green Jersey and the Yellow Jersey, I've only managed to win two stages in Mont St. Michel and the Champs-Elysees. I'll be heavily marked for sure. Well I'm not a sprinter anymore; it's so difficult to attack 30 times and not be in the good move. So I'll try some day, some time to get in a good move, otherwise I'll prepare the sprints for our team. My role is like a road captain; with my experience I can act as an example for the rest of our Domo – Farm Frites team.
Prologue - July 7: Dunkirk ITT, 8.2 km
A full day
Even though we only raced 8km today, it was a full day. First we eat breakfast, then we do a 2 hour ride to stretch the legs. Back to the hotel and we have a nap for an hour or so - then we eat a bit after the nap, off to the race and warm up for an hour on the trainer. Then the race; 8km is so short and it's over. We didn't get back to the hotel until 8:30pm and we ate after our rubs. A long, long day for a short, short race. Oh yeah - I didn't think that there were so many people today but when we came back to the hotel we saw a lot of traffic...
I am not a (prologue-ed) specialist but I was happy with my ride today. After the Tour of Switzerland, I took a break. Usually it's hard for me to get going again after a rest, but this time I feel good. I have good legs.
Tomorrow is a stage for the sprinters; we will ride hard at the end and in the final, Fred (Rodriguez) and (Max) Van Heeswijk will ride for Romans Vainsteins. But my favorite is probably Tom Steels.
Stage 1 - July 8: St Omer - Boulogne sur Mer, 194.5 km
Nervous start, traditional finish
Today it was rain and wind, so the first real stage of the Tour had bad bad weather for the start. The stage was very nervous; everybody wanted to be up front, in the top 20 and that made it worse. But that was impossible for everybody to be up front...there were a few crashes too but nothing serious.
Jacky Durand won today; he went and no one reacted - eventually he got about 8 minutes and then everyone got even more nervous about catching him. In the hard crosswind, Postal and Festina and Kirsipuu's Team (AG2R) rode hard to bring Jacky back. We were riding and the minutes just flew back and we finally reeled Durand in.
Zabel won in what I call a "traditional" sprint; the Tour usually has a lot of sprints in the first few days and today's Sprint was wide open. We (Domo-Farm Frites) got second with Vainsteins but we would have preferred to win so the pressure is off.
Our team morale is very good; today Fred Rodriguez had a few problems and didn't feel good in the final but I told him that happens on big Tours; some days you are good and others, well - but Fred will be back soon.
It will be quite nice to race tomorrow in Flanders, my home. We'll pass about 5km from my place in Gistel when we go through Ichetegem and my wife Veronique will bring my boys Gianni and Stefano to the race.
As I said the other day, I can't believe how big the Tour has become. I had the Yellow Jersey a few times but I can't imagine what it must be like for Armstrong or Moreau. It's really a big deal!
Stage 2 - July 9: Calais - Antwerp, 218.5 km
A good day in Belgium
It was a pretty hard day today; fast and with lots of people…in fact, it was amazing. The first time I ever saw that many people in a race in Belgium and I have been racing here a long time!
I was happy to see lots of flags and banners with the Lion of Flanders; that's where I am from after all. And I saw my name on the road and banners: "Museeuw you are the best" and that was great. But I didn't see my family at the feed station in Ichtegem; we were going too fast but my wife Veronique brought my boys Gianni
and Stefano to the hotel after the stage and that was nice.
It was lucky today we had a Belgian stage winner. I know Marc Wauters very well; he was a first year pro with me when I was at Lotto. Marc is a real down to earth guy… he is very relaxed and he doesn't talk very much. But a nice guy and I am happy for him.
As for Domo-Farm Frites, we were active all day. I was in the first break, and with Freddy (Rodriguez) and at the end we had Knaven and Milesi away. Servais is now third and you never know what can happen in the Tour. Our plan for tomorrow is to see if we can get someone in the hard final up to Seraing. Rabobank will try and control and we'll probably see an uphill sprint of 50 riders.
Stage 6 - July 13: Commercy - Strasbourg, 211.5 km
Bunch etiquette? This is the Tour!
Hi to everyone on cyclingnews.com. Sorry I have not filed a diary in the last few days, but with all the transfers and tough stages I have to keep focused on the race. So here goes.
First of all, the race has been very, very fast and very, very hard with all the crosswinds. All the time crosswinds, plus the race is very nervous.
In the final to Seraing, we did see an uphill sprint of 50 riders but it was the great riding of Telekom who brought Zabel the win. Very good job !
What ONCE did the next day to Verdun was something special - they attacked in the feed zone, which is against the rules of the peloton. There are rules; you don't attack when riders are taking a pee and you slow down in the feed zone. You don't attack in the feed zone. This has made the peloton even more nervous than before.
Maybe ONCE did it to try and drop some GC guys but it didn't work and they had to then carry on with their attack. Since USPS was already at the front, they had to keep up so they were not out in the tough crosswind. Maybe that's why ONCE lost the TTT.
In the TTT, since Domo-Farm Frites didn't have anyone for the GC, we rode well but didn't go all out. We knew we were not going to beat USPS, Telekom and ONCE so we didn't try.
Tomorrow will be a tough day to Colmar so I will turn in now. More soon...
Stage 9 - July 16: Pontarlier - Aix-les-Bains, 185 km
Wadecki subs, and gives his thoughts
With Johan Museeuw unavailable, cyclingnews.com spoke to his roommate, Piotr Wadecki, who is Domo-Farm Frites' best placed rider on general classification in this year's Tour de France. Piotr is currently sitting in 43rd at 38'17" and hopes for a top 20 finish in Paris as a TDF rookie.
"No problem for me today," said Wadecki. "Today was not so hard but there were lots of attacks...everyone wanted to be in the break and the first hour we did over 50 km. The break must have been riding hard because the peloton was riding at a hard tempo today."
Wadecki has never ridden over major climbs like this, so for the outgoing winner of the 2000 Peace Race, Stage 10 of the 2001 TDF will be a revelation.
"Tomorrow I'm looking to get in a good break before the climbs so I can get an advantage...I'm not nervous at all; I look at tomorrow as a good challenge to me."
Stages 10-11 - July 17-19: Aix-les-Bains - Chamrousse
Back on in Perpignan

On the rollers
Hello again to cyclingnews.com people. Jeez, we get back to the hotel so late after those mountain stages and when you get to the hotels it's tough to get online. But now I'm back again on rest day in Perpignan.
First of all a kind of funny story - after the wet, cold Pontarlier stage, my roommate Piotr Wadecki and I were soaked and so were our Nike cycling shoes. Just to dry them out a little, we put them on the heater and it was set real low - after a few minutes, we smelled something burning and quickly we figured out it was some plastic parts on my shoes. We grabbed them and well, there was some melting but the team mechanics fixed them - I will ask my friend at Nike, Steve Swartzendruber, for a new pair after the Tour, but I won't change shoes until after Paris. (ed note: Hey, Druber - get well soon!)
The Tour is hard this year, but I knew it before - it's ALWAYS hard. I'll have good days and bad days but that's the way the Tour is. Sometimes I've finished outside the time limit; I've known every experience in the Tour except to win - that must be something special. Anyway, the Tour was hard 30 years ago and it will be hard 30 years from now.
That Pontarlier stage was ugly; this year, a lot of riders want to be in the break and that day, it was a lot of good guys away. With the bad weather, the chase slowed down when we put on warm clothes and glove. Only Credit Agricole rode at the end of the stage. Sometimes in racing, you have to make a decision to ride or not. USPS had been riding pretty hard and that day, they decided not to ride. We'll know at the end if it was a good decision, but USPS knows that it's important to keep your energy in the last week of the Tour.
With the cold and rain, the bad weather, this brings bad morale - but it's not new for me. When I was a 2nd year pro In the '90 Tour, we had our rain jackets on for two weeks straight! For me, I don't like cold and rain, especially when It's (TDF) hard from the start. You have to drink a lot, even if it's cold.
On the l'Alpe d'Huez stage, we already had the grupetto up the first climb. We did the Glandon at a good tempo to stay close, but we were hurting on l'Alpe because Lance was riding so fast!
The Pyrenees are going to be hard; if I have my choice, I'd rather do the Alps. In fact, I like flat roads and cobblestones! Pyrenees are steeper and smaller, rougher, old roads. It could be a problem is you can't stay with the grupetto if you are too tired; you'll have to go home.
In Domo-Farm Frites, the morale is good. Axel (Merckx) is good and my roommate Piotr Wadecki is in his first Tour, so everything is amazing for him.
As for Lance - when I saw him in the Tour Of Suisse in the mountain TT in Crans Montana, he was riding so fast that I said to myself that that's the Tour De France winner. Lance was so clever on the the l'Alpe d'Huez stage; first he acted like he was having a bad day, then he attacks. Some great tactics - and USPS Director Johan Bruyneel is a very intelligent guy and he learned a lot from Manolo Saiz at ONCE.
Coming up, Lance has to attack - he has an advantage now on Ullrich. From what I saw, I don't think he (Ullrich) has a chance. He was looking strong, but - well, it's easy. Just like in the classics for me when I get beat, when I get beat; I can say that Jan Ullrich is very strong and very well prepared, but he is not as good as Lance.
Well today was rest day; we got up, ate breakfast and then took the plane to Perpignan. We had some lunch, went for a ride and had a rub and dinner. After dinner, I usually like to go for a little walk before bed. I call my wife and say hi to my kids Gianni and Stefano, who are coming for a Tour visit in the Pyrenees.
See you soon!