BC Bike Race: Back to British Columbia
Jon Posner, Jason Berry, Chris Eatough and Jeff Schalk
Photo ©: Steve Bork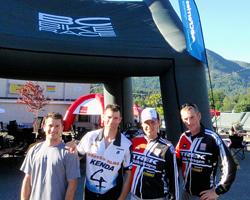 The BC Bike Race returns to British Columbia, Canada, for its second annual running from June 28 to July 4, 2008. The BC Bike race is one race in the still growing category of multi-day mountain bike stage races. It uses the popular two-person team format and boasts a large amount of singletrack through the rugged, Canadian backcountry.
Follow the adventures day by day from the vantage point of four racers on two teams including last year's winners Chris Eatough and Jeff Schalk (Trek / VW) and first-time competitors Jason Berry and Jon Posner (GFK Racing).
Schalk has been dominating the American 100 miler scene while Eatough is a proven champion at both 100 milers and 24 hours races. Film-maker Jason Berry and Jon Posner are long-time endurance enthusiasts and also two of the men behind the movie 24 Solo, which documented Eatough's bid for a seventh 24 hour World Championship Solo title.
The racers will take turns contributing diary entries during the event.
Latest entry: July 8, 2008: Stage seven: One final push by Jason Berry
2008 BC Bike (By the Trek / VW & GFK Racing Teams)
Interviews