BC Bike Race: Back to British Columbia
Jon Posner, Jason Berry, Chris Eatough and Jeff Schalk
Photo ©: Steve Bork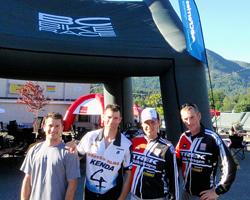 The BC Bike Race returns to British Columbia, Canada, for its second annual running from June 28 to July 4, 2008. The BC Bike race is one race in the still growing category of multi-day mountain bike stage races. It uses the popular two-person team format and boasts a large amount of singletrack through the rugged, Canadian backcountry.
Follow the adventures day by day from the vantage point of four racers on two teams including last year's winners Chris Eatough and Jeff Schalk (Trek / VW) and first-time competitors Jason Berry and Jon Posner (GFK Racing).
Schalk has been dominating the American 100 miler scene while Eatough is a proven champion at both 100 milers and 24 hours races. Film-maker Jason Berry and Jon Posner are long-time endurance enthusiasts and also two of the men behind the movie 24 Solo, which documented Eatough's bid for a seventh 24 hour World Championship Solo title.
The racers will take turns contributing diary entries during the event.
June 29, 2008
Stage 2: Dog day
Somewhere in the middle of the pack.
Photo ©: Jason Berry

I love it when a term can have two completely different meanings. Today was the dog day of the BC Bike Race.
Meaning 1:
We've all heard of the "dog days of summer" when it is so hot you don't want to move, much less ride a 125 km stage of a mountain bike race. Today the temperatures hovered around 34 degrees [degrees Celsius]. That's Canadian for 93 degrees [Fahrenheit]. That's a reeeeeal hot day for these parts.
Meaning 2:
Have you seen 24 Solo? There's a great scene where the Aussie Craig Gordon is talking about his racing strategy. He rides in "the dog" or, the big ring of the crankset. In fact, we quote him all the time from that scene..." It's in dog...eh...I say, 'Have you got it in the dog?'" Today's stage consisted of 122 km of open gravel logging road surfaces, with about 2.5 km of singeltrack trail at the tail end. It was really good trail. But the gravel road was a mind-numbing five hour slog in the big ring at high speed with very little shelter from the sun. I estimate we spent 90% of the day "in the dog".
Jeff Schalk and Jon Posner
Photo ©: Jason Berry

The race started innocently enough, with a police escorted, rolling start out of town. We must be a sight to see, our unruly mob of 450 or so brightly clad lycra covered bike racers, about a city block's length and taking up nearly the full width of the road. Most people pulled over to let us go by and just watched with mouths agape, wondering just what is was they were witnessing.
Once the police pulled off, the race was on, and the frontrunners quickly stepped up the pace and shed the rest of the field. Jason and I were able to make a few key selections and found ourselves with some good company. The pace averaged nearly 25 kph. That's Canadian for 15+ mph, which is fast on a mountain bike. Jason has got a super strong engine for this type of riding, so he was able to take some big pulls at the front of the group, and he helped more than once to tow me back onto the back of the pack when I couldn't match the group's efforts.
It was a long train of racers
Photo ©: Jason Berry

That's pretty much all there is to tell about the stage today - it was incredibly boring on those gravel roads, except for the gorgeous scenery around us, but that only served to distract us for so long from the task at hand. I breathed hard and sweated lots and cramped some and cramped some more.
Somehow I managed not to explode and after we had ticked off 99 km, we arrived at the last aid stop. We knew there was some trail at the end of the day, so we fought hard to ride the fastest possible time to get there and reach the finish. As we entered the singletrack at 122 km it was like an instant role reversal. I felt like I had just woken up from the nightmare of riding my mountain bike for over 120 km of nothing but mindless gravel roads, and found bliss in the shady, technical, delicious singletrack.
The best meal ever...
Photo ©: Jason Berry

Jason on the other hand, had burned all his matches and started cramping badly as we got into the woods. I was glad I was finally able to contribute to our progress with a hand helping him up the last few risers as we closed in on the finish line. The finish was pretty cool, ending on a high school running track with people clapping in the bleachers, a cheerleading squad, a live rock band, and the best thing in the univerese at the end of a long hot effort on a MTB, Coca Cola over ice.
After seven or 12 cups of Coke, I don't remember which, I had a sugar and caffiene induced epiphany...pizza delivery. With some helpful advice from a local, we ordered up four pizzas and gorged ourselves on the cool concrete floor of the air conditioned sports complex lobby. It was one of the best meals of my life.
So now, a few cold showers, two meals, and one beer later, we are about to turn in before starting stage three tomorrow. They've promised to put us onto super duper singletrack trails at the end of the stage, so it will be worth the 6:00 am start and some more miles, I mean, kilometers, on logging roads.
Poz
GFK Racing
Trek / VW Team:
Jeff Schalk (USA), 34, Harrisonburg, Virginia
Chris Eatough (USA), 33, Oella, Maryland

GFK Racing Team:
Jason Berry (USA), 33, Arlington, Virginia
Jon Posner aka "Poz" (USA), 33, Catonsville, Maryland
Photography
For a thumbnail gallery of these images, click here
Images by Jason Berry