An Interview With Dr. Michele Ferrari, part one
The Eye Of The Storm
Tim Maloney / Cyclingnews European Editor
In part one of this two-part interview, Controversial Italian sports doctor Dr Michele Ferrari talks about the changes he's seen in pro cycling over the past 20 years, plus his unique method of measuring a rider's fitness. In part two the doctor talks about his relationship with Lance Armstrong and the ongoing court case in Italy.
Dr Ferrari (right) & a client
Photo: © Tim Maloney/CN

On a sparkling spring day in the Italian Apennine mountains, Cyclingnews met with Dr. Michele Ferrari for an exclusive interview. Ferrari is a sports medicine doctor who has often been demonised by the media and seldom gives interviews. Ferrari, who had just celebrated his 50th birthday agreed to an interview with Cyclingnews to discuss his philosophy of training, his new website, www.53x12.com, his relationship with Lance Armstrong and his ongoing court case with Italian legal authorities for alleged doping, something Ferrari categorically denies.
Armstrong, who has described Ferrari as "a bright, bright man who's brutally honest", currently uses Ferrari as a training consultant on diet, altitude preparation, hypoxic training and the use of altitude tents, and has been among Ferrari's staunchest defenders. Armstrong said that his primary coach "Chris [Carmichael] has grown to trust [Ferrari's] opinion regarding my testing and my form on the bike. In my personal experience I have never had occasion to question the ethics or standard of care of [Ferrari]."
On stage 15 of the 2000 Tour de France, Armstrong's directeur sportif Johan Bruyneel called Dr. Ferrari on his mobile phone from the team car to get advice. Armstrong related the gist of the call, saying "[Ferrari] can tell you how really fast we're riding, based on VAM - the (average) rate of ascension… yeah, Johan had that conversation. Obviously it wasn't good to let Pantani go, but how fast was he really going? How long could he sustain that? And Ferrari would know the answers, because he is above all, in my opinion, a mathematician. A brilliant mathematician … with a ton of experience."
However, many cycling journalists have questioned Armstrong's judgment in being associated with Ferrari, who caused a scandal in an interview with L'Equipe nine years ago by comparing EPO with orange juice. Although currently under investigation in Bologna, Italy by the Italian justice system for doping allegations, Ferrari stands firm that these allegations are simply baloney.
The slim, unprepossessing Ferrari remains calm at the eye of the hurricane. His outward appearance is mild-mannered, but his articulate nature, intense vision of cycling preparation and powerful intellect become evident immediately.
Tony Rominger was more than just a cient - the two are close friends
Photo: © Tim Maloney/CN

After watching Ferrari conduct a test on a cicloamatori rider from his hometown of Ferrara, we sat down with him for a long, wide-ranging interview.
Cyclingnews: You've been a specialist in sports preparation for more than 20 years. What's your point of view on today's cycling?
Dr Michele Ferrari: I started to work in professional cycling in 1983-84 with Francesco Moser. I was one of many people on his sports preparation team for the World Hour Record, and after that, Moser asked me to become team doctor for his Gis Tuc-Lu team for the 1984 season. I enthusiastically accepted Moser's invitation, especially as I'd been a cyclist myself as well as 20 years as a runner and I really liked and was interested in the sport.
At that time, cycling was a lot different than cycling of today, or that of the last 10 years. Above all… well, there are a lot of differences. At the level of the performance of the athletes, the average rider (20 years ago) was much less prepared, much less trained, not as strong as they are today. You used to be able to see at the beginning of the season riders 8 or 10kg overweight, something you couldn't imagine today. And then, many riders didn't train much in the winter for months. Cycling was kind of old-fashioned compared to other sports like athletics back then; those sports had a more sophisticated approach compared to cycling which hadn't changed much in many years. For most riders, it was "prendi la bici e vai (get on your bike and ride)... Today I'll do five hours and see how it goes." There simply wasn't a programmed, structured approach to training.
On the other hand, cycling today is at a much higher level and the riders really have a higher performance level. The great champions of yesterday, like Bernard Hinault, or Moser or Saronni, probably their performance was not much different than that of the top champions of today; those riders were likely working with a sport trainer 20 years ago. But in general, the fitness level of the average pro rider 20 years ago was much lower than today.
Another big difference was back then, even though there were fewer pro teams back then, perhaps 12 or 14 teams, there were only 14 riders, the team captains, who would be racing. OK, I'm exaggerating, but there were fewer riders who were looking to win. All the others were there to work. Already, these support riders were not at the level of today and they were riding in a support role, the average rider had little space to do anything. There were riders like Moser who could win all year round, in the first race of the season and in Lombardia because the average level of riders was low and there were few top competitors for him… good but few.
Dr Ferrari's favourite testing ascent
Photo: © Tim Maloney/CN

Nowadays, in almost any race, if there are 200 riders who start, perhaps 100 start to get a result. This has certainly changed cycling. There is much more freedom for riders but also more disorder (on a sporting level) which confuses the fan, because top champion of today focuses on fewer objectives than they used to 20 years ago. These are the primary differences I see between cycling 20 years ago and today.
CN: During your last 20 years of experience in the sport of cycling, I imagine you have developed your own philosophy of sport training. Can you explain how your approach developed?
Dr MF: It's difficult to identify all the parameters, but in a general sense I can explain how my approach developed. Initially, I began working with Moser in his Hour Record team and then in his team as the doctor. I was a team doctor for 10 years until 1994. With my background as a practicing athlete and as an expert of sport testing and evaluation, in that 10 years, my ability to develop and suggest training programs for athletes evolved. At the beginning, as a team doctor, I was primarily responsible for the health of the riders. But as I gained more experience, this enriched my knowledge of how to develop training programs. The process of developing my competence in this has had a slow maturation process and now, that has evolved my role into much more of a 'preparatore' (sports training coach) than as a medical doctor.
Practically, what happened during this time is that riders developed the need and desire as cycling evolved to have a preparatore or personal trainer… like there is in all sports. Before [the mid '80s] there wasn't this type of approach in cycling. There was a direttore sportivo, who drove the team car, organized the team and travel, and also some of these made suggestions on how to train to the riders. This was the historical approach and when the direttore sportivo would ask me, as team doctor to assist in developing training plans, I began to assume this role as an expert who closely followed the riders' training program. This is the fundamental approach to how sports training evolved in cycling. Then, if you asked me "define your methods", beyond that point, there are the specific scientific aspects and values that are found in the riders tests and are quite complex. I'd need a lot of time to explain these to you…
CN: But I understand from some riders that you have trained that you have a special way to work with riders, a humanistic approach that these riders found quite easy to deal with.
Abraham Olano was another highly successful Ferrari customer
Photo: © Tim Maloney/CN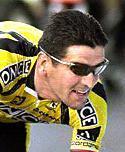 Dr MF: Well, when you talk about elite athletes, before all, your relationship has to be a friendly one, where the rider has confidence in you and you have a mutual trust established. Then, you have to spend a lot of time with the riders. I'll give you an example; for many years, with Tony Rominger, we used to take both of our families and go away for a month together in the winter time for training where it was warm; San Diego, South Africa. So my first step was to get to know well the riders I was working with as a person as much as I could. It isn't like the riders come into my clinic for a test and leave; we would spend a lot of time together. Some riders I got to know very well. To really get the best performance out of a top elite athlete, he or she has to trust their preparatore. You can't just go around in a white lab coat and give them a piece of paper that says "here's your program for the next month; come back and see me later."
No, you have to be available day and night, since an athlete can have a problem or have a question. That's my basic philosophy of how to work with a top elite athlete, and then, the scientific elements come in. Naturally, there is a large base of scientific research that I use to develop training programs that has been perfected over the years through racing performances and training. Sport in general and especially cycling isn't a matter of one plus one equals two; there are so many predictable and unpredictable variables that at the end, one has to use one's experience to develop these training programs. A program has to be prudent and predict the possibility that something can happen to the athlete; like getting sick. Certainly there is a scientific basis to this, but there is also a good percentage of art to it, as we've called it on 53x12.com. Art in the sense of the ability to interpret your sensations during training; the wind direction, the mood of the rider; what' s going on inside the person, family issues…
Stefano Ferrari: On our website, we have tried to elaborate the synergy between scientific training methods and the actual practice of cycling…
Dr MF: And the training experience of many years that is not in any book is on 53x12.com. My training expertise and experience has never been written down before.
CN: We understand you developed a unique way of measuring a rider's output for testing, V.A.M. What is this?
Dr Ferrari check's Dido's measurements on the climb
Photo: © Tim Maloney/CN

Dr MF: That's simple; it means velocita ascensionale media [average climbing speed]. I think I was one of the first to measure this, but no one can say they invented this technique. I started using this with Tony Rominger in the 1980's. At that time in road cycling, there wasn't the habit of measuring these type of actions [average climbing speed] in training. On the other hand, in athletics, [sport trainers] were measuring split times and other parameters; in road cycling, no. There were no established parameters to measure performance in cycling. It was interesting to me to look at this; to be able to measure the progressive improvement of an athlete.
For example, since the atmospheric conditions (wind strength and direction) in flat terrain can broadly influence the performance of an athlete, it seemed to me that would be more precise to measure the athletes performance while climbing, where the speed is lower and the air resistance has little effect, so all you have to know to calculate V.A.M. is to know the altitude of the climb where you begin and end the test and the length of the climb. From this, one can calculate V.A.M.
As for the type of climb to calculate, you want to find one with relatively steep gradient, between 7 percent and 10 percent, and that climbs at a steady rate and doesn't have many false flats. So I started to use this method in the late 1980's with various riders; a bit for my own curiosity and for the desire to learn more about training elite cyclists.
Today, V.A.M. is still an extremely valid way to calculate a rider's fitness and progression in his training. I haven't gone to races much in recent years, but when I watch certain races on TV, I time various climbs to calculate V.A.M.! That way, I can obtain more information for my database of V.A.M. information. It's not always possible to do this, but in at least 60 percent of the time, we can get this information from cycling broadcasts for the most important climbs.
It's not like I'm looking for the record of Lance (Armstrong) on l'Alpe d'Huez; this information allows me to compare the performance of a rider like Armstrong against, say, Ivan Gotti or Simoni on the Mortirolo. Of course, we have to make some adjustments regarding the gradient of each climb; we discuss this on 53x12.com. Every one percent increase in average gradient decreases V.A.M. by 50 m./hr. So, in practice, 1700 m./hr on a climb of 8 percent average grade is the equivalent of a level of performance on a 9 percent average grade of 1650 m./hr., or 50 m./hr. less.
Stefano Ferrari: On 53x12.com, we go into extensive detail about V.A.M. and how a rider can use this tool to measure performance.
Here are some examples:
VAM (Vm/h) Metres Per Hour (Vm/h)
1800+ Vm/h: Lance Armstrong - and Pantani of olden days
1650-1800 Vm/h: Top 10 / TdF GC or mountain stage winner.
1450-1650 Vm/H: Top 20 / TdF GC; top 20 on tough mountain stage.
1300-1450 Vm/h: Finishing TdF mountain stages in peloton
1100-1300 Vm/h: The Autobus Crew
Claudio Chiappucci followed Dr Ferrari's advice for a brief time in 1997
Photo: © AFP

CN: Tell us more about www.53X12, your new Internet training concept for cycling? How did you develop this concept?
Dr MF: I began to develop this in collaboration with Jogi Muller, a former pro rider I've known for years… we are friends and as we were talking one day, Jogi asked me "why don't you try to bring some of the information and experience you have as a sport trainer that has been developed over the years. Jogi thought that I could share this with everyday cyclists, not just champion riders. For many years, going back to the 1980's, I've worked with many cicloamatori (amateur cyclists), so I liked that idea right away. There's a lot of satisfaction for me to see any rider improve their performance and that's always been gratifying for me.
Jogi and I thought that the best way to reach people all over the world was via internet, but it was more difficult than I realized to put my general criteria for training on the internet, but not just training, also for diet and other elements in a clear and simple manner that was applicable to a web site.
Our goal was to put something, I think, that is new, in that we didn't want to put up a simple program, but one that captures all the possibilities and variation for a person's sport training. How I work when a cicloamatore comes to see me and explains, for example, "I've been riding my bike for two years, I can train three times a week" and so based on these variables and others, such as percentage of body fat, body weight… so our first step was to identify my specific criteria for an individual evaluation and then adapt them to a web site. This took a lot of work by me, my son Stefano and of course, Jogi. Then we brought this to a team of web site developers to put together into www.53x12.com.The entire project has taken almost a year and a half now and we are really just at the beginning, as we'll be looking to improve our site at every further step.
53x12.com is designed for beginning riders with no experience, to neophytes and up to experienced cicloamatori riders who are already serious about their training, who are all looking to improve their riding. Our training is designed for riders who participate in some competitions; riders who want to see how they compare with others and with themselves.
Part 2: Lance Armstrong and Dr. Ferrari's ongoing court case - coming soon
Images by AFP & Tim Maloney/Cyclingnews