Rider profile: Bradley McGee
His time keeps improving
Intro by Gerard Knapp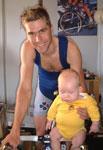 With daughter Tahlia
Bradley McGee
Born: February 24, 1976, Sydney Australia.
Lives: Angers, France, 300km west of Paris, with wife Sharni and baby Tahlia
Team: Francaise de Jeux

Bio-data
Weight: 70kg
Height: 182.5cm
VO2max: 89mL/min/kg
Threshold: 390-410 watts @ 195-205bpm. Average power in watts for a 4km Individual Pursuit is 530.
Max RPM: 225
Resting HR: 36-42bpm

Palmares
1993: Junior world championships, gold & bronze, track
1994: Junior world championships, two gold medals, track
1996: Atlanta Olympics, two bronze medals, track
1999: Stage win, Tour de Normandi; 2 stage wins Tour de l'Avenir
2000: Stage win, Herald Sun Tour; Sydney Olympics, bronze medal
2001: Stage win, Midi Libre
The process of turning from a successful track rider into a equally successful road rider is not easy. It's not just the hills, or lack thereof in a velodrome. Versatility and perhaps a new kind of mental strength is called for, as well as adapting the perfect style of the endurance track rider to the bumpy and twisting TTs of modern road races.
A world champion on the track at 20, Australia's Bradley McGee already has more than enough Gold Medals and track world records to satisfy any career - but he is still only 25. This year with La Française des Jeux he has won both prologues and sprint finishes and worn the leader's jersey in races like the Midi Libre. It would seem that his time on the road is about to match his pure class on the track.
In early September last year, McGee was working towards his ultimate goal - the Sydney Olympics. The velodrome had been built in the area where he grew up and the Sydneysider was primed for the big event.

On the podium at Midi Libre
Photo: © AFP
But two weeks before the Games commenced, he fell on a training ride and broke his collarbone. Almost a disaster and a convenient excuse for not riding well, McGee had his collarbone literally screwed back together and went on to take the Bronze medal in the Individual Pursuit and improved on his personal best by three seconds. In order to help block out the pain, he asked his team members to stop asking how he was feeling.
It was a remarkable recovery from an injury that might have scuppered his Olympic chances, but Brad has always exhibited determination. He spent his childhood chasing elder brothers Andrew, Craig and Rod into many different sports and activities from soccer to water-skiing, hiking, cross-country running and eventually to cycling at the age of 10. In his early years Brad was known as the 'runt' of the litter. A growth spurt at 16 and gold and bronze medals in the junior worlds in 1993 lead to the Australian Institute of Sport, two Olympics and in 1998 the Francaise des Jeux pro team.
Only the luckiest pros build setback-free careers and Brad has had his share of problems, but the successes have been shining. In the next several years he earned two more junior worlds gold medals, four Commonwealth Games gold medals two Olympic bronze medals and the coveted senior world championship.
Winning the 1995 world championships in Bogota alongside Stuart O'Grady, Tim O'Shannessy and elder brother Rodney is still his most treasured cycling memory. The team totally outclassed and dominated all other countries, and Brad proudly wears the badge of a former world champion, the rainbow rings on his jersey sleeves.
After his success in the following year's Atlanta Olympics the professional road teams of Europe started calling. At first Brad showed little interest, preferring to enjoy his first ever break from the sport. However, after striking a deal that enabled him to continue his track cycling exploits, Brad agreed to join the newly amalgamated French Lotto backed team 'Francaise des Jeux' or FdJ.
Brad's pro debut with FdJ was planned for 1997 but was postponed to 1998 as hed suffered a terrible year of repeated illness. Looking back, he admits this that this was due to over-indulging in post-Olympics partying, followed by a too-rapid return to his brutal training regime. Something had to pop and it was his health.
Likes & Dislikes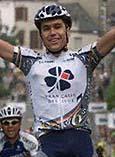 Outsprinting the field at the Midi Libre
Photo: ©AFP
Family: On a quiet day during season, Brad enjoys nothing more than to walk down the local park with his his wife Sharni and baby Tahlia with a stop over at McDonalds on the way home.
Writing: Has been known to stop while training to buy a pen and paper in order to record his thoughts. Also writes poetry and may publish some on his web site.
Music Club music from disco house and funk, with plenty of bass, to relaxing with dream and trance. Home training sessions can resemble an inner city club at 4am.
Relaxes: Escaping to shed on a river north of Sydney to go water-skiing with his family, although the 60 year-old father still is the barefoot king of the family.
Car: Car: A 1953 Holden FJ complete with rusty rear guard and decompression windscreen wipers. It polishes up well and was used in his, plus older brother Rod's weddings.
Other interests: Internet, Cooking, digital junky with DV cameras, MP3 players and DVD movies, but no computer games: "the outside world is the only place to play".
By the end of the '97 season Brad had come of age, and devised a plan to regain his strengths. He hit the 98 season as a fit and healthy 'neo-pro' with a two-year contract. Like all neo-pros, he spent his time suffering off the back of the pack.
In 1999, his second year as a pro — and only his first full year as a road cyclist — he took three victories , including winning the 35 km time trial stage of the Tour de l'Avenir by well over 30seconds. He put this success down to increased knowledge og training and diet but also 'quality living'. Quality living supplied through renting a beachside apartment in Nice on the Cote d'Azur, with his girlfriend Sharni (now his wife and mother of their baby girl, Tahlia).

In the Olympic IP
Photo: ©AFP
In 2000 Brad's focus was the Olympics and the lead-up to the Games included five months of intense European racing with his team before a three month training camp with the Australian team. His last European race was the Giro d'Italia, his first 'Grand Tour'. A strong start saw Brad in third place after the prologue time trial, just a few seconds out of the leader's pink jersey. He spent the rest of the race working as lead-out man for team sprinter, Fabrizio Guidi who eventually won the Blue Inter-Giro Jersey competition.
2001 sees Brad once again in the colours of La Francaise des Jeux, and while his team's wildcard selection for the Tour de France has been controversial, the determined young Australian is eagerly looking forward to his first experience of cycling's biggest event, and he'll be recording his experiences in his diary.