Cyclingnews 2008 Reader Poll Results
Best male track rider
It's 'sir Hoy' to you!
By Ben Atkins
An emotional Chris Hoy
Photo ©: Stephen McMahon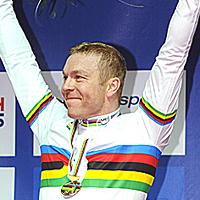 With two World titles, three Olympic golds, the BBC Sports Personality of the Year title and knighthood, it's hardly surprising that Chris Hoy came out on top in this the biggest prize of all. His dominance of this poll – netting more than 70% of the votes – is by far the biggest margin of victory in any of our categories this year, mirroring the Hoy's dominance of his rivals in both Manchester in March and Beijing in August.
Missing out to the French in the team sprint at the World championships, Hoy and teammates Jason Kenny and Jamie staff turned the tables in big style on the first day on the Olympic track. The next day he left the best in the World metres behind him in the Keirin final (with teammate Ross Edgar mopping up the silver medal) and then he closed the proceedings at the Laoshan Velodrome three days later with total dominance in the sprint (again a teammate taking the silver in Jason Kenny).
Bradley Wiggins can think himself unlucky to have had such a fantastic year but still end up in the shadow of Hoy. Wiggo himself netted three rainbow jerseys in Manchester (individual and team pursuit, plus the Madison with Mark Cavendish), and also carried that form to Beijing where he took both pursuit titles. Fatigue and being the marked pair of the race prevented him and Cavendish adding the third though.
The podium is completed by retiring Spanish six-day legend Joan Llaneras, who capped his career nicely with Olympic gold in the points race; going one better than his silver of 2004. Honourable mentions also go to the also-retiring legend and Kilometre World record holder Arnaud Tournant in fourth place, British bronze medallist Chris Newton in fifth, and German silver medallist Roger Kluge in sixth (both in the Olympic points race). Hoy's team sprint lead out man Jamie Staff came in seventh, rising French star Michael d'Almeida eighth and Ross Edgar ninth.
"The rules of the Keirin are quite simple: the riders follow a derny bike around the track and when it pulls off they all follow Chris Hoy to the finish line."
Results

                                                                                  Votes   %age
1 Chris Hoy                                                                        7574  70.65
2 Bradley Wiggins                                                                  2326  21.70
3 Joan Llaneras                                                                     325  3.03
4 Arnaud Tournant                                                                   186  1.74
5 Chris Newton                                                                       84  0.78
6 Roger Kluge                                                                        84  0.78
7 Jamie Staff                                                                        72  0.67
8 Michael d'Almeida                                                                  40  0.37
9 Ross Edgar                                                                         29  0.27
                                                                           Total: 10720