Cyclingnews 2008 Reader Poll Results
Female Mountain Bike Racer of the Year
By Sue George
Gunn Rita Dahle-Flesjaa (Multivan Merida) was elated with her first major victory after her comeback from illness
Photo ©: Dave McElwaine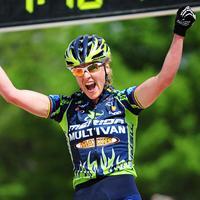 Gunn-Rita Dahle Flesjaa has won the Cyclingnews Female Mountain Biker of the Year reader poll every year but one since 2003. She missed out only in 2007, when she was absent from the poll, after sitting out most of the season due to a viral infection. This year, she collected 3,052 votes or almost 30% of all the votes for a convincing poll win.
2008 was year of Dahle-Flesjaa's comeback and fans from around the world closely followed her return to form as she documented it in her Cyclingnews diary entries. Fresh mentally after her forced break from racing, Dahle Flesjaa poured her heart and soul into racing. Plenty of hard work and sheer determination paid off for the Norwegian as she logged increasingly better results in the spring races.
Then in Madrid, Spain, in early May, she proved her comeback successful with a win in the UCI cross country World Cup round.
Mid-June saw her finish a respectable seventh place at the UCI World Championship cross country in Val di Sole, Italy. Just a few weeks later, in early July, she earned a World Championship title in the Marathon in Villabassa, Italy.
The popular Norwegian will have a new challenge to overcome in 2009. After announcing her pregnancy in November, Dahle Flesjaa is expecting to give birth to her first child in April of 2009. Don't count her out, though, for the next World Championships in Canberra, Australia; she will draw upon the support of friends and family to help her out as a new mother. She plans to return to international competition as early as the end of June.
"We believe this will give us an extra inspiration in our goal of a medal at the London Olympics in 2012," said Dahle Flesjå this fall after she renewed her contract for another four years with the Multivan Merida team.
Last year's winner Georgia Gould finished second place in this year's poll with 1553 or 15.09% of the votes. Gould earned one of the two spots on the women's US Olympic Team after she finished second at the US National Mountain Bike Championships and visited the podium at the Canadian World Cups in Mont Sainte Anne (fourth) and Bromont (fifth). Gould is presently in the midst of a successful international cyclo-cross campaign.
Third place in the poll went to the consistent Sabine Spitz of Germany with 1495 or 14.53% of the votes. She fulfilled a dream this year of winning an Olympic Gold Medal in Beijing, China, after months of meticulous preparation that earned her silver medals in both the UCI Cross Country World Championships and the UCI Marathon World Championships.
Downhill World Champion and World Cup overall winner Rachel Atherton was the best-placing gravity racer in the poll, with 9.58% of the vote or 986 votes in fifth place.
Results
                                                                                  Votes    %ge

1 Gunn-Rita Dahle Flesjaa                                                          3052  29.66
2 Georgia Gould                                                                    1553  15.09
3 Sabine Spitz                                                                     1495  14.53
4 Marie Helen Premont                                                              1072  10.42
5 Rachel Atherton                                                                   986  9.58
6 Marga Fullana                                                                     498  4.84
7 Melissa Buhl                                                                      492  4.78
8 Tracy Moseley                                                                     460  4.47
9 Catherine Pendrel                                                                 457  4.44
10 Sabrina Jonnier                                                                  226  2.20
                                                                           Total: 10291