MTB news & racing round-up for November 14, 2008
Welcome to our regular roundup of what's happening in mountain biking. Feel free to send feedback, news, & releases to mtb@cyclingnews.com and results, reports & photos to cyclingnews@cyclingnews.com.
Edited by Sue George
Ramirez rolls into the La Ruta lead on day one
By Rob Jones
Federico Ramirez (BCR-Pizza Hut)
Photo ©: Rob Jones

The 2008 edition of La Ruta de los Conquistadores became a one-man show after a dominating performance by defending champion Federico "Lico" Ramirez (BCR-Pizza Hut) on the opening stage Wednesday. Ramirez crushed the nearest rider, archrival Paolo Montoya (Economy Rent A Car), by over 10 minutes. The anticipated battle with three-time Vuelta a España winner Roberto Heras (Giant) did not materialize, as the Spanish rider faltered on the climbs, finishing over 25 minutes behind in fifth place.
"I didn't know about all the hills," said Heras. "There were so many uphills and downhills. But now that I have experienced it, I feel more positive for the next stages."
Adriana Rojas Cubero finished as the top woman, two hours and 20 minutes behind Ramirez.
After an 18 kilometre paved run north along the coast from Jaco, the race turned inland for the first climb - a 10-plus kilometre gravel slog that quickly separated out the contenders. Over the top, nine riders headed into the Carara National Park: Ramirez, Montoya, Heras, Thomas Dietsch (Gewiss-Bianchi), Enrique Artavia (Super Pro-Economy), Manny Prado (Sho-Air-Rock N' Road) and Dennis Porras (Super Pro-Economy), Marvin Campos (BCR-Pizza Hut) and Alexander Sanchez (BCR-Pizza Hut).
Heavy mud, treacherous descents and hike-a-bike sections followed leaving just six riders in the lead group. Dietsch stopped at the checkpoint to deal with a slow leak, and stock up on water and food while the others (who had team support) continued on.
It was still early morning
Photo ©: Rob Jones

Shortly after, racers faced an endless series of steep gravel climbs, and Montoya attacked, with only Ramirez able to respond. The two quickly opened a gap on Heras, Porras and Artavia, none of whom were capable of chasing.
Dietsch, however, was and made an impressive effort to pass the other chasers and bridge up to Ramirez and Montoya before the third checkpoint. The trio steadily pulled away.
The leaders had moved onto the main paved climb at the front, and Ramirez launched a devastating attack, which neither Montoya nor Dietsch were capable of answering. Montoya dropped Dietsch to grab second, which he held to the finish. Artavia, Prado and Heras followed at the finish as Dietsch ended up limping home in sixth place, pale and shaky after missing support at the final checkpoint.
Stay tuned to Cyclingnews' for full coverage of La Ruta de los Conquistadores.
Carey & Bishop win Iceman Cometh
By Sue George
Amanda Carey and Jeremiah Bishop were crowned Ice Queen and King at the 19th Annual Iceman Cometh last Saturday in Michigan. Thousands of racers tackled the 27 mile point to point course over wide-open cross country ski trails and some singletrack.
On his way to victory in his first-ever Iceman race, Trek/VW's Bishop broke the course record, averaging 18.66mph. Less than one minute separated the top seven men's finishers, keeping the race exciting until the very end.
"It was a really tactical race," said Bishop. "It was also really fast for a mountain bike race - the fastest mountain bike race I've ever done. The only race that comes close to it in terms of speed is Sea Otter."
Thanks to some recent cyclo-cross racing, Bishop was ready for a fast and tactical race. "I did some motorpacing to prepare," he said. The speed paid off when Bishop got the hole shot off the start line, but a rolling course made it impossible for him to escape off the front.
Mike Simonson (Trek / VW) and Bishop pushed the pace in the first five kilometers. Brothers Sam (Gary Fisher / Subaru) and Andy Schultz (Kenda / Titus) also took turns attacking At one point Andy got a 25 second gap, putting him nearly out of sight of the others. Brian Matter (Gear Grinder) and Colin Cares (Kenda) were among those who helped drive the chase and Schultz was caught.
"We had a 12-man group at that point. I wanted the race to break up - I didn't like the idea of coming into a sprint with all those guys," said Bishop.
"As we got to the last five miles, I put in a big dig on a large climb following a technical singletrack section. That put the pressure on and it paid off," said Bishop, who briefly got away with Mark Lalonde (Gary Fisher 29er crew) and Matter in the final few kilometers.
With one mile to go, Bishop took advantage of a slow, steep mulch climb to get a gap going into a singletrack section. "I knew it would be a great springboard if I had an advantage going into it," said Bishop. His tactic worked and he ended up finishing in 1:28:31 with a seven-second winning margin over Matter. Mike Anderson (Bell's Beer) took third at 13 seconds. Cares and Andy Schultz rounded out the top five.
"It was awesome to bring home the last race of the season. A win is the best way to close," said Bishop.
Unlike the tight men's race, Amanda Carey (Kenda) dominated women's race from start to finish. Racing in near perfect conditions, she finished in 1:45:45, more than two minutes ahead of Susan Stevens (Brodie Bikes) and Heather Irmiger (Gary Fisher / Subaru). For Carey, it was her biggest win of her first-year pro career.
"Every time I felt myself falling back, I said nail it, it's almost over," said Carey.
Carey rode with the lead group until the Williamsburg road crossing at mile 16. Climbing through the crowd that lined both sides of the course, she hammered upward and never looked back until crossing the finish line 35 minutes later.
See Cyclingnews' full coverage of this the Iceman Cometh.
Silva & Genova Concepción win Copa Chile round
Elite men's cross country podium
Photo ©: Copa Chile

Round four of the Copa Chile Jeep 2008 series was held in Concepción in Southern Chile last weekend. Cristóbal Silva and Daniela Bunzli won the cross country while Enrique Genova surprised his fellow competitors to win the downhill. Veronica Miranda took the women's downhill. The races, held on the Cerro Caracol tracks, carried racers on some of the fastest and most forested trails in the series.
In the cross country on Saturday, Silva (Cannondale-ADO) made a comeback after being defeated in the last round by Javier Püschel (Scott-Suzuki).
"The third race [in the series] I was very tired, but I came back to focus on winning," said Silva, who took off from the group early in the race's seven laps. He finished with a time of 2:13:09. "This victory I enjoyed."
Gonzalo Aravena (Scott) finished in second at 3.31 while Claus Plaut (Cannondale) ended up third just over five and half minutes back. Püschel suffered a big crash during training, but went on to compete with more than 20 stitches in his elbow. He finished fifth.
In the women's cross country, Daniela Bunzli (Cannondale) won in 2.08.49, ahead of teammates Elisa Garcia and Monica Jorquera.
Downhillers got their turn on Sunday on a track that ended in the city center of Concepción.
"This year they produced a good track, so it felt so good to let the brakes go," said the leader of the rankings Juan Cartoni.
However, it was BMX double World Champion Enrique Genova who took the win by eight-tenths of a second over Mauricio Acuña, who won the series in 2007.
"I have been only two months racing Downhill and this shows that I have conditions," said Genova, who was also the winner in the rigid category, for bikes without rear suspension.
Veronica Miranda (Rocky Mountain) won the elite women's downhill over Andrea Melian (Chena Racing) and Claudia Campos (Sportexpert- Hiterk).
The fifth and final race in the series will be held on November 22-23 in the capital of Santiago. See Cyclingnews' full coverage of this latest round of the Copa Chile Jeep series.
Armstrong shines in Texas
By Mike Gladu
Lance Armstrong (Mellow Johnny's) edges
Photo ©: Mike Gladu

Lance Armstrong (Mellow Johnny's) claimed another victory in his second public appearance since formally announcing his return to professional competition, this time on the mountain bike at the Rocky Hill Roundup, Texas Cup Series Finals in Smithville last Sunday. The Texas Cup Finals were an opportunity for the former Tour de France winner to get in an intense workout close to home in the Central Texas Hill Country.
After a dusty start Armstrong managed to avoid a crash on the opposite side of the formation and settled into 10th position as the group funneled into the single-track. A mix of twisty single-track in the woods, speedy fire roads and a few moderate climbs populated the nine mile cycling ranch trail. The pace immediately went ballistic as the lead group of Brian Fawley (Park Place Lexus), Armstrong and Scott Henry (Trek/VW) developed quickly, with Mitch Comardo (Bike Barn / Gary Fisher) staying close behind.
The top three were nose to tail on the short climbs and single-track by lap two, while Comardo was losing a bit of ground on his unsuspended 29er single speed. Trading pulls evenly, Armstrong noted that whatever advantage Fawley and Henry had in tighter sections he made up for in the open fields toward the finish of the loop.
Seeing a few second gap opening up to Henry, and Fawley losing contact behind that, Armstrong took advantage of the fast section at the start of the third loop to open up a 30 second lead heading out onto the ranch trail.
Fawley dropped back into third while Henry kept the gap to Armstrong under a minute, and Comardo dropped back almost six minutes, still solidly in fourth. Henry marveled at the Tour champion's performance. "It's hard to compete with such a big motor," he said.
Armstrong completed the 27 miles fastest while Henry claimed second 48 seconds back and Fawley claimed the series title with third at nearly three minutes. Comardo was second overall in the series, thanks to his fourth place more than six minutes behind.
Armstrong is still looking to race close to home, but he gets down to business soon with the Astana team camp in the Canary Islands, November 30 - December 8.
See Cyclingnews' full coverage of the Rocky Hill Roundup.
Felt International grows its roster
Just one year after the Felt International MTB Team's debut, the Tuscan-based professional cross country squad has its sights set on the highest levels of the sport, including participation in the 2009 UCI World Cup. After the recent signing of Frenchman Miguel Martinez, the team announced an expanded roster.
Joining returning 2008 elite members Italians Paolo Alberati, Pierluigi Bettelli and Alessia Ghezzo and Colombians Mario Alberto Rojas and Julian are the other new 2009 members New Zealander Kashi Leuchs, Swede Emil Lindgren, Swiss racers Andreas Kugler, Jurg Graf and Joel Graf, and Slovenian Blaza Klemencic.
The team will also include some elite U23 and masters racers. Italian U23 rider and champion Juri Ragnoli and Daniele Mensi will lead the U23 team.
The pro team will concentrate on the 2009 UCI World Cup Series, Racer Power Cup (formerly the Swiss Cup Series), Bundesliga Series (GER) and selected Italian events, while the developmental team will focus on racing mainly in Italy.
"We are very happy to work with the truly passionate people of Felt Bicycles and to see our efforts appreciated after just one year together," said team manager Antonio Brozzu. "It is our objective to continue to build on this partnership and we are excited to know our team will compete for next the four years."
Pregnant Dahle Flesjå to take off first half of 2009
Gunn-Rita Dahle Flesjå
Photo ©: Rob Jones

Former mountain bike World Champion Gunn-Rita Dahle Flesjå shared her happy news on Wednesday that she is pregnant and will have a baby next April. Dahle Flesjå will sit out the first races of the 2009 season and aims to make her return to competition at the Gunn-Rita-Marathon, which is dedicated to her and will take place in Montebelluno, northern Italy, on June 28.
"This happy news was confirmed during a visit to our doctor almost two weeks ago, when the ultrasound showed all to be well with the little one," said the 35-year-old Dahle Flesjå.
The Norwegian is coming off a restful October break from training. "I've started up with my winter training program again, and hope to get in some good exercise in the period until Christmas, naturally adjusting intensity according to how I feel and my growing tummy." Dahle Flesjå said she will draw from the information and experience of the Norwegian Olympic Federation for training pregnant athletes.
"With a normal pregnancy and birth, I would hope to be back on my bike and in full training again sometime in May. My first international race would then be the Gunn-Rita Marathon, but this will all depend on what shape I'm in after the birth. The European Championships and World Championships are right at the end of the season, in August/September, and we naturally aim to take part in these events."
"We believe this will give us an extra inspiration in our goal of a medal at the London Olympics in 2012," said Dahle Flesjå, who renewed her contract for another four years with the Multivan Merida team in mid-October.
"Gunn-Rita never made a secret about the fact that she would like to have a baby, so we always knew that this step could come," said team manager Andreas Rottler. "We are very happy for Gunn-Rita and we are sure that she is going to return to racing in the second half of the 2009 season fully motivated."
Dahle Flesjå and her husband Kenneth plan to rely on babysitting help from their families as she resumes training and racing after giving birth.
Haywood awarded damages for losing Olympic nomination
Sue Haywood
Photo ©: Bill McCarrick

American mountain bike racer Susan Haywood was awarded over $300,000 in damages by a US Federal Judge on Thursday for being unfairly being removed from the USA Olympic team in 2004.
Haywood was originally nominated to the US team by USA Cycling, but an appeal launched by fellow competitor Mary McConneloug overturned the nomination.
Haywood then filed a counter-appeal, but lost when an arbitrator decided that 15 points that Haywood earned in an Idaho UCI race which never were submitted to the UCI shouldn't have factored into her points total in the Olympic selection.
A West Virginia jury awarded Haywood $318,647.14 in compensation, $18,647.14 of which were expenses incurred to fight USA Cycling's decision and the remainder in damages.
"After the Jury returned its verdict, Susan was grateful for the Judge and Jury finally acknowledging what she knew all along – that she was the rightful nominee to the 2004 Athens Olympics," a press release from her lawyers stated. "Sue pursued this case seeking to bring the issues to light in the hopes that mistakes such as this will not occur in the future."
"No verdict or court can ever give me what USA Cycling took," the release quoted Haywood. "It is my hope that this outcome will send a message to USA Cycling that it needs take its job as seriously and work as hard as those athletes who pursue the dream to represent the United States at the Olympics."
O'Deas sign with Topeak
Cyclingnews' diarists' Eddie & Namrita O'Dea signed with the Topeak-Ergon team for 2009. The pair previously raced for Vassago Cycles, before the company dropped its sponsorship late in the 2008 season.
"We will make up two of the team's six racers in the US. Topeak-Ergon has some incredible athletes, and this team really defines 'class'," said the excited duo in a recent diary entry. With the change, long-time singlespeed racer Namrita will return to racing with gears and suspension.
Read the O'Dea's recent diary entry, including information on their new upcoming Southern 'Cross race.
Texas race offers 48 hour option
The Ultra Centric Experience Mountain Bike Endurance Challenging is taking endurance racing to another level with its six, 12, 24, and even 48 hour solo and team events running November 14-16 in Erwin Park, McKinney, Texas.
Like many other similarly-formatted events, this one will see racers go for as many laps as they can during their alloted time on a North Texas eight-mile course. In addition to the mountain bike-only event, some participants will compete in ultra-running and mountain bike / running duathlon categories.
The 48 hour event starts Friday while all others begin on Saturday at various times. For more information, visit www.ultracentric.net/mountainbike.html.
Cyclingnews' MTB Contest: Win an autographed calendar featuring female MTB celebrities
Cyclepassion 2009 Calendar
Photo ©: Cyclepassion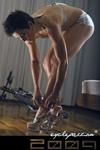 Ever wonder what some of the world's elite female mountain bikers look like under all the mud and their jerseys, helmets and sunglasses? A few of the fastest female mountain bikers bare not quite all to show off their super fit bodies in the 2009 Cyclepassion calendar.
Enter Cyclingnews' contest to win an autographed copy of the Cyclepassion calendar.
Photographer Daniel Geiger has captured images of the following six of the sport's elite racers in a 40 cm x 68 cm (15.75" by 20.72") calendar.
- Norwegian Gunn-Rita Dahle-Flesjaa, Seven-time World Cup champion and 2004 Olympic gold medallist
- German Hanka Kupfernagel, 2008 Elite Women's Cyclo-Cross World Champion, 2000 Olympic champion
- Russian Irina Kalentieva, Bronze medal winner 2008 World Championship and 2007 World Champion
- American Willow Koerber, Sixth overall in the 2007 World Cup
- Germany Steffi Marth, 2008 German 4X champion
- Sabine Spitz, 2008 European champion, 2008 Olympic champion, 2008 World marathon champion
The calendar is signed by each of the athletes and it also includes a section about the making of the calendar. The contest's winner will be selected at random from all correct answers to a mountain bike trivia question.
Hurry and enter now to be in the draw. Good luck!
(All rights reserved/Copyright Future Publishing Limited 2008)