MTB news & racing round-up for November 5, 2008
Welcome to our regular roundup of what's happening in mountain biking. Feel free to send feedback, news, & releases to mtb@cyclingnews.com and results, reports & photos to cyclingnews@cyclingnews.com.
Edited by Sue George
World Cup best events awarded for 2008
The World Cup start in Offenburg, Germany wins top honors
Photo ©: Scheiderbauer.com Sports

Offenburg, Fort William, Bromont, and Ornans won the best World Cup event awards for cross country, downhill, four cross and marathon disciplines respectively after votes were tallied for the 2008 season. For the first time, the downhill and four-cross events were ranked separately.
2008 marked Offenburg's second year on the cross country World Cup calendar. The German event, organized by Anna and Jörg Scheiderbauer and their team, succeeded in taking the honours thanks to a strong organization and popular circuit. Houffalize, Belgium, has often won in past years, but had to make do with second place while Mont-Sainte-Anne, Canada, finished third.
"It's an absolute privilege to win this award and gives us further motivation to excel in 2009! We would like to thank our crew and helpers, without this support the event would not take place," said Anna Baylis-Scheiderbauer.
In the downhill, the winner Fort William, Great Britain, organized by Rare Management's Mike Jardine and Lesley Beck, drew huge crowds along the course. Mont-Sainte-Anne was ranked second best downhill event while Maribor, Slovenia, finished third.
After nine years' absence, Bromont organized a triple World Cup event. A creative track featuring a corkscrew helped Bromont to a win in the 4X best event category with Fort William in second and Maribor in third.
Marathon World Cup winner Ornans, France, hosted the final marathon World Cup event. It was not only the best World Cup of 2008, but the last World Cup. The discipline will not be included in the 2009 World Cup.
Votes were counted in five categories (World Cup winners, other riders, UCI mountain bike teams, journalists, UCI sponsors and the UCI) and weighted by percentages (20%, 10%, 20%, 20%, and 30%). Voters could attribute points to three events.
Jongewaard & Willett claim victories at Australian series opener
Jodie Willett blasts down
Photo ©: Evan Jeffery

Australian champion Chris Jongewaard and Jodie Willett won the opening cross country round of the Australian National Series in Adelaide last weekend.
Jongewaard secured a strong lead in the first of seven laps, and held on to claim victory. His win came in a course record time of 2.18.34, three and a half minutes clear of his nearest rival. Brisbane's Aiden Lefmann was in second place until the final lap when he was overtaken by Canberra young gun Ben Henderson.
Jongewaard praised the Adelaide organizers and said he will take a well deserved break from the sport and re-assess his season.
An unlucky puncture followed by a crash saw Canberra's Shaun Lewis exit from the race while in a fourth place.
After missing out on applying for the mountain bike talent squad for the London 2012 Olympics, Jodie Willett aimed to put herself up for selection after winning the first national series event in Adelaide today. The 31 year-old from Brisbane passed the early leaders Zoe King and Tory Thomas to claim victory.
Chris Jongewaard heads for victory
Photo ©: Evan Jeffery

Willett won by 30 seconds to beat former national champion Thomas after passing her just before the fourth lap. Willett secured a new course record in 1.33.42. After placing second in last year's national event in Adelaide, Willett was keen to make amends.
"I got second last year here last year and I really like the course so it was good to get the win," said Willett.
Even after passing Thomas with just one lap remaining Willett did not rest.
"She (Thomas) is not the sort of rider you can pass and she cracks," explained Willett. "I knew I had the win on the last climb."
See Cyclingnews' full coverage of the Australian National Series round #1 including short track, downhill and cross country races.
Steurs hangs up her helmet
By John Flynn
Belgian Karen Steurs (Team Ride for Stars)
Photo ©: John Flynn

The end of the Crocodile Trophy meant an end not only to Belgian Karen Steurs' season, but also to her career. Pushed throughout by Australia's Jo Bennett, Steurs won the Australian stage race which finished on the beach in Cape Tribulation on October 30. Steurs raced over 42 hours, 40 minutes and 37 seconds.
She was quick to offer praise of her team-mates including husband Christophe.
"It's a wonderful end to my career, and I want to thank my two boys, for what they did for me this ten days, and also the other Belgian guys who have helped me."
In the final analysis, Steurs' experience on the road probably proved the difference between herself and Bennett, but the margin was always close.
"I came in with no expectations this race," said Bennett, who finished second at 27 minutes and 42 seconds back. "It just happened to be that another rider and I were both very strong, and we both battled it to the end. We had a very good time."
Australian Naomi Hansen finished third over four and a half hours back. Ondrej Fojtik (VIG+ Racing Team) won the men's race.
See Cyclingnews' full coverage of the Crocodile Trophy.
Dutch award their best
By Marcel Slagman
Rudi van Houts, Frank Beemer and Rick Koekoek
Photo ©: Marcel Slagman/Wieler Magazine

Dutch mountain bikers of the year were awarded in Utrecht where Rudi van Houts took top honors as the best elite racer. He finished 12th at the UCI World Championships in Val di Sole, Italy, and 13th at the European Championships. He also represented The Netherlands at the Olympic Games in Beijing.
Elsbeth Vink was named best female cyclist in her final last season racing. Vink was Dutch Champion, and she finished sixth at the European Championships and 14th at the Olympics.
Frank Beemer was named best mountain biker after his eighth place at the World Championships in Italy.
New for this year were awards for gravity riders. Anneke Beerten won the women's gravity award after taking the overall classification of the World Cup 4X and winning three World Cup events. Rick Koekoek won the men's gravity category by finishing third in the overall classification of the World Cup.
Felt International signs Martinez
Miguel Martinez
Photo ©: Sue George

Miguel Martinez signed a three-year contract beginning in 2009 with the Felt-International team. The 2000 Olympic Games mountain bike gold medallist decided to return full-time to the dirt after racing professional on the road for the past few seasons.
"I have signed an important contract," said Martinez. "The next four years will allow me to concentrate to me on my objective, to participate to Olympic Games of London with the ambition of winning another medal."
The 32 year-old French racer twice won the World Championship and the World Cup. He switched to the road in 2001 and raced the Tour de France. He first returned to the dirt in 2004 at the Roc d'Azur.
"My 2008 season wrapped up in a good way. I finished the Roc d'Azur within four minutes of the winner although I did not have good preparation."
"The team has quickly made a good impression on me. They are all motivated and have asked me to help the younger riders."
GT Bicycles focuses on gravity racing in 2009
Kevin Aiello
Photo ©:

GT Bicycles announced a gravity-focused squad for 2009. Downhillers Marc Beaumont of the United Kingdom and Kevin Aiello from the United States will race downhill while Swiss Roger Rinderknecht and Aussie Luke Madill will race 4X and BMX. Freerider Tyler McCaul rounds out the team.
A consistent talent on the World Cup, the 24 year-old is a protégé to another UK downhiller and former GT superstar Steve Peat. After starting off the 2008 season with an injury, Beaumont is now getting back up to speed and will be doing full-throttle testing of his new GT Fury bike.
At 17 years-old, the youthful Aiello has already tested his skills on the UCI World Cup circuit. He has excelled racing downhill and 4X in Fontana, California, and also won a few races in the western United States.
Rinderknecht won the silver medal in 4X at the 2008 UCI Mountain Bike World Championships, and he also competed at the 2008 Olympic Games while Madill has primarily focused on BMX racing in the past, but in 2009, he will race both BMX and 4X. After representing Australia at the 2008 Olympic Games in BMX, Madill finished third in the 4X at the Canberra World Cup.
McCaul has emerged from the shadow of his older brother Cam and proven himself on the dirt jumps and downhill tracks.
"We are certainly excited and proud to have such great athletes on our team moving forward," said Sarah Ostermeier, Sports Marketing Manager for GT Bicycles. "We've got a great combination of talent for 2009 which certainly solidifies GT Bicycles' commitment to our brand and to the sport."
Look for the team at the World Cup races, select American events and Crankworx among other events in 2009.
Registration closed for La Ruta
La Ruta awaits in less than two weeks
Photo ©: Luis A. Rueda Fonseca

The 16th edition of La Ruta de los Conquistadores will feature 430 participants including racers, companions and local and international media. 384 riders from 30 different countries will be racing.
"Now we have the final start list," said Erick Esquivel after registration closed last week. "More than 400 people are registered for the event so I think we will have a nice edition of La Ruta with plenty of emotions and hard competition," Esquivel said.
There will be 143 local racers and 261 foreigners. Approximately 85% of the riders are male with 15% female - the usual split for the event.
90 of the racers will contest the elite men's category while the masters comprise the most popular category, with 130 entrants.
Last week, organizers also finished marking the course, completing 386km in seven days.
"The course is ready and waiting for the Conquistadors. Although it has been a really rainy season, the muddy sections seams to be in pretty good shape. However, that's something about La Ruta… You never know! It might change from day to another," said Checkpoint Coordinator Hugo Alvarado.
La Ruta de los Conquistadores 2008 will kick-off at the Best Western Jacó Beach resort on November 12.
Birkebeiner sells out in record time
By Andreas Radtke
The world's biggest mountain bike race, the Birkebeinerrittet in Norway, set a registration record when it opened on November 30 at 9:00 am local time. 6,000 places were taken in just 66 seconds, beating last year's record. At 9:05, the waiting list contained 6,300 disappointed cyclists.
These first 6,000 places were open to any Norwegian cyclists. Additional registration slots will go to cyclists who have participated five times or more, sponsors and foreigners. Usually, more than 15,000 racers participate in the annual event. Another 3,000 race the day before in the Birken, which was started for those who do not get slots in the main race.
The next Birkebeinerrittet is scheduled for August 29, 2009. For more information, visit www.birkebeiner.no.
Peat backs Wharncliffe Weekender to raise funds for teens with cancer
Great Britain's Wharncliffe Weekender annual mountain bike festival raised £13,000 for the Weston Park Hospital's Teenage Cancer Unit according to www.thestar.co.uk. Downhiller Steve Peat, who lives near Wharncliffe Woods and does his winter training there, supported the event for the third year.
Afterward, the British star visited the hospital with a few friends to deliver the check after the event.
Next month, Peat will be awarded an honorary doctorate from Sheffield Hallam University for his mountain bike accomplishments.
Cyclingnews' MTB Contest: Win an autographed calendar featuring female MTB celebrities
Cyclepassion 2009 Calendar
Photo ©: Cyclepassion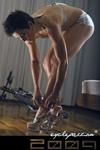 Ever wonder what some of the world's elite female mountain bikers look like under all the mud and their jerseys, helmets and sunglasses? A few of the fastest female mountain bikers bare not quite all to show off their super fit bodies in the 2009 Cyclepassion calendar.
Enter Cyclingnews' contest to win an autographed copy of the Cyclepassion calendar.
Photographer Daniel Geiger has captured images of the following six of the sport's elite racers in a 40 cm x 68 cm (15.75" by 20.72") calendar.
- Norwegian Gunn-Rita Dahle-Flesjaa, Seven-time World Cup champion and 2004 Olympic gold medallist
- German Hanka Kupfernagel, 2008 Elite Women's Cyclo-Cross World Champion, 2000 Olympic champion
- Russian Irina Kalentieva, Bronze medal winner 2008 World Championship and 2007 World Champion
- American Willow Koerber, Sixth overall in the 2007 World Cup
- Germany Steffi Marth, 2008 German 4X champion
- Sabine Spitz, 2008 European champion, 2008 Olympic champion, 2008 World marathon champion
The calendar is signed by each of the athletes and it also includes a section about the making of the calendar. The contest's winner will be selected at random from all correct answers to a mountain bike trivia question.
Hurry and enter now to be in the draw. Good luck!
Planning for 2009 with Cyclingnews' MTB Calendar
Cyclingnews has been hard at work on the Mountain Bike Calendar for the upcoming 2009 season. Our calendar is as usual a work in progress, but check out the dates of major UCI and other international events here.
Previous News Next News
(All rights reserved/Copyright Future Publishing Limited 2008)