MTB index page for all MTB content
16th La Ruta de los Conquistadores - NE
Costa Rica, November 12-15, 2008
2007 results Schedule Preview Start List Past winners
Schedule
Riders ready for Costa Rican show down
By Rob Jones
2008 La Ruta Press Conference
Photo ©: Rob Jones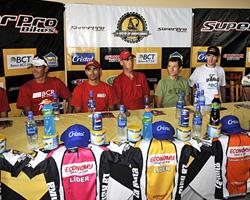 Some 400 riders from around the world will start the 16th edition of the La Ruta de los Conquistadores in less than 12 hours. This four day mountain bike race is billed as one of the toughest in the world, and this year former road professional Roberto Heras of Spain is looking to become the first road racer to win the event.
Heras, a former Vuelta a España winner, has been recognised as one of the greatest climbers in the world. Despite his previous results, Heras is coming off a two year suspension for doping, and no one - including Heras himself - knows how he will do in the heat, the humidity and the mud for which La Ruta is famous.
"He contacted us two months ago," explained PR Director Luis Rueda. "We were more than pleased to have him here racing our race."
The adventure of a race like La Ruta is what has attracted Heras to the event. "I like to travel, I like the adventure," said Heras. "I'm interested in knowing Costa Rica, so four days racing across Costa Rica sounded like a great adventure. I raced the Titan Race earlier in the fall, in Morocco [which he won], but that is all the experience I have with multi-stage mountain bike racing.
"It will be pretty different to race here, in the La Ruta conditions - the mud, the gravel, the rocks ... so that will definitely be the big obstacles for me," he added. "It is a good way to test myself, but here I face mountain bikers not road racers, which is a big difference. So it is not only about how you are feeling, but how are you as a rider for these conditions."
"To win would be a great, great result," he admitted. "But this is not a race made for me, so I will be happy to be among the top riders, among the best."
Heras will face strong competition from French marathon racer Thomas Dietsch and Costa Rican favourites like 2004 winner Paolo Montoya and four time winner Federico (Lico) Ramirez, who is also the defending champion.
"I want to do my best and improve over third last year," said Dietsch. "But for the Costa Rican riders, this is their world championships, so it is hard to beat them."
Roberto Heras says he is looking
Photo ©: Rob Jones

Late scratches from the start list are 2006 champion Hector Leon Paez (Colombia) and Canada's Svein Tuft. Paez has opted for a race in Colombia, and Tuft - the silver medalist in the time trial at the UCI World Road Championships two months ago - was a last minute withdrawal, after his ProTour team Garmin-Chipotle got nervous about having one of their potential stars get injured.
"It is an honour to have Roberto Heras as a competitor," commented Lico Ramirez. "I think this race will be very close over the next few days."
On the women's side, the field is rather sparse. Three-time champion Louise Kobin (USA) pulled out due to injury, while defending champion Sue Haywood (USA) has retired. One of Canada's World Cup racers - Sandra Walter - is a late entry to the race and, while this is her first attempt at multi-day mountain bike racing, she has to be considered a serious contender for the podium.
"It is different, so I don't know what to expect," said Walter. "I've read up a lot on the race, and I think the plan is just going to be to pace myself."
This year riders face a race that is in some ways easier than the previous ones, yet in other ways even more challenging. At 384 kilometres it is the longest La Ruta ever, with nearly 14,000 metres (45,800 feet) of climbing. However some of the extremely tough mud sections and gravel climbs of previous years have been replaced by pavement. Besides the geographic obstacles, the riders also face the notorious La Ruta mud, at times the consistency of peanut butter, and at others a thick soup that goes above the knees. This year it will be particularly bad, since Rueda says that Costa Rica is suffering from one of the wettest fall seasons on record. It has been raining heavily in the hours leading up to the start.
Stage 1 has added 10 kilometres in length, but the opening muddy 10 kilometre climb has been replaced with an 18 kilometre road climb - which should suit Heras. From here the riders make their usual entry into the Carara National Park for what is one of the most beautiful and exhausting parts of the race, with mud forcing riders to endure long 'hike a bike' sections. Out of the Park and it is back to gravel and then pavement for the extended climb to the finish line. The riders face a total of 5220 metres of elevation gain.
Stage 2 is 'only' 75 kilometres, but has almost as much climbing as Stage 1 at 4024 metres. From 800 metres of elevation riders climb to over 2000 metres in a series of steps, some of which are savagely steep. After the riders reach the highest point they descend on gravel and pavement to finish at the Terramall Plaza on the eastern side of San Jose. The previous mud bog (which was up to the waist on some riders) has been replaced with a technical descent through a coffee plantation.
Stage 3 takes La Ruta to its highest point, at over 3000 metres on the slopes of the Irazu volcano. After climbing steadily (mostly on pavement) for the first half of the 67 kilometre stage the riders reach 3010 metres; often chilled and wet from the fog and rain which shrouds the volcano. Volunteers hand out hot drinks, and riders fumble into jackets for the long descent to the finish in the coffee plantations surrounding the town of Aquiares. In 33 kilometres the riders drop nearly 1800 metres.
Stage 4, while the longest at 125 kilometres, has the least amount of climbing. There is less than 10 kilometres of climbing at the start, before 55 kilometres of descending. However, the riders face one final obstacle - 25 kilometres of train tracks and trestle bridges over fast flowing rivers.
No leader can rest easy in the final stages - in 2005, Thomas Frischknecht (Switzerland) lost his lead in stage three after multiple flats, only to regain it in the final stage after a series of attacks on his rivals.
Notes
- Organisers announced a significant change in the race for next year, going from four days to five, dropping most of the paved sections, limiting entries to 300 (plus invited professionals) and offering five-star accommodation. All of these are expected to make La Ruta even harder.
- The organizers also announced that they will be cracking down on outside assistance. Local riders in past years have held a significant advantage over foreigners, because friends and families have provided food, drinks and technical assistance along the course (often from vehicles following the riders), while foreigners have had to rely on the aid stations. Organisers have imposed strict penalties on riders receiving assistance outside of technical zones (30 minute time penalty for the first offence); but we will have to see how successful they are at enforcing these rules.
- The doping controls have also been expanded. Both blood and urine samples will be taken after every stage for general classification leaders in each category and stage winners (in each category), plus random selections.
Start list
Open Men

1 Federico Ramírez Méndez (CRc) Bcr-Pizza Hut                                                 
2 Paolo Montoya Cantillo (CRc) Economy Rent A Car - Seven Capital                             
3 Thomas Dietsch (Fra) Gewiss-Bianchi                                                         
5 Roberto Heras Hernandez (Spa)                                                               
11 Manuel Prado (CRc) Sho-Air/Rock N'road                                                     
12 Alexander Sánchez Calderón (CRc) Bcr-Pizza Hut                                             
13 Cory Wallace (Can) Freewheel Cycle / Specialized                                           
18 Edgar Zumbado Madrigal (CRc) Money House                                                   
19 Mikel Vivar del Barrio (Spa) Castrobtt.Com                                                 
20 Juan Diego Jimenez Sequeira (CRc) Fiesta Total                                             
21 Teal Akerson (CRc) Heart Transverter                                                       
22 Frederick Dreier (USA) Velo News Magazine                                                  
23 Marvin Campos Suazo (CRc) Super Pro - Economy Rent A Car                                   
24 Tim Dougherty (USA) Sobe/Cannondale                                                        
25 Michael Cambronero García (CRc) Super Pro - Economy Rent A Car                             
26 Henry Perez Lopez (CRc) Retodelosvolcanes.Com Forza Bikecr.Com                             
27 Dennis Porras Murillo (CRc) Super Pro - Economy Rent A Car                                 
28 Enrique Artavia Cedeño (CRc) Super Pro - Economy Rent A Car                                
29 Luis Diego Sibaja Monge (CRc) Ciclo Gully - Powerade                                       
30 Radoslav Sibl (Cze) Bikezone.Cz/Mrx                                                        
31 Dain Zaffke (USA) Bike Magazine/Wtb                                                        
32 Leon Kuypers (Ned) Akkermans                                                               
33 Michael Montgomery (USA)                                                                   
34 Simon Fisher (GBr) Www.Fastandlight.Co.Uk                                                  
35 Javier Clares Lázaro (Spa) A.C.El Prat                                                     
36 Ernst Weel (Ned) Team Bikelane Holland                                                     
37 Arjan Planting (Ned) Team Bikelane Holland                                                 
38 TC Crawford (USA) Team Marty's                                                             
39 Esteban Bejarano Bazo (CRc) Bemosa / Pq                                                    
40 Roger Herrera (USA) Mbs Home Improvements.                                                 
41 Sergi Bernet Bacardit (Spa) Pc Cervera                                                     
42 Emilio Brenes Jimenez (CRc) Xerox                                                          
43 Javier Lerma (Mex) Sinaloa Bikes                                                           
44 Benjamin Zimmerman (USA) Villagebike.Com                                                   
45 Jason Willems (USA) Village Bike / Clubscrub.Org                                           
46 David Gamboa Barquero (CRc) Ciclo Paraiso                                                  
47 Harlan Price (USA) Independent Fabrication/Ifracing.Org                                    
48 Erik Bakke (USA) Deadgoat Racing                                                           
49 Ryan Schellenberg (Can)                                                                    
50 Miguel Rojas Arguello (CRc) Cisa Seguridad                                                 
51 Arnoldo Loaiza Duran (CRc) Puro Mtb. Com                                                   
52 Jhonny Madrigal Zumbado (CRc) Xerox                                                        
53 Anthony Araya (CRc) Xerox                                                                  
54 Carlos Abellán Ossenbach (CRc)                                                             
55 Andres Bonilla Gurdian (CRc)                                                               
56 H Gustavo Solis (CRc) Inviertacr                                                           
57 Fabricio Loaiza Granados (CRc) Hospira Cr, Ltd                                             
58 Francisco Oviedo Rojas (CRc)                                                               
59 Roberto Jaeckle (Swi)                                                                      
60 Thomas Turner (USA) Van Michael Salon / Outspokin Bicycles                                 
61 Milton Ramos Gamez (Spa) Biciaccion.Com                                                    
62 Gian Malaer (Swi)                                                                          
63 Raul Quintanilla (CRc) Retodelosvolcanes.Com Forza Bikecr.Com                              
64 Eddy Perez (CRc) Seven Capital Ltd. Www.Seven-Capital.Com                                  
65 Cristian Cruz Vargas (CRc) Caribe                                                          
66 Alberto Gamboa Pacheco (CRc) Caribbean Bikers/Seven Capital/Blue Comp. Cycles              
67 Erick Rodriguez Solis (CRc) Rojas Y Rojas Constructora                                     
68 Leonardo Daniel Rogel Gonzalez (Mex) Alubike                                               
69 Luis Eduardo Díaz Barquero (CRc) Gold's Gym                                                
70 Jose Miguel Chacon Araya (CRc) Www.Avventa.Com                                             
71 Pablo Andrés Velásquez Rivas (CRc) Its-Bicimania                                           
72 James Montiel García (CRc) Clinica Drs. Montiel                                            
73 Victor Manuel Garcia Montoro (Spa) Bidones Roma Team                                        
74 Alberto Valverde Sánchez (CRc) 3 Erres - 2Nners                                            
75 Brian Cooke (Can) Bicyclecafe                                                              
76 Lukas Mraz (Cze) X-Sports                                                                  
77 Jaime Arley Arrieta (CRc) Club De Leones Curridabat                                        
78 Greivin Ortiz Umaña (CRc) Salva Bicicletas Y Accesorios                                    
79 Felipe Castro Barquero (CRc) The Bike Tech                                                 
80 Carlos Fernandez (Ven) Pan De Azucar Venezuela                                             
81 René Quesada Morales (CRc) Asocaci                                                         
82 Frederick Lang Arce (CRc) Thunderson Brothers                                              
83 Freddy Manuel Rodriguez Rojas (CRc) Templo Biblico                                         
84 Rodrigo Moya Campos (CRc) Asocaci                                                          
85 Esteban Vargas Ovares (CRc)                                                                
86 Orion Akerson (USA) Heart Transverter                                                      
87 Araya Leiva (CRc) Turrialbeño Independiente                                                
88 Andres De La Vega Gomez (CRc) Elibyke                                                      
89 Tom Hipsz (Can)                                                                            
90 Cristian Gonzalez Villalobos (CRc) Powerade                                                
91 César Alcázar Méndez (CRc) Superficies De Centro America                                   
92 Carlos Salazar Solórzano Rios Tropicales-Mawamba Logde-Mas Incometax Services
168 Alejandro Nietzen Herrera (CRc) Arenatrek Gym

Master A 30-39
              
100 William Valverde Barquero (CRc) Vedova Y Obando / Husquarna                               
101 Warren Ellis (Can) Eagle Homes / Nrg                                                      
102 Ron Ellis (Can) Eagle Homes / Nrg                                                         
103 Travis Underwood (USA) The Alpineer                                                       
104 William Vargas (CRc) Bicicletas Scott                                                     
105 Brecht Heuchan (USA)                                                                      
106 Jose Diaz (PuR)                                                                           
107 David Fernandez (Dom)                                                                     
108 Javier Pascual (PuR) Money House                                                          
109 Pere Sanchez Mula (Spa) C.C. Bicis Esteve                                                 
110 Andreu Sanchez Perez (Spa) C.C. Pla De L'estany                                           
111 Pablo Mora Alpízar (CRc)                                                                  
112 Kieron Joy (GBr) X Insurance.Com                                                          
113 Thomas Yip (Can) Motion Chiropractic / Ecentric / Chariot Carriers                        
114 Zak Hill (GBr) X Insurance.Com                                                            
115 Nicholas Cooper (GBr) Shanghai Flying Hairy Legs                                          
116 Javier Perez Gonzales (Spa)                                                               
117 Rene Lopez Espaillat (Dom)                                                                
118 Ian Mann (GBr) Forbes Hare                                                                
119 Clademilson Santos (Bra) Sabrico / Fox Adventure Team                                     
120 Jason Sandquist (Can) Frontrunners / Experience Cycling                                   
121 Daniel Perez (USA) Jensonusa/First Endurance                                              
122 Matthew Blacker (USA)                                                                     
123 Luis Ml. Gonzalez Lefeld (Dom)                                                            
124 Matthew Handford (Can) Different Bikes                                                    
125 Patrick Mosler (Ger) Rhoenraketen Fulda Germany                                           
126 Matt Clark (NZl) Los Chiles Del Feugo                                                     
127 Emilio Font San Miguel (Spa) Pc Cervera                                                   
128 Carlos Manuel Vazquez Carulla (Spa) Pc Cervera                                            
129 Manuel Vizcaino Hernandez (Spa) Pc Cervera                                                
130 Francisco Javier Gomez Rojas (Spa) Pc Cervera                                             
131 Gregory Brown (Aus) Nebc/Cycle Loft/Devonshire Dental                                     
132 Matthew Knight (GBr) Southdownsbikes.Com                                                  
133 Matthew Barton (GBr) North Hampshire Road Club                                            
134 Sam Humphrey (GBr) Charge Bikes                                                           
135 Ignacio Pardo Rodriguez (Spa) Cc Riazor-La Coruña                                         
136 Francisco Arredondo (Gua) Team Embutidos                                                  
137 Urtiaga Iker Maiz (Spa) Bici Y Montaña                                                    
138 Pascal Mueller (Swi) Hammermann Racing                                                    
139 Abdul Dandan (Lib)                                                                        
140 Bryan Liles (USA) Villagebike.Com                                                         
141 Alejandro Muniz (USA) Economy Rent A Car                                                  
142 Shea Tritter (Can)                                                                        
143 Benjamin MacInnis (Can)                                                                   
144 Steven Strupp (USA) Wheels 4 Life, Laguna Rads                                            
145 Esteban Mora Cyrman (CRc)                                                                 
146 Aramis Chinchilla Luna (CRc) El Colono - Scp Atelco                                       
147 Marco Taylor Garino (CRc) Ciclo Mobi - Heredia                                            
148 Jan Hnizdo (RSa) Undertrained Pollukas                                                    
149 Sergio A. Maldonado Castillo (Mex)                                                        
150 Fermín Torres Torres (Mex) Diamond Adventure                                              
151 Jorge Turon Villa (Spa) Arsenal Santiveri                                                 
152 Francisco J. Moreno Chaves (Spa) Arsenal Santiveri                                        
153 Victor Alonso Araya Pereira (CRc) Xerox                                                   
154 Milton Fallas Barboza (CRc) Xerox                                                         
155 Javier Ruiz Arias (CRc) Xerox                                                             
156 Jason Luque (USA) Champion Cycling                                                        
157 Stephan Ludewig (Ger) Velo-Team Racers                                                    
158 Mark Smith (Guy) Bvi Mountain Bike Club                                                   
159 Manuel Enrique Murrieta Manilla (Mex) Africam-Tejonesmtb                                  
160 Francisco Balma Calderon (CRc) Pik2                                                       
161 Oscar Velazco (Mex) Diamond Adventure                                                     
162 Antonio Abuin Cabanas (Spa) Cc Riazor-La Coruña                                           
163 Oscar Manuel Gomez Martinez (Spa) Cc Riazor-La Coruña                                     
164 Santiago Besteiro Hermida (Spa) Cc Riazor-La Coruña                                       
165 Alejandro Arias Victory (CRc)                                                             
166 Jose Herrera Herrera (CRc) Hospira Cr, Ltd                                                
167 José Maria López Morales (CRc) Puro Mtb                                                   
169 José Pablo González Crespo (CRc)                                                           
170 Christopher Lang Arce (CRc) Thunderson Brothers-Cycling Solutions                         
171 Paulo Martins (PuR) Trilhos Da Maria/Ss Nutricion                                         
172 Ian Randall (Can)                                                                         
173 Hans Frei (Mex)                                                                           
174 Roberto Gonzalez (Mex) Ferrominio                                                         
175 Craig Fabische (Can) Overtime Sports Coquitlam, Bayview Apts                              
176 Dax Jaikel (CRc) Seven Capital Ltd. - Blue Competition Cycles                             
177 Carlos Manuel García Dobles (CRc) Pik2 Mountain Bike Team Costa Rica                      
178 Jose Angel Beltran Bernal (Mex) Turbo                                                     
179 Craig Stappler (Can)                                                                      
180 Alexander Torres Solano (CRc) Cafetalera Aquiares                                         
181 Mario Correa (USA) Shoair/Sonance/Velosport                                               
182 Guillermo Gómez Sequeira (CRc) Atm Comercial S.A. Roland                                  
183 Gustavo Manzur Orozco (CRc) Atm Comercial S.A. Roland                                     
184 Marcel Donoso Chamorro (CRc) Crn2                                                         
185 Max Araya Orozco (CRc)                                                                    
186 Eric Mellegers (USA) Fox Racing Shox                                                      
187 Ricardo Valverde Sánchez (CRc) 3 Erres - 2Nners                                           
188 Erick Matamoros (CRc) Agromec - Komatsu - Ciclo Mobi                                      
189 Octavio Vega (Mex) Urbak                                                                  
190 Roy Soto (CRc) Tortugas Mtb Team                                                          
191 Ronald Jimenez Rodriguez (CRc) Caida Libre                                                
192 Paulo Valle (CRc) Bicycle Cafe-Kona                                                       
193 Marco Chinchilla Vaglio (CRc) Mani La Guaria                                              
194 Gilbert Cayouette (Can)                                                                   
195 Rafael Gonzalez Arce (CRc)                                                                
196 Juan Carlos Zumbado Montero (CRc)                                                         
197 Ismael Peraza Chvarria (CRc) Nica Express / Muscle                                        
198 Forest Akerson (USA) Heart Transverter                                                    
199 Franklin Lopez González (CRc)                                                             
200 Jeffrey Pinzon (CRc) Fedex                                                                
201 Luis Fernando Mora Hidalgo (CRc)                                                          
202 Oriol Baldrich Coll (Spa)                                                                 
203 Jairo Garita Hernandez (CRc) Nitidos - Khs                                                
204 Gabriel Gazu Zuñiga Flores (CRc) Gazu Challenge                                           
205 Eduardo "Cacho" Rodriguez Alvarado (CRc) Hotel Cortezazul                                 
206 Jose Santos Miranda Blandon (CRc) Grupo San Alberto                                       
207 John Warnock (GBr) www.Performancecycles.Co.Uk/Lasvegas Inst Of Sport                     
208 Fabio Villalobos Benavides (CRc) Ternium                                                  
209 Roberto Lobato Batiz (Spa) Meta 2Mill                                                     
210 Miguel Angel Mejia Zaragoza (Mex) Estado De Mexico                                        
211 Marcelo Silva Giustiniani (CRc)                                                           
212 Luis Diego Chaverri Madden (CRc) Guanaride                                                
213 Alejandro Wong Campos (CRc)                                                               
214 Santos Corea Gutierrez (CRc) Aval - Litespeed                                             
215 Walter Astua Ulloa (CRc) Gpi Consultores                                                  
216 Randall Solano Quiros (CRc) Rios Tropicales-Mawamba Logde-Mas Incometax Services          
217 Randall Aguilar Quesada (CRc) Taller Rj Paraiso                                           
222 Ronald Arias (CRc) Pik2                                                                   
225 Alvaro Sáenz Orozco (CRc) Economy Rent A Car                                              
226 Fabricio Meneses Madriz (CRc) Ampm                                                        
227 Luis Carlos Jimenez Facio (CRc) Ampm                                                      

Master B 40-49

243 Doug Andrews (USA) Gpsupload.Com / Geoladders.Com                                         
244 Jorge Luis Campos Sanabria (CRc)                                                          
245 Norman Rojas Campos (CRc)                                                                 
246 Adolfo Echeverria Bonilla (CRc) Perro Loco Team
248 Dave Howells (Can) Bc Bike Race                                                           
250 Federico Escalante (CRc) Bosi / Scott                                                     
252 Reed Melton (USA) Bc Bike Race                                                            
253 Melvin Rojas Alfaro (CRc) Aval - Litespeed                                                
254 Mauricio Garro Carvajal (CRc) Quantica Systems                                            
255 Jorge Arturo Valverde Sáenz (CRc) Elibyke                                                 
256 Modesto Jimenez Vargas (CRc) Carbuncos - Guapiles                                         
257 Javier Gurdián Astúa (CRc)                                                                
258 Enrique Valverde Solano (CRc)                                                             
259 Matthew Luhn (USA) Gopher Gulch Dirt Allert                                               
260 Rafael Bosch Alsina (Spa) Arsenal-Autotequip                                              
261 Dan McCarthy (USA)                                                                        
262 Rick Weidner (USA)                                                                        
263 Shawn Gillis (USA) Absolute Bikes                                                         
264 Jan Kopka (Cze)                                                                           
265 Luigi Lutterotti (Ita) Euroscaf Bikbike                                                   
266 Sergio Montagni (Ita) Euroscaf Bikbike                                                    
267 Steve Walsh (Can) Zimtek/Schmoe Racing                                                    
268 Gerardo Felgueres (Mex) Cingles Mexico                                                    
269 Alejandro Barrios Gomez (Mex) Cingles Mexico                                              
270 Ibrahim Mustafa (PuR) Money House                                                         
271 Nelson Franquiz (USA) Ciclo Mundo                                                         
272 Carlos Rosado (PuR) Ciclo Mundo                                                           
273 Carl Dyer (GBr)                                                                           
274 Richard Charles Wright (RSa)                                                              
275 Justin Tweedie (GBr) X Insurance.Com                                                      
276 Christian Stabell Eriksen (Nor) Centra Junglemen                                          
277 Troy Wendt (USA)                                                                          
278 Andreas Eisenberger (Ger) Team Marty's                                                    
279 Antonio Morales Sandino (CRc) Bike Racing                                                 
280 Andrew Handford (Can) Different Bikes                                                     
281 Mat Englehorn (USA)                                                                       
282 David Campbell (Can) Mountain Bike Adventures                                             
283 Rene Muñoz (Bol) Sae                                                                      
284 Brett Warren (Bot) Dust Devils                                                            
285 Daniel Puig Guasch (Spa) Arsenal Santiveri                                                
286 Nelson Parada (Can) Cycle Solutions                                                       
287 Pat Doyle (Can) Deadgoat Racing/Bow Cycle/Nrg                                             
288 Thomas Tetz (Ger) Leki Bikextreme                                                         
289 Brett Bauer (USA) Fanatik Bike                                                            
290 Pablo Ferrara (Mex) Trainer                                                               
291 Robert Gehlen (USA)                                                                       
292 Paul Reinbach (USA) Rock & Road Cyclery                                                   
293 Claude Laberge (Can) Team Marty's                                                         
294 Timothy Zimmerman (USA) Village Bike Shop                                                 
295 Troy Zimmerman (USA) Village Bike Shop                                                    
296 Michael Zocchi (USA) Pedalpowercoaching.Com / Landrys Bicycles                            
298 Alec Petro (USA) Team Psycho                                                              
299 Paul Miers (USA) Reno Wheelmen                                                            
300 David Talley (USA) Cycology Bicycles                                                      
301 Brad Petersen (USA) Wildwood Architectural Mill                                           
302 Edward Philip (USA) Team Psycho                                                           
303 Francisco Susarte CHL                                                                     
304 Wayne Brunyee (RSa) Undertrained Pollukas                                                 
305 Jorge Vidart Bondarenko (Uru)                                                             
306 Miguel Urteaga Luis (Mex) Diamond Adventure                                               
307 Stefano Maran (Ita) Bici Da Trodi                                                         
308 Tom McDonald (USA)                                                                        
309 Rodrigo Monroy (Mex)                                                                      
310 Terence Gill (USA)                                                                        
311 Douglas Lee (USA)                                                                         
312 Peter Stevenson (Can) Experience Cycling F. The Woo                                       
313 Marc Brummelhuis (Ant) Kooyman Techniek                                                   
314 Mark Stutzman (USA)                                                                       
315 Mike Charuk (Can) Team Whistler/Ryders/Rocky Mtn Bikes                                    
316 Gervais Levesque (Can)                                                                    
317 Eric Long (USA)                                                                           
318 Bill Mooz (USA)                                                                           
319 Jordi Solé Mestre (Spa) Arsenal Santiveri                                                 
320 Jimmy Martin (USA) Imba                                                                   
321 Berthold Schwarz (Ger) Quick & Dirty                                                      
322 Fouad Tannous Artigas (Spa) Arsenal Santiveri                                             
323 Daniel Hausmann Spielmann (Spa) Arsenal Santiveri                                         
324 Pedro Vernis De Prats (Spa) Arsenal Santiveri                                             
325 Jeroen Roodenburg (Ned) No_Limits                                                         
326 Jeff Wolfson (USA)                                                                        
327 Alberto Rivera Luis (USA)                                                                 
328 Chris Jezek (USA) Clickfox                                                                
329 Pedro Ruiz Beriguete (Spa)                                                                
330 Joe Semple (USA)                                                                          
331 Monte Hewett (USA)                                                                        
332 Francesc Bargallo (Spa) Arsenal Santiveri                                                 
333 Marco Ovalles (Mex) Sinaloa Bikes                                                         
334 Jorge Schiller (Mex) Global Niches                                                        
335 Alejandro Oporta Reyes Idelfonso (CRc) Land Rover/Higher Ground Bike Shop/Cannondale      
336 Mario Roma (PuR) Brasil Soul Mtb                                                          
337 Sandro Bongiorno (Ita) Solobike.It / Cicli Olympia                                        
338 Eduardo Quesada González (CRc) Amigos De Cartago                                          
339 Adrian Cespedes Alvarez (CRc) Instrumentos La Voz                                         
340 Bruce Young Nearing (CRc) Coyotes De Escazu                                               
341 Bohuslav Babor (Cze) X-Sports                                                             
342 Ronald Fernández García (CRc) Asocaci                                                     
343 Alvaro Lang (CRc) Crn2                                                                    
344 Carles Bach Puértolas (Spa) Revista Solo Bici-Arsenal                                     
345 Eduardo Bertheau Oros (CRc)                                                               
346 Oscar Vargas Montero (CRc)                                                                
347 Abraham Brenes Piedra (CRc) Asocaci                                                       
348 Gustavo Herrera Díjeres (CRc) Asocaci                                                     
349 Johnny Rojas Sánchez (CRc) Asocaci                                                        
350 Mario Turgeon (Can) Lessard Bicycles                                                      
351 Leonel Gómez Navarro (CRc) Super S-Gulf-Const. Hnos. Brenes S.A                           
352 Geovanny Gómez Navarro (CRc) Super S-Gulf-Const. Hnos. Brenes S.A                         
353 Manuel Pardo Rodriguez (Spa) Cc Riazor-La Coruña                                          
354 Stefano Tomirotti (Ita) Estrella Tour                                                     
355 Arnaldo Brenes Rojas (CRc) Constructora Brenes Y Salas                                    
356 Julio Molina Arias (CRc)                                                                  
358 Armando Gonzalez Jimenez (CRc) Ampm                                                       
359 Federico Amador León (CRc) Ampm                                                           
360 Fernando Salazar (CRc) Ampm                                                               
361 Alejandro Abellan (CRc) Crn2                                                              

Veterans 50+

247 Jorge Maroto (CRc)
249 Alvaro Pinto (CRc) Disexport
251 Steve Howell (Can) Mattamy Homes / Aquila Racing
362 Paulo Arce Brenes (CRc) Paraiso                                                           
363 Gilberto Ioshiaqui Hamamoto (Bra)                                                         
364 Heart Akerson (USA) Heart Transverter                                                     
365 Roberto Ballesteros Villalobos (CRc) Khs Bicicletas                                       
366 Marvin Avila Vindas (CRc) Planet Gym
370 Matt Sjoberg (USA)                                                                        
371 Kim Hoffman (USA)                                                                         
372 Kristian Silseth Ole (Nor) Centra Junglemen                                               
373 Mark Rhode (USA) Fairhaven Bicycle Racing Club, Bellingham, Wa                            
374 Jim Gibson (USA) Absolute Bikes                                                           
375 Blanco Walter (CRc)                                                                       
376 Stephen Hannon (USA)                                                                      
377 Gerry McCuaig (Can) Deadgoat Racing                                                       
378 Ricardo Vela Del Valle (Spa) Cc Santa Eulalia/ Bidones Roma                               
379 Charly Meier (Swi) Rrc Nordwest                                                           
380 Ricardo Mata Brenes (CRc) Comite Cantonal Deportes Y Recreción Paraiso                    
381 Guillermo Garibay (USA) Schwab Bikes Racing                                               
382 John Janisse (USA)                                                                        
383 Mark Janisse (USA)                                                                        
384 Jean-Arthur Tremblay (Can) La Vie Sportive                                                
385 Jorge Luis Ramirez (CRc)                                                                  
386 Raymond Lavoie (Can) La Vie Sportive                                                      
387 Gonzalo Ceballos Cortes (Spa) Arsenal Santiveri                                           
388 Cliff Richmond (USA) Team Solar Eclipse                                                   
389 Andrés Ruiz Sahagún (Mex) Diamond Adventure                                               
390 Van Council (USA) Van Michael Salon                                                       
391 Abelardo Chávez Lagos CHL Cementos Bio Bio - Chile                                        
392 Tony Routley (Can) Team Whistler/Ryders/Rocky Mtn Bikes                                   
393 Javier Benet Fábregas (Spa) Arsenal Santiveri                                             
394 Jose Cabral Luis (Dom)                                                                    
395 Ramos Luis Mariano Oreamuno (CRc) Planet Gym                                              
396 Fernando Parrodi (Mex) Cadelga Costa Rica - Dominos Pizza Mexico                          
397 Jorge Solano Salas (CRc) Asocaci                                                          
398 Albert Mitja Servise (Spa) Arsenal Santiveri                                              
399 Hugo Gómez Navarro (CRc) Super S-Gulf-Const. Hnos. Brenes S.A                             

Open Women

400 Lisa Pleyer (Aut)                                                                         
401 Jennifer Riley (NZl)                                                                      
403 Tracy Kubas (USA) Bicycle Johns                                                           
404 Karen Agatha Ng (Can)                                                                     
405 Sara Bresnick-Zocchi (USA) Pedalpowercoaching.Com / Landrys Bicycles                      
406 Tori Fahey (Can) Deadgoat Racing                                                          
407 Lisa Cramton (USA) The Alpineer                                                           
408 Tamara Goeppel (Can) Leki Bikextreme                                                      
409 Maria Augusta Castanho (Bra) Sabrico / Fox Adventure Team                                 
410 Constance Bazos (USA)                                                                     
411 Maureen Jende (USA) Team Marty's                                                          
412 Abby Richmond (USA) Team Solar Eclipse                                                    
413 Yolanda Saro de Ferrara (Mex) Trainer                                                     
414 Eva Maria Valero Vazquez (Spa)                                                            
415 Janel Demeter (USA) Guy's Racing                                                          
416 Mariona Julià Rich (Spa) Arsenal Santiveri                                                
417 Gloriana Arce Clachar (CRc) Alpina                                                        
419 Cathy Zeglinski (Can) Northlands Medical Clinic/Epic Riders                               
420 Trish Grajczyk (Can) Deadgoat Racing/Bow Cycle                                            
421 Klariza Araya Quesada (CRc) Na'lakalú                                                     
422 Jeannie Batán Solera (CRc)                                                                
423 Adriana Rojas Cubero (CRc) Bemosa / Pq                                                    
424 Elisa Fallas Coto (CRc) Elibyke                                                           
425 Ivannia Segura Alvarez (CRc) Alpine                                                       
426 Sandra Walter (Can) Pedal Magazine                                                        
427 Nadja Greub Schöni (CRc) Powerade                                                         
428 Natalia Alvarado Segura (CRc) Powerade                                                    
429 Melissa Pace (Can) Bc Bike Race                                                           

Past winners
2007 Federico Ramirez Mendez (CRc) BCR-Pizza Hut-Powerade-KHS & Susan Haywood (USA) Trek / VW
2006 Leonardo Hector Paez (Col) Full Dynamix & Marg Fedyna (Can) bungalowboys.com 
2005 Thomas Frischknecht (Swi)
2004 Paolo Cesar Montoya (CRc)
2003 Marvin Campos (CRc)