MTB index page for all MTB content
16th La Ruta de los Conquistadores - NE
Costa Rica, November 12-15, 2008
Main Page Results Overall standings Previous Stage Next Stage
Stage 3 - November 14: Tres Rios to Turrialba, 66.7 km
Ramirez bites back
By Rob Jones
Federico Ramirez (Bcr-Pizza Hut) attacked early
Photo ©: Rob Jones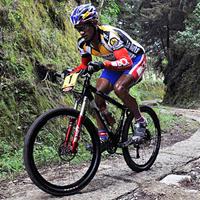 After briefly faltering yesterday on Stage 2 of La Ruta, Federico Ramirez (BCR-Pizza Hut) firmly regained control today in Stage 3. Ramirez added another six minutes to his lead over rival Paolo Montoya (Economy Rent A Car), who is now nearly 14 minutes down with one stage remaining.
Third place Enrique Artavia (Economy-Super Pro) is distant 59.12 behind, with Thomas Dietsch a further 1.08 back. Roberto Heras (Giant), the former road superstar, suffered multiple broken chains and dropped to sixth overall behind Manny Prado (Sho Air-Rock N' Road), after finishing 10th on the stage. Adriana Rojas (Bemosa/PQ) took her third consecutive stage win in the women's category, ahead of Lisa Pleyer and Sandra Walter (Felt-X.O.). Walter remains in second overall, but is 74 minutes behind.
Stage 3 can only be described as climb for 35 kilometres and descend for 30 kilometres. The only technical aspect to the stage is the descent, which is almost entirely off road, much of it extremely rough washboard and loose gravel. The lack of the usual rain and mud was a mixed blessing, since it meant the trail was even rougher than usual.
Teammates Enrique Artavia (Super Pro - Economy)
Photo ©: Rob Jones

When Montoya won Stage 2 on the final descent, it opened the door for an attack on Ramirez's yellow jersey, if Montoya could reach the summit within shouting distance of the leader. Ramirez was clearly aware of this fact, and chose to address it on the first steep part of the climb out of San Jose by attacking with his teammate Alexander Sanchez.
"This was our strategy, to get away from Paolo," he said. "Alexander worked very hard at the front for me on the first part of the climb, and then I was able to attack and get a gap."
Ramirez crested the summit on the Irazu volcano some four minutes in front of Montoya, which meant he could conceivably be caught by a superior descender. However, Montoya inexplicably lost another two minutes in the descent.
"I did hope to do better, yes," agreed Montoya. "But the altitude was a problem for me."
Roberto Heras (Giant) was climbing well,
Photo ©: Rob Jones

"With it so dry, it made the descent better for me," explained Ramirez. "The top part has some rolling up and down parts, so I think I was able to gain more time there as well."
Behind the leading pair was a group with Dietsch, Heras, Sanchez, Prado, Marvin Campos (Super Pro - Economy) and Artavia. Dietsch and Prado gapped Artavia on the descent for third and fourth, while Heras fell further and further back each time he stopped to deal with his damaged chain. The Spaniard could have potentially finished higher, since Dietsch commented that Heras was descending well with them until his mechanical problems.
The conclusion of La Ruta tomorrow is unlikely to have any effect on the top two spots, but the race for third is still quite open. Dietsch is only 68 seconds behind Artavia and the Frenchman knows how to finish on a high after winning the final stage of last year's event.
Photography
For a thumbnail gallery of these images, click here
Images by Rob Jones/www.canadiancyclist.com
Results
1 Federico Ramírez Méndez (CRi) Bcr-Pizza Hut                3.20.23 (19.971 km/h)
2 Paolo Montoya Cantillo (CRi) Economy Rent A Car -             6.18
3 Thomas Dietsch (Fra) Gewiss-Bianchi                          27.05
4 Manuel Prado (CRi) Sho-Air/Rock N'road                       27.52
5 Enrique Artavia Cedeño (CRi) Super Pro - Economy             32.36
6 Alexander Sánchez Calderón (CRi) Bcr-Pizza Hut               36.13
7 Cory Wallace (Can) Freewheel Cycle / Sp                      40.13
8 Harlan Price (USA) Independent Fabricat                      40.47
9 Marvin Campos Suazo (CRi) Super Pro - Economy                43.15
10 Roberto Heras Hernandez (Spa)                               43.16
11 Dennis Porras Murillo (CRi) Super Pro - Economy             45.27
12 Brian Cooke (Can) Bicyclecafe                               46.19
13 Daniel Abellán Ossenbach (CRi)                              46.28
14 Thomas Turner (USA) Van Michael Salon /                     47.06
15 Diego Rogel Gonzalez Leonardo (Mex) Alubike                 47.10
16 Milton Ramos Gamez (Spa) Biciaccion.Com                     53.25
17 Frederick Dreier (USA) Velo News Magazine                   53.50
18 Jimenez Sequeira Juan (CRi) Fiesta Total                    55.11
19 Melvin Rojas Alfaro (CRi) Citi - Litespeed                  55.19
20 Radoslav Sibl (Cze) Bikezone.Cz/Mrx                         55.34
21 Diego Leiva Araya (CRi) Turrialbeño Independ                56.28
22 Carlos Salazar Solórzano (CRi) Rios Tropicales-Mawa         56.54
23 Diego Chaverri Madden Luis (CRi) Guanaride                  58.09
24 Santos Corea Gutierrez (CRi) Citi - Litespeed             1.04.14
25 Peter Stevenson (Can) Experience Cycling                  1.04.56
26 Sam Humphrey (Gbr) Charge Bikes                           1.05.11
27 Angel Beltran Bernal Jose (Mex) Turbo                     1.05.26
28 Mike Charuk (Can) Team Whistler/Ryders                    1.09.08
29 Luis Sibaja Monge (CRi) Ciclo Gully - Powera              1.09.12
30 Randall Aguilar Quesada (CRi) Taller Rj Paraiso           1.09.20
31 Andrew Handford (Can) Different Bikes                     1.09.23
32 Emilio Brenes Jimenez (CRi) Xerox                         1.09.39
33 Dain Zaffke (USA) Bike Magazine/Wtb                       1.11.26
34 Kristian Silseth Ole (Nor) Centra Junglemen               1.11.57
35 William Valverde Barquero (CRi) Vedova Y Obando / Hu      1.13.24
36 Matthew Luhn (USA) Gopher Gulch Dirt Al                   1.14.31
37 Miguel Rojas Arguello (CRi) Cisa Seguridad                1.17.35
38 Pere Sanchez Mula (Spa) C.C. Bicis Esteve                 1.18.19
39 Doug Andrews (USA) Gpsupload.Com / Geol                   1.19.08
40 Kuypers Leon (Hol) Akkermans                              1.19.46
41 Craig Stappler (Can)                                      1.20.06
42 Jan Kopka (Cze) Toi Toi Czech R.                          1.22.06
43 Stefano Maran (Ita) Bici Da Trodi                         1.22.10
44 Patrick Mosler (Ger) Rhoenraketen Fulda G                 1.23.25
45 Jhonny Madrigal Zumbado (CRi) Xerox                       1.24.18
46 Reed Melton (USA) Bc Bike Race                            1.24.41
47 Pascal Mueller (Sui) Hammermann Racing                    1.24.57
48 Alec Petro (USA) Team Psycho                              1.25.03
49 Alberto Valverde Sánchez (CRi) 3 Erres - 2Nners           1.25.16
50 Erik Bakke (USA) Deadgoat Racing                          1.25.17
51 Javier Ruiz Arias (CRi) Xerox                             1.25.19
52 Fabricio Loaiza Granados (Lit) Hospira Cr                 1.26.33
53 Fernando Salazar (CRi) Ampm                               1.28.01
54 Arjan Planting (Hol) Team Bikelane Hollan                 1.29.47
55 Paulo Valle (CRi) Bicycle Cafe-Kona                       1.30.54
56 Luigi Lutterotti (Ita) Euroscaf Bikbike                   1.31.09
57 Dax Jaikel (CRi) Seven Capital Ltd. -                     1.31.20
58 John Warnock (Gbr) Www.Performancecycle                   1.34.01
59 Craig Fabische ( Ba) Overtime Sports Coqu                 1.37.32
60 Federico Amador León (CRi) Ampm                           1.38.01
61 Tony Routley (Can) Team Whistler/Ryders                   1.38.04
62 Mraz Lukas (Cze) X-Sports                                 1.39.05
63 Daniel Perez (USA) Jensonusa/First Endu                   1.43.17
 
General Classification after Stage 3
 
Open
 
1 Federico Ramírez Méndez (CRi) Bcr-Pizza Hut               13.09.51
2 Paolo Montoya Cantillo (CRi) Economy Rent A Car -            13.45
3 Enrique Artavia Cedeño (CRi) Super Pro - Economy             59.11
4 Thomas Dietsch (Fra) Gewiss-Bianchi                        1.00.19
5 Manuel Prado (CRi) Sho-Air/Rock N'road                     1.04.13
6 Roberto Heras Hernandez (Spa)                              1.13.40
7 Alexander Sánchez Calderón (CRi) Bcr-Pizza Hut             1.22.31
8 Marvin Campos Suazo (CRi) Super Pro - Economy              1.31.07
9 Dennis Porras Murillo (CRi) Super Pro - Economy            1.49.26
10 Radoslav Sibl (Cze) Bikezone.Cz/Mrx                       2.00.37
11 Cory Wallace (Can) Freewheel Cycle / Sp                   2.06.25
12 Brian Cooke (Can) Bicyclecafe                             2.11.03
13 Harlan Price (USA) Independent Fabricat                   2.12.17
14 Thomas Turner (USA) Van Michael Salon /                   2.13.30
15 Milton Ramos Gamez (Spa) Biciaccion.Com                   2.16.24
16 Daniel Abellán Ossenbach (CRi)                            2.25.15
17 Diego Rogel Gonzalez Leonardo (Mex) Alubike               2.34.27
18 Diego Leiva Araya (CRi) Turrialbeño Independ              2.55.31
19 Jimenez Sequeira Juan (CRi) Fiesta Total                  3.02.16
20 Luis Sibaja Monge (CRi) Ciclo Gully - Powera              3.05.45
21 Frederick Dreier (USA) Velo News Magazine                 3.33.55
22 Dain Zaffke (USA) Bike Magazine/Wtb                       3.54.42
23 Emilio Brenes Jimenez (CRi) Xerox                         3.55.25
24 Jhonny Madrigal Zumbado (CRi) Xerox                       4.00.59
25 Javier Lerma (Mex) Sinaloa Bikes                          4.26.51
26 Alberto Valverde Sánchez (CRi) 3 Erres - 2Nners           4.45.01
27 Arjan Planting (Hol) Team Bikelane Hollan                 4.56.24
28 Fabricio Loaiza Granados (Lit) Hospira Cr                 5.12.55
29 Miguel Rojas Arguello (CRi) Cisa Seguridad                5.47.20
30 Kuypers Leon (Hol) Akkermans                              5.50.47
31 Arnoldo Loaiza Duran (CRi) Puro Mtb. Com                  5.56.56
32 Carlos Salazar Solórzano (CRi) Rios Tropicales-Mawa       6.02.40
33 Miguel Chacon Araya Jose (CRi) Www.Avventa.Com            6.03.15
34 Mraz Lukas (Cze) X-Sports                                 6.21.09
35 Greivin Ortiz Umaña (CRi) Salva Bicicletas Y A            6.41.02
36 Erik Bakke (USA) Deadgoat Racing                          6.48.01
37 Sergi Bernet Bacardit (Spa) Pc Cervera                    7.08.19
38 Erick Rodriguez Solis (CRi) Rojas Y Rojas Constr          7.26.22
39 Andres De La Vega Gomez (CRi) Elibyke                     7.30.37
40 César Alcázar Méndez (CRi) Superficies De Centr           7.47.30
41 Francisco Oviedo Rojas (CRi)                              7.52.02
42 René Quesada Morales (CRi) Asocaci                        7.53.21
43 Alejandro Nietzen Herrera (CRi) Arenatrek Gym             7.54.23
44 Raul Quintanilla (CRi) Retodelosvolcanes.Co               8.04.14
45 Alberto Gamboa Pacheco (CRi) Caribbean Bikers/Sev         8.29.58
46 Esteban Bejarano Bazo (CRi) Bemosa / Pq                   9.09.11
 
Master A
 
1 Santos Corea Gutierrez (CRi) Citi - Litespeed             15.42.34
2 Angel Beltran Bernal Jose (Mex) Turbo                        32.53
3 Diego Chaverri Madden Luis (CRi) Guanaride                   45.48
4 Sam Humphrey (Gbr) Charge Bikes                              52.52
5 Randall Aguilar Quesada (CRi) Taller Rj Paraiso            1.05.27
6 Javier Ruiz Arias (CRi) Xerox                              1.17.33
7 Pere Sanchez Mula (Spa) C.C. Bicis Esteve                  1.18.19
8 William Valverde Barquero (CRi) Vedova Y Obando / Hu       1.21.11
9 Patrick Mosler (Ger) Rhoenraketen Fulda G                  1.41.22
10 Paulo Valle (CRi) Bicycle Cafe-Kona                       1.44.54
11 Pascal Mueller (Sui) Hammermann Racing                    2.07.36
12 John Warnock (Gbr) Www.Performancecycle                   2.36.26
13 Dax Jaikel (CRi) Seven Capital Ltd. -                     3.00.51
14 Craig Stappler (Can)                                      3.07.04
15 Daniel Perez (USA) Jensonusa/First Endu                   3.12.58
16 Craig Fabische ( Ba) Overtime Sports Coqu                 3.20.12
17 Jose Herrera Herrera ( Lt) Hospira Cr                     3.23.44
18 Fermín Torres Torres (Mex) Diamond Adventure              3.36.08
19 Fernando Mora Hidalgo Luis (CRi)                          3.57.10
20 Eduardo Rodriguez Alvarado (CRi) Hotel Cortezazul         3.58.42
21 Alonso Araya Pereira Victor (CRi) Xerox                   4.19.16
22 Ismael Peraza Chvarria (CRi) Nica Express / Muscl         4.19.52
23 Bryan Liles (USA) Villagebike.Com                         4.28.29
24 Paulo Martins (Prt) Trilhos Da Maria/Ss                   4.31.37
25 Marco Chinchilla Vaglio (CRi) Mani La Guaria              4.44.39
26 Ronald Jimenez Rodriguez (CRi) Caida Libre                4.52.17
27 Fabricio Meneses Madriz (CRi) Ampm                        4.53.06
28 Manuel García Dobles Carlos (CRi) Pik2 Mountain Bike T    4.59.16
29 Erick Matamoros (CRi) Agromec - Komatsu -                 5.00.14
30 Jairo Garita Hernandez (CRi) Nitidos - Khs                5.14.18
31 Milton Fallas Barboza (CRi) Xerox                         5.19.10
32 Matthew Barton (Gbr) North Hampshire Road                 5.19.12
33 Walter Astua Ulloa (CRi) Gpi Consultores                  5.34.08
34 Andreu Sanchez Perez (Spa) C.C. Pla De L'estany           5.35.10
35 Roy Soto (CRi) Tortugas Mtb Team                          5.47.47
36 Manuel Vizcaino Hernandez (Spa) Pc Cervera                5.48.41
37 Christopher Lang Arce (CRi) Thunderson Brothers-          5.56.02
38 Eric Mellegers (USA) Fox Racing Shox                      6.11.18
39 Jason Sandquist (Can) Frontrunners / Exper                6.16.59
40 Maria López Morales José (CRi) Puro Mtb                   6.23.35
41 Guillermo Gómez Sequeira (CRi) Atm Comercial S.A. R       6.23.46
42 Gustavo Manzur Orozco (CRi) Atm Comercial S.A. R                 
43 Alexander Torres Solano (CRi) Cafetalera Aquiares         6.30.13
44 Alejandro Muniz (USA) Economy Rent A Car                  6.30.23
45 Javier Perez Gonzales (Spa)                               6.30.29
46 Aramis Chinchilla Luna (CRi) El Colono - Scp Atel         6.40.48
 
Master B
 
1 Mike Charuk (Can) Team Whistler/Ryders                    16.23.45
2 Melvin Rojas Alfaro (CRi) Citi - Litespeed                   29.42
3 Andrew Handford (Can) Different Bikes                        35.56
4 Jan Kopka (Cze) Toi Toi Czech R.                             50.49
5 Peter Stevenson (Can) Experience Cycling                     52.41
6 Doug Andrews (USA) Gpsupload.Com / Geol                    1.05.56
7 Alec Petro (USA) Team Psycho                               1.42.21
8 Luigi Lutterotti (Ita) Euroscaf Bikbike                    1.59.18
9 Stabell Eriksen Christian (Nor) Centra Junglemen           2.05.48
10 Fernando Salazar (CRi) Ampm                               2.15.16
11 Reed Melton (USA) Bc Bike Race                            2.28.20
12 Matthew Luhn (USA) Gopher Gulch Dirt Al                   2.30.14
13 Bruce Young Nearing (CRi) Coyotes De Escazu               2.42.05
14 Rafael Bosch Alsina (Spa) Arsenal-Autotequip              2.56.41
15 Mario Roma (Prt) Brasil Soul Mtb                          3.15.52
16 Federico Amador León (CRi) Ampm                           3.23.41
17 Stefano Maran (Ita) Bici Da Trodi                         4.00.36
18 Alvaro Lang (CRi) Crn2                                    4.08.02
19 Berthold Schwarz (Ger) Quick & Dirty                      4.08.13
20 Thomas Tetz (Ger) Leki Bikextreme                         4.08.59
21 Claude Laberge (Can) Team Marty's                         4.16.40
22 Steve Walsh (Can) Zimtek/Schmoe Racing                    4.30.36
23 Dan Mccarthy (USA)                                        4.30.44
24 Nelson Franquiz (USA) Ciclo Mundo                         4.32.27
25 Sergio Montagni (Ita) Euroscaf Bikbike                    4.35.06
26 Eric Long (USA)                                           4.36.29
27 Paul Miers (USA) Reno Wheelmen                            4.40.07
28 Pedro Vernis De Prats (Spa) Arsenal Santiveri             5.07.03
29 Dave Howells (Can) Bc Bike Race                           5.10.56
30 Leonel Gómez Navarro (CRi) Super S-Gulf-Const.            5.15.43
31 Timothy Zimmerman (USA) Village Bike Shop                 5.40.05
32 Bohuslav Babor (Cze) X-Sports                             5.46.31
33 Edward Philip (USA) Team Psycho                           6.01.45
34 Chris Jezek (USA) Clickfox                                6.14.30
35 Rojas Brenes Arnaldo (CRi) Constructora Brenes            6.16.25
36 Eduardo Bertheau Oros (CRi)                               6.17.59
37 Javier Gurdián Astúa (CRi)                                6.52.18
38 Monte Hewett (USA)                                        6.53.11
39 Daniel Hausmann Spielmann (Spa) Arsenal Santiveri         6.55.37
40 Adolfo Echeverria Bonilla (CRi) Perro Loco Team           7.16.08
41 Ronald Fernández García (CRi) Asocaci                     7.17.10
42 Mario Turgeon (Can) Lessard Bicycles                      7.19.57
43 Gervais Levesque (Can)                                    7.38.52
 
Veterans
 
1 Roberto Ballesteros Villalobos (CRi) Khs Bicicletas       18.17.34
2 Tony Routley (Can) Team Whistler/Ryders                       0.25
3 Kristian Silseth Ole (Nor) Centra Junglemen                   1.26
4 Raymond Lavoie (Can) La Vie Sportive                       1.30.51
5 Jean-Arthur Tremblay (Can) La Vie Sportive                 1.42.50
6 Ricardo Vela Del Valle (Spa) Cc Santa Eulalia/ Bi          1.47.32
7 Walter Blanco (CRi)                                        3.02.52
8 Gonzalo Ceballos Cortes (Spa) Arsenal Santiveri            3.13.13
9 Javier Benet Fábregas (Spa) Arsenal Santiveri              3.18.44
10 Ricardo Mata Brenes (CRi) Comite Cantonal Depo            3.37.17
11 Charly Meier (Sui) Rrc Nordwest                           3.53.03
12 Van Council (USA) Van Michael Salon                       4.21.53
13 Jim Gibson (USA) Absolute Bikes                           5.42.22
14 Jorge Solano Salas (CRi) Asocaci                          5.48.20
15 Marvin Avila Vindas (CRi) Planet Gym                      6.49.34
16 Mark Janisse (USA)                                        7.06.51
17 John Janisse (USA)                                        7.13.15
18 Alvaro Pinto (CRi) Disexport                              7.46.24
19 Hugo Gómez Navarro (CRi) Super S-Gulf-Const.              8.04.43
20 Gerry Mccuaig (Can) Deadgoat Racing                       8.05.58
21 Fernando Parrodi (Mex) Cadelga Costa Rica -               9.09.56
22 Albert Mitja Servise (Spa) Arsenal Santiveri              9.31.01
 
Female
 
1 Adriana Rojas Cubero (CRi) Bemosa / Pq                    18.45.50
2 Sandra Walter (Can) Pedal Magazine                         1.14.41
3 Sara Bresnick-Zocchi (USA) Pedalpowercoaching.             1.28.58
4 Tamara Goeppel (Can) Leki Bikextreme                       1.46.46
5 Lisa Pleyer (Aut)                                          2.07.26
6 Janel Demeter (USA) Guy's Racing                           4.00.09
7 Natalia Alvarado Segura (CRi) Powerade                     4.02.33
8 Klariza Araya Quesada (CRi) Na'lakalú                      4.04.31
9 Abby Richmond (USA) Team Solar Eclipse                     4.58.08
10 Cathy Zeglinski (Can) Northlands Medical                  5.36.59
11 Melissa Pace (Can) Bc Bike Race                           6.19.52
12 Jeannie Batán Solera (CRi)                                6.26.06
13 Lisa Cramton (USA) The Alpineer                           6.32.42
14 Gloriana Arce Clachar (CRi) Alpina                        7.58.38
15 Yolanda Saro De Ferrara (Mex) Trainer                    10.01.52