Namrita & Eddie O'Dea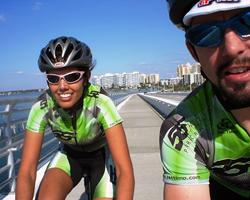 Going long: Eddie & Namrita O'Dea Diary 2008
Eddie and Namrita O'Dea are two married racers balancing the demands of professional racing and training for and even the promoting of endurance races. The duo will travel the US national circuit of 24 hour solo events while dropping in on assorted 100 milers and 12 hour races in between. Follow both into and throughout 2008 as they pursue their roles as spouses, team-mates, co-promoters and yes, even co-business owners.
November 9, 2008
Exciting month
Wow, it's been an exciting month and it's only early November...
We, 55nine Performance, just announced an additional race in the Southeast. It's called Southern Cross presented by BH Bikes and will be the first endurance cyclo-cross race in this area. The race will be approximately 50 miles of mostly gravel roads with a lot of climbing and will take place in the middle of winter on January 24, 2009.
Namrita O'Dea runs through transition
Photo ©: Mark Duffus

There will be some spectator-friendly cyclo-cross goodies thrown into the finishing circuit, we have a lot of steep hills and "natural barriers" to work with. We have an experienced cyclo-cross racer who is helping us to design that part of the course, so it will be good.
So far, the response to this event has been great. Unfortunately, we have to limit the entries to fifty this year so there is no doubt it will sell out. We are encouraging spectators show up to cheer on the racers "Belgian-style"!
We are also very excited that both of us have been invited to join the 2009 Topeak-Ergon team! We will make up two of the team's six racers in the US. Topeak-Ergon has some incredible athletes, and this team really defines "class".
We will be racing on the Rotwild R.R2 Full-suspension and hardtail bikes, Namrita, a former singlespeed endurance racer, is quite happy with the opportunity to race with gears and full suspension again.
Stay tuned for more details as the 2009 season arrives!
Stay tuned for more!
Eddie & Namrita O'Dea
www.eddieodea.com
www.namritaodea.com