Cyclingnews 2008 Reader Poll Results
Best Stage Race
Tour de France dominates stage races
By Gregor Brown
Sastre savours the moment
Photo ©: Roberto Bettini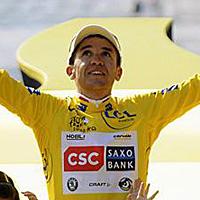 The Tour de France continues its dominance in the best stage race category in the Cyclingnews' reader poll. The French stage race and most well known race in the world continued the streak it started when we first introduced the category in 2002.
"I worked all my life for this, ever since I became a professional. It's hard to realise that I finally achieved it," Spaniard Carlos Sastre said after he won the final race leader's yellow jersey in 2008. The 33-year-old of Team CSC and our readers know that the Grand Tour is the sport's pinnacle.
The 2008 edition was one of the most exiting in years thanks to multiple wearers of the leader's maillot jaune and a first week that bucked the trend of flat sprinters' stages. Despite numerous high-profile doping scandals in and after the race it was able to top the Giro d'Italia by 12 percentage points, 48 percent compared to 36 percent for the Italian three-week race.
The Giro d'Italia has been on the podium in the stage race category since the inception of the category, but other races knocked the Vuelta a España off twice – in 2005 and 2007. The Spanish Grand Tour out-scored the Tour of California this year to take third by a slim margin of seven-hundredths of a percentage point.
Both the Giro and Vuelta were won by Spaniard Alberto Contador. The 2007 Tour de France winner surprised the pundits with his win in Italy after deciding to race only weeks before the event. The 2009 edition promises to be just as thrilling with the return of Lance Armstrong and Ivan Basso.
The Giro garnered double the votes of the 2007 polls and took away from the smaller stage races. The Tour of Georgia, Tour de l'Avenir and Regio Tour rounded out the polls. All three races took under one percent of the polling points.
Results
                                                                                  Votes  %age
1 Tour de France                                                                   5853  48.04
2 Giro d'Italia                                                                    4472  36.71
3 Vuelta a España                                                                   586  4.81
4 Tour of California                                                                578  4.74
5 Tour of Georgia                                                                   111  0.91
6 Tour de l'Avenir                                                                   82  0.67
7 Regio Tour                                                                         55  0.45

                                                                           Total: 11737