Cyclingnews 2008 Reader Poll Results
Best female road rider
Cooke the best woman by miles
By Ben Atkins
Nicole Cooke (Great Britain)
Photo ©: Casey Gibson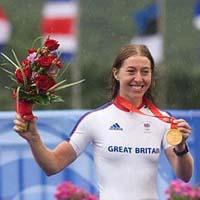 Hardly surprisingly, perennial British champion Nicole Cooke polled almost half of the votes cast after becoming the first cyclist (of either gender) to win the World and Olympic titles in the same year.
Cooke staked her whole season on that Olympic gold, deliberately building her form slowly throughout the year and refusing to panic when she was less than competitive in races that she'd normally look to win. A solitary stage win (albeit an impressive one) at the Tour de l'Aude and her usual (ninth!) national title were all the Welshwoman had to show for the season before she flew to China, but it was all worthwhile as she outsprinted her breakaway companions in those monsoon conditions at the Great Wall.
World championship victory followed a month later as once again she proved the fastest of a select group to take what many regard as a long overdue senior rainbow jersey.
Second placed Kristin Armstrong had a similar Olympic focus to her season. The US time trial champion proved to be the only rider able to overcome Great Britain's Emma Pooley, having been slightly behind at the midway point. Unlike Cooke though, Armstrong was unable to match her Beijing result in the Worlds time trial, where she could only manage fifth. Spurred on by that disappointment she instigated the early break of twelve and was by far the most active in keeping it away right up to the closing stages of the road race.
Dutch former World champion Marianne Vos finishes the podium. Despite having a disappointing Olympics on the road, she still managed several victories - including a dominant one at La Fleche Wallonne - and she capped her season with a silver in the World Championships behind Cooke.
Judith Arndt can feel slightly disappointed by missing out on our podium, having won virtually everything except the World and Olympic championships. The German took the overall World Cup - including the Ronde van Vlaanderen, Montreal and Nürnberg races - as well as the stage races in Montreal, Thuringen and Toscana before taking bronze in both the World time trial and road races.
In fifth place is Sweden's Emma Johansson, who took the silver medal behind Cooke in Beijing and whose attack with two kilometres to go in Varese almost earned her a rainbow jersey. American Amber Neben earned sixth place with a well-deserved victory in the World Championship time trial as well as a battling second place in the Giro d'Italia behind Italian Fabiana Luperini.
Victory in the Trofeo Alfredo Binda World Cup round and silver in Beijing behind Armstrong earns Emma Pooley seventh place, while a US champion's jersey and a fine showing in Montreal sees Brooke Miller take eighth. Ninth-placed German uber-sprinter Ina Teutenberg has been virtually unbeatable in mass finishes this season but has also been confounding the rest of the peloton by winning from breakaways, too.
A dominant victory in the Giro by Italian champion Fabiana Luperini, as well as the Plouay World Cup gives her tenth place. In eleventh is Sweden's Susanne Ljungskog whose Tour de Berne World Cup and Tour de l'Aude victories augured well for an excellent season. Illness in the summer spoiled her plans though, and an untimely puncture when she was part of the winning break cost her the chance to add another World title to those of 2002 and 2003.
Results
Road Female                                                                        Votes  %age

1 Nicole Cooke                                                                     5597  48.77
2 Kristin Armstrong                                                                3012  26.24
3 Marianne Vos                                                                      760   6.62
4 Judith Arndt                                                                      489   4.26
5 Emma Johansson                                                                    346   3.01
6 Amber Neben                                                                       324   2.82
7 Emma Pooley                                                                       308   2.68
8 Brooke Miller                                                                     255   2.22
9 Ina Teutenberg                                                                    227   1.98
10 Fabiana Luperini                                                                 109   0.95
11 Susanne Ljungskog                                                                 50   0.44

                                                                           Total: 11477