29th Olympic Games - JO
Beijing, China, August 9-23, 2008
Main Page Results Previous Event Next Event
Event 33 - August 19: Men's Sprint Finals
Hoy, Hoy, Hoy!
By Rob Jones in Beijing
Jason Kenny and Chris Hoy (Great Britain)
Photo ©: Casey Gibson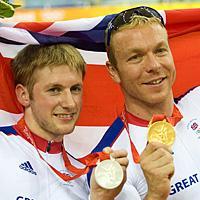 Great Britain's Chris Hoy secured his third gold medal of the Beijing Games with a no-contest two ride win over his own team-mate, Jason Kenny. The Scot dispatched his younger competitor with ease to hand Britain it's seventh gold medal of the track cycling events. Hoy, who switched over to to the sprint after taking the gold medal in the kilometre time trial in Athens, was amazed that he was able to make the transition so successfully.
"A year ago I wouldn't have believed it," commented Hoy on his third gold of the Games. "It's such an achievement. All the build up of emotions that evaporated at the finish line. It's like nothing else."
Despite having defeated Kenny soundly, Hoy tipped his 20-year-old countryman as the rider he expects to take his place as the top sprinter in the world. "This is the man who's going to win it in London."
In the bronze medal final, Mickaël Bourgain salvaged the pride of the French sprinters by taking home the bronze in a closely fought three-ride battle against Maximilian Levy. The German put in a strong defense, winning the second heat to force a third ride. But Bourgain was able to recover his speed and put in one last unbeatable charge to take home the bronze.
The ride-off between Hoy and Kenny was a scintillating duel of mentor and student - both riders used the long sprint effort which has been the Brit's biggest weapon in these Olympic Games. Kenny took the lead in both rides, and nearly got the better of Hoy on the first heat. But the more experienced Scot left Kenny in the dust on the second heat to take home his fourth career Olympic gold medal.
Photography
For a thumbnail gallery of these images, click here
Images by Casey Gibson/www.cbgphoto.com
Images by Rob Jones/www.canadiancyclist.com
Images by Greg Chang/Photosport International
Results

Final

Race 1
1 Chris Hoy (Great Britain)          10.228  
2 Jason Kenny (Great Britain)

Race 2
1 Chris Hoy (Great Britain)          10.216
2 Jason Kenny (Great Britain)

Bronze medal ride

Race 1
1 Mickael Bourgain (France)          11.047
2 Maximilian Levy (Germany)

Race 2
1 Maximilian Levy (Germany)          10.666
2 Mickael Bourgain (France)

Race 3
1 Mickael Bourgain (France)          10.560
2 Maximilian Levy (Germany)

Ninth place ride

9 Stefan Nimke (Germany)          0.11.051 (65.152 km/h)
10 Roberto Chiappa (Italy)
11 Ryan Bayley (Australia)
12 Kazunari Watanabe (Japan)