2008 UCI Track Cycling World Championships - CM
Great Britain, March 26-30, 2008
Day 2 - March 27: Men's team pursuit
Great Britain smash World record and throw down Beijing gauntlet
By Ben Atkins in Manchester
The figure of 3:56.610, set by Australia at the Athens Olympics nearly four years ago has finally been consigned to the history book. The Great Britain team of Ed Clancy, Bradley Wiggins, Paul Manning and Geraint Thomas smashed it by more than a quarter of a second in setting a time of 3:56.322 on their way to retaining the World title.
Concerned by the super-fast qualifying time set by opponents Denmark, the British quartet began their ride on record pace and kept going. "It was all about Shane [Sutton, Great Britain's Australian coach]," said a glowing Wiggins. "He stands one pace over the line for every second we're under record pace and one pace this side for every second over, and he was right on the line the whole time so we knew the record was on."
"Ecstatic," exclaimed a breathless Geraint Thomas, just moments after climbing off his bike. "That was something else, that was…"
The Danish team were well beaten, but were in no way out of their depth against the charging Britons. In fact, the Danish time of 3:59:381 made this final the first race ever where both teams have finished below four minutes. All eyes were on the British though as their half second lead at the first kilometre was stretched to over a second at kilometre two, more than two seconds at kilometre three and then finally three at the finish.
In the earlier ride off for the bronze, the Australian team marked a return to the top level of the sport with a dominant ride over rivals New Zealand. Their finishing time of just over four minutes would have been much faster had confusion in a changeover when Graeme Brown didn't spot that Luke Roberts had dropped off not left them split and disorganised in the final few laps.
"I think we've taken a great step today anyway," an upbeat, but slightly embarrassed Brown said. "We're definitely not at 100 percent, we've done 11 track sessions and we've done four minutes, so going into Beijing I think we're in a very strong position.
"It could have maybe been under four minutes if it wasn't for me, but I like a little bit of controversy so I couldn't just let it slide," joked Brown. No doubt though, the form shown in the early part of this ride surely means that Australia will be there in Beijing to pick up the gauntlet so spectacularly thrown down by Great Britain tonight.
Danes set national record to qualify fastest
Denmark celebrated the entry into the final
Photo ©: Nick Rosenthal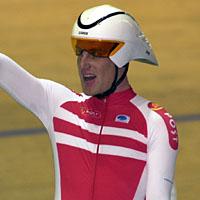 Winners of the last World Cup race in its native Copenhagen, the Denmark team eclipsed Great Britain, the local favourites, to take the fastest qualifying time to set up a gold medal final against the defending champions. Smashing its own national record – set in that Copenhagen race – by nearly five seconds, Denmark will now be fancying its chances of surprising the local fans in tonight's final.
The Great Britain team, racing without squad regulars Rob Hayles and Chris Newton, started last and was faster than Denmark over the first two kilometres but gradually faded over the final two. This may have been a case of doing just enough to qualify as team member Bradley Wiggins had done in the individual event yesterday, as it was only necessary to beat the New Zealand time to qualify for the gold medal final and it was obvious from early on that a sub four minute time was on the cards.
The race for bronze will be an all Australasian affair between New Zealand and Australia. Both teams recorded times below 4:01 – the New Zealanders just over a tenth of a second quicker – so a close race can be anticipated this evening. This performance marks a return to the big time for the Australian team, which welcomes back ProTour riders Bradley McGee and Graeme Brown, both members of the World record breaking team in Athens four years ago.
Results
Final
  
1  Great Britain                  3.56.32   (60.933 km/h) WR
 Edward Clancy (Great Britain)              
 Bradley Wiggins (Great Britain)            
 Paul Manning (Great Britain)               
 Geraint Thomas (Great Britain)             

2 Denmark                         3.59.40   
 Michael Faerk Christensen (Denmark)        
 Alex Rasmussen (Denmark)                   
 Jenserik Madsen (Denmark)                  
 Casper Jorgensen (Denmark)                 
    
3 Australia                       4.00.10   
 Graeme Brown (Australia)                   
 Luke Roberts (Australia)                   
 Bradley McGee (Australia)               
 Mark Jamieson (Australia)               
 
4 New Zealand                     4.01.99
 Sam Bewley (New Zealand)                
 Marc Ryan (New Zealand)                 
 Hayden Roulston (New Zealand)           
 Westley Gough (New Zealand)             

Qualifying

1 Denmark                  3.57.73 (60.571 km/h)
 Michael Faerk Christensen        
 Casper Jorgensen                 
 Jenserik Madsen                  
 Alex Rasmussen                   

2 Great Britain            3.58.98
 Edward Clancy                    
 Geraint Thomas                   
 Paul Manning                     
 Bradley Wiggins                  

3 New Zealand              4.00.83
 Sam Bewley                       
 Westley Gough                    
 Hayden Roulston                  
 Marc Ryan                        

4 Australia                4.00.95
 Jack Bobridge                    
 Graeme Brown                     
 Mark Jamieson                    
 Bradley Mcgee                    

5 Russian Federation       4.04.31
 Mikhail Ignatiev                 
 Alexei Markov                    
 Alexander Petrovskiy             
 Alexander Serov                  

6 France                   4.04.58
 Damien Gaudin                    
 Matthieu Ladagnous               
 Nicolas Rousseau                 
 Fabien Sanchez                   

7 Spain                    4.05.14
 Sergi Escobar Roure              
 Asier Maeztu Billelabeitia       
 David Muntaner Juaneda           
 Antonio Tauler Llull             

8 Netherlands              4.05.30
 Levi Heimans                     
 Jenning Huizenga                 
 Jens Mouris                      
 Peter Schep                      

9 Germany                  4.06.94
 Robert Bartko                    
 Daniel Becke                     
 Henning Bommel                   
 Patrick Gretsch                  

10 Ukraine                 4.07.09
 Lyubomyr Polatayko               
 Maksym Polischuk                 
 Vitaliy Popkov                   
 Vitaliy Shchedov                 

11 Colombia                4.09.96
 Carlos Eduardo Alzate Escobar    
 Juan Esteban Arango Carvajal     
 Arles Antonio Castro Laverde     
 Jairo Perez Suarez               

12 Korea                   4.14.16
 Jong Gyun Choi                   
 Sun Jae Jang                     
 Jae Wan Jung                     
 Dong Hun Kim