2001 Interbike International Bicycle Expo
Las Vegas, USA, Sept 29 - Oct 3
Index to all Interbike 2001 reports
Weighing up the options
By Gerard Knapp
Despite strict UCI regulations, a handful of manufacturers displayed bikes which were clearly under the minimum weight road bike limit of 6.8 kilograms. Nonetheless, the heart of these bikes - their frames - can be used for normal racing as long as the components help tip the scales over the UCI's limit.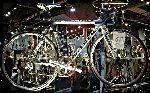 Trek's new 5900 USPS Superlight - good enough for Lance and co.
Photo: © Cyclingnews
There is no greater indication of credibility to offer the same off-the-peg frames to regular customers and a three time winner of the Tour de France. This is Trek's boast, and there was no way visitors to their booth at Interbike could miss this salient point. Taking pride of place was a suspended OCLV 5900 USPS Team Superlight, claimed to be "the lightest, fastest production frame, ever". Well, other manufacturers may argue that point, but there is nting the popularity of these OCLV bikes. BTW: OCLV stands for Optimum Compaction Low Void carbon. he 5900, there is 110 grams of carbon fibre per square metre.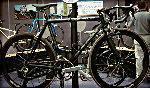 The new CAAD7 from Cannondale
Photo: © Cyclingnews
Aluminium can also be used to build very light bicycles, and Cannondale displayed an early version of the new CAAD7 model, which is the first frame from Cannondale not made with 6061-T6 aluminium. Instead, this frame uses a custom specified by the manufacturer which will allow Cannondale to use thinner walls in selected tubes to reduce weight, but not compromise strength. Well, that's the theory. Cannondale's Interbike special tipped the scales at 13.75 pounds. And it's all-aluminium, using a hourglass-shaped seatstays. While taking the custom tubeset route, Cannondale isn't a believer in carbon fibre seat stays or chainstays (an approach also taken by Specialized with its high-end road frames).
"Cannondale considered such an approach (carbon rear stays) but rejected it because it was actually heavier and less comfortable than hourglass stays. The wishbone/carbon fibre approach typically uses a trio of heavy alloy end-plugs that negate any weight savings achieved by using carbon fibre," according to Cannondale.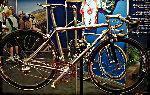 Light Ti: Litespeed showed a sub two pound frame which is also guaranteed for life.
Photo: © Cyclingnews
On the Titanium front, Litespeed displayed its latest sloping top tube model, called the Ghisallo. According to the Chattanooga, Tennessee, firm, the Ghisallo is a sub-two pound frame which is also guaranteed for life. At Interbike, the scales were held down to 6.536 kilograms, making it illegal by 264 grams, which could easily be made up with a heavier set of wheels than the Lew Composites wheels shown on the Interbike model.
The Litespeed frames will be us year by Lottoo Adecco, putting Litespeed clearly into the major league. The company will also continue its support of US teams.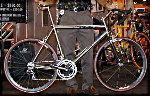 The superlight Ti bike featured by Speedplay.
Photo: © Cyclingnews
Taking the lightweight design objective to its limits, and the clear winner of the Interbike weigh-out, is Richard Bryne, resident designer and CEO of Speedplay. Bryne had a very special custom frame from Bill Holland deckwith every conceivable lightweight component, including a set of wheels which weighed less than 800 grams, to show a bicycle that weighed only 10.5 pounds.
The other reason Bryne was at Interbike was to display the company's new Zero pedals, which offer a fixed position through to 15 degrees of float.
Other reports from Interbike 2001:
Main Report - US industry hits the pavement
Interbike 2001 trade show reports:
Got tech? Send press releases, news, and tech questions to the Cyclingnews tech-heads.