2001 Interbike International Bicycle Expo
Las Vegas, USA, Sept 29 - Oct 3
Index to all Interbike 2001 reports
Companies in this report: Trek, Cannondale, Giant, GT, Litespeed, Specialized, Fuji , Eddy Merckx, Teschner
Div 1 teams - US firms take on the Europeans
By Gerard Knapp
The US bicycle manufacturers are continuing to build on the apparent kudos and exposure generated by sponsoring Division 1 trade teams in world road cycling. There is Trek and USPS, Cannondale and Saeco, Giant and ONCE and until the end of this year, Specialized and Festina and GT with Lotto. Interbike is the perfect opportunity to re-affirm this involvement in cycling's elite level.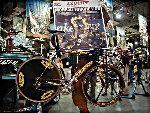 Goodbye Festina, hello Cipo
Photo: © Cyclingnews
While Trek, Cannondale and Giant will all be back in Europe next year, Specialized was almost caught out with the untimely demise of French Division 1 squad Festina, meaning its largely successful foray in the upper echelons of European road cycling may have ended somewhat prematurely. Because GT had severe financial difficulties this year, leading to a change of ownership and direction, its sponsorship of the Lotto-Adecco squad ended and has been taken up by Litespeed (more below).
But Specialized (and Festina) were able to go out on a high note this year with Angel Casero's dramatic final stage win of the Vuelta Espana, the team's first ever win on overall GC in a Grand Tour, in what was its last major stage race. At Interbike, Specialized also had Christophe Moreau's prologue-winning TT bike from the 2001 Tour de France on display, while sitting on the Specialized team car next to this display was a toy lion, indicating that the Californian company would be back in Europe next year, this time providing bikes to the Lion King himself, Mario Cipollini and his new Acqua e Sapone Division 1 squad.
A learning experience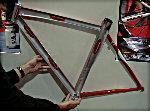 Sliced down the middle
Photo: © Cyclingnews
"Working with Festina was a tremendous learning experience for us ," said Sean McLoughlin from Specialized. "From a logistics and marketing point of view, we had a lot to learn, but overall it was very successful." Festina's riders used a combination of custom and production bikes, with the TT bikes made in Morgan Hill by in-house custom frame-builder Gary Yokota (who later on in the show came to grief with a broken collarbone after testing Specialized's jumbo treadmill for bicycles). While Angel Casero had requested a custom frame, the correct size could not be delivered on time so he was given a standard geometry frame, which he then unknowingly rode to victory in the Vuelta.
Providing bikes to a Division 1 team is "truly an R&D exercise", said Lance Bohlen from Specialized's Bike R&D section. "The input has helped us build better bikes and elevate our status. In the US it's not as critical (to be a Division 1 team sponsor) as in Europe; you have to be at Division 1 level to be taken seriously." For 2002, Specialized has released the new S-Works E5 Road bike as its high-end production frame that will be used by Cipo and his team-mates next year. This Aerotec frame uses an all-aluminium tubeset made by Columbus to Specialized's spec, with tapered walls and specially-shaped tubes, such as the elongated seat tube. With its elongated profile, it looks like it belongs on a special TT bike, but it still takes a 27.2mm seat post and 31mm front derailleur hanger.
Further, the walls of the downtube are 2mm thick at the head of the bike, yet taper down to only 0.9mm at the bidon cage mounts. Bohlen said even though the decals on the inside of the demo frame (sliced vertically to reveal the internal tapering) read 1.3mm, this was an attempt by the company to avoid copying by competitors from Asia. In its exclsuive use of aluminium for the high-end frames - matched with a Avant Stiff+ carbon fibre fork from Time on the E5 Road - Specialized is like Cannondale - a true believer in the all-aluminium bike. Bohlen said that compact geometry can provide a more compliant ride, and that the use of carbon fibre rear seat stays or chain stays delivered no real benefit in either comfort or weight.
Lotto to go all-titanium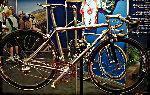 Selected riders from Lotto will get the sub 2-pound Ghisallo next year.
Photo: © Cyclingnews
Initially Cyclingnews reported from the European bike shows in early September that a new US manufacturer - namely Litespeed - was looking to sponsor Lotto-Adecco for the coming seasons. At Interbike, the company could confirm that it had reached agreement and from next year, the Belgium-based team will be riding Litespeed bicycles for the 2002 race season and beyond.
According to Litespeed, Lotto Adecco will be the first Division I team to exclusively use titanium bikes, even though the Chattanooga, Tennessee, firm's work has been seen in Europe before, but always with the decals of other famous frame-builders.
This point was not lost on president and founder of Litespeed, Mark Lynskey, who said "We've had our titanium frames in the peloton for years, now we finally get to keep our name on them". Lotto Adecco will use the Litespeed Vortex on road stages and the Blade during time trials, while selected riders on the team will use the compact frame geometry Ghisallo frame, its first sub two pound frame. All the frames will be finished in brushed titanium with sponsor decals.
Giant by name, not weight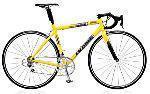 Giant's TCR road bike, as used by ONCE.
Photo: © Cyclingnews
Another of the 'illegal' road bikes displayed at Interbike - illegal in the sense that they are clearly under the UCI's minimum weight limit of 6.8kg (see road bike weigh out) - was Giant's TCR Carbon. This bike "barely tipped the scales at an even 13.0 pounds", said Bobby Verenna from Product Development at Giant. "It is completely functional and the ONCE team has been riding them since the Tour de France, albeit with significantly different spec."
Giant's top-of-the-line production road model is the TCR Team. This features the compact geomtery bike and uses SL ALUXX double butted aluminum, integrated forged headtube, a Giant Composite aero straightblade fork and comes with Campagnolo's 20-speed Record group set. Like the Specialized and Cannondale CAAD 7 (also featured in the road bike weigh-out), this Giant is also an all-aluminium frame.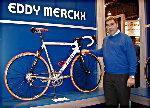 The new release, with carbon
Photo: © Cyclingnews
Meanwhile, there were a host of quality frame-builders that offer both steel, all-aluminium bikes and other models with carbon fibre seat stays. A new bike from Eddy Merckx shown at Interbike was the Fuga, which uses aluminium for the main tubes and carbon rear seat stays. This frame is only 200 grams heavier than the compact geometry Team SC scandium bikes used by Domo (one was ridden to victory in this year's Paris-Roubaix by Servais Knaven), yet uses the carbon rear end. At Interbike, Eddy Merckx said on a standard geometry frame the carbon seat stays did provide more road-shock absorption and that the Fuga was aimed at the racing market, pitched just below the team issue bikes in price.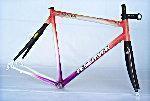 The same as John Lieswyn's race bike.
Photo: © Cyclingnews
Another manufacturer using a combination of materials is Peter Teschner, whose company builds the high-end Team Issue bikes for Fuji America, used this year by the 7-Up/Colorado Cyclist racing team which includes Cyclingnews diarist John Lieswyn. These frames are made from Easton Scandium Sc7000, with curved Scandium chainstays, Time carbon fibre seat stays and Reynolds Ouzo Pro forks.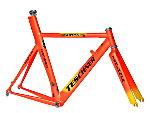 TT special
Photo: © Cyclingnews
Teschner's display at Interbike featured this bike as well as the AeroFX Pro TT Frame Set, which features a Giant Aero Bladed carbon fork with alloy steerer and made from Easton Ultralite TaperWall(r) 7005 aluminium. These Australian-made TT bikes, with internal cable routing, have been used in numerous world and national championships, with many riders securing medals in the process.
Another frame shown at Interbike was a road frame made from Easton's Sc7000 which weighed it an 798 grams, Teschner said. "Easton and Dedacciai have both released some new tube sets. Easton has a new Ultralite Race and Dedacciai has a newer version of its U2. Both are Scandium based and We built a frame out of each and exactly the same size. The U2 came out at 35 grams lighter than the Sc7000."
"The show was exceptionally good for us," he said, "with a greater interest in our product than last year. The interest seemed to be more genuine interest than just lookers. People certainly spent more time looking at the frames. I guess the greatest number of comments we received related to the quality of the finish, presentation and the workmanship."
Interbike 2001 trade show reports:
Got tech? Send press releases, news, and tech questions to the Cyclingnews tech-heads.