Tech special
Index to all Interbike 2001 reports
The 10.5lb bike
By John Stevenson
In last week's Interbike 2001 show report we mentioned the lightest bike of the show: Richard Bryne of Speedplay's 10.5lb Holland titanium with a selection of parts picked very carefully for minimum weight. We recieved lots of emails from people wanting to know exactly which parts went into this featherweight wonder, and Richard was quite happy to share the fruits of his weighing endeavours.
Richard's response to our request for the full spec was: "It is no secret but it was a whole lot of work finding the lightest real part available for every component. Attached is the list of parts. Hope this satifies your readers."
For those who don't think in two measuring systems simultaneously, 10.5lb is 4.8kg. That's 2kg less than the UCI's 6.8kg minimum legal weight for a road bike, and in a situation where weight makes a significant difference like a mountain stage or time trial, that's worth having. Keith Bontrager once worked out that one per cent off the total weight of bike and rider was worth 52 feet per mile on a climb, assuming constant power output. For a 65kg rider, Bryne's bike lops off 2.7 per cent compared to a UCI bike. On the 8.5 mile climb of the Alpe d'Huez, that's an advantage of over 1,100ft, or about 48 seconds (at 15mph). No wonder there's a push to reduce the weight limit.
Richard Bryne's 10.5lb (4.8kg) bike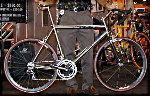 The superlight Ti bike featured by Speedplay.
Photo: © Cyclingnews
Chassis
Frame: Holland Chem-milled 6Al/4V titanium frame (861g)
Fork: Reynolds Ouzo Pro carbon
Headset: Cane Creek Ultralight

Wheels
Front hub: American Classic micro 18 hole
Rear hub: Tune MAG 24 hole
Rims: Zipp 650 carbon
Spokes: Marwi Titanium
Nipples: DT Swiss aluminium
Tires: Tufo (122g)
Sprockets: Custom made alloy
Sprocket lockring: Action Tec 11 tooth
Skewers: Control Tech titanium
Rear wheel: Total weight without skewer, tire or cogs: 466g
Front wheel: Total weight without skewer or tire: 305g
Transmission
Bottom bracket axle: American Classic
Bottom bracket cups: Ultimate Machine
Bottom bracket lockrings: Topline
Cranks: Cat Cheetah carbon, 172.5 mm
Crank bolts: Alloy
Chainring bolts: Alloy
Outer chainring: Shimano Dura Ace 53 tooth
Inner chainring: Shimano Ultegra 42 tooth
Rear derailleur: Campagnolo Record 10 rear derailleur (187g)
Front derailleur: Shimano Dura Ace
Chain: Campagnolo 10
Derailleur cables: Gore ultralight
Pedals: Speedplay Titanium
Brakes
Brake levers/Shifters: Campagnolo Record 10 levers
Brakes: Cane Creek calipers
Brake cable housing: Alloy
Brakes: Cane Creek calipers
Contact points
Saddle: AX Lightness (87g)
Seat post: Moots chem. milled
Brake shoes: Weinmann with titanium studs
Stem: Holland titanium, 140mm
Handlebar tape: Cinelli Cork
Handlebar plugs: Plastic
Handlebar: Smolke carbon
Other: Titanium and alloy fasteners throughout
Total bike weight: 10.5 pounds
Interbike 2001 trade show reports:
Got tech? Send press releases, news, and tech questions to the Cyclingnews tech-heads.
---