2001 Interbike International Bicycle Expo
Las Vegas, USA, Sept 29 - Oct 3
Index to all Interbike 2001 reports
Companies in this report: Fuji America, Cervelo, Kestrel, Aegis, SRAM
More track talk from Interbike, and carbon road
By Gerard Knapp
The comment in a previous Interbike report about the lack of specialist track frame builders certainly brought out the companies which in fact do offer track frames in addition to road or MTB variations. Fuji America was among these as CEO Art Wester was quick to point out. "Fuji displayed a 14.9lb. track bike, with carbon fork, Miche components, Ritchey wheels. It retails in the US for $1000," he said.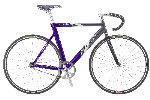 Fuji's track bike
Photo: © Cyclingnews
Specialist frame-builders ranging from Australian Peter Teschner through to the legendary Eddy Merckx also build track frames, but these weren't featured prominently. But what was shown on the Cervelo booth was the P2T. Dave Anthony from the Canadian bike company said "This model is a track-specific development of our successful aerodynamic time-trial specific lineup. It offers a combination of aerodynamics, very high rigidity, reasonable weight and an even more reasonable price (US$1199 frame, fork and seatpost)," he said.
Cervelo's track special at Interbike
Photo: © Cyclingnews
"This year's limited run of frames sold out nearly immediately, even though the frames only became available in the middle of the track season, and North America is currently our main market. I don't know what that says about the NA track scene," he said. Anthony also reported an anecdote from its Australian distributor of an Australian representative rider dropping his kilo times "after switching to a P2T from a carbon fibre bike". "This model is a track-specific development of our road time-trial lineup. Danny Pate just won the U23 title on a Cervelo P2K."
More carbon and other bits
Kestrel and Aegis are two manufacturers that specialise in carbon composite bikes and both had new models on display at Interbike. Kestrel in particular showed The Edge, a new dual suspension MTB frame which uses a carbon monocoque main frame mated with a 6000 Series aluminium rear swing-arm, which is the exact opposite of Trek's approach with the Fuel, which uses an aluminium frame and carbon rear end.
And speaking of monocoque frames, Kestrel showed a completely redesigned 500 EMS, a bike which has now been in production for 15 years. Although it looked like the original Kestrel says the bike "has been redesigned from the inside-out". The 15 year anniversary theme was also applied to the 300EMS road bike, with Kestrel offering a "Black and Tan" paint job and special components, such as Kestrel's own composite road handlebars.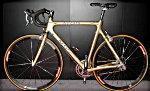 One for the road warriors
Photo: © Cyclingnews
Aegis also celebrated a 15th anniversary and has released the Victory, described as "an aggressively designed road warrior" and also announced further refinements to the Aro Svelte road bike.
SRAM releases Shimano road cassette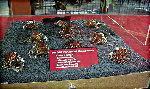 SRAM had something for nearly everyone - a replacement cassette for 9-speed Shimano road wheels.
Photo: © Cyclingnews
In the components area, nothing could come close to SRAM for inventiveness, with its range of DualDrive shifters, disc brakes, SmartBars, the power-assisted Sparc electrical drive system, Trigger Shifters and Twist Shifters.
While the vast majority of its products are aimed at the pavement and MTB markets, SRAM did release a replacement cassette for nine-speed Shimano road wheels. The R9 Road Cassette will retail for US$55 and come in sizes ranging from 12-23 through to 12-26.
SRAM is working hard to make cycling more user-friendly, and hard a wide range of new products for this purpose, including a retrofittable electrical assist system called SPARC, which features a removable battery pack that powers a small motor inside a specially-made rear wheel hub. Curiously, SRAM had not designed the battery pack to be re-charged by freewheeling without electrical power: apparently that's coming in the next release.
The SmartBar handlebar assembly resembles the controls of a small motorcycle or scooter. Clearly, the aim was to remove the Euro-mystique and complication of using twin derailleurs. Perhaps they also noticed that most Americans drive automatic motor vehicles and one way to get more people cycling is to make easier. Any products or technology with that goal in mind are to be applauded. They may not be the average roadie's cup of tea, but if you're into technology, well, SRAM is worthy of further investigation.
Interbike 2001 trade show reports:
Got tech? Send press releases, news, and tech questions to the Cyclingnews tech-heads.
---