2001 Interbike International Bicycle Expo
Las Vegas, USA, Sept 29 - Oct 3
Index to all Interbike 2001 reports

US cycling industry hits the pavement - pedalling
By Gerard Knapp
Crisis- what crisis? The US cycling industry responded with an upbeat mood as the 'pavement' bike emerged, lighter in weight but larger in market share. Still on the road, triple chainrings gained momentum while carbon was everywhere, even holding up the back of a Klein. Still, Cyclingnews asks: Where were the track bikes?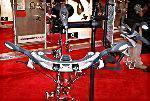 Ready for the pavement
Photo: © Cyclingnews
The pavement was where it's at for US cycling companies as they collectively threw their weight behind an emerging range of bicycles designed for the growing baby-boomer market. The emergence of high-end 'pavement' bikes was one of the major developments at this year's Interbike International Bicycle Expo, the major US cycling exhibition held in Las Vegas from September 29 to October 3, 2001.
Sleek pavement bikes were one of the key developments of a relatively upbeat Interbike, with the industry responding to the tragic events which occurred just over two weeks prior to the show in a 'business-must-go-on-attitude'. While US flags adorned many displays, the big talking point in foreign affairs was US Postal Service rider Levi Leiphiemer's stunning podium finish on GC in the Vuelta Espana.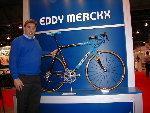 Proud father
Photo: © Cyclingnews
Of course, Interbike featured a swag of fancy high-end road and MTB tackle. Even Eddy Merckx was there to answer questions about his eponymously-named range of Belgian beauties. But tucked away in many booths on the show floor were these somewhat curious 'pavement' bikes, which owe more to road bike technology than their fat-tyre cousins, but still offer a comfortable MTB position. Instead of MTB wheels shod with slicks, they feature skinny 700C wheels with top-class rubber and less rolling resistance; instead of weighing the same as a case of beer they are as light as good road tackle.
Manufacturers such as Specialized (which claims leadership in developing this category), Cannondale, Trek and even Marin all featured nicely turned out pavement cruisers with flat bars, wider saddles and more upright riding positions. At the high end, the Trek-owned Klein brand featured a typically understated pavement cruiser with triple chainrings and Bontrager wheels, while Cannondale reserved its most outrageous display of bicycle technology at Interbike with a very pavement-oriented version of the Jekyll, featuring a single-leg front-end suspension. Interestingly, a Cannondale spokesman said a single-sided rear swingarm for bicycles remains an engineering obstacle, even though they have been commonplace on superbikes pumping out over 150bhp at the rear wheel for almost a decade.
While not dominating the industry, the pavement sector means "growth market" and any sign of growth was seized on by the bicycle industry, which is looking at a stagnant market for MTB and slower-than-expected sales for high-end road bikes, even with Lance's third TdF victory. Industry executives such as Dick Moran, Trek's marketing director, said 'pavement' was the fastest-growing sector in the US for Trek, a comment echoed by other execs.
Cut a swathe along the path
Photo: © Cyclingnews
The pavement sector was also warmly embraced by left-of-centre component maker SRAM, which featured a pavement cruiser based on a frame from the venerable Italian firm Casati, but with the SmartBar handlebar assembly that resembles the controls of a small motorcycle or scooter. Clearly, the aim was to remove the Euro-mystique and complication of using twin derailleurs. Perhaps they also finally noticed that most Americans drive automatic motor vehicles.
SRAM's President Stan Day said in a release: "In the '90s, statistics indicate that we (US market) bought 80 million mountain bikes. What is truly amazing is that 85 percent of those bikes are never ridden on dirt. Why would we buy a mountain bike and ride it on the pavement?
"There are several reasons. The most significant is that its upright riding position and cushy wide tyres are much more comfortable than a drop bar racing bike with narrow, high-ressure tyres. Now, however,the industry is focusing on offering a new bike to consumers. One that provides the upright riding position but is specifically designed for riding on pavement."
Make mine a triple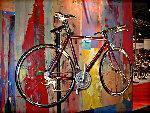 Klein's pavement cruiser, with obligatory Dura Ace triple chainrings, now gaining momentum on all high-end road bikes.
Photo: © Cyclingnews
At Interbike, the most noticeable trend on high-end road kit was the growing acceptance of triple chainring sets from both Shimano and Campagnolo. Dick Moran from Trek said the ratio of twin to triple chainring sets sold on Trek's high-end road bikes had increased from 80:20 to 60:40 over the past five years. Similarly, Shimano's Chris DeStefano confirmed this growth rate in triple sets.
A spokesperson from Campagnolo USA also confirmed there was considerable demand for the wider spread of gears provided by triple chainrings and Campag also had its Record triple-set on display. The most obvious benefit to riders of triple-sets is that they can use a 12-21 rear block and be confident of riding virtually anywhere - no longer do they need to agonise over what cassette block to order at the time or purchase, or mess around with individual cogs and removing lockrings - or even going to the expense of having a spare wheel - when hitting the moutains or riding on different terrain.
What differs in the component manufacturers' respective approaches to new triplesets is what works with existing kit. Obviously, both require new cranks and Campagnolo, for example, claims to have made Record front derailleurs and changers for a couple of years which can cope with an extra chainring. However, the regular-size Record rear derailleur won't work with the additional chainring and a longer version is required.. For Dura-Ace, Shimano's new tripleset uses a new front derailleur and shifter, while the remainder of the group is said to be compatible. Shimano's Chris DeStefano said the weight difference between double and triple chainring groups is 170 grams, which many riders are obviously prepared to carry for the added flexibility and relative freedom a triple-set provides.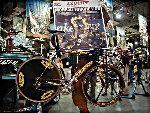 Goodbye Festina, hello Cipo
Photo: © Cyclingnews
The European peloton remains the ultimate stamp of credibility for the US bicycle companies, delivering not only great exposure but also valuable experience in product development. Litespeed confirmed its entry into the Division 1 ranks of European pro cycling via its sponsorship of the Lotto Adecco squad, replacing another American manufacturer in GT, which has withdrawn following financial problems at home. (GT/Schwinn brands arew now being managed by new owner Pacific Cycles, which used Interbike to epxlain its future directions to literally hundreds of concerned dealers.) Cyclingnews also learned that Specialized had lined up sponsorship of a new high profile Division 1 team for next year (Mario Cipollini's Acqua e Sapone squad), as Festina will cease in its current form at the end of this season.
Carbon, carbon everywhere

Campagnolo puts its weight behind carbon cranks - it will be interesting to =see how many big-hitters turn out on them in 2002
Photo: © Cyclingnews
Carbon fibre is so commonplace on bicycles it can no longer be considered 'exotic'. It's virtually standard for any high-end road and hardtail MTB machine, whether it's the fork, frame or rear seatstays or chainstays. Carbon seat posts and handlebars gained momentum, while Campagnolo displayed its new Record Carbon crankset, while US manufacturer Full Speed Ahead also featured a carbon fibre crankset in double and triple chainring varieties. Carbon wheels were also in abundance, though still very expensive.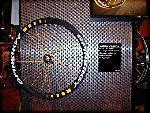 Carbon rims rolled out
Photo: © Cyclingnews
The most popular development were lower-profile carbon rims for clincher tyres with aluminium or magnesium sidewalls. Manufacturers such Spinergy and X-treme featured wheels which combined the look and supplenesss of a traditional spoked road wheel, but with the weight of an all-carbon exotic. Bontrager showed a wheel set with rims and hubs made via Trek's patented OCLV process, but only designed for tubular tyres, an indication of its high-end nature.
On the MTB scene, Gary Fisher released the most outstanding - yet obvious - technical development: larger wheels for mountainbikes. But in this case, he introduced massive 29" wheels for the front and rear n two models, using 27" (700C) rims but the extra rubber blowing out the size to 29".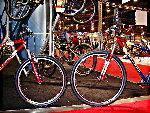 Big wheels from Gary Fisher - will they bounce over consumer resistance?
Photo: © Cyclingnews
This could be the most significant development for MTB seen in years, despite the advances in suspension. It depends of whether the guns will fire on these 29" models and apparently Chrissy Redden had an early version of a 29"-wheel bike at her disposal this season, but declined to race on it. What is also interesting is that Fisher did not adopt standard motocross wheel set-ups: larger and skinnier front wheel with smaller and wider rear.
When the MTB scene is taking so many cues from the dirt bike scene, particularly in the design of front and rear suspension and most recently disk brakes, it's significant that this approach has not been put into wider commercial release.
Where were the track bikes?
OK, there were track bikes at Interbike. Cyclingnews counted three of them. And they were all on the one stand. OK, there were others (from Cervelo and Dean), but there was only one specialist vendor of these simple beauties, being BT Australia, the Melbourne-based maker of carbon fibre track bikes used by champions such as Shane Kelly and Leontien Zjilaard van Moorsel. These bikes were so rare - and expensive - that the makers wheeled them out at the end of each day. The state of track cycling in North America remains a source of despair to many people interviewed by Cyclingnews. It's by no means an overnight phenomenon - it has been in decline for almost a century. What was once a high-profile sport at the start of the 20th century - the USA had more velodromes than any other country - has been cast aside for sports involving balls or engines.
But there's also people who dream of better days for track cycling in America. One Boulder, Colorado, resident commented that approval had just been granted for the construction of a velodrome in that city, "and Lance has said that he wants a crack at the hour record at altitude, like above 5000 feet, and that the track used for the 1984 Olympics is still sitting in mothballs somewhere, and maybe ..."
Yes, the mood at Interbike really was upbeat.
Got tech? Send press releases, news, and tech questions to the Cyclingnews tech-heads.