The current time in Athens is 09:57 on April 1, 2023 - For current weather, click here
28th Olympic Games - JO
Athens, Greece, August 14-28, 2004
Results Qualification Eighth-finals Quarter-finals Semi-finals Finals Track 101
August 22: Women's Sprint Qualification
Meares continues run of speed
Anna Meares (Aus)
Photo ©: epicimages.us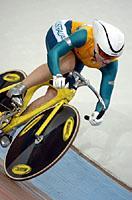 Australia's Anna Meares has set the fastest time in the Womens' Sprint Qualifying this morning in the Olympic Velodrome: 11.291 (average 63.767 km/h). Meares is in great shape, last Friday winning the 500 metres Time Trial in 33.952, a new World and Olympic Record.
2003 and 2004 world champion Svetlana Grankoskaya (Russia) was second with 11.364, while third place went to her compatriot Tamillia Abassova.
As there were 12 contenders, all riders go through to the 1/8 finals later today.
Photography
Images by www.epicimages.us
Images by Rob Jones/www.canadiancyclist.com
Results
1 Anna Meares (Australia)                        11.291  (63.767km/h)
2 Natallia Tsylinskaya (Belarus)                 11.364  (63.357km/h)
3 Tamilla Abassova (Russia)                      11.364  (63.357km/h)
4 Lori-Ann Muenzer (Canada)                      11.380  (63.268km/h)
5 Yvonne Hijgenaar (Netherlands)                 11.400  (63.157km/h)
6 Simona Krupeckaite (Lithuania)                 11.430  (62.992km/h)
7 Svetlana Grankovskaya (Russia)                 11.456  (62.849km/h)
8 Daniela Greluis Larreal Chirinos (Venezuela)   11.597  (62.085km/h)
9 Jennie Reed (United States)                    11.622  (61.951km/h)
10 Victoria Pendleton (Great Britain)            11.646  (61.823km/h)
11 Katrin Meinke (Germany)                       11.655  (61.776km/h)
12 Evgenia Radanova (Bulgaria)                   12.457  (57.798km/h)