The current time in Athens is 15:02 on March 28, 2023 - For current weather, click here
28th Olympic Games - JO
Athens, Greece, August 14-28, 2004
Results Qualification Eighth-finals Quarter-finals Semi-finals Finals Track 101
August 22: Women's Sprint Eighth-finals
To the quarters quickly
Jennie Reed (USA)
Photo ©: epicimages.us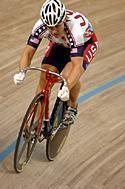 With a small women's field allowing competition to start straight away in the eighth finals, the first round of the women's sprint was a quick test of survival for medal contention. Australian Anna Meares, fresh off a world record in the 500m time trial, wasted no time setting the tone with her convincing win over Evgenia Radanova of Bulgaria. Most of the favourites were quickly through, as nearly all match-ups saw the leadout woman hold the advantage all the way to the line.
American Jennie Reed saw her medal chances come to an end after losing in the first round to Canadian Lori-Ann Muenser. Reed showed tactical savvy on the second of three laps, but couldn't hold off the Canadian's superior power.
"I gave it everything I had this morning in the qualifying round and I was a little off the pace by a long shot," Reed admitted. "Tactically, I couldn't do any more than I did tonight. We prepared at altitude and I think I lost a little power because of that."
Reed lost in repechage to Russia's Svetlana Grankovskaya, who saved her own position and moved back among the contenders for the quarter finals on Monday.
Photography
Images by www.epicimages.us
Images by Rob Jones/www.canadiancyclist.com
Results
Heat 1
 
1 Anna Meares (Australia)                         11.927
2 Evgenia Radanova (Bulgaria)
 
Heat 2
 
1 Natalia Tsylinskaya (Belarus)                   11.846
2 Katrin Meinke (Germany)
 
Heat 3
 
1 Tamilla Abassova (Russia)                       11.714
2 Victoria Pendleton (Great Britain)
 
Heat 4
 
1 Lori-Ann Muenzer (Canada)                       11.881
2 Jennie Reed (USA)
 
Heat 5
 
1 Daniela Grelius Larreal Chirinos (Venezuela)    11.849
2 Yvonne Hijgenaar (Netherlands)
 
Heat 6
 
1 Simona Krupeckaite (Lithuania)                  11.872
2 Svetlana Grankovskaya (Russia)
 
Women's sprint repechage
 
Heat 1
 
1 Svetlana Grankovskaya (Russia)
2 Jennie Reed (USA)
3 Natalia Tsylinskaya (Belarus)
 
Heat 2
 
1 Katrin Meinke (Germany)
2 Yvonne Hijgenaar (Netherlands)
3 Victoria Pendleton (Great Britain)