The current time in Athens is 14:46 on March 28, 2023 - For current weather, click here
28th Olympic Games - JO
Athens, Greece, August 14-28, 2004
Results Qualification Eighth-finals Quarter-finals Semi-finals Finals Track 101
August 23: Women's Sprint Quarter-finals
Not too many surprises in women's quarter's
Anna Meares (Australia)
Photo ©: AFP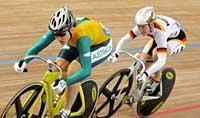 There were few surprises in the quarter finals of the women's sprint, with Anna Meares (Aus), Tamilla Abassova (Russia), Svetlana Grankovskaya (Russia) and Lori-Ann Muenzer (Canada) all winning their heats and advancing through to the semi-finals tomorrow.
In the first heat, Meares was up against German Katrin Meinke, who she comfortably beat in the first race in 11.916. She was forced to come from behind in the second race, but still overhauled the German in the finishing straight to win in 12.048. "I felt pressure and felt threatened by Katrin Meinke," said Meares, who is still the favourite to take the title. "In the semi-finals I will go quicker and hopefully qualify for the finals. I think that it will be a very hard semi."
In heat 2, Russian Svetlana Grankovskaya had few problems in accounting for Natallia Tsylinskaya (Belarus), winning both races in 11.945 and 12.085 seconds respectively.
Simona Krupeckaite (Lithuania)
Photo ©: AFP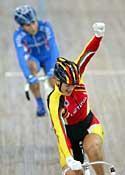 The fireworks happened in the third heat, which pitted Tamilla Abassova (Russia) against Simona Krupeckaite (Lithuania). Abassova easily won the first match in 11.993, but Krupeckaite pushed her all the way in the second race and despite a late surge from Abassova to come round the Lithuanian, the judges declared it was a dead heat. The third race saw Krupeckaite take the sprint in 12.632 after Abassova was too slow to react, and that put the two women at 1-all. In the fourth and final race, Abassova made no mistakes as she led out and gapped her Lithuanian rival in the back straight, cruising home in 11.914 to advance into the semi's.
The last heat was between Lori-Ann Muenzer (Canada) and Daniela Larreal (Venezuela), with Muenzer never threatened by the Venezuelan to win two straight heats in 12.064 and 11.888.
In the ride off for ninth place, Victoria Pendleton (Great Britain) rode a hard sprint from the front to hold off Jennie Reed (USA), Yvonne Hijgenaar (Netherlands) and Evgenia Radanova (Bulgaria).
Photography
Images by www.epicimages.us
Images by AFP Photo
Images by Rob Jones/www.canadiancyclist.com
Results
Heat 1

1 Anna Meares (Australia)                      11.916  12.048
2 Katrin Meinke (Germany)

Heat 2
1 Svetlana Grankovskaya (Russia)               11.945  12.085
2 Natallia Tsylinskaya (Belarus)

Heat 3
1 Tamilla Abassova (Russia)                    11.993          11.914
2 Simona Krupeckaite (Lithuania)                       12.632

Heat 4
1 Lori-Ann Muenzer (Canada)                    12.064  11.888
2 Daniela Greluis Larreal Chirinos (Venezuela)

Race for 9th-12th

9 Victoria Pendleton (Great Britain)           12.699
10 Jennie Reed (USA)
11 Yvonne Hijgenaar (Netherlands)
12 Evgenia Radanova (Bulgaria)