The current time in Athens is 14:32 on March 28, 2023 - For current weather, click here
28th Olympic Games - JO
Athens, Greece, August 14-28, 2004
Results Qualification Eighth-finals Quarter-finals Semi-finals Finals Track 101
August 24: Women's Sprint Semi-Finals
Canada and Russia advance
Lori-Ann Muenzer leads Anna Meares in Heat 1 of the semi-finals
Photo ©: epicimages.us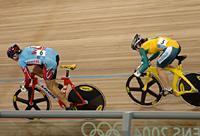 After a string of dominant performances, Australia's Anna Meares found herself left behind in the women's sprint by talented Canadian Lori-Ann Muenzer in the semi final round. Meares took the first sprint, but Muenzer is known for her tenacity, and promptly returned to win the second and provoke a third, decisive match. Meares simply didn't have the answer to Muenzer's strength and the Canadian powered to the win.
The Russian duo of Tamilla Abassova and Svetlana Grankovskaya went head to head, with most expecting the more experienced Grankovskaya to take the match. She did win the first sprint, but the young Abassova returned to win the second and push her compatriot to a third race, showing there were no national tactics to throw the match and set up Grankovskaya for the final. In fact it was Abassova who won the third race in convincing fashion, going on to meet Muenzer in the gold medal match.
In the race for fifth through eighth place, Venezuela's Daniela Larreal crossed the line first but was disqualified after having provoked a crash behind her. Lithuanian Simona Krupeckaite was the victim of the fall and failed to finish.
Photography
Images by www.epicimages.us
Results
Heat 1
     
1 Lori-Ann Muenzer (Canada)                           12.101      12.185
2 Anna Meares (Australia)                 11.802
 
Heat 2
 
1 Tamilla Abassova (Russia)                           11.965      11.894
2 Svetlana Grankovskaya (Russia)          11.893
 
Race for 5th-8th
 
5 Natalia Tsylinskaya (Belarus)
6 Katrin Meinke (Germany)
DQ Daniela Grelius Larreal Chirinos (Venezuela) 
DNF Simona Krupeckaite (Lithuania)