The current time in Athens is 10:47 on June 4, 2023 - For current weather, click here
28th Olympic Games - JO
Athens, Greece, August 14-28, 2004
Results Qualification Eighth-finals Quarter-finals Semi-finals Finals Track 101
August 24: Women's Sprint Finals
Oh Canada! Muenzer wins gold
Celebration time for Canada's Muenzer
Photo ©: epicimages.us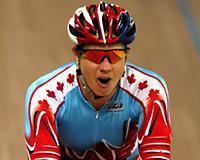 Lori-Ann Muenzer of Canada won the women's sprint gold in convincing fashion, first dispensing of Anna Meares (Australia) in the semi-finals, then beating young Russian Tamilla Abassova in two straight races in the final round of competition. Muenzer showed both tactical sense and superior power over the smaller Abassova, who nonetheless was a worthy winner of silver after beating her own teammate and reigning world champion Svetlana Grankovskaya in the semi-final.
"It was an incredible week for me but with a lot of pressure due to the fact that the sprint was on three days," Muenzer commented after receiving her gold medal. "This is the reward of five years of very hard work. It's an honour for me to participate at the Olympic Games and to represent Canada in so many events."
Abassova didn't complain about losing to Muenzer, saying simply, "these are my first Olympic Games so I didn't expect any medals. I stayed very concentrated so that's why I got such good results."
YESSSSS!
Photo ©: Rob Jones

For Meares, gold medallist and world record holder in the 500 metre time trial, the bronze medal in the sprint was a bonus after a successful opening to the track competition. Another in a wave of young riders posting strong results, Meares will no doubt be back for more.
"I am disappointed at losing the semifinal against Muenzer but when you see who has the gold, you can easily understand," she said.
Photography
Images by www.epicimages.us
Images by AFP Photo
Images by Rob Jones/www.canadiancyclist.com
Results
For gold & silver
 
1 Lori-Ann Muenzer (Canada)               12.126         12.140
2 Tamilla Abassova (Russia)
 
For bronze
 
3 Anna Meares (Australia)                 12.042         11.822
4 Svetlana Grankovskaya (Russia)