Recently on Cyclingnews.com
2003 Road World Championships - CM
Hamilton, Canada, October 7-12, 2003
World's pay rare visit to North America
By Chris Henry
Mario, the champ in 2002
Photo: © AFP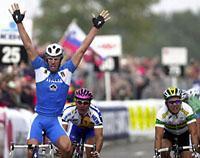 This year, for only the third time, the Road World Championships head to North America. Hamilton, Canada hosts the time trial and road events over the course of six days of racing on a tough circuit which twice climbs the Niagara Escarpment to the south of the city centre. After Montreal in 1974, Canada will host its second World Championships on a challenging course designed by former professional Steve Bauer.
An estimated 800 cyclists from 50 countries will be present for this year's World's. This year's race will provide a stark contrast to the flat and fast Zolder circuit of 2002, where the Italian national team delivered Mario Cipollini to victory ahead of his chief rivals Robbie McEwen (Australia) and Erik Zabel (Germany). The events this year begin Tuesday, October 7 with the Junior Women's time trial and conclude with the Elite Men's road race on Sunday, October 12.
The Junior Women's and U23 Men's time trials will both be held on the short time trial course, which at 15.4 km features one climb of the Niagara Escarpment and a fast downhill run to the start/finish in front of Hamilton's city hall. The women will ride just one lap, while the U23 men will tackle the circuit twice for a distance of 30.8 km.
On Wednesday the Junior Men will ride one lap of the long time trial course (20.8 km), followed by the Elite Women, who will cover the same distance in the afternoon. The Elite Men will take centre stage on Thursday afternoon (October 9) for their time trial, run over two laps of the long course for 41.6 km.
Road racing begins Friday and the Junior Women are once again paired with the U23 Men. The women take to the streets in the morning, facing off against each other and six laps of the 12.4 km road circuit that will be used for all events. The U23 Men's event will test the legs with 14 laps and 173 km. Saturday the racing continues with the Junior Men and Elite Women each searching for gold over 10 laps (124 km) and an estimated three and a half hours of competition.
Finally on Sunday the World's come to the grand finale, the Elite Men's road race. At 260 kilometres (21 laps), the peloton faces over six hours of racing over the tough climbs- 42 trips up the escarpment- and fast descents of the first World's course to be held entirely within city limits. The road circuit, like the time trials, begins and ends in front of City Hall on Main Street. Fans will line the streets and fill the grandstands, while participating countries will set up in the 'pits' unique to the World Championships.
Cyclingnews will be there, with live coverage of each event along with full results, reports, photos and all the news from Hamilton.
For previews of each individual event, click on the following:
October 7: Junior women's TT, U23 Men's TT
October 8: Elite Women's TT, Junior Men's TT
October 9: Elite Men's TT
October 10: Junior Women's Road Race, U23 Men's Road Race
October 11: Elite Women's Road Race, Junior Men's Road Race
October 12: Elite Men's RR