Recently on Cyclingnews.com
2003 Road World Championships - CM
Hamilton, Canada, October 7-12, 2003
Main Page Start List Live report Results
Day 2 - October 8: Elite Women Time Trial
Excellent field vying for women's TT title
By Kristy Scrymgeour
Zoulfia Zabirova going for double
Photo: © AFP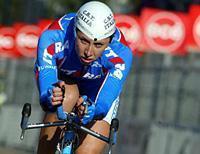 A strong field of women will line up in Hamilton for both the time trial, to be held on Wednesday and the road race to be held on Saturday. The course, which has already been tested by the Canadians in their National Championships earlier this year, has been described as tough, certainly a contrast to last year's course in Zolder, but not a true climber's course.
In the time trial the women will complete one lap of the 20.8km course which starts with a climb up the Niagara Escarpment, does a loop across the top, which has the tendency to be windy, drops back down and goes immediately back up before dropping again for the very fast descent to the finish line. The course will suit a power rider with good technical skills as the course had quite a few corners.
Previous World Time Trial Champions are on the start list, including Jeanie Longo (France) and Zoulfia Zabirova (Russia), who won the event last year and has shown her form this year winning two stages of the Grande Boucle, amongst other races. These three will be challenged by some very strong riders such as German National Time Trial Champion Judith Arndt, who recently won the time trial in GP Canada, securing her win of the tour, Australian National Time Trial Champion Sara Carrigan, who won the time trial at tour de L'Aude this year, and Susanne Ljungskog (Sweden), recent winner of the Giro della Toscana.
Winner of Grand Prix de Nations only a couple of weeks ago Karin Thuerig (Switzerland) will also be on the start line to try to go one or two better than her third placing last year, as will Hanka Kupfernagel (German National Team) who recently won Chrono Champenois in France.
Start list
                                             Start local time

44 Sinead Jennings (Ireland)                   14:10:00
43 Fatma Galiullina (Uzbekistan)               14:11:30
42 Leah Goldstein (Israel)                     14:13:00
41 Junying Zhang (China)                       14:14:30
40 Erika Csomor (Hungary)                      14:16:00
39 Corine Hierckens (Belgium)                  14:17:30
38 Melissa Holt (New Zealand)                  14:19:00
37 Frances Newstead (Great Britain)            14:20:30
36 Andrea Graus (Austria)                      14:22:00
35 Kristin Armstrong (USA)                     14:23:30
34 Svetlana Boubnenkova (Russia)               14:25:00
33 Bogumila Matusiak (Poland)                  14:26:30
32 Edwige Pitel (France)                       14:28:00
31 Nataliya Kachalka (Ukraine)                 14:29:30
30 Paola Madrinan (Colombia)                   14:31:00
29 Anna Zugno (Italy)                          14:32:30
28 Rasa Polikeviciute (Lithuania)              14:34:00
27 Mirjam Melchers (Netherlands)               14:35:30
26 Olivia Gollan (Australia)                   14:37:00
25 Wendy Houvenaghel (Great Britain)           14:38:30
24 Joanna Ignasiak (Poland)                    14:40:00
23 Lada Kozlikova (Czech Republic)             14:41:30
22 Teodora Ruano Sanchon (Spain)               14:43:00
21 Kirsty Nicole Robb (New Zealand)            14:44:30
20 Olga Zabelinskaia (Russia)                  14:46:00
19 Evy Van Damme (Belgium)                     14:47:30
18 Meifang Li (China)                          14:49:00
17 Deirdre Demet-Barry (USA)                   14:50:30
16 Anita Valen (Norway)                        14:52:00
15 Christiane Soeder (Austria)                 14:53:30
14 Geneviève Jeanson (Canada)                  14:55:00
13 Loes Gunnewijk (Netherlands)                14:56:30
12 Edita Pucinskaite (Lithuania)               14:58:00
11 Susanne Ljungskog (Sweden)                  14:59:30
10 Jeannie Longo Ciprelli (France)             15:01:00
9  Karin Thürig (Switzerland)                  15:02:30
8  Lyne Bessette (Canada)                      15:04:00
7  Vera Carrara (Italy)                        15:05:30
6  Judith Arndt (Germany)                      15:07:00
5  Sara Carrigan (Australia)                   15:08:30
4  Joana Somarriba Arrola (Spain)              15:10:00
3  Nicole Brändli (Switzerland)                15:11:30
2  Hanka Kupfernagel (Germany)                 15:13:00
1  Zoulfia Zabirova (Russia)                   15:14:30