2003 Road World Championships - CM
Hamilton, Canada, October 7-12, 2003
Main Page Results Start list Live report
Day 2 - October 8: Elite Women Time Trial
Defending champion takes third to Spanish climber
By Mark Zalewski in Hamilton
Joane Somarriba gets going
Photo: © Sirotti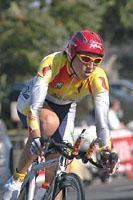 Joane Somarriba Arrola fancies herself a "hill specialist." That certainly comes in handy on the course laid out for the Elite Women at this year's World Championships. The 31 year old rider from the northern Basque region of Spain averaged nearly 44 km/h, over a very hilly and quite windy course, on her way to the gold medal in the Elite Women's Time Trial.
Somarriba attributed her new gold medal to her preparation. "Yes I am a hill specialist, however I knew this would be a difficult course," she said. "So I worked both the hills and the flats to prepare for this race. It was a question of going 100% the whole time using my strength and my agility. The last kilometres I went really really hard and I suffered quite a bit - but it was worth it because this has ended up being the best day of my life."
Coming in second behind Somarriba Arrola, was the always strong German rider Judith Arndt. She and her German teammates came to Canada early to compete in the Grand Prix Féminin International du Canada, a race she ended up winning. "The tour we did was really perfect for preparation. But then it got really cold here and I wasn't sure it was such a good idea (laughs). Now I got second and I am very happy about it."
Zoulfia Zabirova, the defending champion in the time trial, wasn't too disappointed with her third place finish. "The last World Championship was better for me because I am not a climber and I don't climb so good. I did all I could here, and that is why today's bronze medal is good."
The great Canadian cycling hope, Geneviève Jeanson, finished a respectable fifth, but had hoped to do better in front of the home crowd. "I would be a liar to say that I am completely happy, because I wanted to win," said Jeanson, who won the Junior Women's TT in 1999. "I really did my best effort and I had great support in the car. I have nothing to be ashamed of, but at the same time I am not completely happy because it is my home crowd and I am in Canada."
When asked if she thought she had established herself on the world stage with her result, Jeanson responded, "I don't think I [established myself]. I think to really establish yourself you have to win. The World Championships are really the big thing in cycling, and in my head I have to win. The four girls in front of me, I think they made their mark on the world having won either medals at Olympics, World Championships or the Tour de France."
American cyclists faired well, with strong results from T-Mobile teammates Dede Demet-Barry and Kristin Armstrong. "I really loved [the course]," said Demet-Barry, who finished 8th. "The fans were amazing on the hills - it was really a fun course to race on. It's always a challenge racing in the wind. The only mistakes I think I made were on the descents - but everyone makes mistakes, there are always improvements you can make. I felt like my preparation was the best it could be - I really felt good."
The podium
Photo: © Sirotti

Armstrong had prepared for a strong wind all morning long, but was unsure as the start approached. "[The wind] kind of fooled me when I was warming up a little, because it's really calm here in town - but when you got on top of that first climb you really had to focus for about 5k. Then you picked up so quick on the next section, like 55km/h the whole time, and you shoot down the downhill and make a U-turn, right into a headwind! That there was the hardest part mentally."
Australia's Olivia Gollan nearly broke into the top 15 with her ride. "It was really tough!" said Gollan. "Both the climbs really take it out of you. I had my coach behind me in the car, and he was encouraging me. 'Go as hard as you can!'"
Many riders commented on some water that was on the second descent, along with the reported rough roads near the finish, though nobody has crashed. "Someone had put some water all over the road on the second descent - it looked as if someone had hosed it - maybe on purpose (laughs)!," said Wendy Houvenaghel of Great Britain.
The day's gold medalist didn't have any problems negotiating the slick road, "I did see a little bit of water, but never felt any danger during the race,"said Somarriba. "It was never in the corners, so I could avoid it easily."
Easily indeed. And because of all her hard work, Somarriba was understandably emotional at the end of the race. "Since June I concentrated hard on achieving a podium position here, so when I did that I was very emotional. At some points I was afraid actually, but closer to the end, when I knew I had a good time, it gave me motivation to just keep going and to continue giving 100%. I started with much confidence - the references from my other Spanish rider helped me tremendously in achieving the result today."
"It felt like a dream at the end of the race. I felt incredible joy!"
Photography
Images by Fotoreporter Sirotti
Images by Jon Devich/www.epicimages.us
Images by Robert Naish/www.bikecrazie.com
Results
1 Joane Somarriba Arrola (Spain)       28.23.23 (43.96 km/h)
2 Judith Arndt (Germany)                0.10.78
3 Zoulfia Zabirova (Russia)             0.26.25
4 Karin Thürig (Switzerland)            0.27.13
5 Geneviève Jeanson (Canada)            0.48.49
6 Jeannie Longo Ciprelli (France)       0.58.95
7 Lada Kozlikova (Czech Republic)       1.01.61
8 Deirdre Demet-Barry (USA)             1.16.29
9 Teodora Ruano Sanchon (Spain)         1.22.16
10 Edita Pucinskaite (Lithuania)        1.24.92
11 Edwige Pitel (France)                1.30.26
12 Olga Zabelinskaia (Russia)           1.37.74
13 Kristin Armstrong (USA)              1.41.20
14 Mirjam Melchers (Netherlands)        1.43.95
15 Lyne Bessette (Canada)               1.48.68
16 Olivia Gollan (Australia)            1.49.93
17 Vera Carrara (Italy)                 1.51.94
18 Sara Carrigan (Australia)            1.57.60
19 Meifang Li (China)                   1.58.42
20 Frances Newstead (Great Britain)     2.03.18
21 Hanka Kupfernagel (Germany)          2.10.64
22 Paola Madrinan (Colombia)            2.14.30
23 Leah Goldstein (Israel)              2.14.80
24 Christiane Soeder (Austria)          2.17.80
25 Susanne Ljungskog (Sweden)           2.17.89
26 Svetlana Boubnenkova (Russia)        2.24.66
27 Nicole Brändli (Switzerland)         2.27.23
28 Anna Zugno (Italy)                   2.29.22
29 Kirsty Nicole Robb (New Zealand)     2.32.88
30 Bogumila Matusiak (Poland)           2.36.63
31 Rasa Polikeviciute (Lithuania)       2.49.75
32 Anita Valen (Norway)                 3.00.88
33 Nataliya Kachalka (Ukraine)          3.10.12
34 Loes Gunnewijk (Netherlands)         3.20.70
35 Sinead Jennings (Ireland)            3.37.98
36 Wendy Houvenaghel (Great Britain)    3.53.02
37 Corine Hierckens (Belgium)           3.53.88
38 Andrea Graus (Austria)               3.57.11
39 Evy Van Damme (Belgium)              3.59.90
40 Junying Zhang (China)                4.01.19
41 Melissa Holt (New Zealand)           4.02.35
42 Joanna Ignasiak (Poland)             4.54.37
43 Erika Csomor (Hungary)               5.00.38
DNS Fatma Galiullina (Uzbekistan)
 
8.2 km
 
1 Joane Somarriba Arrola (Spain)       11.20.68
2 Karin Thürig (Switzerland)            0.08.20
3 Geneviève Jeanson (Canada)            0.18.43
4 Zoulfia Zabirova (Russia)             0.21.82
5 Judith Arndt (Germany)                0.22.37
6 Jeannie Longo Ciprelli (France)       0.31.54
7 Deirdre Demet-Barry (USA)             0.31.87
8 Lada Kozlikova (Czech Republic)       0.34.44
9 Sara Carrigan (Australia)             0.38.44
10 Mirjam Melchers (Netherlands)        0.39.47
11 Edita Pucinskaite (Lithuania)        0.40.41
12 Lyne Bessette (Canada)               0.44.51
13 Olga Zabelinskaia (Russia)           0.45.77
14 Teodora Ruano Sanchon (Spain)        0.47.03
15 Edwige Pitel (France)                0.47.04
16 Kristin Armstrong (USA)              0.48.59
17 Hanka Kupfernagel (Germany)          0.50.61
18 Vera Carrara (Italy)                 0.53.87
19 Christiane Soeder (Austria)          0.54.07
20 Frances Newstead (Great Britain)     0.54.12
21 Meifang Li (China)                   0.54.63
22 Paola Madrinan (Colombia)            0.57.12
23 Susanne Ljungskog (Sweden)           0.58.50
24 Olivia Gollan (Australia)            1.01.44
25 Kirsty Nicole Robb (New Zealand)     1.02.47
26 Rasa Polikeviciute (Lithuania)       1.02.64
27 Nicole Brändli (Switzerland)         1.02.80
28 Bogumila Matusiak (Poland)           1.03.60
29 Leah Goldstein (Israel)              1.04.66
30 Svetlana Boubnenkova (Russia)        1.06.35
31 Nataliya Kachalka (Ukraine)          1.16.28
32 Anna Zugno (Italy)                   1.17.45
33 Loes Gunnewijk (Netherlands)         1.18.53
34 Anita Valen (Norway)                 1.32.90
35 Wendy Houvenaghel (Great Britain)    1.34.87
36 Evy Van Damme (Belgium)              1.35.04
37 Melissa Holt (New Zealand)           1.38.87
38 Corine Hierckens (Belgium)           1.40.08
39 Andrea Graus (Austria)               1.44.62
40 Sinead Jennings (Ireland)            1.45.84
41 Junying Zhang (China)                1.48.37
42 Erika Csomor (Hungary)               2.04.80
43 Joanna Ignasiak (Poland)             2.16.09