Recently on Cyclingnews.com
2003 Road World Championships - CM
Hamilton, Canada, October 7-12, 2003
Main Page Start List Live report Results
Day 4 - October 10: Espoirs Men Road Race
The next big thing
Chicchi gives Italy the double in 2002
Photo: © AFP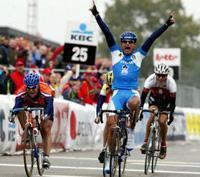 Last year Italian sprinter Francesco Chicchi gave Italy the big double, winning the U23 Men's road race before Mario Cipollini took top honours in the Elite race. This year, with a hilly and selective parcours in Hamilton, the race remains a more open affair. In contrast to the Elite Men's events, many riders in the U23 ranks plan on double duty in the time trial and road race, and on a tough course and in potentially adverse weather conditions, the men who show their best form in Tuesday's time trial could well come back to shine in Friday's road race.
Among the principal contenders are strong teams from Australia, Russia, and the Netherlands, though the field is deep with a number of likely challengers. Australia's Rory Sutherland will race on the road as well as the time trial, and will be joined by strong riders like Gene Bates, Benjamin Johnson and Mark Renshaw, all of whom have impressed the European pro teams with good performances on the continent.
Many of the riders making a bid for gold in the U23 race have been enlisted as stagiaires, or have been recently been offered full contracts with the European teams. France's Lloyd Mondory has joined Ag2R-Prévoyance, while Swede Thomas Loevkvist has been offered a ride with FDJeux.com, where he will join Aussie Mark Renshaw for 2004. Talented Dutch duo Thomas Dekker and Joost Posthuma, who ride for Rabobank's TT3 team, will have the support of strong team from the Netherlands and their experience riding (and winning) in Europe will no doubt make them riders to watch in Hamilton.
The United States has a realistic chance for a medal with Patrick McCarty (who recently signed with US Postal Service for 2004), Michael Creed, and Will Frischkorn leading the way. The entire peloton will have to be wary of strong line ups from Russia and the eastern European teams, particularly Kazakhstan with Maxim Iglinskiy.
The U23 Men's road race will be a serious test for the young legs, with 14 laps of the Hamilton circuit and a race distance of 173km, featuring 28 climbs along the way. As in all categories, this year's race will likely be a race of attrition as much as anything, and those who know how to ride conservatively should emerge with the freshest legs to contest the victory.
Start list

1 Massimo Iannetti (Italy)
2 Vincenzo Nibali (Italy)
3 Aristide Ratti (Italy)
4 Emanuele Sella (Italy)
5 Davide Torosantucci (Italy)
6 Giovanni Visconti (Italy)
7 Isidro Cerrato Lopez (Spain)
8 Juan Jose Cobo Acebo (Spain)
9 Moises Duenas Nevado (Spain)
10 Daniel Moreno (Spain)
11 Francisco Jose Ventoso Alberdi (Spain)
12 Andreas Dietziker (Switzerland)
13 Daniel Gysling? (Switzerland)
14 Hubert Schwab (Switzerland)
15 Florian Stalder (Switzerland)
16 Oliver Zaugg (Switzerland)
17 Muradjan Khalmuratov (Uzbekistan)
18 Sergey Lagutin (Uzbekistan)
19 Olivier Bonnaire (France)
20 Cyril Lemoine (France)
21 Geoffroy Lequatre (France)
22 Kilian Patour (France)
23 Mathieu Sprick (France)
24 Hernani Broco (Portugal)
25 Micael Isidoro (Portugal)
26 Bruno Pires (Portugal)
27 Jorge Torre (Portugal)
28 Andre Vital (Portugal)
29 Steven Caethoven (Belgium)
30 Maxime Monfort (Belgium)
31 Jens Renders (Belgium)
32 Preben Van Hecke (Belgium)
33 Johan Van Summeren (Belgium)
34 Murray Carter (Canada)
35 Martin Gilbert (Canada)
36 Chris Isaac (Canada)
37 Cory Jay (Canada)
38 Jean-Sebastien Maheu (Canada)
39 Graham Briggs (Great Britain)
40 James Flanagan (Great Britain)
41 Tom Southam (Great Britain)
42 Assan Bazayev (Kazakhstan)
43 Vadim Gorbachevskiy (Kazakhstan)
44 Maxim Iglinskiy (Kazakhstan)
45 Andriy Grivko (Ukraine)
46 Oleksandr Kvachuk (Ukraine)
47 Andres Cardenas Cano (Colombia)
48 Rafael Infantino Abreu (Colombia)
49 Mauricio Neisa Alvarado (Colombia)
50 Andres Rodriguez Diaz (Colombia)
51 Laurent Didier (Luxembourg)
52 Bernhard Kohl (Austria)
53 Andreas Matzbacher (Austria)
54 Harald Starzengruber (Austria)
55 Blazej Janiaczyk (Poland)
56 Piotr Mazur (Poland)
57 Michal Pawlyta (Poland)
58 Dariusz Rudnicki (Poland)
59 Mariusz Wiesiak (Poland)
60 Daryl Impey (South Africa)
61 Jacobus Odendaal (South Africa)
62 Willie Van Zyl (South Africa)
63 Aldis Abolins (Latvia)
64 Olegs Melehs (Latvia)
65 Aleksejs Saramotins (Latvia)
66 Gene Bates (Australia)
67 Peter Dawson (Australia)
68 Benjamin Johnson (Australia)
69 Rory Sutherland (Australia)
70 Luis Diaz (Venezuela)
71 Honorio Machado (Venezuela)
72 Freddy Vargas (Venezuela)
73 Matija Kvasina (Croatia)
74 Alexandre Ivanov (Belarus)
75 Viktar Rapinski (Belarus)
76 Thomas Dekker (Netherlands)
77 Joost Posthuma (Netherlands)
78 Niels Scheuneman (Netherlands)
79 Pieter Weening (Netherlands)
80 Fumiyuki Beppu (Japan)
81 Matti Breschel (Denmark)
82 Mads Christensen (Denmark)
83 Kasper Klostergaard-Larsen (Denmark)
84 Morten Knudsen (Denmark)
85 Brian Vandborg (Denmark)
86 Marcus Burghardt (Germany)
87 Marcus Fothen (Germany)
88 Heinrich Haussler (Germany)
89 Christian Knees (Germany)
90 Juozas Martynaitis (Lithuania)
91 Karolis Volungevicius (Lithuania)
92 Norbert Abrok (Hungary)
93 Janez Brajkovic (Slovenia)
94 Kristjan Fajt (Slovenia)
95 Matej Mugerli (Slovenia)
96 Tomasz Nose (Slovenia)
97 Matic Strgar (Slovenia)
98 Abbas Saeidi Tanha (Iran)
99 Christian Frommelt (Liechtenstein)
100 Rene Marxer (Liechtenstein)
101 Dumitru Creciun (Moldavia)
102 Alexandru Sabalin (Moldavia)
103 Philip Deignan (Ireland)
104 Denis Lynch (Ireland)
105 Nicholas Roche (Ireland)
106 Andrei Marin (Roumania)
107 Alexander Arekeev (Russia)
108 Alexander Bazenov (Russia)
109 Alexander Bespalov (Russia)
110 Vladimir Gusev (Russia)
111 Andrei Pchelkin (Russia)
112 Marian Hecl (Slovakia)
113 Matej Jurco (Slovakia)
114 Kristian Ellertsen (Norway)
115 Roy Hegreberg (Norway)
116 Per Martin Lund (Norway)
117 Andreas Molandsveen (Norway)
118 Michael Creed (USA)
119 William Frischkorn (USA)
120 Jonathan Patrick McCarty (USA)
121 Shawn Milne (USA)
122 Saul Raisin (USA)
123 Jonas Holmkvist (Sweden)
124 Thomas Loevkvist (Sweden)
125 Petter Renaeng (Sweden)
126 Mikael Segersaell (Sweden)
127 Prajak Mahawong (Thailand)
128 Jussi Veikkanen (Finland)
129 Caspar Austa (Estonia)
130 Calle Kriit (Estonia)
131 Raivo Maimre (Estonia)
132 Rene Mandri (Estonia)
133 Tarmo Raudsepp (Estonia)