2003 Road World Championships - CM
Hamilton, Canada, October 7-12, 2003
Main Page Results Start list Live report
Day 4 - October 11: Espoirs Men Road Race, 174 km
Lagutin Leaps In; Uzbeki Rider On Top Of The World
By Tim Maloney in Hamilton, Ontario
Very happy Lagutin
Photo: © M.Zalewski/CN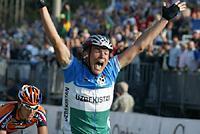 On a warm sunny day Ontario fall day, the central asian republic of Uzbekistan gained its first-ever World Championship cycling medal when 22 year old Sergey Lagutin sprinted to a well-deserved win in the U23 Men Road Race on Main Street in Hamilton, Canada ahead of lanky Belgian Johan Van Summeren and Dutch U23 champion Thomas Dekker, who were part of a 10 rider group that finished just 9" ahead of the fast closing peloton. Fourth last year in the Zolder U23 World Championships, Lagutin rode a smart, aggressive race today to finally prevail in a fast race. An emotional Lagutin said "I was afraid of the Italians so I followed their moves all day… and in the end I got in the right break and won."
Originally from Fergana, Uzbekistan, Lagutin has been racing in Italy for three seasons. He rides for the Pallazago-Velutex team near Bergamo and will likely turn pro next season for the Colnago-Landbouwkrediet team. "I thought the race might be harder; before the start, many people told me that this course would be good for me, with the hills and nowhere to recuperate," said Lagutin. "It turned out to be the perfect course for me."
Alexander Arekeev looks over at Sergey Lagutin
Photo ©: Jon Devich

Johan Van Summeren (Belgium)
Photo ©: Jon Devich

Michael Creed (USA)
Photo ©: Jon Devich

Lagutin battled all day with long, lean Belgian silver medallist Johan Van Summeren, winner of this year's U23 Liege-Bastogne-Liege, who will turn pro next season for the Div.2 Bodysol team. Van Summeren looked like he might take the title today, but ended up pounding his bars in frustration after the finish line as the Uzbeki passed him for the win. "Lagutin and I were fighting for the last 80km today; we were the strongest today. I probably came through the last corner too far forward and got out in the wind and (Lagutin) came over me in the last 50 meters."
19 year-old Dutch champion Thomas Dekker had a great ride on the final lap to get across to the break and take the bronze medal. "On the last climb, I was on (U23 TT champ) Markus Fothen's wheel and when he attacked, I stayed with him and we got across. In the final, I led out but two guys got by me."
Van Summeren's Belgian teammate Renders was 4th, while the top Italian, talented climber Massimo Ianetti was 9th, as the vaunted squadra azzuro just couldn't get the right combination of riders in place to win in Hamiton. Italian and European U23 champ Giovanni Visconti was closely marked and finished 15th at the front of the peloton. Top American was Michael Creed in 34th, just ahead of Will Frischkorn in 35th and top Australian Rory Sutherland in 37th, who might have finished higher today had a mechanical not knocked him out of the winning break.
A disappointed Creed told Cyclingnews post-race that "we messed up today…the (winning) break got away with about two and a half laps to go and I don't know why we missed it. At that point, the race was just so confusing…nobody wanted to work and it was really aggressive. When Weening went across to the break, I was on his wheel but I just wasn't strong enough." Frischkorn told us, "I felt pretty good today but I just kind of miscalculated … I was on Pat's (McCarty) wheel when he jumped up to that group but I just hesitated and it was too late. That's bike racing … as a team, everybody rode really well today. It was a respectable performance even though we didn't have the result we were hoping for."
Creed's USA Cycling teammate Patrick McCarty was in the move that went with three laps to go and ended up morphing into the eventual winning break, but the Texan ended up back in the chasing peloton. McCarty will go to USPS-Berry Floor next season and ended up 56th, explaining to Cyclingnews that "I just didn't have great legs today. I was in that move but just got dropped."
How it unfolded
After one lap without hostilities, the racing truly began on the second lap of the 12km circuit, with a number of early attacks but a vigilant peloton under the control of the strong Italian team. Early moves eventually formed, featuring Italians Sella and Ianetti, American Patrick McCarty, and Australian Rory Sutherland, among others. The Anglo duo of McCarty and Sutherland eventually dropped off the pace, while Van Summeren and Lagutin began to show themselves as two of the strongest riders on the day.
The winning move formed on the 12th lap, as Dutchman Pieter Weening bridged to a group of leaders and sealed the core breakaway, which included Van Summeren, Bazenov, Renders, Sutherland, Gusev, Ianetti, Matzbacher, and Lagutin. At this moment Sella punctured and lost contact with the lead group.
With 5 laps to go, eventual winner Lagutin got away with Italian climber Emmanuele Sella and the duo powered away 20" ahead of the chasing peloton. Eventually chasing riders bridged up to the two front runners and a group of 9 formed with Lagutin, Sella Van Summeren, Renders (Belgium) Iannetti, Sutherland, Gusev and Bespalov (Russia) Matzbacher (Austria). With three laps to go, the average speed was just under 41km/hr and break had a narrow lead of 30" on the group, with Van Summeren and Lagutin driving break. Sella flatted out of the break and was absorbed by the peloton. This spoiled the Italian strategy for the day as climber Iannetti was not the guy they wanted up the road.
Suddenly on the penultimate Spanish rider Ceratto managed to bridge across to the break on the steep Beckett Dr. climb with 20km to go, while the peloton was 40" behind. As the final lap began, 4 more riders bridged up under the impulsion of Dane Brian Vandborg, who showed the power that has earned him a pro contract at CSC next season, but it was too late. The final attacks from behind began on the long, steady climb of Claremont Access as U23 TT champ Markus Fothen, eventual bronze medalist Dekker and Spaniard Ventoso got across. Dekker led out trying the same kind of move that won him the Dutch championship but Lagutin leaped past to win the first-ever Rainbow jersey for Uzbekistan.
Photography
Images by Mark Zalewski/Cyclingnews.com
Images by Jon Devich/www.www.epicimages.us
Images by Fotoreporter Sirotti
Results
1 Sergey Lagutin (Uzbekistan)             4.14.05 (40.994 km/h)
2 Johan Van Summeren (Belgium)                   
3 Thomas Dekker (Netherlands)                    
4 Jens Renders (Belgium)                         
5 Matej Mugerli (Slovenia)                       
6 Alexander Bazenov (Russia)                     
7 Marcus Fothen (Germany)                        
8 Pieter Weening (Netherlands)                   
9 Massimo Iannetti (Italy)                       
10 Francisco Jose Ventoso Alberdi (Spain)    0.09
11 Steven Caethoven (Belgium)                    
12 Andreas Dietziker (Switzerland)               
13 Joost Posthuma (Netherlands)                  
14 Matej Jurco (Slovakia)                        
15 Giovanni Visconti (Italy)                     
16 Maxim Iglinskiy (Kazakhstan)                  
17 Maxime Monfort (Belgium)                      
18 Jussi Veikkanen (Finland)                     
19 Geoffroy Lequatre (France)                    
20 Harald Starzengruber (Austria)                
21 Aristide Ratti (Italy)                        
22 Christian Knees (Germany)                     
23 Vladimir Gusev (Russia)                       
24 Fumiyuki Beppu (Japan)                        
25 Jorge Torre (Portugal)                        
26 Assan Bazayev (Kazakhstan)                    
27 Oliver Zaugg (Switzerland)                    
28 Petter Renaeng (Sweden)                       
29 Nicholas Roche (Ireland)                      
30 Hubert Schwab (Switzerland)                   
31 Andres Cardenas Cano (Colombia)               
32 Alexander Arekeev (Russia)                    
33 Matija Kvasina (Croatia)                      
34 Michael Creed (USA)                           
35 William Frischkorn (USA)                      
36 Brian Vandborg (Denmark)                      
37 Rory Sutherland (Australia)                   
38 Bruno Pires (Portugal)                        
39 Thomas Loevkvist (Sweden)                     
40 Niels Scheuneman (Netherlands)                
41 Preben Van Hecke (Belgium)                    
42 Davide Torosantucci (Italy)                   
43 Alexander Bespalov (Russia)                   
44 Daryl Impey (South Africa)                    
45 Hernani Broco (Portugal)                      
46 Andre Vital (Portugal)                        
47 Philip Deignan (Ireland)                      
48 Andriy Grivko (Ukraine)                       
49 Bernhard Kohl (Austria)                       
50 Mads Christensen (Denmark)                    
51 Piotr Mazur (Poland)                          
52 Abbas Saeidi Tanha (Iran)                     
53 Chris Isaac (Canada)
54 Janez Brajkovic (Slovenia)
55 Denis Lynch (Ireland)
56 Jonathan Patrick McCarty (USA)
57 Vadim Gorbachevskiy (Kazakhstan)         0.39         
58 Oleksandr Kvachuk (Ukraine)              0.42
59 Tom Southam (Great Britain)
60 Morten Knudsen (Denmark)                 0.45
61 Prajak Mahawong (Thailand)
62 Tarmo Raudsepp (Estonia)                 0.54
63 Alexandru Sabalin (Moldavia)         
64 Jean-Sebastien Maheu (Canada)
65 Saul Raisin (USA)
66 Matti Breschel (Denmark)                 0.59
67 Florian Stalder (Switzerland)
68 Kasper Klostergaard-Larsen (Denmark)
69 Blazej Janiaczyk (Poland)
70 Olivier Bonnaire (France)                1.04
71 Andreas Matzbacher (Austria)
72 Tomasz Nose (Slovenia)                   1.07 
73 Benjamin Johnson (Australia)             1.27
74 Per Martin Lund (Norway)
75 Olegs Melehs (Latvia)                    1.29         
76 Jacobus Odendaal (South Africa)          2.06
77 Mathieu Sprick (France)                  2.19
78 Isidro Cerrato Lopez (Spain)             2.29
79 Honorio Machado (Venezuela)              2.31
80 Heinrich Haussler (Germany)              4.02
81 Gene Bates (Australia)                   5.39
82 Andrei Pchelkin (Russia)                 8.02
83 Michal Pawlyta (Poland)
84 Matic Strgar (Slovenia)                  8.12
85 Kilian Patour (France)                  12.20
86 Norbert Abrok (Hungary)
87 Marian Hecl (Slovakia)
88 Freddy Vargas (Venezuela)
89 Micael Isidoro (Portugal)
90 Rafael Infantino Abreu (Colombia)
91 Cyril Lemoine (France)
92 Marcus Burghardt (Germany)
93 Roy Hegreberg (Norway)

HD Vincenzo Nibali (Italy)                       
HD Emanuele Sella (Italy)                        
HD Muradjan Khalmuratov (Uzbekistan)             
HD Murray Carter (Canada)                        
HD Martin Gilbert (Canada)                       
HD Andres Rodriguez Diaz (Colombia)              
HD Laurent Didier (Luxembourg)                   
HD Willie Van Zyl (South Africa)                 
HD Aldis Abolins (Latvia)                        
HD Aleksejs Saramotins (Latvia)                  
HD Juozas Martynaitis (Lithuania)                
HD Christian Frommelt (Liechtenstein)            
HD Dumitru Creciun (Moldavia)                    
DNF Juan Jose Cobo Acebo (Spain)                 
DNF Moises Duenas Nevado (Spain)                 
DNF Daniel Moreno (Spain)                        
DNS Daniel Gysling (Switzerland)                 
DNF Cory Jay (Canada)                            
DNF Graham Briggs (Great Britain)                
DNF James Flanagan (Great Britain)               
DNF Mauricio Neisa Alvarado (Colombia)           
DNF Dariusz Rudnicki (Poland)                    
DNF Mariusz Wiesiak (Poland)                     
DNF Peter Dawson (Australia)                     
DNF Luis Diaz (Venezuela)                        
DNF Alexandre Ivanov (Belarus)                   
DNF Viktar Rapinski (Belarus)                    
DNF Karolis Volungevicius (Lithuania)            
DNF Kristjan Fajt (Slovenia)                     
DNF Rene Marxer (Liechtenstein)                  
DNF Andrei Marin (Roumania)                      
DNF Kristian Ellertsen (Norway)                  
DNF Andreas Molandsveen (Norway)                 
DNF Shawn Milne (USA)                            
DNF Jonas Holmkvist (Sweden)                     
DNF Mikael Segersaell (Sweden)                   
DNF Caspar Austa (Estonia)                       
DNF Calle Kriit (Estonia)                        
DNF Raivo Maimre (Estonia)                       
DNF Rene Mandri (Estonia)                        

Note: HD = Hors Delai/outside time limit