Recently on Cyclingnews.com
2003 Road World Championships - CM
Hamilton, Canada, October 7-12, 2003
Day 5 - October 11: Junior Men Road Race
Survival of the fittest
By Jeff Jones
Frenchman Arnaud Gerard won in 2002
Photo: © AFP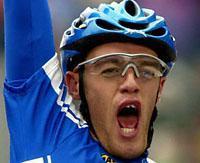 Last year's junior men's race in Zolder came down to a wild finish, as a breakaway of eight riders fought it out for the medals while there was a massive crash in the peloton right behind them. The lack of experience among the junior men combined with a fervent desire to win means that this road race is often one of the most dangerous at the World's each year. The ability to avoid crashes is critical to a rider's winning chances, and it's often a tough race to pick as a result.
The selective course this year will thin down the field, which has to complete 10 laps of the tough 12.4 km Hamilton circuit. On paper, there are several strong teams that should be able to place riders in the front group. Australia is well represented with William Walker, Andrew Wyper and Matt Goss among others, and Walker (Mr. 94 ml/kg/min VO2max) is coming off a recent win in the Giro di Basilicata.
But road racing is definitely not just about numbers, and that was demonstrated last year in Zolder. On recent form, look to the Danish team with Rasmus Fjordside and Anders Lund, first and second place getters in the Keizer der Juniores in Belgium (over an admittedly flat parcours). UCI number 1 and 3 ranked riders Peter and Martin Velits (Slovakia) have been riding strongly all year, and they should be able to get themselves in the front peloton. Another consistent rider this year is Kai Reus (Netherlands), who is currently the second ranked junior in the world.
The Belgian squad includes Jurgen Roelandts and Michiel Van Aelbroeck, both very capable riders but perhaps not accustomed to a course like Hamilton. Germany's Jan-Thomas Hessling and Carlo Westphal, Russia's Maxim Belkov and Mikhail Ignatiev, Slovenian Grega Bole and the USA's Steven Cozza and Zachary Grabowski should also be riders to watch.
Start list
1 Mikael Cherel (France)
2 Remy Di Gregorio (France)
3 Nicolas Hartman (France)
4 Jonathan Hivert (France)
5 Julien Loubet (France)
6 Juha-Matti Alaluusua (Finland)
7 Simon Clarke (Australia)
8 Matthew Goss (Australia)
9 David Klyne (Australia)
10 William Walker (Australia)
11 Andrew Wyper (Australia)
12 Lars Boom (Netherlands)
13 Sebastian Langeveld (Netherlands)
14 Tom Leezer (Netherlands)
15 Kai Reus (Netherlands)
16 Tom Stamsnijder (Netherlands)
17 Jakub Slotta (Slovakia)
18 Martin Velits (Slovakia)
19 Peter Velits (Slovakia)
20 Valerio Agnoli (Italy)
21 Mauro Finetto (Italy)
22 Francesco Masciarelli (Italy)
23 Enrico Peruffo (Italy)
24 Fabio Sabatini (Italy)
25 Lukaz Fus (Czech Republic)
26 Roman Kreuziger (Czech Republic)
27 Jan Sel (Czech Republic)
28 David Studnicka (Czech Republic)
29 Zdenek Stybar (Czech Republic)
30 Andrius Buividas (Lithuania)
31 Ignatas Konovalovas (Lithuania)
32 Justas Volungevicius (Lithuania)
33 Grega Bole (Slovenia)
34 Vid Ogris (Slovenia)
35 Simon Spilak (Slovenia)
36 Gasper Svab (Slovenia)
37 Mathias Belka (Germany)
38 Alexander Gottfried (Germany)
39 Nico Graf (Germany)
40 Jan-Thomas Hessling (Germany)
41 Carlo Westphal (Germany)
42 Daniels Ernestovskis (Latvia)
43 Janis Ozols (Latvia)
44 Kristofers Racenajs (Latvia)
45 Raivis Ritums (Latvia)
46 Ivo Vilumovs (Latvia)
47 Steven Cozza (USA)
48 John Devine (USA)
49 Zachary Grabowski (USA)
50 Craig Lewis (USA)
51 Zachary Taylor (USA)
52 Denis Cioban (Moldavia)
53 Ruslan Sambris (Moldavia)
54 Veaceslav Talasimov (Moldavia)
55 Maxim Belkov (Russia)
56 Alexey Esin (Russia)
57 Pavel Kalinin (Russia)
58 Viktor Panaev (Russia)
59 Anton Reshetnikov (Russia)
60 Oliver Dalberg (Estonia)
61 Gilber Kask (Estonia)
62 Ervin Korts-Laur (Estonia)
63 Akos Haiszer (Hungary)
64 Gergely Liska (Hungary)
65 Daniel Zsombok (Hungary)
66 Yusuke Hatanaka (Japan)
67 Jumpei Murakami (Japan)
68 Kota Nishimura (Japan)
69 Joris Costermans (Belgium)
70 Pieter Jacobs (Belgium)
71 Jurgen Roelandts (Belgium)
72 Michiel Van Aelbroeck (Belgium)
73 Jelle Vanendert (Belgium)
74 Norbert Duerauer (Austria)
75 Clemens Fankhauser (Austria)
76 Matthias Schroeger (Austria)
77 Rafaa Chtioui (Tunisia)
78 Wilson Marentes (Colombia)
79 Juan Pablo Suarez (Colombia)
80 Brandon Crichton (Canada)
81 Kevin Lacombe (Canada)
82 Christian Meier (Canada)
83 Raphael Tremblay (Canada)
84 Haakon Lilland (Norway)
85 Leonard Snoeks (Norway)
86 Stian Sommerseth (Norway)
87 Frederik Wilmann (Norway)
88 Thomas Frei (Switzerland)
89 Michael Randin (Switzerland)
90 Nazareno Rossi (Switzerland)
91 Michael Schaer (Switzerland)
92 Danilo Wyss (Switzerland)
93 Robert Kiserlovski (Croatia)
94 Yarden Gazit (Israel)
95 Anton Mikhailov (Israel)
96 Arkaitz Duran Aroca (Spain)
97 Julen Goikoetxea Garate (Spain)
98 Diego Milan Jimenez (Spain)
99 Jose Antonio Redondo Ramos (Spain)
100 Jose Joaquin Rojas Gil (Spain)
101 Oleg Chuzhda (Ukraine)
102 Dmytro Grabovskyy (Ukraine)
103 Anatoliy Yugov (Ukraine)
104 Roderick Muscat MLT
105 Maciej Bodnar (Poland)
106 Pawel Cieslik (Poland)
107 Igor Klak (Poland)
108 Milosz Szymczak (Poland)
109 Pawel Wachnik (Poland)
110 Matthew Brammeier (Great Britain)
111 Daniel Martin (Great Britain)
112 Geraint Thomas (Great Britain)
113 Paul Brady (Ireland)
114 Mark Cassidy (Ireland)
115 Theo Hardwick (Ireland)
116 Barry Woods (Ireland)
117 King Wai Cheung (Hong-Kong)
118 Kin San Wu (Hong-Kong)
119 Wai Lok Yung (Hong-Kong)
120 Leon Nel (South Africa)
121 Gregory Prince (South Africa)
122 Raynold Smith (South Africa)
123 Egan Tarr (South Africa)
124 Johan Lindgren (Sweden)
125 Viktor Renaeng (Sweden)
126 Bogdan Stoytchev (Bulgaria)
127 Viktor Tonev (Bulgaria)
128 Jempy Drucker (Luxembourg)
129 Andy Schleck (Luxembourg)
130 Luke Mccarthy (New Zealand)
131 William Thompson (New Zealand)
132 Alexandr Kovdiy (Kazakhstan)
133 Bolat Raimbekov (Kazakhstan)
134 Andrey Zeits (Kazakhstan)
135 Stanislav Zverok (Kazakhstan)
136 Claudio Apolo (Portugal)
137 Rui Costa (Portugal)
138 Bruno Lima (Portugal)
139 Christian Herforth Finnerup (Denmark)
140 Berendt Hansen Anders (Denmark)
141 Kasper Jebjerg (Denmark)
142 Rasmus Fjordside Lehrmann (Denmark)
143 Anders Lund (Denmark)