Latest Cycling News, June 10, 2009
Edited by Gregor Brown
UCI to take action, Tour riders face army of testers
Cycling Union President Pat McQuaid
Photo ©: Gregor Brown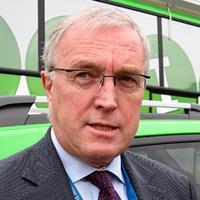 The International Cycling Union (UCI) announced that it will be taking disciplinary action against an undisclosed number of professional riders whose biological passports have shown abnormal results, at a press conference in Paris on Wednesday.
"The riders will be informed early next week," said UCI president Pat McQuaid, according to AFP. "We will inform their teams and national federations. We will [then] name the riders and will start disciplinary proceedings against them."
McQuaid did not reveal the names of the riders involved nor the teams effected. Sources within the UCI have indicated that the names of riders could emerge on Monday of next week.
McQuaid went on to explain that the UCI would not itself be suspending the named riders, instead leaving it to teams to decide what action should be taken immediately against their riders. "There will be no provisional suspension. It will be up to the teams to decide what they do," said McQuaid.
The UCI president also revealed that riders in next month's Tour de France will face the biggest anti-doping army ever seen at a major sports event.
AFP reported that improved relations between the UCI and the various anti-doping agencies will ensure the most comprehensive testing procedures in cycling's history. "The Tour de France in 2009 will probably be the most tested sports event in history," McQuaid said.
"Our [the UCI and testing agency AFLD] collaboration at the Paris-Nice race (in March) worked extremely well, we continued discussions and came up with an anti-doping programme leading up to and through the 2009 TDF," added McQuaid.
"During the race we will do three to four hundred tests. Tour officials have provided us with a long list of riders likely to be racing the Tour."
The news comes just a day after rider Antonio Colom, was suspended by his team, Russian squad Team Katusha. The Spaniard returned a positive test for the banned blood agent EPO. The rider is currently awaiting the results of testing on his B-sample. (RT)
LeMond laments cycling's loss of innocence
By Les Clarke
Greg LeMond gives his opinion
Photo ©: Jon Devich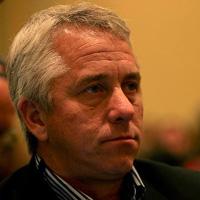 Three-time Tour de France champion Greg LeMond has told a conference that the scourge of drugs has made cycling virtually unrecognisable from the sport within which he was a professional during the 1980s and 90s. He was also scathing about the legacy of notorious Italian doctor, Dr Michele Ferrari, and one of his most illustrious clients, Lance Armstrong.
Speaking at the 'Play The Game' conference which began Monday at Coventry University, UK, LeMond outlined his theories surrounding the detection of doping using power meters, biological parameters and analytic data before lambasting the current state of cycling in relation to drugs.
"What I've watched for the past 15 years has been almost robotic racing. I used to gasp for air and had to think about when I could take a sip of water – my sport drink – I'd try and time it for a flat section on the switchback of a climb," said LeMond. "[Now] I see people talking on the 'phone' [radio] riding a climb at the front of the Tour de France. For me it's surreal – I don't recognise the sport anymore."
LeMond's views on how to move forward in the fight against doping in cycling stirred plenty of interest when he spoke of them at a press conference during last year's Interbike convention. The 'Play The Game' gathering offered an audience more empathic to the possibilities in anti-doping, so it was here that the American began his speech.
"I've been to WADA and tried to figure out how to find a cure to what I would call a disease which is affecting cycling and a lot of other sports," he said. "It seems like there's an uphill battle to try and get people to listen and change things..."
He provided a brief outline of the physiology behind his theories. "On climbs... today with watt-measuring devices, you could literally look at someone's oxygen intake and estimate how many watts they could produce at their best. When there's a huge variation in the norm – statistically there's been huge variations in the past 15 years – without a drug control, without detecting a steroid, just with statistics and analytical data you could likely decide whether someone's cheating," he explained.
"I believe there's going to have to be a blending of all those methods to determine if people are doping."
It was the precursor for his most scathing comments, the likes of which were muted by Lance Armstrong at the Interbike press conference. And it didn't take long before LeMond's countryman was the focus of the discussion. LeMond's commentary on the Tour de France quickly lead to the only seven-time champion in the event's history. "At the moment I'm in litigation with the Trek Corporation – it's also going to be a litigation against another American Tour de France winner. Their [sic] claim is that I have just blasted off against Lance Armstrong."
"In eight years I've made four different comments – in 2007 I did two interviews – so in that time I've talked to six journalists and made very benign comments. The first one I said, 'I'm disappointed and devastated that Armstrong is seeing Dr Ferrari'. When I was racing in the early nineties, Dr Ferrari was known for one thing – he could make you go very fast, and it wasn't because he knew physiology," said LeMond.
The 47-year-old recalled meeting Ferrari in 1994. "I had an SRM meter and he looked down at me and said, 'What is that?' I said, 'It's a watt-measuring device'. He said, 'What do you need that for?' I said, 'So I can see if I'm progressing, when I should be recovering and when I should train again'... He had no concept of it.
"I realised this when talking to a physiologist friend of mine – one of the smartest in the world – I said, 'This guy really doesn't understand. He's really a haematologist and it's really not about the training.'"
Astana's in full colour, but financial problems continue
Lance Armstrong rides in lightened Astana colours
Photo ©: Roberto Bettini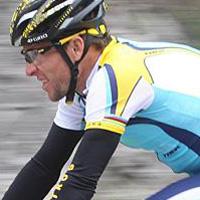 By Gregor Brown
The Astana's cycling team has resolved part of its financial issues ahead of the Tour de France and their jerseys are back to full-colour after Kazakh sponsors paid their bank guarantees. However the team still needs to pay the International Cycling Union (UCI) licence commission to cover riders' wages through to the end of the season.
Astana's had problems when some sponsors failed to make payments and the International Cycling Union (UCI) subsequently threatened suspension of the team's licence without a two-million Euro bank guarantee by May 31. The sponsors met the guarantees last week.
Riders were reported to be without payment. The team protested with some sponsors names lightened on the jersey after stage seven of the Giro d'Italia, May 15
"There are a certain number of conditional terms, parts of these have been met but others have not. So, the UCI continues to follow the situation very, very close," Cycling Union' Press Officer Enrico Carpani told Cyclingnews today.
The UCI asked Astana to deposit money to cover all salaries. "The deadline is today, but so far it has not been done," said union president, Pat McQuaid, today in Paris. "Tomorrow there is a license commission meeting, if Astana does no fix the full problem before this meeting they could lose their license."
"I expect that we will have a team at the start of the Tour de France," Astana team manager Johan Bruyneel said last week. Though, he confirmed the payment problems.
Contador sees Armstrong stronger for Tour
Alberto Contador (Astana)
Photo ©: AFP
Alberto Contador thinks his teammate Lance Armstrong will be stronger for the Tour de France this July thanks to his participation in the Giro d'Italia stage race last month.
"He can do it all [at the Tour de France]. The Giro readied him. He will be even stronger and dangerous for everyone," 2007 Tour winner, Contador, told La Gazzetta dello Sport.
Armstrong competed in the Giro d'Italia only seven weeks after fracturing his collarbone in the Castilla y León stage race. He finished 12th overall and appears ready to try for an eighth Tour de France title.
"Astana has to be very united. At the Tour we will have strong rivals: [Cadel] Evans, [Carlos] Sastre, [Denis] Menchov. And we will need to pay attention to new riders like [Vincenzo] Nibali, [Robert] Gesink and [Roman] Kreuziger."
Contador is preparing in France at the Dauphiné Libéré stage race. The riders face a 42.4-kilometre time trial today in Valence.
"I only want to test myself. I have not been at my best after a break of 57 days. I came to the Dauphiné to prepare for the Tour. I will also test the new bike again, like I did in Nancy."
An important test will be tomorrow's stage to Mont Ventoux, a mountain-top finish that will appear in the Tour de France's penultimate day.
Armstrong is training at home. He returned to Texas, USA, after the Giro d'Italia for the birth of his fourth child, Max. His pre-Tour race programme is unknown.
Boonen races Tour de France
Tom Boonen (Quick Step) for 2009 Tour de France
Photo ©: AFP

Tour de France director Christian Prudhomme welcomed Tom Boonen to this year's Tour de France at a meeting today in Paris despite the Belgian cyclist's positive test for cocaine in April. The winner of this year's Paris-Roubaix and six Tour de France stages had threatened legal action if forbidden to race.
Prudhomme made the announcement at a meeting with the International Cycling Union (UCI) and French anti-doping agency (AFLD). The parties met to discuss the Tour de France anti-doping controls.
Tour organisers Amaury Sport Organisation (ASO) prohibited Boonen last month from racing the Tour de France, July 4 to 26.
Boonen tested positive for cocaine in an out of competition control on April 27. It was the third occasion he tested positive for cocaine. He missed the Tour de France in 2008 because of his second cocaine positive.
Prudhomme: Valverde unwelcome at Tour
Alejandro Valverde (Caisse d'Epargne) to miss Tour de France
Photo ©: Sirotti

Alejandro Valverde will be unable to race the Tour de France this July unless there is a "radical" change in the anti-doping case against him in Italy, according to race director Christian Prudhomme.
"Our race covers 60 kilometres in Italy and his team proposed to us to race ten stages and then take out the rider, but this is an unacceptable solution for us," Prudhomme told Agr.
Team Caisse d'Epargne's Valverde received a two-year suspension from the Italian anti-doping tribunal May 11 for his connections to the 2006 doping investigation Operación Puerto. Investigators compared DNA samples taken during last year's Tour de France – from the rest day in Italy on July 21 – to blood seized in Spain's Operación Puerto investigation.
Valverde took legal action in Spanish courts against the Italian Olympic Committee (CONI) and World Anti-Doping Agency (WADA) last month following the Italian tribunal decision. Spain has not made a ruling.
(All rights reserved/Copyright Future Publishing (Overseas) Limited 2009)