First Edition Cycling News, June 10, 2009
Edited by Les Clarke
Colom responds to doping charge
By Les Clarke
Paris-Nice: Good times for Antonio Colom.
Photo ©: Florian & Susanne Schaaf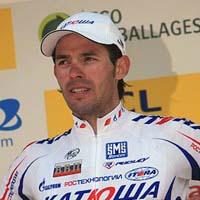 Antonio Colom has responded to the announcement that he returned a positive doping control on April 2 which has seen him provisionally suspended by the International Cycling Union (UCI).
Colom received notification from the UCI relating to the alleged infringement on the afternoon of June 8 and was subsequently suspended temporarily. Colom claims the sanction is for "the presence of a substance that is not specifically included on the 2009 Prohibited List," adding, "This suspension will remain until it is determined whether or not there is a violation of the anti-doping rules.
Colom stated unequivocally that he, "Rejects the accusation of having used EPO and other doping substances and that is why my group of lawyers is working on my defense; as a first step we have applied to test the B sample."
As is the wont of many athletes who find themselves facing a ban due to a positive control, Colom claimed that protocols relating to the collection and handling of the urine sample may be questionable. He and his legal counsel have therefore requested "all documents relating to the analysis of the A sample to verify that the process was successful and there has been no alteration of the sample."
Colom added, "The reason for the doubts generated by this analysis are not unfounded; after this year's Tour of Algarve I received a threatening call from a 'hidden' phone number saying that I was positive. This call was repeated after my performance in Paris-Nice."
The news of Colom's alleged positive control spread fast, and it's for this reason that the rider believes due process in testing may have been jeopardised. "During the start of the 2009 Giro, a rumour spread among the sports media, which said it had news of the positive [control]; this was communicated to me through Pipe Gomez, President of the Association of Professional Cyclists, who had received the information from Josu Garay, of [Spanish publication] Diario Marca, who refused to cite his source," Colom stated.
"The UCI was notified of this information and the calls... and after several days of investigation, the UCI ruled that it was all false and unfounded and that everything was ok; I informed my manager – Andrei Tchmil – that all is well, and that's when Josu Garay informed that everything was unfounded."
Colom makes it clear that, "it's because of this series of events that [his lawyers] are starting a new process of research." He called on the UCI to pay attention to the counter analysis and the arguments presented by his legal team so that the suspension can be lifted and "this whole situation is clarified."
Discuss the news in our forum.
Kohl's statements countered by Vaughters
By Laura Weislo
The Tour was a long time ago for Kohl...
Photo ©: Roberto Bettini

In his most recent interview, Bernhard Kohl stated that all top 10 riders in last year's Tour de France could have tested positive. This sweeping assessment would include fifth-place finisher Christian Vande Velde of the staunchly anti-doping team Garmin-Slipstream. Garmin-Slipstream manager Jonathan Vaughters countered the Austrian's comments when speaking to Cyclingnews on Tuesday.
Vaughters was looking to bolster his 2009 roster during last year's Tour, and Kohl was one of the riders he approached to discuss a possible contract. The negotiations fell through when it came time to examine Kohl's blood profile results.
"We look at a lot of results and have very high standards when it comes to hiring," Vaughters said.
"When speaking with Kohl's manager, we asked for his UCI tests. The way this normally works is that the UCI would send the results with permission of the rider. However, in this case his manager e-mailed some test results. Since this did not follow protocol, there was no way to verify the authenticity. It was an action that did not meet our or other standards and made us lose interest in working with them."
Kohl later tested positive for EPO CERA, admitted that he doped and said he would retire from the sport rather than live a life of lies.
Vaughters' story seems to run counter to Kohl's assertion that the blood passport results were beneficial in helping riders to regulate their doping.
Vaughters said he still believes the passport is effective, and disagreed with Kohl's view that all of the top riders were doping.
"I think with the passage of time, the passport system will be shown to have a great effect on the sport. I believe 100% the Tour can be won by a clean rider. If I had serious doubts about this, I would have no interest in continuing in this line of work, that is certain.
"There's no point in running a clean team if you feel its impossible to win in that context. It is not. Period."
That said, Vaughters expressed his support of Kohl's openness. "I do applaud Kohl's transparency and his helping WADA and other anti-doping officials."
Valverde looks to "important" Dauphiné TT
Valverde during stage two.
Photo ©: Sirotti

After finishing stage three of the Dauphiné Libéré in 28th, defending champion Alejandro Valverde has set his sights on the 42.4km individual time trial which is sure to mix up the general classification.
Valverde finished the day to Saint-Étienne 1:32 behind winner Niki Terpstra, although he said it offered a little respite after the previous stage's endeavours. "Compared to yesterday's stage, which seemed to be such a long one, today's stage seemed to be very short. Moreover, it was a rather nervous one because of the course," he said.
"Before the start we decided to try and win the stage if we saw an opportunity to do so but the circumstances of the race changed our plans. We decided not to chase behind the breakaway and just control the race so that our adversaries do their share of the job behind them on the eve of such an important day as tomorrow – with a 42 km individual time trial," Valverde said of Caisse d'Epargne's tactics.
He made his ambitions for the following day clear, however. "I want to realise the best possible time to be amongst the first in the overall ranking before the mountain stages which is where I can make the difference with my adversaries," he explained. "I am feeling well and the result I got in the opening time trial motivates me a lot so that I hope that tomorrow will be a good day."
So French for Bodrogi
By Jean-François Quénet in Saint-Etienne, France
At the Dauphiné, Laszlo Bodrogi has appeared on the start list as a Frenchman, no longer riding under his original Hungarian nationality. It's not a mistake; rather, he has traded the green of his native flag for the blue of France thanks to nuptial bliss.
"I asked for French naturalisation in the middle of 2007 and it was accepted last year," said Bodrogi, whose wife is French. The son of a doctor who travelled from Budapest to Besançon for work when Laszlo was a teenager in the early '90s, the Katusha rider moved to the east of France when he was a junior.
He developed as a young rider with the elite CC Etupes squad and remained in Besançon – besides a brief stint in northern Italy during his first year as a pro with the Mapei Espoirs team in 2000.
Since then he he has been Hungarian national champion 10 times but this year he'll take part in the French championships in Saint-Brieuc, Brittany, on June 25 and 28. He'll face stronger competition. "It won't be easy because I'm coming back after a long break due to an injury," he explained. He broke a tibia and a foot during a crash at the Tour of Germany last year and began training again at the end of February before resuming racing at the Four Days of Dunkirk.
"I've chosen to ride for France because the support would be better", he added. It means the silver medallist of the 2007 world championship time trial, who also won the Chrono des Nations that year, is far from having given up his ambitions to get the rainbow jersey at the age of 33.
More time for Keisse decision
Sporza has reported that the Disciplinary Commission of the Belgian Cycling Federation has appointed a board of three professors to address Iljo Keisse's doping infringement, given until October 2 to deliver its judgement on the facts of the case.
Keisse tested positive for cathine at the end of November last year during the Gent Six. His defense team has maintained throughout proceedings that is was due to a contaminated food supplement. "This is very good news," said Keisse's lawyer.
"We call for more independent research," continued Keisse's lawyer. "Our research is highly structured and this opens many avenues. The mission of the professors is clear."
Proceedings will resume on October 19, when Keisse will be present at the association headquarters. His defense counsel is hopeful of a speedy and positive outcome to the case. "We can always ask those presiding to move quickly if the professors have finished their work," he said.
BMC dominates Beauce's opening day
BMC Racing Team has enjoyed a strong start to its Tour de Beauce campaign, with the opening stage victory capping a successful day of racing for the squad. Swiss rider Danilo Wyss claimed BMC Racing Team its stage victory at the North American race, after out sprinting his four breakaway partners in the final sprint.
South Africa's Darren Lill (Team Type 1) took second place while Ryan Roth (Planet Energy) took a solid third place and was the highest finishing Canadian rider. Benjamin Day (Fly V Australia) and Scott Zwizanski (Kelly Benefit Strategies) filled the top five spots, while Great Britain's Tom Southam (Rapha Condor) fell off the group's rear over the closing kilometre to finish three seconds behind.
Wyss fought hard for his stage victory. The rider had missed the day's defining break, but together with a few other riders bridged across to the 10-strong lead group which included his team-mate Chad Beyer.
"With over 100 km to go, Chad had escaped with nine or 10 other riders," Wyss said. "Soon after that, Darren Lill counter-attacked and I made sure to follow his wheel since I knew he was the type of rider who could very well bridge up to the leaders."
After initiating the original breakaway 40 kilometres into the race, Beyer started collecting mountains points over the day's three climbs. Claiming the mountains classification lead wasn't a planned effort by American, but something he willingly took nonetheless.
"I wasn't really planning on going for the mountain points, the opportunity just presented itself and I took it," Beyer said. "There were three climbs today and I was first over two and second over the other."
BMC Racing Team also leads the teams classification, with a 23 second margin over Fly V Australia. Wyss holds the points classification lead over Lill.
See full results from stage one of the Tour de Beauce.
Financial boost for Cycling Australia
Cycling Australia has announced a major sponsorship deal with Jayco Corporation until the end of 2012. Jayco, the largest recreational vehicle producer in the Southern Hemisphere, has increased its financial support of cycling in Australia to include the national road and track teams in addition to its backing of the Herald Sun Tour and the Victorian Institute of Sport.
"We are delighted to welcome as a major sponsor Jayco Australia, a company that has a long and proud history of support for cycling," said Cycling Australia CEO, Graham Fredericks. "Our partnership with Jayco will have a enormous impact on our high performance program and the development of our cyclists over the next three and a half years."
"Jayco has been supporting cycling since the early 1990s when they provided financial assistance to 1992 Barcelona Olympic Games gold medalist Kathy Watt," said Fredericks. "Since then the company has continued to provide support to cyclists, cycling events and development programs and is a major player in the growth of our sport.
The deal includes:
-Cycling Australia's UCI registered continental team will be known as Team Jayco – AIS from July 1.
-Cycling Australia's annual awards celebration will now be known as the Jayco Australian Cyclist of the Year Awards.
-A professional track team with a roster of cyclists from the Cycling Australia/AIS High Performance Program will compete as Team Jayco, beginning with the opening round of the 2009/2010 UCI Track World Cup Classics in Manchester at the end of October.
-Jayco branding on elite and U23 men's race clothing at the UCI Road World Championships.
Jayco will also be recognised as a contributing sponsor to the Cycling Australia mountain bike program through the discovertasmania.com-Cycling Australia professional MTB team.
"Even though times are a bit tough, sport deserves the support of business in helping to prepare our young athletes for international success," said Jayco Managing Director, Gerry Ryan OAM.
(All rights reserved/Copyright Future Publishing (Overseas) Limited 2009)