Cycling News Flash, May 9, 2009
Edited by Gregor Brown
Boonen suspended following second cocaine positive
Tom Boonen positive for cocaine – a second time
Photo ©: Roberto Bettini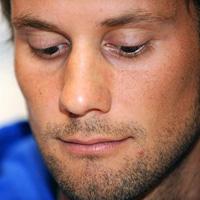 Tom Boonen has been suspended by team Quick Step following his second positive control for cocaine, taken on April 27, in Belgium following the Spring Classics. The 2005 World Champion could face criminal charges for violating the conditions of his suspended sentence for cocaine use.
Quick Step announced this afternoon the Boonen's suspension "from all competitive activity effective immediately." In its statement, the team said, that it is "working closely with team sponsors and will continue to update the situation during the weekend, evaluating eventual further action."
Boonen, winner of Paris-Roubaix in April, first tested positive for cocaine a year ago.
The Vlaamse Gemeenschap ("Flemish Community") received news of Boonen's second positive control on Tuesday. Since it was an out-of-competition test, it cannot take action – cocaine usage is subject to sporting sanctions only during competition. The results are now in the hands of the Turnhout court, which had acted on Boonen's earlier cocaine case.
Police searched Boonen's house on Friday morning in relation to the news. He cooperated in the search and was questioned.
Boonen's lawyer Luc Deleu confirmed to Sporza.be said that his client is "extremely depressed. Nothing can be denied. This is a legal and human problem."
Following Boonen's positive test last year, he was excluded from the Tour de France. Team Quick Step declared that it would forego additional punishment as it was a "personal issue".
Boonen did not confess to the cocaine use but apologised for the "negative" news. He later claimed that someone must have spiked his drink at an outdoor cafe.
On February 3, the court in Turnhout ruled that although Boonen had used cocaine, he would not face any punishment. It found that his exclusion from the Tour de Suisse and the Tour de France was punishment enough.
It issued a ruling ordering him to pay court costs and to refrain from using such drugs in the future. His new positive test is thus apparently a violation of that order, leaving him potentially open to criminal sanctions.
"Tom is wise enough to know what the consequences might be," Deleu said. "The risk is that the suspension is revoked, with disastrous consequences."
"Personally it is a much bigger problem. The image of Boonen has been soiled and there is the chance that he may miss the Tour de France again." (SW)
(All rights reserved/Copyright Future Publishing (Overseas) Limited 2009)