Latest Cycling News, June 1, 2009
Edited by Gregor Brown
Phinney talks Roubaix win
By Daniel Benson
Taylor Phinney (Trek-Livestrong) wins Paris-Roubaix
Photo ©: Régis Garnier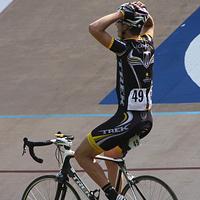 Taylor Phinney (Trek-Livestrong) won the Under 23 Paris-Roubaix race on Sunday, beating a group of 10 riders on the Roubaix velodrome. He joined Stephen Roche and Thor Hushovd in the history books of previous winners and became the first American winner in the process.
"I just found some pictures this morning as I haven't seen any since the win. I haven't won a road race in a few years so it's a really nice feeling to be able to put your hands up at the end of such a hard race. I was almost in tears at the finish," he told Cyclingnews.
Phinney had been targeting Paris-Roubaix as one of his main objectives this year along with the World Track Championships. Coming into the cobbled Classic, he knew that the course would suit his strengths. However, having raced it as a junior and having had his "butt kicked" he knew that he'd face stern competition.
"It was exciting to win, but I knew that I would be up there near the end. All my track cycling paid off."
It had been a life-long ambition to win Paris Roubaix for Phinney – a race he grew up idolising from his home in Boulder, Colorado. "I really liked to watch the race when I was growing up and it really appeals to me. I like to put on a show and entertain and that's just what Paris Roubaix is all about."
The Trek-Livestrong team had four riders amongst the leaders in the final sections of cobbles. "The whole pack would go hard on the cobbles and then slow up on the road sections because of the headwind and with around 60K to go I was cramping a bit."
Phinney recovered and made the final split before the Roubaix velodrome.
"Most of the guys knew me, but they didn't know what to expect from me. I win time trials and pursuits, but not much on the road. When we got to the track, I was in a perfect position but I was blocked in with a lap to go and just had to give it everything had."
Phinney will take a few days off the bike as he recovers, before evaluating his aims for the rest of the season. "Roubaix was the biggest goal for the whole year so it about looking forward and look for a new goal to inspire me for the rest of the year."
Cavendish's tale of a Boy Racer
By Daniel Benson
Mark Cavendish celebrates new book, Boy Racer
Photo ©: Roberto Bettini

Mark Cavendish's story is one of a lad from the Isle of Man growing up on the road, the velodrome and most importantly, in the spotlight. His first book, Boy Racer, documents that journey and on the eve of its release Cavendish spoke to Cyclingnews at the Giro d'Italia finale in Rome.
"I'm really happy with the book," Cavendish said. "It's going to cause some controversy, but I think I've cleared everything with nearly everyone bar one or two individual; if you read the book you'll see that it leaves everyone in a positive way."
Published by Ebury Press, Boy Racer examines Cavendish's rise to prominence as a multiple Grand Tour stage winner.
The controversy Cavendish alludes to surrounds his relationship with British Cycling, and namely former coach Simon Jones, teammate André Greipel, the Beijing Olympics and the Garmin-Slipstream cycling team.
Cavendish speaks in glowing terms in the book about his Columbia teammates, who he says, "aren't just any old teammates, they're special athletes, special individual with whom I have a special bond and without whom I'd never win a race."
Bernhard Eisel, in particular, receives praise for his unselfish and devoted support during last year's Tour de France mountain stage to Hautacam. He carried Cavendish's water bottles and helped to pace him towards survival after the Manxman crashed and was dropped by the field.
"It's so easy to be cliché and just say that the team is strong, but when it is such a big reason for my success then it has to be said."
On the rivalry with Garmin, Cavendish said that the relationship was good for the sport and friendly. "We just have a little bit of fun and I talk with half the riders on the phone most weeks anyway. Cycling rivalries are good for everyone and if we can play on that it's a good thing."
Cavendish certainly isn't afraid of elaborating upon some of the controversial incidents that have marked his career to date – quite the opposite. He believes it helps define him, although all in moderation, of course. "There will be controversy but it's a big part of what makes me who I am and I was always determined to battle on against those odds," he said
"I was a bit worried about the book and some of its content, but I'm well known for not cushioning things up. I knew that if I stayed to just the facts and my opinion and didn't beat about the bush then it was going to come together."
Cavendish will be looking for more Tour de France success this year and hasn't finished his writing career yet, with the sprinter set to follow up Boy Racer with two more books.
Stay tuned to Cyclingnews as we bring you extracts from Boy Racer in the coming days.
Pinotti: King of Milan's rough Roman ride
By Gregor Brown in Rome, Italy
Marco Pinotti (Columbia-Highroad)
Photo ©: Sirotti
Marco Pinotti ruled the final day of the 2008 Giro d'Italia in Milan, but found the closing time trial in Rome Sunday too rough to take a repeat victory.
"It was a great course for the fans and a nice way to end the centennial Giro d'Italia, but better to only have it once every hundred years. Personally, the win in Milan was better," Italy's Pinotti said.
Pinotti posted a time of 19 minutes and 11 seconds, which put him 29 seconds behind race winner Ignas Konovalovas. The road conditions were dramatically different from the time trial he won last year: cobbled roads that weaved through Rome's historic sights.
Rain made the conditions even worse for Pinotti.
"It is too bad because now the sun is coming back out. This is normal for a time trial, sometimes the conditions work in your favour and sometimes they don't."
The Giro d'Italia favoured Pinotti's Columbia-Highroad team this year. The USA team took six stage wins and spent three days in the race leader's maglia rosa.
"The team did really well, even if personally I hoped for a little bit more luck. I had teammates going very well so we all had to give a lot of ourselves for their chances."
Michael Rogers and Thomas Lövkvist contended for the race lead in the first half of the race.
Pauwels' career takes grand leap forward
By Richard Tyler
Serge Pauwels (Cervélo) in the breakaway
Photo ©: Sirotti

After a tumultuous Grand Tour debut Cervélo TestTeam rider Serge Pauwels has indicated that this year's Giro d'Italia marked a big step forward in his career. The Belgian found himself in the thick of the action throughout this year's Giro, where he finished 21st overall and proved himself to be one of Carlos Sastre's key teammates.
"When I started this Giro it was my dream just to finish this year and that was actually my personal goal. During the three weeks it's been even better than that. Even on the stage to Vesuvius I couldn't believe that I was able to follow the big names like Ivan Basso and Lance Armstrong," he told Cyclingnews.
He finished in 60th place in Rome on Sunday after three weeks of racing.
Prior to the Giro, Pauwels' longest stage race had been a ten-day race so the three week challenge represented a leap into the unknown for him.
"Generally I have a bad day after four or five days of racing. But then after two weeks I go really well, so for me it is an important step in my career to have finished my first Grand Tour."
Pauwels was controversially denied an opportunity for a win on stage 15. Team orders saw him wait in order to provide support for his team captain, Sastre.
"That was a bit sad, not just for me but also for the team that we had some miscommunications there, but for some people I am the moral winner."
In response to his good form, Pauwels and his team have changed his programme. Pauwels' will next race in a fortnight at the Tour de Suisse and the subsequent Belgian Championships before taking a break from racing.
King closes first Grand Tour
By Gregor Brown in Rome, Italy
Ted King (Cervélo)
Photo ©: Gregor Brown
Ted King completed his first Grand Tour, the Giro d'Italia, Sunday in Rome. The American rider from New Hampshire finished 111th overall and helped his Cervélo TestTeam capture four stage wins over the three weeks of racing.
"I think I'll need to come back here for vacation and truly appreciate it. The riders sort of live in this little bubble of routine day after day," King told Cyclingnews.
The bubble was the 198 riders that started the stage race May 9 in Venice. King's eight teammates accounted for four wins in the 21 stages: Carlos Sastre's wins on Monte Petrano and Vesuvio, Simon Gerrans' in Bologna and Ignas Konovalovas time trial win in Rome yesterday.
King helped 2008 Tour de France winner Sastre fight for the overall title. He finished fourth overall, 3:46 back from overall winner Denis Menchov. King finished over three hours back.
King's next races will be the Ster Elektrotoer, June 17 to 21, and the Tour of Austria, July 5 to 12.
"I will be vastly out-numbered, but I would like to have a good showing at the USA national championships. Then the Tour of Missouri will be a big proving ground for me at the end of the year."
After his return from the USA, King may re-locate his European base from Switzerland to Girona, Spain. The city is host to many English speaking cyclists.
"It will allow me to speak my own language and relax with the other English speaking riders there."
Astana hanging on financially
Lance Armstrong in faded Astana colours
Photo ©: Roberto Bettini

Team Astana survived its Sunday deadline from the International Cycling Union (UCI) to get its money affairs in order, but the problems haven't been fully resolved yet.
"The financial woes that left salaries unpaid are not completely resolved," Astana team manager Johan Bruyneel said in a written statement. "Moreover, the UCI now wants more guarantees about the team for the rest of the year.
"The best solution is that we can continue with our current structure. I expect that we will have a team at the start of the Tour de France."
In the coming weeks Astana is scheduled to ride the Tour of Luxembourg, Dauphine Libéré and Tour of Switzerland.
"I am hopeful and confident that we can ride those races," Bruyneel said.
Riders and staff have apparently not been paid the full amount, if at all, for the past two months. The team at the Giro d'Italia protested by creating and wearing new jerseys which de-emphasised the logos of those sponsors who have not paid up. (SW)
Millar wins Edinburgh Nocturne
Scot David Millar won the Edinburgh Nocturne on Saturday. He worked with Garmin teammate Cameron Meyer to take his first victory of 2009.
"I really wanted to take victory on Scottish soil, especially in Edinburgh in front of my friends and family," said Millar. "It was a brutal circuit but a fantastic experience to race in such a spectacular setting, the atmosphere was perfect."
Millar pulled out of the Giro d'Italia last Sunday to begin his preparation for the Tour de France.
The race was based on a circuit around the Grassmarket in Edinburgh. Meyer, who positioned Millar for the win, was bettered by Rapha Condor's Kristian House for second.
Millar's next race is the Dauphiné Libéré stage race.
(Additional reporting by Susan Westemeyer)
(All rights reserved/Copyright Future Publishing (Overseas) Limited 2009)