Paris-Roubaix Espoirs - 1.2U
France, May 31, 2009
2008 Results Results Past winners
Phinney takes Roubaix honours
Taylor Phinney (Trek-Livestrong) can't believe his victory
Photo ©: Régis Garnier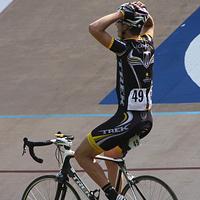 America's Taylor Phinney (Trek-Livestrong) became the first of his countrymen to win the Under 23 Paris-Roubaix race on Sunday. The 18-year-old outpaced 10 riders that entered the famed Roubaix velodrome in one group to claim top honours.
"How do you like them apples?," Phinney wrote on his Twitter following the race. "F***ing beautiful. Lovin' life, my team, and my sponsors (especially Trek!). No problems today. Yeeeeah."
Denmark's Nikola Aistrup (Team Capinordic) claimed second behind Phinney, while Italian rider Giorgio Brambilla (De Nardi Bergamasca) rounded out the podium.
Phinney joins the likes of Stephen Roche, Marc Madiot, Thor Hushovd and Yaroslav Popovych as a winner of the Under 23 Paris-Roubaix race. Phinney, son of former professional cyclist Davis, showed his form leading in to Roubaix by claiming Fleche du Sud's opening stage earlier this month.
Photography
For a thumbnail gallery of these images, click here
Images by Régis Garnier/www.velofotopro.com
Images by Tom De Meyer/www.TomDeMeyer.be
Results - 170km
1 Taylor Phinney (USA) Trek Livestrong                    4.28.42  (37.96 km/h)
2 Nikola Aistrup (Den) Team Capinordic                           
3 Giorgio Brambilla (Ita) De Nardi Bergamasca                    
4 Massimo Graziato (Ita) Team Parolin Bottoli Nordelettrica      
5 Jelle Wallays (Bel) Bevern 2000                                
6 Jean-Lou Paiani (Fra) Comite Rhone Alpes                       
7 Clinton Avery (Bel) PWS Eijssen                                
8 Angelo Pagani (Ita) Team Parolin Bottoli Nordelettrica         
9 Ronan Van Zandbeek (Ned) Van Vliet EBH Elshof              0.03
10 Thomas Guldhammer (Den) Team Capinordic                       
11 Thomas Sellebjerg (Den) Team Capinordic                   0.07
12 Omar Bertazzo (Ita) Team Parolin Bottoli Nordelettrica    0.29
13 Jarl Salomein (Bel) Bevern 2000                           0.36
14 Jochen Vankerckhoven (Bel) PWS Eijssen                        
15 Ramon Sinkeldam (Ned) Rabobank Continental                    
16 Sam Bewley (NZl) Trek Livestrong                              
17 Raymond Kreder (USA) Felt Holowesko Partners Garmin           
18 Jens Debusschere (Bel) PWS Eijssen                            
19 Lars Vierbergen (Ned) Van Vliet EBH Elshof                    
20 Diego Aldegheri (Ita) De Nardi Bergamasca                     
21 Alphonse Vermote (Bel) Bevern 2000                            
22 Jens Keukeleire (Bel) WC Soenens Germond                  0.49
23 Jérôme Cousin (Fra) Vendee U                                  
24 Arnaud Jouffroy (Fra) Vendee U                                
25 Fabien Taillefer (Fra) Comite de Normandie                1.08
26 Evaldas Siskevicius (Fra) EF VC La Pomme Marseille        1.34
27 Jetse Bol (Ned) Rabobank Continental                          
28 Daniele Aldegheri (Ita) De Nardi Bergamasca                   
29 Pierre Bourlot (Fra) Comite Rhone Alpes                       
30 Boris Zimine (Fra) C.C. Nogent                            1.36
31 Clément Calado (Fra) Team Wilo Agem 72                        
32 Tim Haex (Bel) PWS Eijssen                                    
33 Cody Campbell (Can) Trek Livestrong                           
34 Kjell Van Driessche (Bel) New Heebra Lombarden            1.39
35 Maurice Vrijmoed (Ned) Rabobank Continental               1.41
36 Daniel Summerhill (USA) Felt Holowesko Partners Garmin    1.52
37 Peter Salon (USA) Felt Holowesko Partners Garmin          3.51
38 Boy Van Poppel (Ned) Rabobank Continental                 6.08
39 Kirk Carlsen (USA) Felt Holowesko Partners Garmin             
40 Wesley Kreder (Ned) Van Vliet EBH Elshof                      
41 Algirdas Mochus (Fra) C.C. Etupes                             
42 Jesse Sergent (NZl) Trek Livestrong                           
43 Cole House (USA) US National Team                             
44 Anthony Louis (Fra) E.C. Raismes Petite Foret             7.45
45 Lucca Albasini (Swi) Swiss National Team                      
46 Kevin Verwaest (Bel) WC Soenens Germond                       
47 Benoît Jarrier (Fra) Team Wilo Agem 72                    7.51
48 Julien Petilleau (Fra) Team Wilo Agem 72                      
49 Matteo Pelucchi (Ita) Team Parolin Bottoli Nordelettrica      
50 Pierre-Yves Sanlaville (Fra) Comite Rhone Alpes           9.33
51 Sander Verhaeghe (Bel) New Heebra Lombarden              11.34
52 Carroll Austin (USA) US National Team                    12.33
53 Nicolas Boisson (Fra) C.C. Etupes                        12.54
54 Laurent Bourgeois (Fra) C.C. Etupes                           
55 Matthieu Beaumais (Fra) Comite de Normandie                   
56 Fabien Schmidt (Fra) Comite de Bretagne                       
57 Laurent Le Gac (Fra) Comite de Bretagne                       
58 Joeri Adams (Bel) Rabobank Continental                        
59 Julien Taramarcaz (Swi) Swiss National Team                   
60 Lorenzo Derycke (Bel) WC Soenens Germond                 14.00
61 Jeroen Lepla (Bel) WC Soenens Germond                         
62 Kevin Lava (Bel) WC Soenens Germond                           
63 Mickaël Delabre (Fra) Comite Nord Pas de Calais               
64 Ryohei Komori (Jpn) Trek Livestrong                           
65 Valentin Ghilbert (Fra) E.S.E.G. Douai                        
66 Corentin Mauge (Fra) Team Wilo Agem 72                        
67 Romain Pillon (Fra) E.S.E.G. Douai                       14.31
68 Morten Hoberg (Den) Team Capinordic                      15.01
69 Lars Jun (Ned) Van Vliet EBH Elshof                      15.19
70 Florent Gougeard (Fra) Comite de Normandie               20.30
71 Cyril Lebon (Fra) E.C. Raismes Petite Foret                   
72 Louis Verhelst (Bel) Bevern 2000                         20.39
73 Dennis Kreder (Ned) Van Vliet EBH Elshof                      
74 Sven Jodts (Bel) Bevern 2000                                  
75 Mats Boeve (Ned) Rabobank Continental                         
76 Davy De Scheemaeker (Bel) PWS Eijssen                         
77 Mathieu Bernaudeau (Fra) Vendee U                        20.41
78 Vincent Monvoisin (Fra) E.C. Raismes Petite Foret        21.01
79 Andrew Griffiths (Bel) New Heebra Lombarden              21.19
80 Julian Kyer (USA) Trek Livestrong                        22.14
81 Alex Howes (USA) Felt Holowesko Partners Garmin               
82 Mickaël Brochard (Fra) EF VC La Pomme Marseille               
83 Stefan Vreugdenhil (Ned) Van Vliet EBH Elshof            22.36
84 Tony Tomasina (Fra) E.S.E.G. Douai                       23.31
85 Sylvain Cholleton (Fra) Comite Rhone Alpes               23.34
86 Florent Mallegol (Fra) Comite de Bretagne                25.12
87 Kevin Francillette (Fra) Vendee U                             
88 Daniel Holloway (USA) Felt Holowesko Partners Garmin          
89 Iggy Silva (USA) US National Team                             
90 Chris Monteleone (USA) US National Team                       
91 Simon Frank (Swi) Swiss National Team                         
92 Alexis Ansart (Fra) E.S.E.G. Douai                            
93 Victor Steelandt (Fra) E.C. Raismes Petite Foret              

Past winners
2008 Coen Vermeltfoort (Ned) Rabobank Continental
2007 Damien Gaudin (Fra) Vendée U
2006 Tom Veelers (Ned) Rabobank Continental
2005 Dimitriy Kozontchuk (Rus) Rabobank  
2004 Koen De Kort (Ned) Rabobank TT3 
2003 Sergey Lagutin (Uzb)
2002 Mikhael Timochine (Rus) Zoccorinese Vellutex 
2001 Yaroslav Popovych (Ukr) Zoccorinese Vellutex
2000 Eric Baumann (Ger) Germany 

Past winners courtesy of Mario Stiehl, www.world-of-cycling.com