First Edition Cycling News, June 11, 2009
Edited by Peter Hymas
Evans-Contador: first duel at Mont Ventoux
By Jean-François Quénet in Valence, France
Cadel Evans won the last race to finish on Mont Ventoux.
Photo ©: Roberto Bettini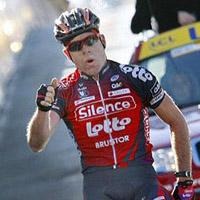 Tour de France hopefuls have surely circled July 25 on their calendars, the day of the Tour's crucial penultimate stage with its summit finish at Mont Ventoux. "Nobody will be able to say 'I've won the Tour' until the Ventoux," said Tour de France race director Christian Prudhomme and perhaps the same can be said of the ongoing Dauphiné Libéré.
While the Tour de France seldom uses the Ventoux, included only 13 times in its history, relatively few when compared to the 73 ascents of the Tourmalet, the Ventoux has made a more regular appearance at the Dauphiné since the mid-90s. The race returns there on Thursday after a one-year absence with race leader Cadel Evans (Silence-Lotto) holding a 45-second lead over Alberto Contador (Astana) in second place.
The last big race that has finished at the Ventoux was stage four of last year's Paris-Nice, a stage won by Silence-Lotto's Cadel Evans. The finish line was not at the top, though, but at Mont Serein, the ski station of the Ventoux.
"To beat Robert Gesink in March is one thing but to beat Alberto Contador in June at the Dauphiné is another thing," said Cadel Evans who has a few advantages on Contador heading into Thursday's showdown on the Ventoux. Evans has more experience on this climb as Contador has only seen it twice in competition (the 2005 Dauphiné when he cut his fingers in his spokes and the 2007 Dauphiné in which he finished 10th, just nine seconds behind Evans) and Evans has the confidence of wearing the Dauphiné's leader's jersey entering the stage.
"To be sure to beat Contador in the mountains you'd better take 37 minutes on him rather than the 37 seconds I gained today in the time trial," the Silence-Lotto rider said after taking the yellow jersey back after the Valence time trial.
"I'm just here as a spectator, I'll see on the Mont Ventoux who takes the initiative," Contador said after completing his time trial.
Evans was skeptical about his rival's low profile. "Contador in the mountains is normally the man to beat," he said. "He'll probably show his intentions tomorrow and later in the week. When you say that you are not here for the win, it's an excuse when you fail.
Coming up on
Cyclingnews will cover the 60th edition of the Dauphiné Libéré live as of stage 4 on Wednesday, June 10, at approximately 15:00 local Europe time (CEST)/ 23:00 Australian time (CDT)/ 9:00 (USA East).

WAP-enabled mobile devices: http://live.cyclingnews.com/wap/

"I just want to see how good I can go on Mont Ventoux. Like many other people, I'm interested to find out. I haven't raced in the mountains since the Tour of the Basque country. I came to the Dauphiné with intentions but not with great expectations. We have to consider others as well."

In addition to Evans' and Contador's battle for general classification supremacy, Alejandro Valverde of Caisse d'Epargne announced he'll enter into action. "I will give it all to try and win the race. In fact, the time trial did not change anything in the classification and the three big favorites, Evans, Contador and myself, are still the same," said the defending champion of the Dauphiné.

Whatever happens between Evans and Contador on Mont Ventoux at the Dauphiné, there is a revenge scheduled 45 days later at the very end of the Tour de France.

The last time the Tour de France visited Mont Ventoux occurred in 2002 with Richard Virenque soloing to victory.
American peloton bids adieu to Armstrong at Nature Valley Grand Prix
By Kirsten Robbins
Kristen Armstrong (Cérvelo) making things look easy on the way to her win.
Photo ©: Jon Devich

The Nature Valley Grand Prix will mark Kristin Armstrong's final competition in the US before her scheduled retirement at the end of the 2009 season. Armstrong, racing for Cérvelo TestTeam, won the first stage of the six-stage event at the Riverfront time trial held in St. Paul on Wednesday.
Armstrong has won three consecutive Nature Valley Grand Prix events in 2006, 2007 and 2008. As a long-time friend of the event organizer David LaPorte, she provided a motivational speech at General Mills, marketers of the Nature Valley brand. "David had a really cool DVD put together for me at the presentation showing all my wins, as a tribute to me," said Armstrong. "It brought tears to my eyes, I really needed that. It was really special and this race has always meant a lot to me."
Armstrong began competing as a professional cyclist in 2001 racing for teams T-Mobile, Lipton and her current Cérvelo TestTeam. She has been a valuable member of the US women's national team, winning the world time trial championship in 2006 followed by a gold medal in the 2008 Beijing Olympic Games, has earned World Cup victories, four US national titles and wins in American-based events Tour of the Gila, Tour de Toona, Nature Valley Grand Prix and Cascade Classic.
"I would be honored to win my last race here for a fourth time," said Armstrong. "I'm not sure if anyone realizes that this is my last US race. I've been in Europe so I haven't been able to see some of my close friends from the peloton as much this year."
Armstrong used April's Tour of the Gila as training for the Tour de L'Aude held in France in mid-May. According to Armstrong, she is also using the Nature Valley Grand Prix as a preparation event for the up coming Giro d'Italia Internazionale Femminile held in July. "The racing here has always been great preparation for me," she continued. "The racing here in the US is really hard and it has always been great to way to get into top condition."
Armstrong will not be able to compete in the US national championships this year due to conflicting team obligations at two World Cups events, Sweden's Open de Suède Vargarda team time trial on July 31 and Open de Suède Vargarda road race on August 2.
Rebellin trains pending Olympic positive counter-analysis
By Gregor Brown
Davide Rebellin (Serramenti Diquigiovanni)
Photo ©: AFP

Italian Davide Rebellin continues to train at his home in Monaco while waiting for the counter-analysis results of his 2008 Olympic blood samples that revealed banned blood booster Erythropoietin (EPO). He finished second to Spain's Samuel Sánchez in the road race on August 9, 2008 in Beijing, but tests results released April 28, 2009 revealed he doped.
"He is training like normal. When I heard from him, he had been out training with our rider Luis Maté," Diquigiovanni Team Manager Gianni Savio told Cyclingnews.
Rebellin and Germany's Stefan Schumacher are two of six athletes who tested positive for third generation EPO, CERA, at the Olympic Games. The other four are non-cyclists, including Bahrain's 1500m gold medallist Rashid Ramzi.
Rebellin requested counter-analysis of the control. The tests were performed two weeks ago, May 28, at France's Châtenay-Malabry laboratory. The International Olympic Committee (IOC) has yet to release the results.
"I talked with Selina, his wife, yesterday [Monday - ed.]," said Savio. "His lawyer told her the process is ongoing, therefore we know nothing. I don't understand why there is not already information of the analysis, if it is positive or negative."
Rebellin joined Savio's team from German team Gerolsteiner at the end of 2008, after the Olympics. He won the Flèche Wallonne and two stages of the Vuelta a Andalucía this year.
Cyclingnews was unable to reach Rebellin's lawyer, Federico Cecconi, for comment. Rebellin maintains his innocence.
Grabsch wins first TT as world champ
Bert Grabsch powers to victory
Photo ©: Sirotti
Team Columbia-Highroad's Bert Grabsch won stage four of the Dauphiné Libéré, a 42.4-kilometre individual time trial in Valence, France. Grabsch, the reigning world time trial champion, finished seven seconds ahead of runner up Cadel Evans (Silence-Lotto) and 39 seconds in front of David Millar (Garmin-Slipstream) in third place.
"I haven't won a race since my world championship victory last year, and after four or five top 10 places in time trials this year I've finally won one, so this is very important for me," Grabsch said. "The last two time trials I did before this were just 12 kilometres and 25 kilometres long, so the distance in this one this one suited me a lot better. On top of that,this was a perfect course for me today, there weren't too many climbs and there were a lot of opportunities to use a big gear. So I had to take my chance."
The German time trial specialist admitted it had been a close fight against Evans, but in the final part of the course he managed to pull ahead of the Australian.
"I was faster than Cadel in the first part, then he got back some time on me, and then in the last part I was able to move in front again. In the last 10 kilometres I was suffering badly, but I still won, which is what's important."
Grabsch commented on the goals for the remainder of his season.
"There are 13 or 14 riders on the shortlist for the Tour de France and we won't know for sure until after the Tour of Switzerland who will be going," said Grabsch. "Obviously if I go, I'd want to do my best in the time trials, and I think the second, which is much longer and flatter is better for me. I'd definitely try as hard as possible in both, though. We'll see.
"In any case, retaking the world time trial champion's jersey in Mendrisio in September is also really important for me, so whatever happens I have plenty of targets in the next few months."
French sports minister says Boonen and Valverde not welcome at Tour de France
By Jean-François Quénet in Valence, France
While Tour de France director Christian Prudhomme took a step down as he announced that ASO will follow the rules in the cases of Tom Boonen and Alejandro Valverde, French minister Bernard Laporte, the state secretary of sport, warned that the two riders are not welcome to take part in the Grande Boucle.
"The fight against drugs and the leading role of France on that matter is a priority," a press release from the Ministry stated. "As a matter of fact, it's clear that the presence of riders like Alejandro Valverde, who has been condemned by the Italian anti-doping authority, and Tom Boonen, who has tested positive for cocaine in April, is not welcome at the 2009 Tour de France."
Strangely, the same French authorities haven't considered Valverde and Boonen unwelcome at the Critérium du Dauphiné Libéré, another race on French soil in which both are currently competing.
UCI president Pat McQuaid has reiterated that Boonen can legally pursue his career. The disciplinary commission supposed to weigh in on the damage Boonen caused to the image of cycling will not convene before the start of the Tour de France. In Valverde's case, his appeal to the CAS in order to reverse the CONI's decision will be a first indication on whether he'll be able to ride the Tour or not.
World champ Ballan back for Tour de France
By Gregor Brown
Alessandro Ballan is back
Photo ©: Roberto Bettini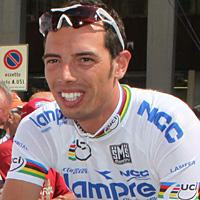 World champion Alessandro Ballan returned to racing Saturday in Cesenatico, Italy, after a virus kept him away for nearly three months. The Italian is building towards success in the Tour de France, July 4 to 26.
"In the first week, no," he told Cyclingnews of his chances for a Tour de France stage win. "Starting with the second week I will have 20 days of racing in my legs and I hope to be competitive like in the last years."
Doctors diagnosed team Lampre's Ballan with cytomegalovirus in March. Tiredness and fever are symptoms of the herpes virus. Tirreno-Adriatico's stage four, March 14, was his last race prior to Saturday's Memorial Pantani.
"The race was a little hard because I lack the rhythm, and I am behind with respect to those riders who raced the Giro d'Italia. I have to get better and return to my best level."
Ballan's next race will be the Tour de Suisse, June 13 to 21. The nine-day race has two time trials and three mountaintop finishes.
"It is a little bit much, but I need it if I am going to go to the Tour de France. I am not going there with goals, I am going to finish it and for training."
After Ballan finishes Suisse, he will race the Italian championships and then leave for the start of the Tour de France in Monaco.
French riders to sue Kohl
Cédric Vasseur, the president of the professional cyclist's union (CPA), commented on Bernhard Kohl's latest interview in which he stated that the top 10 riders in last year's Tour de France could have tested positive. "His allegations cannot remain unpunished," Vasseur said. "He might think everybody else was doped as well but he has to prove it."
Vasseur was followed by the general secretary of the French professional cyclists union (UNCP) Jean-Claude Cucherat, who expressed the "contempt" of his associates towards the insinuations of Kohl.
"In French teams, the way of practicing the profession of a bike rider has nothing to do with the gangsters' methods described by Kohl," said Cucherat. The UNCP announced that legal actions would be taken against Kohl and whoever unfairly tarnishes the reputation of professional cyclists. (JFQ)
(All rights reserved/Copyright Future Publishing (Overseas) Limited 2009)