Cyclingnews 2008 Reader Poll Results
Best female cyclo-cross rider
Compton and Kupfernagel neck and neck
Hanka Kupfernagel (Itera-Stevens), Katie Compton (Spike) and Georgia Gould (Luna)
Photo ©: Photopress.be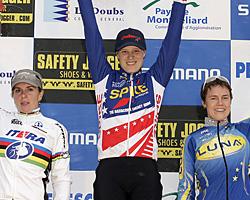 The top three in our poll for the best women cyclo-cross racers looks just like the podium from the World Cup in Nommay, France. World Champion Hanka Kupfernagel gave American champion Katie Compton a run for her money, but Compton out-sprinted the German to take home the best female 'cross title for the second year in a row.
Compton was the favourite of 28.38% of our readers, and while her numbers may be indicative of a US bias in our readership, she certainly earned the title with her fifth consecutive US championship, World Cup wins in Nommay and Koksijde, a muddy win in Gavere, as well as a podium finish in the Pijnacker World Cup.
Kupfernagel has ridden her rainbow-banded jersey to victory in the Pijnacker and Tabor World Cups as well as the European Championship. She leads the World Cup and UCI rankings and will be a strong candidate to take her fifth career World Championship title in February.
Georgia Gould, the North American Trophy and USA National Racing Calendar series winner stepped up into third place this year, taking 12.11% of the votes ahead of her Luna teammate Katerina Nash, the winner of the US Gran Prix of Cyclo-cross series champion.
Kalmthout World Cup winner Daphny Van Den Brand took fifth ahead of British rider Helen Wyman, while Wendy Simms took seventh. Czech rider Pavla Havlikova narrowly bested the two French women, Laurence Leboucher and Maryline Salvetat, rounding out the top ten.
Results

                                                                                 Votes  %age
1 Katie Compton                                                                   2909  28.38
2 Hanka Kupfernagel                                                               2644  25.80
3 Georgia Gould                                                                   1241  12.11
4 Katerina Nash                                                                    898  8.76
5 Daphny Van den Brand                                                             765  7.46
6 Helen Wyman                                                                      642  6.26
7 Wendy Simms                                                                      427  4.17
8 Pavla Havlikova                                                                  291  2.84
9 Laurence Leboucher                                                               263  2.57
10 Maryline Salvetat                                                               170  1.66
                                                                          Total: 10250