Cyclo-Cross World Cup #3 - CDM
Pijnacker, Netherlands, November 9, 2008
Main Page Results Overall standings Previous Race Next Race
Race 3 - Elite Women, 40 minutes
World champion keeps Compton from victory
By Brecht Decaluwé in Pijnacker, The Netherlands
Kupfernagel won her second World Cup race
Photo ©: Cyclingnews.com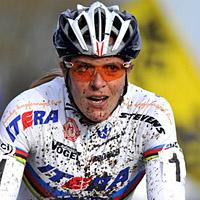 Katie Compton returned to the cyclo-cross scene after a leg injury that forced her to pull out of the World Cup in Kalmthout. Since she was lacking UCI points, the American rider was positioned on the last start line but Compton shot off the front like an arrow and assumed the lead halfway through the first lap.
Compton quickly amassed a lead of twenty seconds on the chase group where Hanka Kupfernagel had just recovered from a poor start. The World Champion plowed away from the main chase group in search of leader Compton. The American stoutly defended every metre of her lead, but on the last lap a determined Kupfernagel caught up.
Halfway through the lap, Compton switched bikes in the pit, but the handlebars of her dirty bar caught in the back wheel of her clean bike. Obviously Kupfernagel exploited this misfortune, and the German rider powered away from her American rival in the mud from Pijnacker.
Kupfernagel grabbed her second consecutive victory in the World Cup (out of three races), and she extended her lead in the World Cup presented by Safety Jogger.
Compton put the pressure on Kupfernagel
Photo ©: Cyclingnews.com

"Right now I'm tired but happy," Kupfernagel said. "I don't know how the others were able to do it, but they started extremely fast and I was slow. I managed to close the gap and after a while I started to find the good lines through the mud. That saved me some energy which was useful at the end of the race," Kupfernagel said.
Compton was delighted with her performance in the second World Cup race of the season, after struggling with a muscle injury since the World Cup race in Kalmthout.
"I've been injured so I'm really happy today. I had a couple of mishaps in the last laps because I missed the endurance," Compton said before congratulating Katerina Nash, the day's third placed finisher.
Nash was born in the Czech Republich but married an American which explains her English-sounding name. "It took a little time for me to get to the front because I started on the last line," Nash said to Cyclingnews. "I moved into the top-10 and waited patiently for a good moment to attack. When the others all changed bikes, I went for it," Nash explained how she made the decisive move towards the third place in the World Cup in Pijnacker.
Photography
For a thumbnail gallery of these images, click here
Images by Cyclingnews.com
Results
1 Hanka Kupfernagel (Ger)                                    36.21
2 Katherine Compton (USA)                                     0.08
3 Katerina Nash (Cze)                                         0.28
4 Saskia Elemans (Ned) Team Flexpoint                         0.34
5 Daphny Van Den Brand (Ned)                                  0.44
6 Helen Wyman (GBr) Swift Racing                              0.52
7 Veerle Ingels (Bel)                                         1.05
8 Pavla Havlikova (Cze)                                       1.13
9 Sanne Cant (Bel)                                            1.42
10 Christel Ferrier-Bruneau (Fra) Team Lot-Et-Garonne         1.43
11 Nadia Triquet-Claude (Fra) Team Pro Feminin Les Carroz     1.56
12 Caroline Mani (Fra)                                        2.00
13 Sanne Van Paassen (Ned) Team DSB Bank                      2.08
14 Wendy Simms (Can)                                          2.17
15 Arenda Grimberg (Ned)                                      2.53
16 Joyce Vanderbeken (Bel)                                    2.59
17 Gabriella Day (GBr) Swift Racing                           3.09
18 Reza Hormes-Ravenstijn (Ned)                               3.18
19 Loes Gunnewijk (Ned) Team Flexpoint                        3.21
20 Jana Kyptova (Cze)                                         3.33
21 Daniela Bresciani (Ita)                                    3.48
22 Abke Francissen (Ned)                                      4.18
23 Nikki Harris (GBr)                                         4.19
24 Gertie Willems (Bel)                                       4.39
25 Veronica Alessio (Ita) S.C. Michela Fanini Record Rox      4.56
26 Mika Ogishima (Jpn)                                        5.51
27 Marzena Wasiuk (Pol) Primus                                5.56
28 Linda Van Rijen (Ned) Team DSB Bank                        6.41
29 Susanne Juranek (Ger)                                      6.44
30 Nancy Bober (Bel)                                          7.06
31 Christine Vardaros (USA)                                   7.13
32 Nicole De Bie - Leyten (Bel)                               7.17
33 Lise Müller (Swi)                                          8.35
34 Katrien Thijs (Bel)                                        8.57

Behind one lap
35 Katrien Vermeiren (Bel)       

World Cup standings after three events

1 Hanka Kupfernagel (Ger)                                   170 pts
2 Daphny Van Den Brand (Ned)                                130
3 Pavla Havlikova (Cze)                                     116
4 Saskia Elemans (Ned) Team Flexpoint                        92
5 Christel Ferrier-Bruneau (Fra) Team Lot-Et-Garonne         92
6 Nadia Triquet-Claude (Fra) Team Pro Feminin Les Carroz     81
7 Sanne Van Paassen (Ned) Team DSB Bank                      80
8 Maryline Salvetat (Fra)                                    78
9 Wendy Simms (Can)                                          71
10 Helen Wyman (GBr) Swift Racing                            69
11 Veerle Ingels (Bel)                                       68
12 Caroline Mani (Fra)                                       63
13 Sanne Cant (Bel)                                          58
14 Katherine Compton (USA)                                   50
15 Katerina Nash (Cze)                                       45
16 Jana Kyptova (Cze)                                        36
17 Gabriella Day (GBr) Swift Racing                          36
18 Joyce Vanderbeken (Bel)                                   34
19 Arenda Grimberg (Ned)                                     34
20 Veronica Alessio (Ita) S.C. Michela Fanini Record Rox     33
21 Linda Van Rijen (Ned) Team DSB Bank                       32
22 Reza Hormes-Ravenstijn (Ned)                              30
23 Birgit Hollmann (Ger)                                     22
24 Abke Francissen (Ned)                                     21
25 Elke Riedl (Aut)                                          19
26 Susan Butler (USA)                                        17
27 Mika Ogishima (Jpn)                                       13
28 Gertie Willems (Bel)                                      13
29 Loes Gunnewijk (Ned) Team Flexpoint                       12
30 Jitka Skarnitzlova (Cze)                                  12
31 Lise Müller (Swi)                                         12
32 Daniela Bresciani (Ita)                                   10
33 Nikki Harris (GBr)                                         8
34 Nancy Bober (Bel)                                          8
35 Christine Vardaros (USA)                                   8
36 Jennifer Sagesser (Swi)                                    6
37 Zuzana Vojtasova (Svk)                                     5
38 Tessa Van Nieuwpoort (Ned)                                 5
39 Marzena Wasiuk (Pol) Primus                                4
40 Francis Keizer (Ned)                                       3
41 Susanne Juranek (Ger)                                      2
42 Jana Suess (Ger)                                           2