Cyclo-Cross World Cup #6 - CDM
Nommay, France, December 21, 2008
Main Page Results Overall standings Previous Race Next Race
Race 3 - December 21: Elite Women, 40 minutes
Americans excel in French round of the World Cup
By Sue George with assistance from Brecht Decaluwé
Katie Compton (Spike)
Photo ©: Photopress.be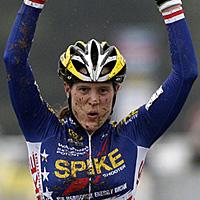 American women occupied two of the top three podium spots at the awards ceremony for the fifth round of the World Cup in Nommay, France, on Sunday after US National Champion Katie Compton won the race by 19 seconds ahead of German Hanka Kupfernagel. Georgia Gould, a regular on the World Cup mountain bike circuit and the runner-up at last weekend's US National Championships, finished in third place, just five seconds behind Kupfernagel.
"I was surprised to see that recovered well from the jetlag. I just returned from the US where I defended my title," said Compton to sport.be. "I didn't have sore legs after the long trip and the time change... luckily, because this was a very tough course. During the last lap, I managed to develop the small gap that I had on Hanka into a definitive gap. Two wins in a row in the World Cup, I'm so excited!"
In drizzling conditions, Kupfernagel and Compton initially matched each other along with Helen Wyman, but then Compton and Kupfernagel escaped to build a lead together. In the end Compton was stronger. In the penultimate lap, Compton shook the World Champion from her wheel. Kupfernagel couldn't follow.
Two days after the Scheldecross in Antwerp, Kupfernagel was feeling fatigued. "Hanka was not really rested," said her companion and coach Mike Kluge to www.radsport-news.com.
Gould was racing her first cyclo-cross World Cup of the season. Early in the race, she was part of the first group of chasers, but on the third lap, she left them behind for a solo pursuit of the lead duo.
Dutchwoman Daphny Van Den Brand and Brit Helen Wyman rounded out the top five. Marianne Vos, who was competing in her first cyclo-cross World Cup of the season, finished seventh after Frenchwoman Maryline Salvetat.
Kupfernagel's second place helped her expand her World Cup overall lead. Daphny Van Den Brand and Compton are sitting in second and third in the overall standings.
The next World Cup race will be in Heusden-Zolder, Belgium, on December 26.
Full report coming!
Photography
For a thumbnail gallery of these images, click here
Images by Photopress.be
Results
1 Katherine Compton (USA)                                   40.27
2 Hanka Kupfernagel (Ger)                                    0.19
3 Georgia Gould (USA)                                        0.24
4 Daphny Van Den Brand (Ned)                                 0.59
5 Helen Wyman (GBr) Swift Racing                             1.03
6 Maryline Salvetat (Fra)                                    1.12
7 Marianne Vos (Ned) Team DSB Bank                           2.00
8 Rachel Lloyd (USA)                                         2.17
9 Pavla Havlikova (Cze)                                      2.43
10 Sanne Van Paassen (Ned) Team DSB Bank                     2.53
11 Saskia Elemans (Ned) Team Flexpoint                           
12 Joyce Vanderbeken (Bel)                                   2.59
13 Natasha Elliott (Can)                                     3.00
14 Gabriella Day (GBr) Swift Racing                          3.05
15 Wendy Simms (Can)                                             
16 Mirjam Melchers-Van Poppel (Ned) Team Flexpoint           3.26
17 Christel Ferrier-Bruneau (Fra) Team Lot-Et-Garonne        3.35
18 Eva Lechner (Ita) Gauss Rdz Ormu                          3.54
19 Veerle Ingels (Bel) AVB-USSspa Cycling Team Kasterlee     4.09
20 Caroline Mani (Fra)                                       4.15
21 Reza Hormes (Ned)                                         4.23
22 Susan Butler (USA)                                        4.30
23 Sanne Cant (Bel)                                              
24 Nadia Triquet-Claude (Fra) Team Pro Feminin Les Carroz    4.43
25 Pauline Ferrand Prevot (Fra)                              5.13
26 Arenda Grimberg (Ned)                                     5.39
27 Maureen Guichardot (Fra)                                  6.06
28 Mika Ogishima (Jpn)                                       6.09
29 Katrin Leumann (Swi)                                      7.05
30 Abke Francissen (Ned)                                     7.15
31 Marlène Morel Petitgirard (Fra)                           7.18
32 Jasmin Achermann (Swi)                                    7.24
33 Christine Vardaros (USA)                                  7.51
34 Nancy Bober (Bel)                                             
35 Elke Riedl (Aut)                                          7.56
36 Jana Kyptova (Cze)                                        8.04
37 Patsy Larno (Bel)                                             
38 Stéphanie Vaxillaire-Denuit (Fra)                         8.39
39 Lise-Marie Henzelin (Swi)                                 9.10
40 Veronica Alessio (Ita) S.C. Michela Fanini Record Rox     9.24
41 Gertie Willems (Bel)                                      9.26
42 Susanne Juranek (Ger)                                     9.33
43 Suzie Godart (Lux) Fenixs                                     
44 Jana Suess (Ger)                                              
45 Kim Van Renterghem (Bel)        
 
World Cup standings after round six
 
1 Hanka Kupfernagel (Ger)                                     270 pts
2 Daphny Van Den Brand (Ned)                                  215
3 Katherine Compton (USA)                                     170
4 Pavla Havlikova (Cze)                                       168
5 Helen Wyman (GBr) Swift Racing                              144
6 Maryline Salvetat (Fra)                                     138
7 Sanne Van Paassen (Ned) Team DSB Bank                       137
8 Saskia Elemans (Ned) Team Flexpoint                         134
9 Christel Ferrier-Bruneau (Fra) Team Lot-Et-Garonne          130
10 Nadia Triquet-Claude (Fra) Team Pro Feminin Les Carroz     107
11 Veerle Ingels (Bel)                                        100
12 Sanne Cant (Bel)                                            92
13 Caroline Mani (Fra)                                         91
14 Wendy Simms (Can)                                           87
15 Joyce Vanderbeken (Bel)                                     71
16 Gabriella Day (GBr) Swift Racing                            66
17 Arenda Grimberg (Ned)                                       51
18 Reza Hormes (Ned)                                           48
19 Georgia Gould (USA)                                         45
20 Katerina Nash (Cze)                                         45
21 Jana Kyptova (Cze)                                          40
22 Veronica Alessio (Ita) S.C. Michela Fanini Record Rox       33
23 Linda Van Rijen (Ned) Team DSB Bank                         32
24 Abke Francissen (Ned)                                       31
25 Marianne Vos (Ned) Team DSB Bank                            28
26 Eva Lechner (Ita) Gauss Rdz Ormu                            27
27 Rachel Lloyd (USA)                                          26
28 Susan Butler (USA)                                          26
29 Loes Gunnewijk (Ned) Team Flexpoint                         23
30 Mika Ogishima (Jpn)                                         23
31 Birgit Hollmann (Ger)                                       22
32 Elke Riedl (Aut)                                            19
33 Natasha Elliott (Can)                                       18
34 Loes Sels (Bel) Topsport Vlaanderen Thompson Ladies Team    16
35 Mirjam Melchers-Van Poppel (Ned) Team Flexpoint             15
36 Laura Van Gilder (USA)                                      15
37 Daniela Bresciani (Ita)                                     13
38 Gertie Willems (Bel)                                        13
39 Jitka Skarnitzlova (Cze)                                    12
40 Lise Müller (Swi)                                           12
41 Deidre Winfield (USA)                                       10
42 Nikki Harris (GBr)                                           8
43 Nancy Bober (Bel)                                            8
44 Christine Vardaros (USA)                                     8
45 Susanne Juranek (Ger)                                        8
46 Pauline Ferrand Prevot (Fra)                                 6
47 Jennifer Sagesser (Swi)                                      6
48 Nicole De Bie - Leyten (Bel)                                 5
49 Zuzana Vojtasova (Svk)                                       5
50 Tessa Van Nieuwpoort (Ned)                                   5
51 Maureen Guichardot (Fra)                                     4
52 Marzena Wasiuk (Pol) Primus                                  4
53 Francis Keizer (Ned)                                         3
54 Katrin Leumann (Swi)                                         2
55 Anne Arnouts (Bel)                                           2
56 Jana Suess (Ger)                                             2
57 Katrien Pauwels (Bel)                                        1