Cyclo-cross news & racing roundup for November 8
Edited by Laura Weislo and Paul Verkuylen
Welcome to our regular roundup of what's happening in cyclo-cross. Feel free to send feedback, news and releases to mtb@cyclingnews.com.
Vervecken's diesel running rough
Vervecken on his way to one of two wins in October
Photo ©: Laura Weislo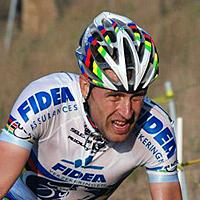 Cyclo-cross champion Erwin Vervecken hasn't had the best start to the season. The Belgian has never really gone the way of Sven Nys, piling on the wins in the early season, but he's always been near the front of the field. Three World Championships later, Vervecken began this year with only four podium results in fourteen races. For the cyclo-cross crazy Flanders region, it is becoming clear that the years are starting to take their toll on Vervecken, as Cyclingnews' Brecht Decaluwé finds out.
Fidea's Erwin Vervecken has led a much quieter career than many three time World Champions normally do. The tall, laid-back Belgian is rarely at the front fighting for the hole shot in the early season races. Still, it's unusual that he's as far back as he's been in the field this year. Cyclingnews talked to Vervecken before the Vlaamse Houtlandcross in Eernegem about his current form.
"What can I say?" Vervecken asked. "I'm turning 35 and I am not going to get better," he smiled. Things haven't been all bad, as he has already chalked up two wins this year, first in the USA in Southampton, and then in Holland in Woerden. "October has never been my month, and actually it was years ago since I'd won races in October," the World Champ realised.
Nevertheless the Fidea-rider agreed that his performances and results weren't as good as wanted. "I had three really poor performances in October: GP de la region Wallonne [10th], the Superprestige race in Ruddervoorde [23rd] and the World Cup in Tabor [11th]. In Kalmthout [22nd] – the first World Cup event – a chain problem caused the bad result, otherwise I would've finished in the top ten," Vervecken looked back on his performances throughout October.
Vervecken isn't going to fade into oblivion, however, especially not while wearing his third rainbow striped jersey. With a fifth place in the Koppenbergcross in Oudenaarde the slender Belgian showed he isn't just cashing in his start money. Nevertheless, Vervecken agreed that the organizers are questioning the world champion's value right now.
Belgian selection for Pijnacker world cup
Belgian national coach, Rudy De Bie has made his selection known for the next round of the cyclo-cross world cup to be held in the Dutch town of Pijnacker. The team remains largely unchanged from the team that was sent to Tabor two weeks ago with only Rob Peeters replacing Jan Verstraeten, who will be the reserve for the team along with Ben Berden.
Elite men: Erwin Vervecken, Sven Nys, Sven Vanthourenhout, Bart Wellens, Bart Aernouts, Klaas Vantornout, Kevin Pauwels, Dieter Vanthourenhout, Rob Peeters.
Reserve: Jan Verstraeten, Ben Berden.
Elite women: Sanne Cant, Anja Nobus, Veerle Ingels, Katrien Pauwels, Katrien Vermeiren, Katrien Aerts, Gertie Willems, Joyce Vanderbeken.
Reserve: Nicolle De Bie-Leyten.
Dutch and American squad for Pijnacker world cup
The Dutch selectors have released the selection for the first of the two world cup rounds that are to be held in Holland. An experienced team including two former world champions, Richard Groenendaal and Lars Boom will attempt to unsettle the Belgians with the hope of securing their first world cup win of the season. Boom finished a close third in the last round in Tabor, in what was only his second race of the season. Groenendaal and Wilant Van Gils are also coming into form just in time for the Dutch round after slow starts to the season. Both riders finished in the top five at the last round of the superprestige series in Hamme-Zogge after fighting most of the race for podium positions.
The USA has sent a depleted squad of just five riders to the third round of the cup, and will be pinning their hopes on the 2007 world's runner up, Jonathan Page who has been steadly improving since the start of the season.
Dutch selection:
Elite men: Lars Boom (Rabobank), Richard Groenendaal (AA Sport Drinks), Gerben de Knegt (Rabobank), Thijs Al (BeOne CRC Team), Wilant Van Gils (ZZPR.nl), Maarten Nijland, Jean-Pierre Leijten, Camiel van den Bergh.
Elite women: Daphny van den Brand, Sanne van Paassen (Team DSB Bank), Arenda Grimberg, Reza Hormes-Ravenstijn, Linda van Rijen (Team DSB Bank), Abke Francissen, Anouk Kesseler-Haarsma, Tessa van Nieuwpoort.
USA selection:
Elite men: Jonathan Page (Sunweb), Christopher Jones, Jonathan Baker.
Elite women: Katherine Compton, Christine Vardaros.
No elite men's World Cup in Milan
After Paolo Guerciotti announced that he does not have the necessary budget for the world cup round in Milan that was scheduled to be held on December 8, the event has been cancelled, but only for the elite men.
The races for the elite women, junior men and under 23 men will still take place as scheduled.
Vandenbroucke no show
Frank Vandenbroucke has been up to his old tricks again, but this time in the sport of cyclo-cross. After accepting invitations to race the Koppenbergcross and the superprestige round in Hamme-Zogge the Belgian wild child was a DNS for both races.
Vandenbroucke did show up to the Koppenbergcross but at the last minute decided that the race was too dangerous and therefore didn't start, while in Hamme-Zogge he simply didn't show up.
Hamme-Zogge race organiser Jurgen Mettepenningen was rightfully annoyed with Belgians prodigal son, calling the whole scenario "a scandal," in fact Mettepenningen was never even notified of the no show. "He didn't even call to let us know that he was not coming," he told Sporza.be.
"We tried to call him on the phone but he never answered. I can't laugh about this," he said in disgust on Sunday. "I am going to have a look at what I can do about this first thing on Monday morning, because I don't just want to leave it like this. If you ask me, this doesn't look good for the up coming season for Frank."
Nys continues his domination of the Superprestige
By Brecht Decaluwé
Sven Nys (Rabobank) roars into the finish finish.
Photo ©: Luc Claessen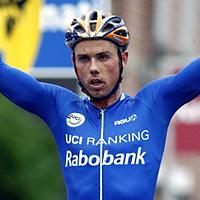 Sunday brought another Superprestige race and yet another demonstration of dominance by Sven Nys, the cannibal from Balen. Nys gained the maximum number of 30 points toward the overall series, beating young Zdenek Stybar by 21 seconds. Despite the defensive racing style from the riders during the first half of the race, a group of fifteen riders was alone in front. World champion Erwin Vervecken dropped away from the leading group when he suffered a mechanical.
After an attack from Richard Groenendaal four men got away including Nys, Wilant Van Gils and Stybar. Behind them Bart Wellens tried to come back but he never reached the leaders, mainly because Nys took over the command. The UCI-leader kept going; he first got rid of the two Dutchmen, and with less than three laps to go Stybar got dropped as well after a minor mistake in the sand pit.
Wellens, Stybar, Van Gils and Groenendaal got together behind Nys who kept developing his lead over the chasers. Nys eventually won his 40th Superprestige race with a 21 second margin over Stybar, who stayed clear of Wellens by just two seconds.
"If you can finish this, then you can understand that I've got a broad smile," Nys reacted after the race. "It was me against the rest, only Groenendaal wanted to take initiative but sadly enough he couldn't follow later on. Why is Stybar not co-operating?" Nys wondered. It seemed like Stybar couldn't follow and the Czech rider confirmed that on VT4 TV. "If I am dead then I can't go to the front," Stybar reacted in his typical broken English.
Full results, report and photos.
Blue-clad UCI leader Nys wins again on the Koppenberg
By Brecht Decaluwé in Oudenaarde
Sven Nys
Photo ©: Roberto Bettini

The mythical Koppenberg will not feature in the 2008 Tour of Flanders but there is one race where the cobbled climb plays the leading part and that is the Koppenbergcross. Four-time winner Sven Nys (Rabobank) was the big favourite before the race, a position which he commonly holds, and he did not disappoint his fans.
The UCI-leader, wearing a dark blue jersey, was always near the front and when he accelerated in the third lap, only Bart Wellens (Fidea Cycling Team) and Zdenek Stybar (Fidea Cycling Team) could follow. The Fidea riders couldn't form a coalition against the Belgian and with less than three laps to go, Nys attacked a second time. Stybar resisted before dropping back while Wellens took risks on the slippery descent of the Koppenberg. The temporary result was that Wellens went over his handlebars while Stybar lost touch with Nys. Eventually Wellens managed to come back in the lead in the last lap, but Nys kept his cool and launched a fierce acceleration which was enough to clinch his fifth-ever victory in the Koppenbergcross.
"I've been waiting for a tough cross like this where we're battling against each other, and I think Bart feels the same way about it. It's exciting when we try to pass each other everywhere," Nys smiled when thinking back to the last lap of the race.
"Wellens was very fast in the descent but I realized he took risks for that advantage. I decided to descend slower but safe[r]. My advantage was that I knew where I had to be in front, I could make the difference where the power was important," the UCI points leader explained. The opposition from Wellens didn't surprise Nys despite the fact that the Belgian champion has not been riding well in recent important races. "You always need to take Wellens into account when he's having a good day. He has periods where he's less good, he's not that consistent anymore."
Full results, report & photos.
Trebon, Compton double up in Colorado
Kona-YourKey team vanquishes foes
Excalibur! 'Cross King Ryan Trebon (Kona-Your Key Mortgage)
Photo ©: Mitchell Clinton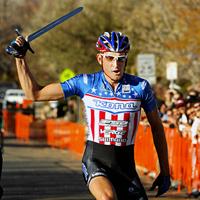 Ryan Trebon (Kona-Your Key Mortgage) took double wins in Colorado this past weekend, his team-mate Barry Wicks helping the pair vanquish the Cyclocrossworld.com team which got the better of them the previous weekend in Louisville, Kentucky.
Trebon fought to stay in the lead group after Wicks blasted out of the start gates in Saturday's Redline Cup, and after a bobble, had to chase back into the front group. Mid-way through the race, Trebon found his legs and never looked back. He launched a powerful attack that no one could follow, leaving Wicks behind with Todd Wells (GT), Geoff Kabush (Maxxis-Litespeed), and Tim Johnson (Cannondale-Leer-Cyclocross World.com).
On Sunday, Trebon was in control from the start, and powered away through the sand and left Johnson and his team-mate Jeremy Powers, the same pair which had schooled Trebon in Louisville, in his wake and never let up. The lanky rider known as 'Tree farm' won by 1'21 over Johnson with Powers a further 31 seconds back, while Trebon's team-mate Wicks faded to fourth nearly three minutes behind Trebon.
Compton dominates Elite Women's field
Katie Compton (Spike Shooter) putting
Photo ©: Mitchell Clinton

Three time National Champion and World Championships silver medallist Katie Compton (Spike Shooter) led both races in Colorado from the gun, showing her clear superiority over the 26 rider field.
Her closest match on the weekend was Georgia Gould (Luna Chix), who managed to lose just 36" to Compton in Saturday's Redline 'Cross, but on Sunday, Compton could not be matched as she floated effortlessly through the sand pit, and Gould and third placed Rachel Lloyd (Proman/Paradigm) were more than one minute behind.
Despite Compton's domination of the race the quality of the field was among the best of the cyclo-cross season due largely to the valuable UCI points on the line. "I wanted to go hard and keep it a smooth race, I still need to save something for tomorrow," said Compton, referring to tomorrow's Boulder Cup in Harlow Platts Park, South Boulder.
See also full results, report and photos from the Redline 'Cross and Boulder Cup.
MAC heads to the Garden State
The chase for the prestigious Verge MAC Championship moves to New Jersey on November 10 and 11 for a double-header of UCI cyclo-cross racing in "the Garden State". The weekend kicks off Saturday, November 10, with the high-speed sandy chutes, sand pits and infamous "Amphitheatre of Pain" of the Beacon Cyclo-cross. The following day, Sunday November 11, the Pro-Am and International racers travel up the New Jersey Turnpike to the HPCX in Jamesburg.
"There was a major push last year to get these two races back onto the same weekend," said Verge MAC Media Director Ken Getchell, making the races more convenient for riders who must travel long distances to compete in New Jersey. Additional incentives by SRAM to the top finishers in the Elite division Verge MAC points chases is also expected to generate increased interest with seasoned pros.
The race will also provide benefit to the collegiate teams in the region, with Sunday's HPCX race being used as a fund raiser for the 2006 conference champions (and race co-promoters), Rutgers University Cycling Team. Proceeds from the race will assist the Scarlet Knights when they travel to the U.S. National Championships.
"For the past few years the National Championships have been in Rhode Island and travel has been relatively simple and inexpensive," said Mark Vareschi, Rutgers Cycling cyclo-cross program director. "However, moving a team of collegiate riders from New Jersey to Kansas in the midst of final exams presents a whole new level of difficulty and expense. We're excited that race director Craig Callan and the Highland Park Hermes have generously offered the HPCX race as a benefit for us."
More information about Verge MAC's Garden State Weekend, including pre-registration and driving directions, can be found at BikeReg.com.
Schedule (both days): 9:00 am Amateur Race, Novices and SupaFAN.com Juniors 10:00 am Amateur Race, age 35+ and 55+ 11:00 am Domestic Race, Men 12:15 pm Domestic Race, Elite Masters age 35+ 1:30 pm International Race, The Elite International Women, powered by SRAM 2:30 pm International Race, The Elite International Men, powered by SRAM
Ontario to host UCI 'cross
UCI C2 Cyclo-cross racing heads to Canada for the November 10th and 11th events in Centennial Park in Toronto, Ontario. Both days will offer full fast, technical courses for Elite men and Women, with a total of $4200 up for grabs. New this year, Master 1 Men (elite masters) will be racing for the same first place prize money as Elite Men.
Fans can also enjoy the race day festivities form a course side seat, in the Amsterdam Brewery sponsored beer tent. Located right in front of the double barriers. For more information go to www.midweekclub.ca
Proudly sponsored by: Clearview Marketing, Harris + Harris LLP, Nissan, Specialized, Norco, Shimano, Swissstop, Kona, LaBicicletta, Amino Vital, GNC, Projectcore Inc, Chin Radio, Gears Bike Shop, KHS and GetoutThere Magazine.
MABRAcross hits Race Pace
The BikeReg.com MABRAcross hosts its penultimate event for the 2007 season as the Series heads to the rural northern Maryland town of Sykesville for the annual running of the Race Pace Cross. With only one additional opportunity after November 11's Race Pace cross to score points in the various season championship categories, Race Pace has assumed a pivotal place on the calendar.
Located in Freedom Park, one of the largest multi-purpose parks in the area, the new and improved course retains the fast, flowing characteristics of previous years with the addition of a UCI-style pavement sprint finish and two-sided pit. According to race promoter Roger Carter, "The Freedom Park course is a combination of hard-packed grass, asphalt paths and man-made barriers. The course is very fast, like a Belgian 'cross course, with many swooping turns and a few small run-ups and climbs."
For more information on the Race Pace Cross, round 6 of the 2007 BikeReg.com MABRAcross Series, see BikeReg.com.
Horner joins Ed Krall Racing
Ed Krall Racing is proud to present the Indiana Regional Medical Center Cyclo-cross Team, based in Western Pennsylvania but competing in events throughout the United States. This is the team's first year, but it has targeted the US Grand Prix series and plans on being a factor in each of the six national races. For the 2007 cyclo-cross season, the team will feature Chris Horner, Megan Elliot, Stephan Kincaid, Bill Elliston and Steve Cummings.
The team will be managed by Ed Krall and Craig Merrits will lead the team's pit crew. With this impressive lineup, the Indiana Regional Medical Center Cyclo-cross team anticipates a successful racing season. In the 2006 cyclo-cross season, the team's current racers managed a number of victories and high placings. With increased support, the team members look forward to even greater success in 2007. Contributing sponsors include: Nicholas Homes, Fourth River Development, AcuIce, Sportsbalm/Acrista Imports
Upcoming UCI Cyclo-cross races
November 10: Beacon Cycling & Fitness Cyclo-cross, Beacon, New Jersey (USA) C2
November 10: Niel Jaarmarkt Cross, Niel (Bel) C2
November 10: Centennial Park Cross, Ontario (Can) C2
November 10: Mountaineer Cross, Colorado (USA) C2
November 11: Centennial Park Cross, Ontario (Can) C2
November 11: Coupe du Monde UCI / UCI World Cup, Pijnacker (Ned) CDM
November 11: Fort Leiws College SquawkerCross, Durango, Colorado (USA) C2
November 11: Int. Radquer Uster, Uster (Swi) C2
(All rights reserved/Copyright Future Publishing (Overseas) Limited 2007)