Redline North American Cross - C2
Colorado, USA, November 3, 2007
US National Champions prove unbeatable
Trebon proves why he's the best in the US
Ryan Trebon (Kona-Yourkey.com) on his way
Photo ©: Mitchell Clinton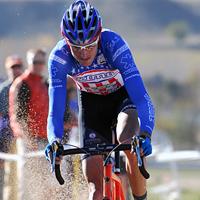 A strong Ryan Trebon (Kona-Your Key Mortgage) dominated the 64 strong field in the 60 minute Elite Men's race, held under clear and warm Boulder autumn skies. Strong winds were prevalent in a race that had promised to be a showdown between the strong teams of the cyclo-cross scene - Cyclocrossworld and Kona-Your Key Mortgage. Cyclocrossworld had proved to be the stronger team in its last meeting, the US Gran Prix race contested last weekend in Louisville.
After a blazing start Barry Wicks (Kona-Your Key Mortgage) came through at the end of lap one with a small gap over a chasing group that included Jeremy Powers (Cyclocrossworld), Jeff Kabush (Maxxis-Litespeed), Todd Wells (GT Bicycles) and Tim Johnson (Cyclocrossworld). During the following lap Wicks slipped in the gravel of one of the turns and slipped back. As a result, by the end of lap two of the 1.9 kilometre course a group of five consisting of Powers, Kabush, Wells, Wicks and Johnson crossed together followed by current National Champion Ryan Trebon (Kona-Your Key Mortgage), who bobbled a turn but easily rejoined the leaders after a brief chase.
At the start of lap three the lead group remained Kabush, Wicks, Powers and Wells followed by a short few metres by Trebon and Johnson. Trebon regained his strength and attacked to take a lead of 17 seconds over a chasing duo of Powers and Wicks followed by a solo Wells with Kabush and Johnson a few seconds back.
Barry Wicks (Kona-Yourkey.com)
Photo ©: Mitchell Clinton

Leading the chase with five laps to go was team-mates Wicks and Wells, who trailed a storming Trebon by 16 seconds. Powers lost some steam in his chase as they crossed the line falling back to fifth after a nasty fall that almost saw him retire. The normally expert bunny hopper crashed into the second of a two barrier series and tumbled heavily. Kabush trailed shortly behind, obviously paying for his first lap effort.
The Kona-Your Key Mortgage riders continued to pull away from the chasers, with Wells now solidly in third while Johnson and Kabush were chasing as Powers hoped to regain momentum, but dangled at 30 seconds with four laps remaining.
Little changed over the next lap as Trebon only increased his lead over team-mate Wicks with Wells, Johnson, Kabush and Powers trailing. Danish National Champion Joachim Parbo maintained seventh place throughout the race, but was unable to make up any distance while Tour de France veteran and cross enthusiast Chris Horner (Indiana Medical Center) held down eighth place. Rounding out the top 10 was Eric Tonkin (Kona-Your Key Mortgage) and Silver medalist in the Junior World Championships Danny Summerhill (Clif Bar).
Despite the gale force winds on the open portions of the course Trebon lapped most of the field in the final two laps, while nothing changed in the chase behind except Johnson riding desperately to hold off a charging Kabush who slipped past him. Parbo caught an ailing Powers at the beginning of the bell lap.
Crossing the line solo Trebon held a 54 second gap over Silver medalist Wicks. It was a full 1.28 minutes before Wells crossed for Bronze followed by Kabush and Johnson. Parbo held off Powers to take sixth place while rolling in to take eighth position was Horner from Tonkin and Summerhill.
Compton dominates Elite Women's field
Katie Compton (Spike Shooter) putting
Photo ©: Mitchell Clinton

Three time National Champion and World Championships silver medallist Katie Compton (Spike Shooter) lead from the gun in the 26 strong women's field, opening a gap of 20 seconds over two chasers Georgia Gould (Luna Chix) and Rachel Lloyd (Proman/Paradigm). Compton kept the gas on throughout the five laps covered in the 45 minute race, building a lead that ended up at 35 seconds over the rest of the field.
Georgia Gould dropped Lloyd after lap one to ride solo to second place. Rounding out the top five were Lloyd, Wendy Williams (River city Bicycles) and Kerry Barnholt (Tokyo Joes/Van Dessel).
Despite Compton's domination of the race the quality of the field was among the best of the cyclo-cross season due largely to the valuable UCI points on the line. "I wanted to go hard and keep it a smooth race, I still need to save something for tomorrow," said Compton, referring to tomorrow's Boulder Cup in Harlow Platts Park, South Boulder.
Photography
For a thumbnail gallery of these images, click here
Images by Mitchell Clinton/www.clintonphoto.com
Images by Rob O'Dea Photography
Results
Elite Men

1 Ryan Trebon (USA) Kona-Your Key Mortgage                   59.48
2 Barry Wicks (USA) Kona-Your Key Mortgage                    0.54
3 Todd Wells (USA) Durango                                    1.28
4 Jeff Kabush (Can) Maxxis-Litespeed                          1.42
5 Tim Johnson (USA) Cannondale-LEER-Cyclocrossworld.com       1.56
6 Joachim Parbo (Den) CCV-Protek                              3.28
7 Jeremy Powers (USA) Cyclocrossworld.com-LEER-Ridley         3.40
8 Chris Horner (USA) Ridley                                   4.18
9 Erik Tonkin (USA) Kona                                      4.33
10 Danny Summerlill (USA) Englewood                           4.51
11 Nicholas Weighall (USA) Rad Racing NorthWest               4.56
12 Colby Pearce (USA) Boulder Cycle Sport                     5.11
13 Joey Thompson (USA) Rocky Mtn Chocolate Factory Cycling    5.25
14 Brent Prenzlow (USA) ALAN NORTH AMERICA CYCLING            5.44
15 Brandon Dwight (USA) Boulder Cycle Sport                   5.52
16 Christopher Case (USA) Boulder Cycle Sport                 6.02
17 Ross Schnell (USA) Trek/Vw                                 6.37
18 Troy Kilgore (USA) Boulder Cycle Sport CX Team             8.21
19 Travis Brown (USA) Trek / FRS                              8.41
20 Michael Cody (USA) BikeReg.com                             9.21
One lap down
21 Tyler Johnson (USA) ALAN NORTH AMERICAN CYCLING                
22 Christian Mccarthy (USA) Boulder                               
23 Matt Pacocha (USA) Velonews                                    
24 Brady Kappius (USA) Littleton                                  
25 Grant Berry (USA) Rocky Mtn Choc Factory                       
26 Kurt Refsnider (USA) FORT Factory Team                         
27 Whitey Debroux (USA) Boulder                                   
Two laps down
28 Shawn Harshman (USA) Harshman Wealth / Primus Mootry           
29 Jake Wells (USA) MafiaRacing.com                               
30 Ryan Iddings (USA) Lapierre USA                                
31 Brooks Paul (USA) Boulder                                      
32 Bradford- Parish (USA) REDLINE                                 
33 James Schneider (USA) Jittery Joe's/Sonic Cycling              
34 Damian Schmitt (USA) Sunnyside Sports                          
35 Sean Babcock (USA) Corvallis                                   
36 Brenner Joey (USA) Morrison                                    
37 Adam Snyder (USA) 3-D racing                                   
38 Stephen Iles (USA) Boulder                                     
39 Aaron Bouplon (USA) Rocky Mounts / Izze                        
40 Mitchell Peterson (USA) Sandy                                  
Three laps down
41 Corey Carlson (USA) Rocky Mounts - Izze                        
42 Bryan Alders (USA) Boulder                                     
43 Collin Becker (USA) James Frames                               
44 Michael Hosey (USA) soulcraft                                  
Four laps down
45 Taylor Lane (USA) Albuquerque                                  
46 Alex Howes (USA) Boulder                                       
47 Will Campbell (USA) Vitamin Cottage Cycling Team               
48 Blake Harlan (USA) Mona Vie/Cannondale                         
49 Chad Wells (USA) Durango                                       
50 Martin Guess (USA) Vitamin Cottage Cycling Team                
51 Ryan Barthel (USA) Rocky Mountain Chocolate Factory            
Five laps down
52 Justin Torrellas (USA) Boulder                                 
53 Jim Lennon (USA) Littleton                                     
54 Jesse Dekrey (USA) unattached                                  
55 Chris Peterson (USA) Sandy                                     
56 Scott Tietzel (USA) Vitamin Cottage Cycling Team               
 
Elite women
 
1 Katie Compton (USA) SPIKE-Primus Mootry-ROL Wheels         38.39
2 Georgia Gould (USA) Luna Chix                               0.36
3 Rachel Lloyd (USA) Proman/Paradigm                          1.44
4 Kerry Barnholt (USA) Tokyo Joes / Van Dessel                2.03
5 Wendy Williams (USA) River City Bicycles                    3.22
6 Kelli Emmett (USA) Colo Spgs                                4.01
7 Barbara Howe (USA) Velo Bella Kona                          4.06
8 Sue Butler (USA) River City Bicycles                        4.43
9 Melissa Thomas (USA) Team Maxxis                            5.33
10 Amy Dombrosi (USA) Velo Bella Kona                                  
11 Lora Heckman (USA) New Belgium Brewing Co.                 5.45
12 Megan Monroe (USA) BMC-Sports Garage                       5.46
13 Kate Scheider (USA) FTS/North Atlantic Velo                5.52
14 Lauren Costantini (USA) Sycip Racing                       5.56
15 Natasha Cowie (USA) Boulder                                6.01
16 Lauren Costantin (USA) Sycip Racin                         6.27
17 Caitlyn C. Tuel (USA) Boulder                              6.31
18 Kris Walker (USA) Krieg Cycle                              6.57
19 Unknown                                                    7.13
20 Dellys Starr (Aus) Sports Garage/BMC                       7.20
21 Nicole Duke (USA) boulder cycle sport                      8.11
One lap down
22 Monique Hein (USA) Lyons                                       
23 Megan Elliot (USA) Bend                                        
DNF Johnson Catherin (USA) US                                     
DQ Kris Walker (USA) Kriegcycling.com             

Men 35+

1 Jon Cariveau (MOOTS)                                      39.50
2 Mark Legg (Spike-Primus Mootry-ROL Wheels)                 0.04
3 Chris Phenicie (Green Mountain Sports Velo)                0.08
4 Dennis Farrell (RRV)                                       0.08
5 Tim Faia (Independent Fabrication)                         0.30
6 Karl Kiester (Great Divide Racing)                         0.59
7 Gaige Sippy (Durango Wheel Club)                           1.27
8 Doug Reid (Veloce Cycles Portland)                         1.27
9 JJ Clark (Spike)                                           2.07
10 Jeff Hartman (Big Shark Racing)                           2.09
11 Josh Harrod                                               2.11
12 Brian Maslach (Spike)                                     2.26
13 Brian Krombein (Green Mountain Sports)                    2.26
14 Mike Hogan (Chipotle - Titus)                             2.34
15 Clay Harris (Red Rocks Velo)                              2.37
16 Jared Shuttleworth (Red Rocks Velo)                       2.45
17 Patrick Gallegos (PM Racing Team)                         2.48
18 Ward Baker (RockyMounts / Izze Racing)                    2.51
19 Todd Cassan (Westwood Velo)                               2.53
20 Troy Krause (Lincoln Industries/Lemond)                   2.54
21 John Mckone (Northwave)                                   2.56
22 Jeff Wardell (Excel Sports/Xybix Systems)                 2.57
23 Jamie Kilcoyne (Chipotle-Titus)                           3.05
24 Gregory Keller (Rocky Mounts - Izze Racing)               3.13
25 Rod Yoder (Green Mtn. Sports Velo)                        3.17
26 Bill Marshall (KCCX/Verge)                                3.27
27 Craig Hilton (Red Rocks Velo)                             3.31
28 Russell Kappius (Red Rocks Velo)                          3.34
29 Dan Miller (Christiancycling.com)                         3.44
30 Greg Shoffner (Amgen)                                     3.49
31 Mike Huffman (Harshman Wealth/Primus Mootry)              3.51
32 Jason Poole (Kodak Gallery/Sierra Nevada)                 3.53
33 Pieter Schouten (Green Mountain Sports Velo)              4.01
34 Tom Phillips (Ragnarok Racing)                            4.07
35 Steve Stalgren (Honey Stinger)                            4.09
36 Thane Wright (Spike)                                      4.09
37 Joe Taddeucci (Vitamin Cottage Cycling Team)              4.12
38 Joel Mischke (Basalt Bike & Ski)                          4.26
39 Jeff Cospolich (Copper Mt / HCRT)                         4.28
40 Doug Karet                                                4.30
41 Kirk Olson (Ridley Factory Team)                          4.37
42 Taro Smith (Boulder Cycle Sport)                          4.41
43 Kris Thompson (mix1~Concept3d)                            4.46
44 Emery Legg (Swing Thai)                                   4.48
45 Al Senft (Colavita New Mexico)                            4.53
46 Brad Fink (Rocky Mounts/Izzy)                             5.17
47 Tim Leahy (Vitamin Cottage Cycling Team)                  5.29
48 Roger Knight                                              5.43
49 John Wahl (Frites en Mayo VC)                             5.43
50 Bill Crank (Pedal the Planet)                             6.06
51 Joe Sullivan (Red Rocks Velo)                             6.37
52 Jeff Traynor (Durango Wheel Club)                         6.42
53 Bill Teasdale (Blue Sky Velo)                             6.42
54 Bryan Harwood (Blue Sky Velo)                             6.50
55 Jeremy Hueth (Kofidog)                                    7.14
One lap down
56 Brent Buenger (RED ROCKS VELO)                                
57 John Cotton (Vitamin Cottage)                                 
58 Michael Chilcoat (Chipotle-Titus)                             
59 Dustin Jackson (Team Einstein's Cycling)                      
60 Carl Boni (Twin Peaks Racing)                                 
61 Dale Katechis                                                 
62 Steve Capstick (Team Mack Racing)                             
63 Doug Smith           

Men 45+

1 Brook Watts (Great Divide)                                42.36
2 Frank Hibbitts (Sibex Cycling Team)                        0.01
3 Robert Bieterman (chipolte)                                0.49
4 Bruce Whitesel (Green Mountain Sports Velo)                0.55
5 Bruce Hodgkins (Excel Sports)                              1.07
6 Mark Taylor (greatadventuresports.com)                     1.31
7 Joe Burtoni (Durango Wheel Club)                           1.35
8 Tim Godby (Team Louisville)                                1.47
9 Tim James                                                  2.17
10 Thomas Hooyer (Brazen Dropouts)                           2.19
11 Jeff Payne                                                2.22
12 Bob Henry (Green Mountain Sports Velo)                    2.37
13 Doug Squires (Rocky Mounts - Izze Racing)                 2.38
14 Joseph Paulson (Subway/Peerless Tyre)                     2.43
15 Gareth Richards (Ryders Eyewear)                          2.57
16 Bill Herwig (Vitamin Cottage)                             2.58
17 Paul Humiston                                             3.06
18 Darian Founds (SIBEX Cycling Team)                        3.17
19 Galen Classen (ICCC)                                      3.17
20 Pete Watson (Sports Garage)                               3.19
21 Jon Mcclurg (Rocky Mounts/Izze Racing)                    3.36
22 Larry Kaufman (Van Dessel Factory Team)                   3.46
23 Jon Dellios (nob hill velo)                               3.47
24 Lee Rivers (Dogs at Large)                                3.59
25 Mark Gouge (Velonews)                                     4.15
26 Joel Howes (Great Divide Brewery)                         4.25
27 Kevin Barker (Green Mountain Sports Velo)                 4.29
28 Scott Hendricks (Vitamin Cottage Cycling Team)            4.42
29 Peter Marshael                                            4.49
30 Doug Felkley (Boulder Cycle Sport CX Team)                4.55
31 Paul Bauersfeld (Swift Cycling)                           5.11
32 Richard Squires (Rocky Mounts - Izze Racing)              5.18
33 Thomas Prehn (Rocky Mounts - Izze Racing)                 5.25
34 Andrew Forbes (boise cycling club)                        5.40
35 Gary Wolff (Team Maxxis)                                  5.41
36 Rick Davis (Great Divide Cycling Team)                    5.53
37 Larry Grossman (Mountain Pedaler)                         6.04
38 Doug Richards (GS Boulder)                                6.11
39 Bob Swadley (ColoBikeLaw.com)                             6.28
40 Tim Carlin                                                7.10
41 Michael Kruteck (Golden Bike Shop)                        7.40
42 Bruce Rabun (ExcelSports.com)                             8.08
43 Andy Mitas (colobikelaw.com)                              8.11
44 David Chapman                                             9.00
One lap down
45 Christopher Dacey (Boulder Cycle Sport CX Team)               
46 Mitch White (Idaho Cycling Enthusiasts/Rocky )                
47 Victor Williams (Vitamin Cottage Cycling Team)                
48 Chancie Cavendish (Echelon Health/Lee's Cyclery)              
49 Bo Judd (Boulder Cycle Sport CX Team)                         
50 Jack Mcdonald (Vitamin Cottage Cycling Team)                                                    
 
Men 55+

1 Lee Waldman (Red Rocks Velo)                              47.19
2 Bruce Dickinson (Copper heart)                             0.33
3 Al Marvin (Poisen spider cyc)                              1.36
4 Scott Glasscock (Rio Grande)                               2.26
5 Rick Abbott (ExcelSports.com)                              2.57
6 Hunter Smith (Boulder Cycle Sport)                         3.46
One lap down
7 Tim Downing (Loiisville)                                       
8 Gary Peterson (ColoBIkeLaw.com)                                
9 Loren Hettinger (Schwab cyc)                                   
10 Gregory Skomp (Boulder Cycle Sport)                           
11 Al Naudin                                                     
12 Chris Cafiield (Evergreen Racing)                             
13 Gary Behlen                                                   
14 Jim Cuishing-Murray (Colo pacific)                            
 
Women 35+
1 Anne Lannan (Vitamin Cottage)                             32.15
2 Karen Hogan (Chipotle - Titus)                             1.03
3 Alisabeth Thurston-Hirch                                   2.49
4 Deirdre Garvey (LVC)                                       3.00
5 Laura Mizener (Fleet Feet Boulder)                         3.01
6 Jo Campbell (Team Rio Grande)                              3.29
7 Ladawn Stevenson (Tokyo Joes)                              4.00
8 Kayla Thomason (Schwab Cycles)                             4.32
9 Devora Peterson (Tokyo joes)                               4.47
10 Martha Iverson (Durango Wheel Club)                       4.47
11 Darcy Tiglas (Echelon Health/Lee's Cyclery)               5.45
One lap down
12 Deanna Mclain                                                 
 
Men Cat 3

1 Tom Hopper (Bikeman.com)                                  54.46
2 Unknown                                                    0.06
3 Luke Jay (rocky mtn. spine and sport)                      0.09
4 Glen Light (MOOTS)                                         0.12
5 Adam Parke (Crankbrothers)                                 0.45
6 Kevin Mullervy (Clif Bar Development CX Team)              0.55
7 Kevin O'brien (Skins Racing)                               1.09
8 Yannick Eckmann (CLIF BAR DEVELOPMENT )                    1.11
9 Conor Mullervy (Clif Bar Development CX Team)              1.17
10 Michael Mathers (Ridley Factory Team)                     1.18
11 Jd Whitney (Echelon Spokes - Slopes Racing)               1.25
12 Wilhelm Herbst (RSV Traunstein e.V.)                      1.27
13 Robin Eckmann (CLIF BAR DEVELOPMENT )                     1.33
14 Adam Lang (KCCX/Verge)                                    1.42
15 Dusty Labarr (Joe's Bike Shop)                            1.51
16 Darron Cheek (Copper Mtn./High Co. Racing)                2.07
17 John Barclay (Bouder cyc sport)                           2.07
18 Arthur Nelsen                                             2.18
19 Cody Cox (Clif Bar Development CX Team`)                  2.24
20 Dave Weber (Rocky Mounts - Team Izze)                     2.24
21 Simon Alexander (Echelon Elite/Denver Spoke)              2.27
22 Kris Lathrop (Comotion - Yeti)                            2.28
23 David Walker (Velonews)                                   2.31
24 Matt Opperman (Pro Peloton Racing)                        2.36
25 Eric Moore (Contender)                                    2.37
26 Robert Batey (Pro Peloton Racing)                         2.37
27 Leo Patnode (Colavita)                                    2.43
28 David Fleck (Rocky Mountain Road Club)                    2.44
29 Eric Jones (Colavita Colorado)                            2.59
30 Paul Rapinz (Ridley Factory Team)                         3.00
31 Lane Miller (Louisville Cyclery)                          3.10
32 Greg Gorrell (Feedback Sports)                            3.21
33 Ben Ollett (Western School of Sport)                      3.38
34 Chad Melis (Oskar Blues Brewery/Redstone )                3.46
35 Evan Sandstrom (Boulder Cycle Sport CX Team)              3.49
36 Mike Frielbin (Giant)                                     4.02
37 Scott Gordon (Boulder Cycle Sport)                        4.08
38 Isaac Dancy (Blue Sky Velo)                               4.14
39 Travis Lukens (Copper Mountain/HCRT)                      4.15
40 Michael Raczuk (Rocky Mountain Spine & Sport)             4.23
41 Brad Thomas (Echelon Spokes & Slopes)                     4.30
42 Ben Delaney (VeloNews)                                    4.40
43 Justin Maka (Colavita)                                    4.45
44 Brett Batchelder                                          4.56
45 Steve Dunn (Echelon Spokes and Slopes Racing )            5.02
46 Larry Marti (Skins Racing)                                5.03
47 Doug Schuler (Lenz Sport)                                 5.17
48 Zachariah White (Rocky Mounts - Izze Racing)              5.21
49 Chris Smithwick                                           5.26
50 Bil Pfaffendorf (Bang Salon/Haul'n Ass Race Team)         5.26
51 Tim Barnes                                                5.26
52 Josh Wiegand (DEAN Bikes)                                 5.46
53 Marlon Crespin                                            5.47
54 Colin Don (University of Denver Cycling)                  5.49
55 Alec Uitti (Kodak Gallery/Sierra Nevada)                  6.07
56 Tg Taylor (CSU)                                           6.23
57 Casey Hill (Schwab Cycles)                                6.24
58 David Kutcipal (Mix 1 ~ Concept 3d)                       6.30
59 Kenny Deemer                                              6.35
60 Sean Steeves (Rocky Mountain Spine & Sport)               6.46
61 Ariel Brown                                               7.01
62 Joseph Schmalz (Team X Cycling)                           7.04
63 Tom Needy (Christian Cycling)                             7.13
64 Chris Wallace (Team X Cycling)                            7.16
65 Dan Burnett (Black Sheep)                                 7.46
66 Seth Ramsbottom (GMS VELO / YETI)                         8.06
67 David Kutical (Mix 2 Concept 3d)                          8.07
One lap down
68 Daimeon Shanks (Slipstream)                                   
69 Susan Einberger (BCS CX Team)                                 
70 Pete Kieliszewski (Ritchey)                                   
71 Randy Mclain (Colarita)                                       
72 Eric Kuo (Denver Boulder Couriers Cycling)                    
73 Matt Weadley (Bike n Hike)                                    
74 Mike Dancez                                                   
75 Douglas Wong (Colavita)                                       
 
Men Cat 4

1 Fred Dreier                                               42.49
2 Jody Proctor (excelsports.com)                             0.20
3 Ed Schultz (Boulder CycleSport)                            0.33
4 Juergen Eckmann (Not Attached)                             0.35
5 Jafar Tabaian (HART)                                       0.50
6 Harold Stephenson (boulder cycle sport cyclocross team)    1.23
7 Craig Simons                                               1.36
8 Kervin Quinones (Rotor Bike Components)                    1.55
9 Kevin Burnette (Velonews)                                  1.57
10 William Baker                                             1.57
11 Chad Demoss (Sierra Nevada/Kodak)                         2.00
12 William Dodd                                              2.12
13 James Sullivan (CU cycling)                               2.23
14 Dan Farrell (BLUE SKY VELO)                               2.26
15 Seth Smekal                                               2.34
16 Chad Elmendorf (VeloNews)                                 2.34
17 Scott Sheehan                                             2.35
18 Michael Tobiassen (Frites En Mayo Velo Club)              2.36
19 James Mapes (CU Cycling)                                  2.39
20 Matt Wallace (Ridley Factory teram)                       2.42
21 Blaine Haskell (Green Mountain Sports Velo)               2.42
22 Kristopher Keller                                         2.42
23 Marcus Danko (Red Rocks Velo)                             2.44
24 Roger Knight                                              2.58
25 John Twa (Team Louisville Cyclery)                        3.10
26 Scott Coldiron (External Validation)                      3.14
27 Brian Moran (Louisville Cyclery Velo Club)                3.21
28 Adam Rachubinski (CapoForma Custom Clothing)              3.33
29 Kirk Peterson (Velonews)                                  3.42
30 Jonathan Pulley (boulder cycle sports CX)                 3.43
31 Brian France (Team Evergreen Racing)                      3.47
32 Jeremy Duerksen (Blue Sky Velo)                           3.47
33 Steve Ferry (BPN)                                         3.54
34 Christopher Bosch (Echelon Spokes & Slopes)               3.56
35 Jason Sumner                                              4.00
36 Dave Klein (Skins Racing)                                 4.01
37 Mario Chiarani (Jamis Bikes)                              4.03
38 Matt Massengale                                           4.06
39 Lee Herndon (RMRC)                                        4.14
40 Scott Bristol                                             4.15
41 Mike Starck (Blue Sky Velo)                               4.16
42 Neal Rogers (VeloNews)                                    4.20
43 James Heuck (Red Rocks Velo)                              4.25
44 Devin Mccune                                              4.25
45 Andrew Jimenez (Campus Cycles)                            4.27
46 Ivy Koger (Fleet Feet Triathlon)                          4.29
47 Jamie Ryan-White (KHSnm.com Cycling Team)                 4.29
48 Jeffrey Homan (Hammer Racing Team - TVG LTD.)             4.29
49 Zach Lee                                                  4.43
50 Brad Buikeina (NBBBC)                                     4.46
51 Skyler Trujillo (blacksheep)                              4.46
52 Nate Lustig (Campus Cycles)                               5.09
53 David Summitt (Prodesign/24 Hour Fitness)                 5.10
54 Jason Giguere (Boulder Cycle Sport CX Team)               5.17
55 Jerry Kopack (Feedback Sports Racing Team)                5.18
56 Cory Bolen (Boulder CycleSport (BCS))                     5.22
57 Chris Mccombs                                             5.23
58 Ryan Lewandowski (Blue Sky Velo)                          5.24
59 John Bliss (Boulder Cycle Sport)                          5.24
60 David Kilmoyer (Blue Sky Velo)                            5.25
61 Adam Moskowitz (Einstein's)                               5.26
62 Mason Lacy                                                5.26
63 Anthony Carcella (Rockymounts-Izze)                       5.43
64 Jamie Elsasser (Team Einsteins/Mob Cyclery )              5.43
65 Cary Dunn (Yeti Mountain Madness)                         5.50
66 Adam Mickiewicz                                           5.54
67 Barry Schmidt (Blue Sky Velo)                             5.54
68 Trevor Downey                                             6.05
69 James Mathis (SRAM)                                       6.17
70 Kevin Abraham (Blue Sky Velo)                             6.33
71 Walter Knapp (Boulder Cycle Sport)                        6.43
72 Jeff Wu                                                   6.53
73 Rich Digeronimo (Singletrack Factory)                     7.12
74 Robert Stanley (Endura Factory Team)                      7.22
75 Jill Adelstein (Team Evergreen)                           7.31
76 Johannes Schmidt (Kkodak / Seira Nevada)                  7.45
77 Eric Houck                                                7.47
78 Jerry Hency                                               7.51
79 Robert Montgomery                                         7.51
80 Brian Milnick (green mountain sports velo)                7.51
81 Daniel Franklin (RockyMounts-Izze Racing)                 8.33
82 Michael Gentry                                            9.45
83 Chad Smith                                                9.51
84 Bob Prieto                                               10.11
One lap down
85 Eric Zerowin (Campus Cycles /24 Hours in the )                
86 Matthew Jimerson (Rocky Mtn Spine & Sport)                    
87 Ron Dreasher (Blue Sky Velo)                                  
88 Colm Flannery                                                 
89 Todd Robertson (Skins Racing)                                 
90 Jason Coble (Pedal Pushers Cyclery)