Vlaamse Houtlandcross Eernegem - C2
Eernegem, Belgium, November 3, 2007
2006 Results Results Past winners
A day for the 'outs' in Eernegem
By Brecht Decaluwé in Eernegem
Klaas Vantornout
Photo ©: Brecht Decaluwé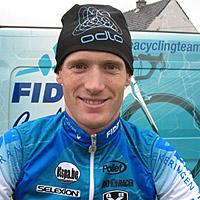 It was a tactical race in Eernegem where seven men fought for the victory in front of the 4000 spectators. Eventually it was Klaas Vantornout who stormed forward in the penultimate lap to clinch his second win of the season. The Belgian rider from the Fidea-team had a 13" gap on Sven Vanthourenhout who kept off young Bart Aernouts. Big guns like Sven Nys and Bart Wellens battled along throughout the race but lowered their weapons in the finale in order to save energy for Sunday's second round of the Superprestige.
More disappointing was the performance from world champion Erwin Vervecken and Dutchman Gerben De Knegt; both riders were never spotted in the leading group. Next to the top class cyclo-cross riders the organizers also managed to lure local road riders Jurgen Vandewalle and Wim Vansevenant for a cyclo-cross adventure. The ProTour-riders gave all they had but with three laps to go their race was over.
The fast course in Eernegem couldn't create a serious selection between the top riders, although midway through the course a series of steep ramps was the ideal springboard to jump away, since any hesitation in the group would cause a traffic-jam. Every lap there was a great battle between the riders to be in the leading position before this point, and unsurprisingly this was the place where Klaas Vantornout launched his attack in the finale. He quickly gathered twenty seconds and nobody grabbed the Fidea-rider back.
The 25 year-old was delighted with his second win of the season. "This is fantastic," said Vantornout, "it's like a dream that comes through. The season has just started and I already got two wins under my belt." Klaas Vantornout is a man from the region; he's currently building a new house less than 10km away from the race course. "There were a lot of supporters who came for me, I had something to prove today. Everybody had sore legs after the Koppenbergcross, but I fought off the pain and went for it in front of my home crowd." As far as tactics are concerned, Vantornout confirmed what was obvious. "It was a matter of accelerating after that series of ramps."
Sven Vanthourenhout
Photo ©: Brecht Decaluwé

Another man from the region is Sven Vanthourenhout and he finished as runner-up today, a great result for the Sunweb-Projob rider who's still building up after his injury. "The second place was the best result possible for me today. I could get that place thanks to the experience I have on this course," last year's winner Sven Vanthourenhout said. Big favourite Sven Nys couldn't fulfil the expectations and finished on a disappointing seventh place. The Belgian was clearly no longer trying to get closer in the ultimate lap and he confirmed that to Cyclingnews after the finish line. "I was on Wellens' wheel in that technical zone but got held up when Vantornout attacked. That way I was forced to fight my way back to the front every time. I knew that the rider who would attack there with two laps to go would take the win," Nys explained.
The others clearly knew that as well and they didn't give Nys any space. "Every lap it was a fight over there, and I choose to use my brains and focus on tomorrow, that's a big race," UCI-leader Nys referred to the second event of the Superprestige Series in Hamme-Zogge.
How it unfolded
And off they go!
Photo ©: Brecht Decaluwé

Thirty eight riders started in the Houtlandcross in Eernegem, among them one US-participant Jonathan Baker. UCI-leader Sven Nys took the best start and immediately got away with Dieter Vanthourenhout, Sven Vanthourenhout, Bart Aernouts and Klaas Vantornout. During the second lap there was an attack from Sven Vanthourenhout who rode alone in front for a while. Behind him Bart Wellens joined the pursuit while Erwin Vervecken and Kamil Ausbuher were already 25" down on Sven Vanthourenhout. Gerben De Knegt took a bad start and was ten more seconds down; another poor starter was Baker who lost 1'42" in two laps.
By the end of the third lap six men regrouped in front while Ausbuher was the only rider who looked capable of returning to the front. Vervecken and De Knegt – who were chasing at 20" – were joined by Tim Van Nuffel, Marco Bianco and Geert Wellens. Ausbuher got in touch with the leaders during lap four but was clearly on his limit when Klaas Vantornout attacked; meanwhile Wellens had a minor crash after slipping in the mud. Sven Vanthourenhout joined Klaas Vantornout in the lead and they gathered 12" on Dieter Vanthourenhout, Nys, Aernouts and eventually also Wellens.
The leaders
Photo ©: Brecht Decaluwé

By the end of that lap the attack was neutralized and although several attacks followed, it was clear nobody gathered enough seconds to stay away. With two laps to go Klaas Vantornout tried again in the technical zone and this time he quickly gathered a lead of 14". Behind him Sven Vanthourenhout could profit from the rivalry between the other riders – where Ausbuher got dropped – while the eighth place was already secured for Gerben De Knegt; world champion Vervecken had to battle for ninth place with Van Nuffel and Bianco.
Klaas Vantornout managed to maintain his lead and captured his second win of the season. Sven Vanthourenhout held off Bart Aernouts and Dieter Vanthourenhout. Belgian champion Wellens finished fifth before the man from the Czech Republic Ausbuher. Sven Nys clearly didn't bother about a good placing as he crossed the line in eighth place at 48" from the winner. De Knegt, Vervecken and Van Nuffel completed the top-10. Jonathan Baker clearly got better as the race evolved and he was the last rider to avoid being lapped; Baker crossed the line at 6'44" behind winner Klaas Vantornout.
Photography
For a thumbnail gallery of these images, click here
Images by Brecht Decaluwé/Cyclingnews.com
Results
1 Klaas Vantornout (Bel) Fidea Cycling Team         57.49
2 Sven Vanthourenhout (Bel) Sunweb ProJob                          
3 Bart Aernouts (Bel) Rabobank                                     
4 Dieter Vanthourenhout (Bel) Easypay Cyclocross Team              
5 Bart Wellens (Bel) Fidea Cycling Team                            
6 Kamil Ausbuher (Cze) Easypay Cyclocross Team                     
7 Sven Nijs (Bel) Rabobank                                         
8 Gerben De Knegt (Ned) Rabobank                                   
9 Erwin Vervecken (Bel) Fidea Cycling Team                         
10 Tim Van Nuffel (Bel) Easypay Cyclocross Team                    
11 Marco Bianco (Ita)                                              
12 Geert Wellens (Bel)                                             
13 Rafael Visinelli (Ita)                                          
14 Jean-Pierre Leyten (Fra)                                        
15 Bjorn Traen (Bel) John Saey Cycling Team                        
16 Geert Van Crombruggen (Bel) Royal Cureghem Sportif - Brussel    
17 Patrick Van Leeuwen (Ned) TWC Het Snelle Wiel                   
18 Peter Van Santvliet (Bel)                                       
19 Wim Jacobs (Bel) Van der Vorst CT                               
20 Stijn Penne (Bel) VZW Wielerclub Onder Ons Parike               
21 Steve Gruwier (Bel) VZW Wielerclub Onder Ons Parike             
22 Jerry Kallenfels (Ned) Easypay Cyclocross Team                  
23 Jonathan Baker (USA) Primus Mootry                              
24 Jens Gys (Bel)                                                  
25 Hugo-Alfonso Martinez Rus (Spa)                                 
26 Valentijn Ponseele (Bel) WC De Molenspurters - Meulebeke        
27 Martin Vestby (Nor) Time - Van Hemert                           
28 Lorenzo Messine (Bel) Cyclo Cross Team Waarschoot               
29 Wim Vansevenant (Bel) Predictor - Lotto                         
30 Tom Pynaert (Bel)                                               
31 Jurgen Vandewalle (Bel)                                         
32 Freddy De Meester (Bel) Rijschool AH - Gentse Velosport         
33 Johan Myngheer (Bel) VC De Zilverbergvrienden - Rumbeke         
34 David Pena (Spa)                                                
35 Jackson Vijarona (Zim)                                          
36 Erik Myngheer (Bel) VC De Zilverbergvrienden - Rumbeke          
37 Dries Cauwelier (Bel) Cycling Team Cauwelier Roeselare          

Past winners
2006 Sven Vanthourenhout (Bel) Rabobank
2005 Erwin Vervecken (Bel) Fidea Cycling Team
2004 Sven Vanthourenhout (Bel) Quickstep - Davitamon
2003 Ben Berden (Bel) John Saey-Deschacht 
2002 Sven Vanthourenhout (Bel) Domo-Farm Frites